There is no denying how important 5G will be to the future. Earlier in October 2020, Three Ireland launched 5G coverage throughout Ireland. 315 sites across the country – and one in every county – have already gone live in 2020 to provide strong internet for citizens. From EE to Apple, 5G has been a huge selling point and is reported to make huge strides ahead for both businesses and ordinary people. But how successful has the launch of 5G been in Ireland, and what will it benefit?
How Important is 5G to Ireland?
The initial 5G launch means that 35% of Irish residents have access to the internet, reportedly ten times faster than 4G. Indeed, whereas 4G downloads a film in seven minutes, 5G can do it in less than 10 seconds. Three Ireland has committed to increasing these sites to 500 by next year. Chief Technology Officer David Hennessy suggested that up to 50% of the population will be covered by the end of 2021. This helps set the telecoms company apart from competitors, especially as the benefits of 5G are being noticed and used by the public.
Vodafone and Eir also offer 5G services, launched in August 2019 and October 2019, respectively, which means that Ireland has become a battleground for the telecommunications companies. The competitive market has seen 5G accessibility become a selling point. To embellish this point, it will be important for companies to focus on what people can do with 5G that they can't with 4G and outline how the new technology could impact people's lives.
How Will Entertainment Be Changed By 5G?
One of the main ways in which people will understand the benefits of 5G throughout Ireland will be through the industries that most affect their daily lives – typically those offering some form of entertainment. But how will different aspects of the entertainment industry benefit from 5G?
Mobile Gaming
The online casino industry is often at the precipice of new technology and 5G already proves that there is scope for the industry to grow with it. As the range of online slots at William Hill show, many are based around visual themes – from Ace Ventura to the Age of Gods series themed around Greek mythology. These themes provide video for the slot games, which 5G would enable to run faster and sharper when played on smartphones. The live jackpot counter also requires constant connection, which 5G also enables.
One of the most notable uses for 5G has been the improvement of games that require a strong internet connection and an immediate transfer of information – such as online multiplayer games like Fortnite. Latency is a key issue here. As 4G has a 45-millisecond latency, 5G reduces this to 21-milliseconds, which would give a more streamlined feel to playing online games on the network. A latency of 20 – 40 milliseconds is considered optimal for gaming.
Digital Advertising
US-based companies Snap and Verizon partnered in November 2019 to see how 5G could change traditional online advertising. The concept is to overlay digital advertisements onto physical settings, allowing users to see the adverts play out in front of them. The technology was used for the final season of Game of Thrones as an ad tie-in as part of Snapchat's Landmark Lenses. The ad saw a dragon atop of the Flatiron Building in New York when viewed through the Snapchat camera.
Music
Live music is set to benefit from 5G too. Cultivating a live audience is key for a musician to grow their career, but their audience is often dictated solely by the venue they have chosen to perform at. Reliable connections, crisper images, and audio mean that live music can be streamed at a higher fidelity. It also means that multiple streams for the same artist could exist, giving audiences a choice and a seemingly customized experience. Moreover, a Chainsmokers concert saw the use of 5G as the audience could see graphics and imagery timed with the music as enabled through 5G smartphones.
Social Media
Social media is a part of everyday life. But the new wave of it, as we can mainly see-through video-sharing app TikTok comes down to the creativity of the content shared. As social media has moved away from status updates and images of food, it has become more about high-quality and creative videos. Those who do well sharing their video content have gone on to have careers in the field or have become influencers, such as 'Kombucha Girl'. 5G will help facilitate the sharing and uploading of more of this video content.
Streaming
Most people have some kind of streaming subscription, and many have their TV and film choices dictated by these platforms. 5G will enhance streaming in the home by enabling more than one device to watch 4K quality content simultaneously with little disruption. The main pull of 5G is that it is set to match the growing rate of streaming consumption. Previously, service providers were worried that their networks couldn't handle the vast number of people wanting to stream and have even had to reduce the video quality before handling the demand on the networks.
But it's not just TV and film content that benefits from 5G's boost to streaming. Gaming streaming platform Twitch saw its viewership jump 31% in one month alone earlier in March 2020. These new modes of entertainment may be more niche, but their accessibility means that people will be more likely to investigate them in the first place. That is another hidden bonus of 5G, making it easier to get involved with digital sectors they haven't yet tried. 5G will provide a gateway to industries such as this, especially as slow internet will prevent people from getting involved.
Do We Need 5G?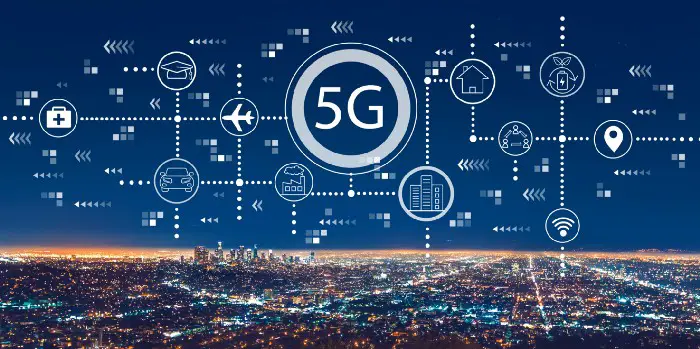 One issue with the 5G deployment is that users will need a smartphone that can connect to the 5G network. Apple's October 2020 event, we saw the launch of the iPhone 12, focused on the device's 5G compatibility. With the flagship smartphone company highlighting the importance of connectivity, 5G will likely become necessary in phone development. This level of healthy competition helps the industry grow and will continue to see it thrive.
---
Protect Your Online Privacy With Surfshark
[The VPN that we use here at Tech Arrival]
---
Three Ireland's delayed deployment of 5G comes after a delay – with the suggestion being that there was no call for it. The firm's original claim that they will enable 5G by 2019 didn't come to fruition, with the company citing lack of demand as the reason. But, perhaps with an increase in awareness and uptake in other areas of Europe, as well as a smartphone specifically designed for 5G, the demand grew.
There is no doubt that 5G is the technology of the future. Still, its uptake depends on when people realize its benefits—having sharper internet when out and about can transform people's ability to complete various tasks – both for business and leisure.
The infrastructure enables smart functions and makes way for a more connected world, bringing peace of mind and safety considerations. 5G might have started slowly in Ireland, but it will most likely be looked back on as one of the most instrumental technological advances.