Millions of people listen to music every day on their smartphones. Interactive streaming through services like Spotify, YouTube, Apple Music, and Amazon Music Unlimited has gained more popularity than ever. Even if we pay a small fraction of a single CD each month to these services, illegal file-sharing remains a problem. To prevent this, files are now protected with DRM, making it difficult to convert them to MP3 format.
This article will show DRM removal from Spotify songs using the software AudFree Spotify Music Converter for Mac. We will show how to convert the songs into MP3 format and play it on any desired device.
What is Spotify?
Spotify is a digital music streaming service, with around 207 million users all over the world. It is currently the world's biggest streaming service and gives you access to millions of songs, podcasts, videos, and audiobooks. Spotify comes in two versions: a free and a paid one. The free version of Spotify comes with ads and can be accessed on a PC, laptop, or smartphone.
Spotify adds a DRM (Digital Rights Management) layer to its streaming music collection. It was intended to protect digital media from piracy but gives loyal customers trouble as well. You can't copy it or play the songs in anything other than the intended device or share them with your Family members in required formats. But today, we will be offering you a solution using the AudFree Spotify Music Converter for Mac.
That being said, we would remind you that it is illegal to distribute DRM-free media files to others commercially. Please stay away from piracy and use it only for personal use.
Also read: How to Create a Music Streaming Service
AudFree Spotify Music Converter for Mac Review
AudFree Spotify Music Converter is software for Mac users and is available in both free and premium versions. It allows you to download Spotify track/song or album in different audio formats such as MP3, AAC, WAC, M4A, M4A, FLAC, etc. This tool resolves all the music-related issues with the Spotify app and gets all your favorite tracks downloaded.
AudFree is an innovation-driven multimedia developer and producer who develop technologies that remove DRM for music-lovers. With AudFree DRM Audio Converter, you can remove DRM from Apple Music, iTunes songs, and audiobooks making digital music entertainment easy.
Features
Before getting your hands on the tool, let's take a quick look at the features it offers.
Like mentioned earlier, Spotify music is highly encoded with DRM format that makes it difficult to play on other devices like your car or MP3 player. With this software, you can easily convert it to different formats like MP3, M4A, WAV, AAC, and more. There is no limitation of any device, and it brings flexibility to your music collection.
With DRM protected music, you can only listen to it online. But when there is no internet connection, you find the need to download songs offline. AudFree Spotify Music Converter lets you bypass the DRM restrictions and listen to the tracks offline.
It also allows you to fix the ID tags and edit other audio parameters. Users can easily edit sample rate, codec, audio channel, and more.
AudFree Spotify Music Converter claims to be the fastest music converter, five times faster during the downloading and converting process.
The free and paid version of the AudFree Spotify Music Converter for Mac allows users to export and download all their Library tracks in an organized manner.
AudFree has included a special technique within the software to Avoid Loss of Quality during the conversion.
The software is lightweight, and it runs smoothly on your device. It uses less than 4MB for installation and increases to around 6MB after the setup process.
The tool has a decent user interface and perfect for beginners.
How to Install AudFree Spotify Music Converter in your Device
AudFree Spotify Music Converter allows users to try the product for free. So you can try out the features yourself before making a purchase. However, the trial mode only downloads only the first 1 minute of each Spotify song. You are highly recommended to upgrade to premium if you want to use the tool's full and unrestricted version.
Visit the official website of the AudFree tool.
Click on the Green Download button, which let you download a free Mac version. The tool will start downloading automatically.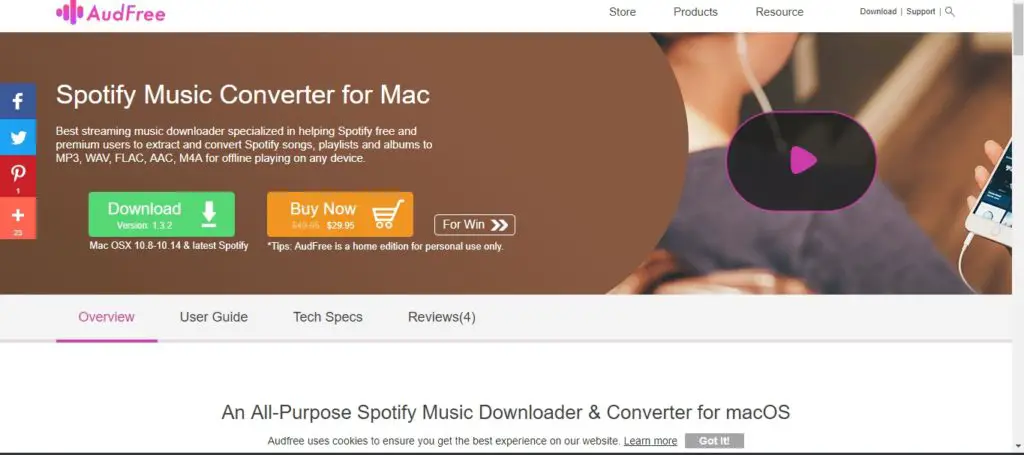 After downloading, double click on the file. You will be asked to agree to the terms and conditions. You can move further by selecting the Agree button.
You will be asked to drag this application to the Applications folder of your Mac system. To do this, hold the icon of this tool and drag it to the Applications folder using your mouse or trackpad.
Go to your Dock and click the Application Folder, where you will find the icon of the AudFree Spotify Music Converter for Mac. Click on it.
You will see the front page of the Spotify app if you have installed the Web app in your system. If not, install it and run the tool. For further use, it requires synchronization with the Spotify app.
A Hands-On Guide
In this in-depth tutorial, we will give you a hands-on guide on converting your favorite Spotify tracks into MP3 format. We will now assume that you have installed and downloaded the tool on your system.
---
Protect Your Online Privacy With Surfshark
[The VPN that we use here at Tech Arrival]
---
Launch AudFree Spotify Music Converter for Mac, and you will see that the Spotify app is being loaded automatically. Browse into your Spotify account to locate the songs or playlists you intend to download. Drag those songs/playlists or albums from the Spotify store to AudFree main window. You can also alternatively copy the URL of the song/playlist and paste it in the search box. Then click '+' to load the tracks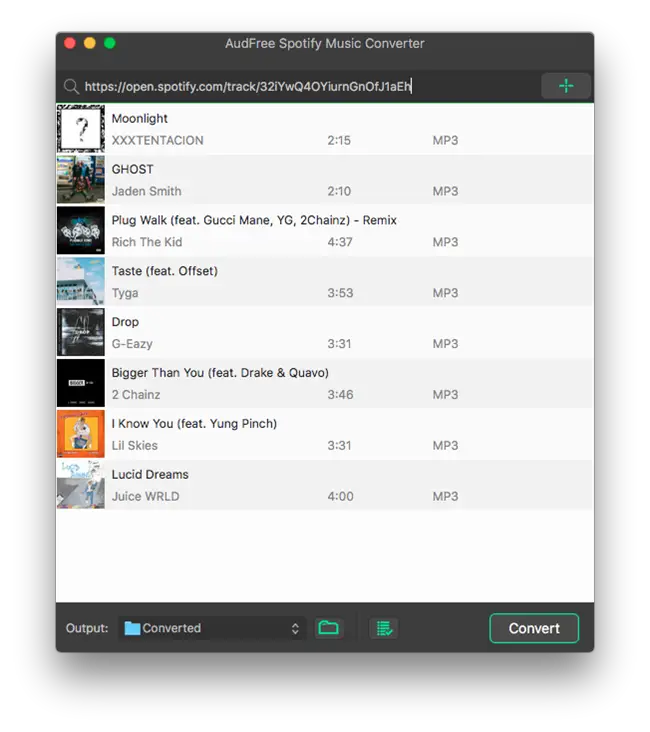 After you have imported the music tracks, go to the menu bar and go to "Preferences" to set the output format as MP3 (default). Suppose you want to convert to any other format like AAC, WAV, FLAC, etc. You can further change audio parameters of each format, including audio, bitrate, channel, sample rate, etc.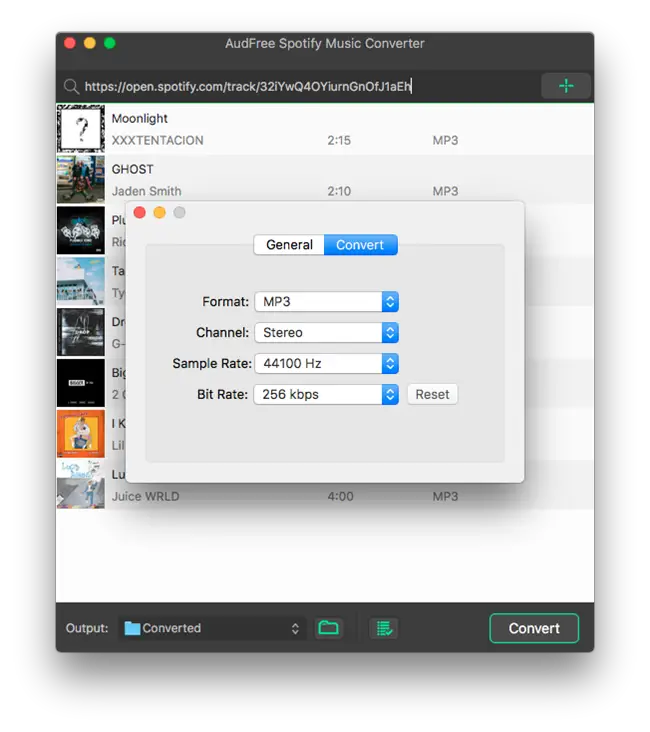 Now you have to find the "Convert" button and click it. AudFree Spotify Music Converter for Mac will then begin downloading the Spotify songs and convert them into DRM-protection free versions of your selected audio format. You can find the downloaded DRM-free Spotify songs from the "history" folder.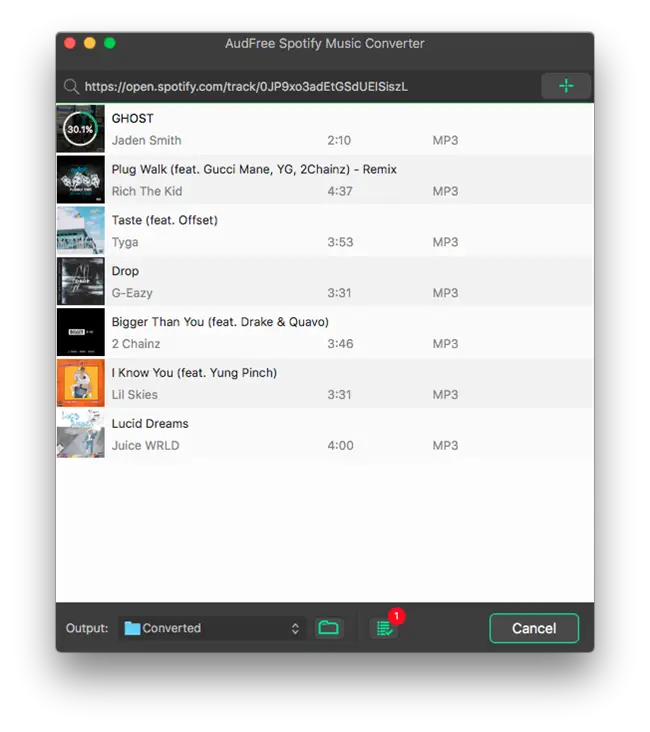 System Requirements
Make sure you have the below-mentioned system requirements. After confirming, you can proceed further to download and install AudFree Spotify Music Converter for Mac on your system.
| | |
| --- | --- |
| Operating System | macOS X 10.8, 10.9, 10.10, 10.11, 10.12, macOS High Sierra, 10.14 Mojave |
| Processor | 1 GHz processor or above |
| RAM | 512MB or higher |
| Monitor | Monitor with 1024 x 768 pixels or higher resolution |
| Supported Input Formats | All types of Spotify songs, playlists, albums and artists |
| Supported Output Formats | MP3, M4A, M4B, WAV, AAC, FLAC |
Final Verdict
We have covered almost everything you need to know about the AudFree Spotify Music Converter for Mac. If you are a music buff and use Spotify to stream music, this is a must-have tool. However, the free version will not give you the full experience and only comes in handy to get a feel of the features. You need premium to download tracks whenever you want.
The tool impressed us with its blazing speed and low memory consumption. The spontaneous GUI makes the use of the converter effortless for users. The best part of using this tool is that is can be used on all the major platforms and devices like Apple, Microsoft Zune, Sony Walkman and more. Moreover, you can use it on Google Home, Car stereos, Game consoles, and MP3 players. Try out the AudFree Spotify Music Converter for Mac and you will find yourself using it on a regular basis.