Cricket is not just a sport but a religion for millions of people. Go to any part of the world, and you will witness an undeniable craze for this sport. 
Cricket has been around for decades, and it has only grown bigger and bigger. With over 2 billion cricket fans, it makes one of the most popular sports in the world. Cricket enthusiasts and fans rely on various websites to know what's going on in the cricket world. These websites fetch them with the latest cricket news, events, and more.
Also read: 13 Best Free Sports Streaming Sites
If you are looking for the best cricket sites, you are in the right place. We are about to suggest to you some of the best cricket sites that every cricket lover should know about.
List of Best Cricket Sites
1. Cricbuzz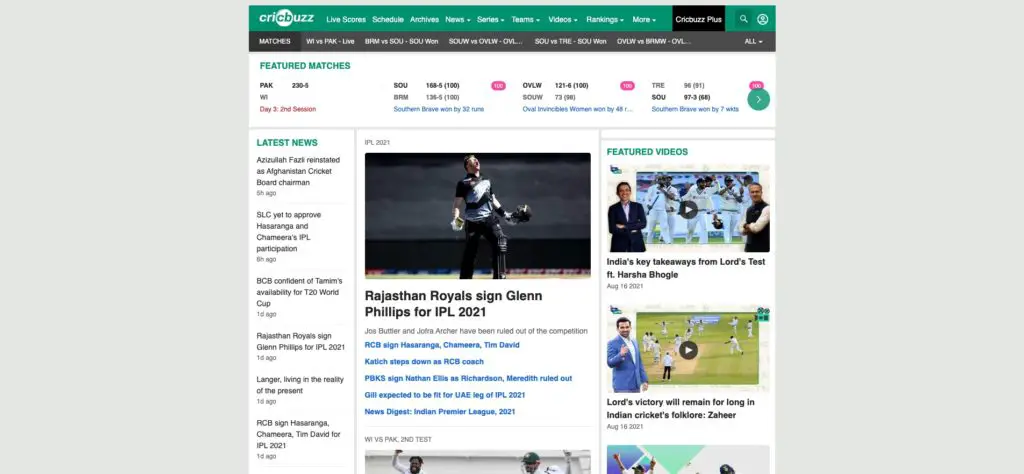 If you are a hardcore cricket fan, then you probably already know about this website. This is an amazing site that brings you all the latest cricket news you want to know. On the homepage, you can find basic cricket details such as scores and future events. But if you take a look at the sidebar, you will notice a lot of tabs. Clicking any of these tabs will take you to abundant news about the sport.
2. ESPN Cricinfo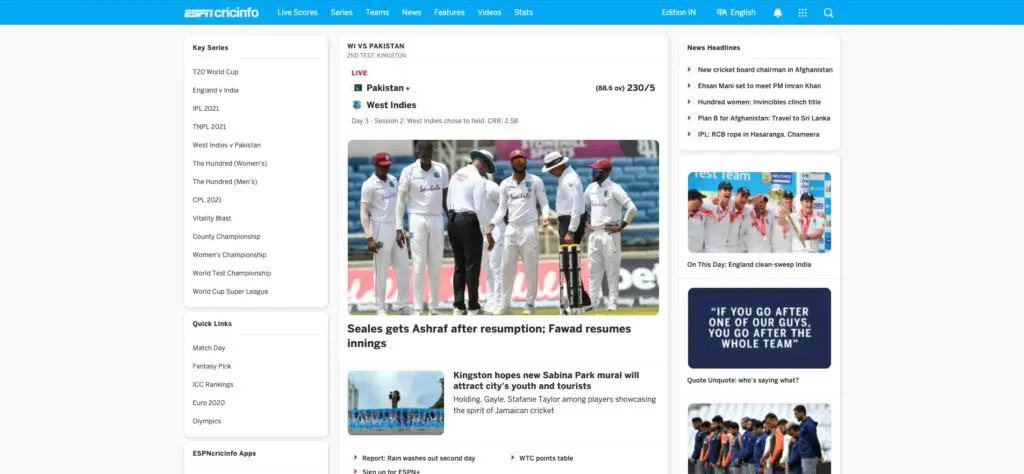 The next best cricket site you can rely on is ESPN Cricinfo. This is one of the biggest sources of cricket news out there. Whether you want to know about upcoming events or news about your favorite player or team, you can find it all on this site. ESPN Cricinfo is a site for hardcore cricket fans who want to stay updated with every little news about the cricket world. This site also has ball-by-ball coverage and live scores. With ESPN Cricinfo, you cannot miss single cricket stuff ever.
3. Hotstar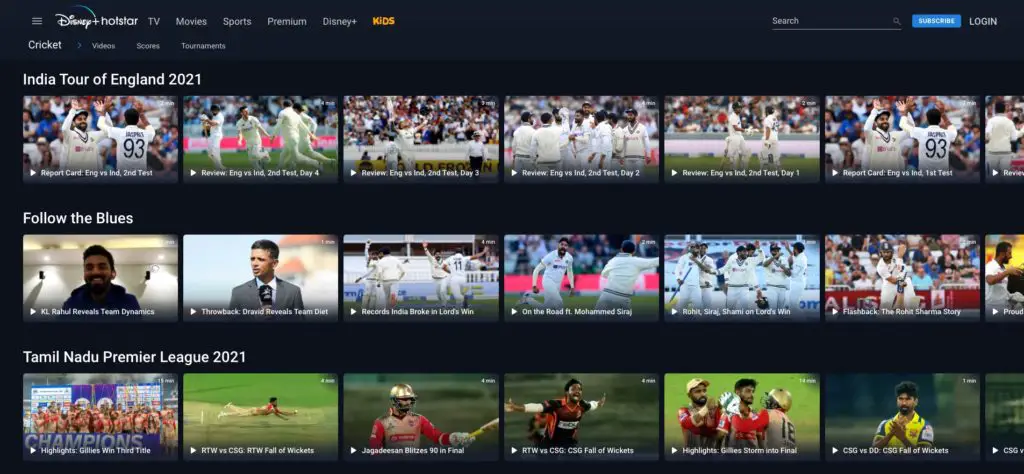 Hotstar is yet another site where you can get detailed news on cricket. Not just that, but you can even stream live cricket matches on this site. However, this is a paid site, so you have to pay monthly subscription charges to access the live streams. Apart from the live streams, you can also find cricket news in their dedicated news section. Hotstar features a neat and clutter-free interface which allows for smooth navigation.
4. NDTV Sports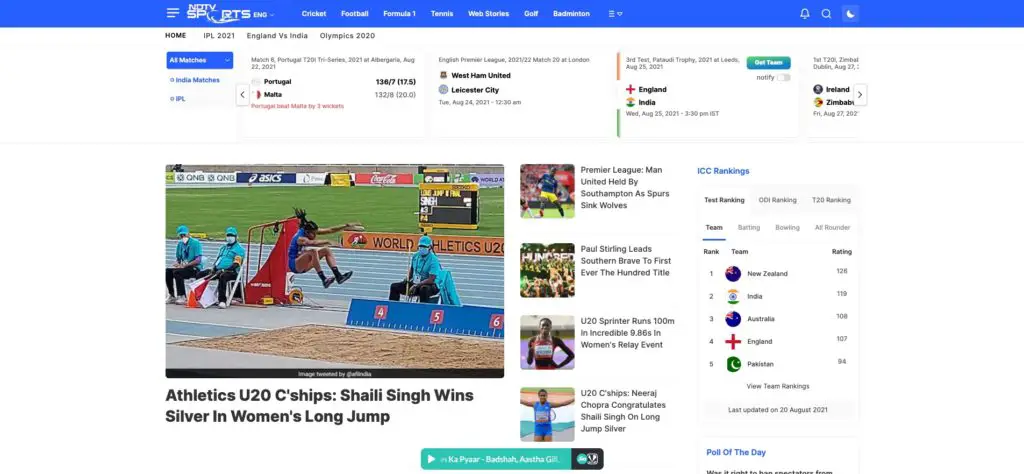 We don't think you need an introduction on this site. NDTV Sports is one of the best websites to look for cricket information. Besides providing ongoing game stats, it also provides you information about the players. The homepage features the live score details on the top. Other than cricket, NDTV Sports provides you information on other sports as well. If you want to stay updated on all the latest cricket news, you should go to NDTV Sports.
5. News18: Cricket Next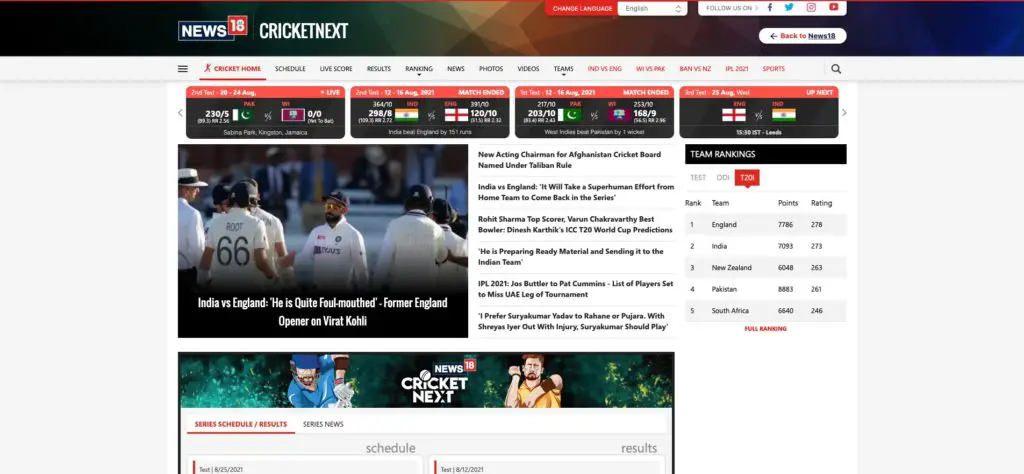 Next up, we have News18: Cricket Next. From cricket news to the latest events, you can find every little detail about cricket that you want to know. Not just that, but you can even see the live scores. They have a separate section for viewing live scores of ongoing matches. That's not all, because you can also view the latest photos and videos circulating in the cricket world. Last but not least, they have a section dedicated to all the teams. So if you want any specific details about a team, then you should access this section.
6. ICC Cricket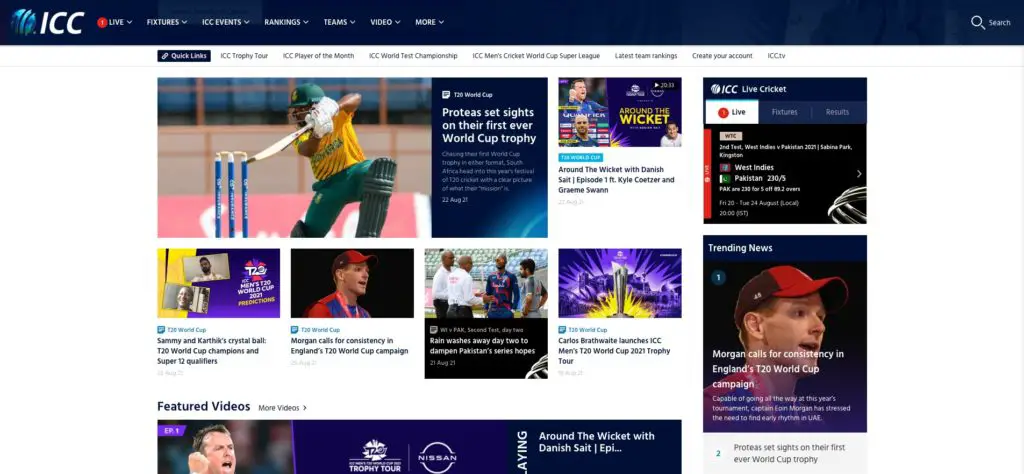 ICC Cricket is undeniably one of the largest sources of cricket out there. Millions of users around the world trust this site. Talk about any cricket-related stuff, and you can find it on ICC Cricket. It covers international cricket news, results, rankings, and videos. This makes it the most authentic cricket website out there. 
---
Protect Your Online Privacy With Surfshark
[The VPN that we use here at Tech Arrival]
---
7. Cricket.com.au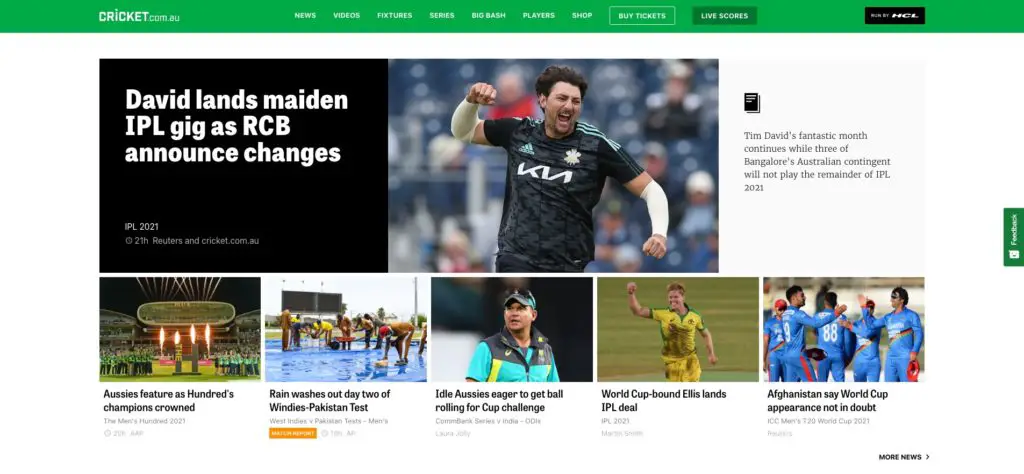 Lastly, we have Cricket.com.au, which is an important information platform for cricket analysis. As soon as you open the site, you can view the scores of ongoing matches. The site has dedicated sections for cricket live scores, videos, fixtures, and other cricket news. You can access any of these sections to learn more about the latest cricket updates. Since this is an Australian site, you will find a lot of information related to the Australian cricket team.
So these are some of the most authentic cricket sites that you can rely on. Whether you want to view the live scores or get the latest cricket news, these websites have got you covered.
Also read: 8 Best Free Live TV Apps for Android & iOS
Frequently Asked Questions (FAQs)
What are the Best Cricket Sites?
The best cricket sites comprise ICC Cricket, Hotstar, NDTV Sports, and ESPN Cricinfo. These sites are like cricket giants where you can find all the cricket details you are looking for.
Is Hotstar Free to Access?
The free version of Hotstar gives you access to only limited cricket content. You can stream live cricket matches without any interruption only after buying its monthly subscription plan.
Is Cricket.com.au a Good Cricket Site?
Cricket.com.au is a cricket site that is mainly dedicated to the Australian cricket team. So unless you are a supporter of the Australian team, you won't be satisfied with this site. You will find very little information about other cricket teams.
Is the ICC Cricket Website Worth It?
ICC Cricket is possibly the largest cricket website out there. It brings you all the cricket updates ranging from news to match results to live scores that you want to know.