The best way to mine cryptocurrency with minimum investment is via an app. It is an excellent option for beginners as it eliminates the need to purchase high-end computers. Additionally, crypto mining apps are also easy to use.
Due to the increasing popularity of crypto coins, many developers are making crypto mining apps for mobile phones. It allows users to mine cryptocurrencies directly on their phones. In this case, you only need a mobile device with a high processing capacity.
Crypto mining apps for iOS devices are pretty common these days. Most of these apps are packed with essential mining features. If you are searching for the best crypto mining apps for iPhone or iPad, we have handpicked these apps just for you to mine cryptos on your mobile device.
Also read: 9 Best Crypto Ad Networks You Should Try Now
List of Best Crypto Mining Apps For iPhone & iPad
1. ECOS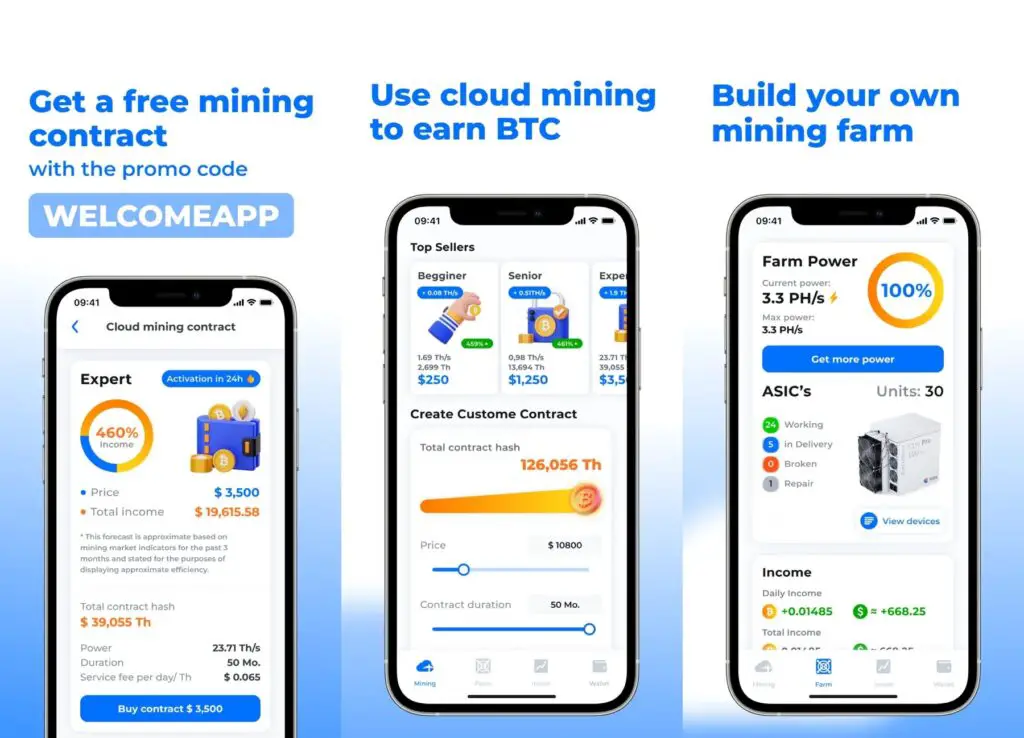 ECOS is the top choice for miners regarding mobile crypto mining. It is a portfolio management tool with a cryptocurrency exchange and wallet facility. The portfolio section includes many risk-to-return ratio indicators that enable users to invest in digital currencies.
Not just mobile phones, this app is also compatible with PCs. With this app, you can mine Bitcoin. But before that, you will have to secure a crypto-cloud mining contract.
2. CryptoTab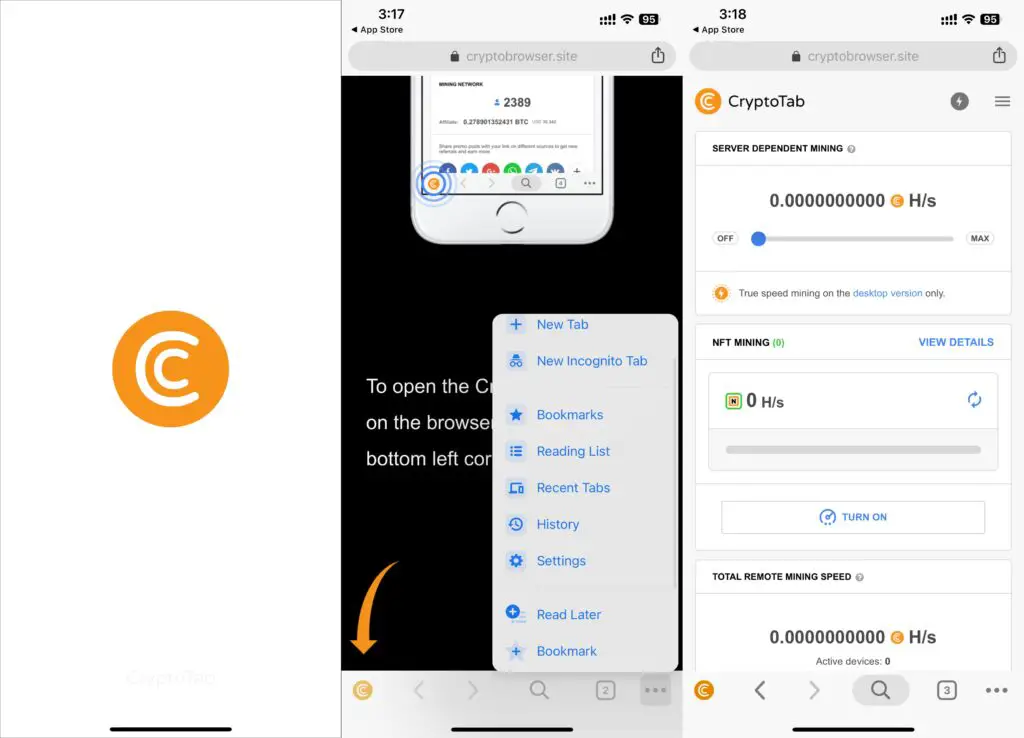 CryptoTab is the world's first crypto mining browser for mobile and desktop platforms. It is trusted by over 20 million people around the world. It allows you to earn bitcoins by playing online games, watching movies, or chatting.
It is a user-friendly browser with minimal functionality. Just enable Bitcoin mining in the CryptoTab browser and let it do the rest. Users with a private connection to the crypto mining network can enhance their profits by inviting new members.
3. NiceHash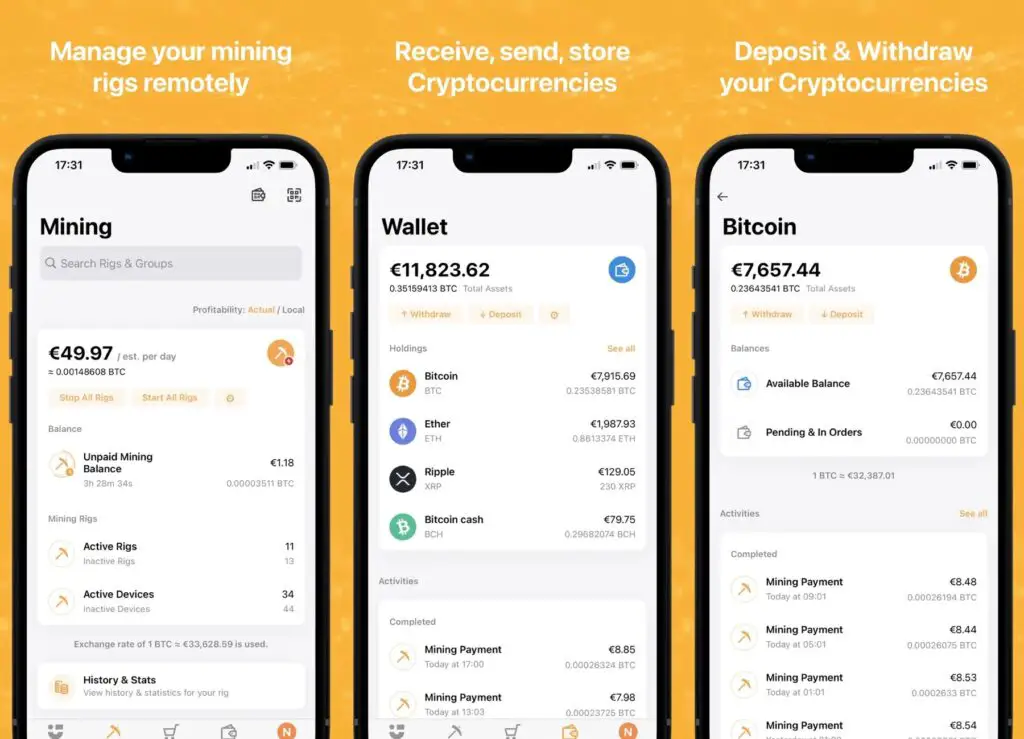 NiceHash allows you to pay for hash power and facilitates cloud mining. System reliability, regular payouts, excellent hashing power, and great customer support are the reasons behind the app's immense popularity. It serves as Bitcoin mining software and includes a crypto exchange.
This is a great crypto app for iOS users, as it lets you start mining immediately. The live trading option comes with an API and several trading features. This app is suitable for both large and medium-sized mining farms. It offers a private endpoint that allows mining firms to optimize their connection for increased profitability.
---
Protect Your Online Privacy With Surfshark
[The VPN that we use here at Tech Arrival]
---
4. Braiins Pool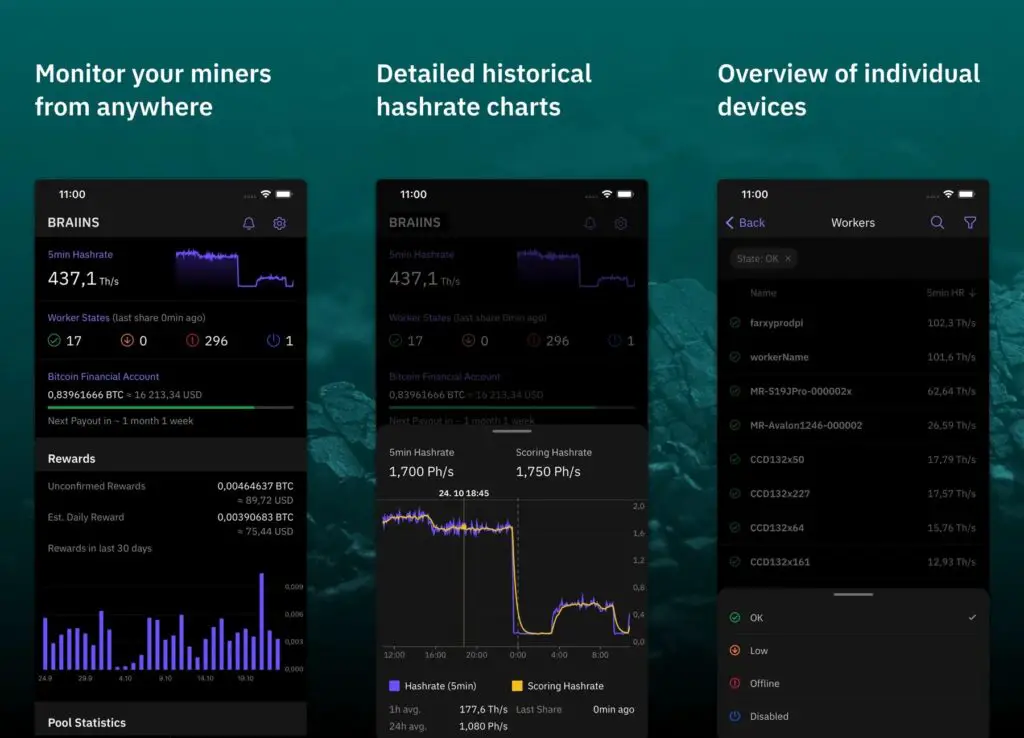 This is another excellent crypto mining app for iOS users. Braiins Pool has been around since 2010 and has mined over 1.2 million Bitcoins. Miners prefer this app because of its intriguing features like monitoring, smart payments, etc.
The Braiins Pool mobile app is easy to use and a great learning platform. It offers a safe environment for crypto mining. The dashboard gives you an overview of all important activities and alerts. The best thing about this app is that it monitors and records every activity. You can request them to give you reports of these activities via email.
5. F2Pool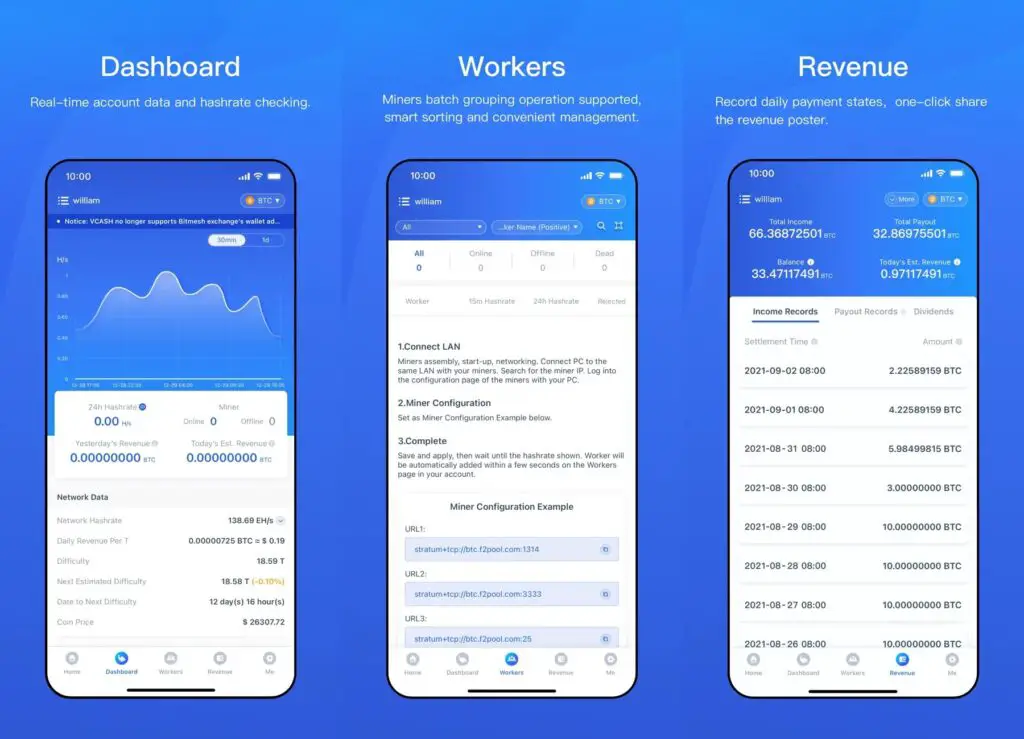 F2Pool is one of the oldest mining pools. It came into existence in 2013, and since then, it has served millions of crypto enthusiasts. It is one of the leading crypto mining apps in the market. It gives you access to a large mining pool for ETH, BTC, ZEC, and LTC.
F2Pool supports over 40 crypto coins, including the most popular Bitcoin. With the help of this app, you can track your revenue, hash rate, and other important parameters.
6. Strike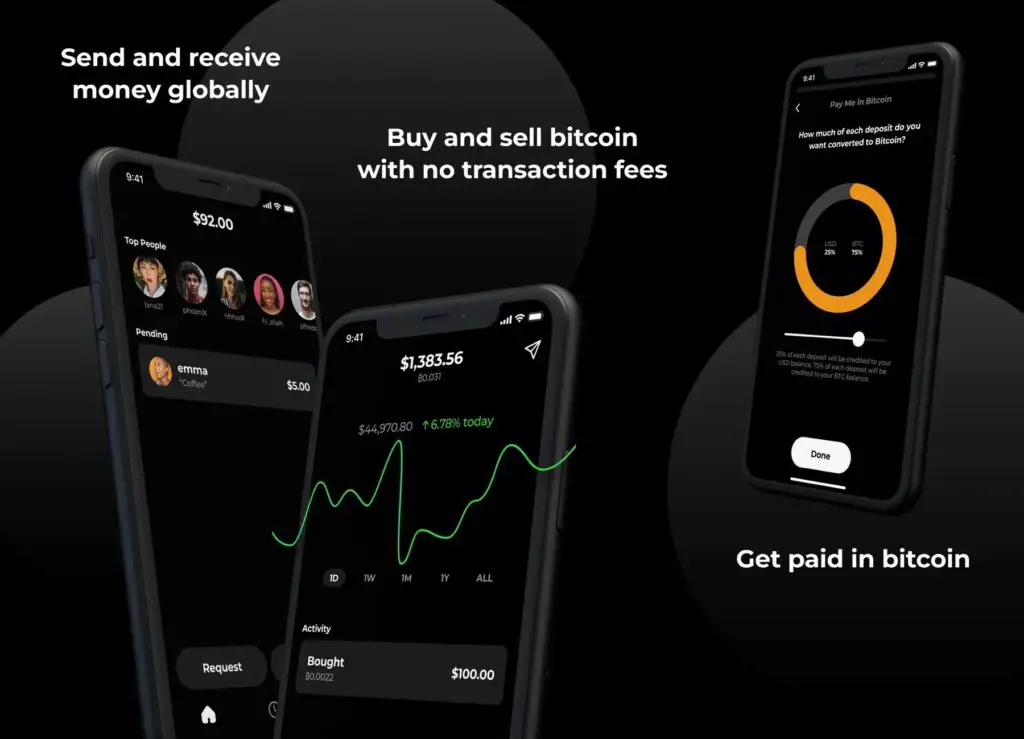 If you want a simple crypto mining app, then Strike could be your best choice. It has added a new feature that allows you to link your Strike account with Twitter for tipping. It is also a great way of buying Bitcoins.
You can transfer money to any corner of the world using Bitcoin with Strike. Best of all, the money automatically converts to the local currency. It is an excellent application for getting bitcoins and transferring money. You can also use this app to transfer Bitcoin to a wallet.
7. Binance
If you are a crypto enthusiast, you must have heard about Binance. After all, it is one of the most popular crypto apps in the market. It is a crypto exchange that allows you to exchange crypto coins online. This app lets you easily manage your digital assets from your phone.
Binance is accessible to everyone. It enables users to withdraw and deposit funds as per their wishes. No matter which corner of the world you are in, Binance is accessible. The good thing is it offers round-the-clock customer support. So if you face any issues, you have their technical team to guide you.
8. Casa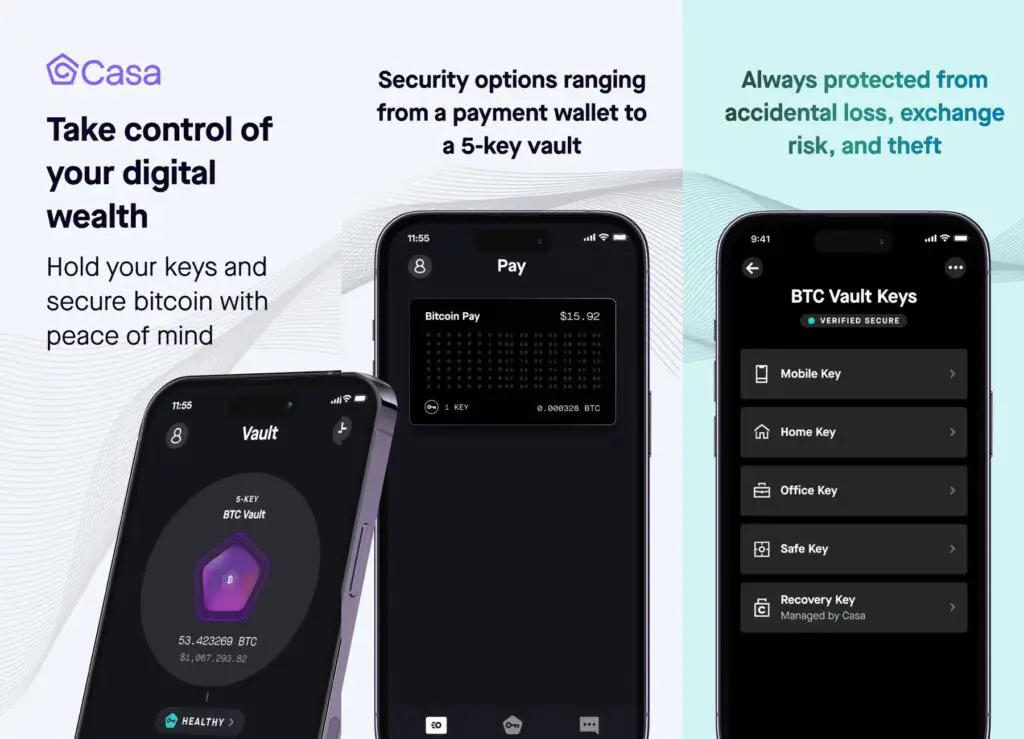 Before explaining, you should be informed that Casa is a Bitcoin-only app. If you are interested in buying bitcoins, you will find this app helpful. It is one of the few crypto apps that have multi-signature wallets. Well, this is what makes it stand out from other similar apps.
It comes with a monthly subscription, but it provides extra protection for your money. It requires more than one private key to let you access your cash. If you are a Bitcoin user, give this app a try.
9. Bitdeer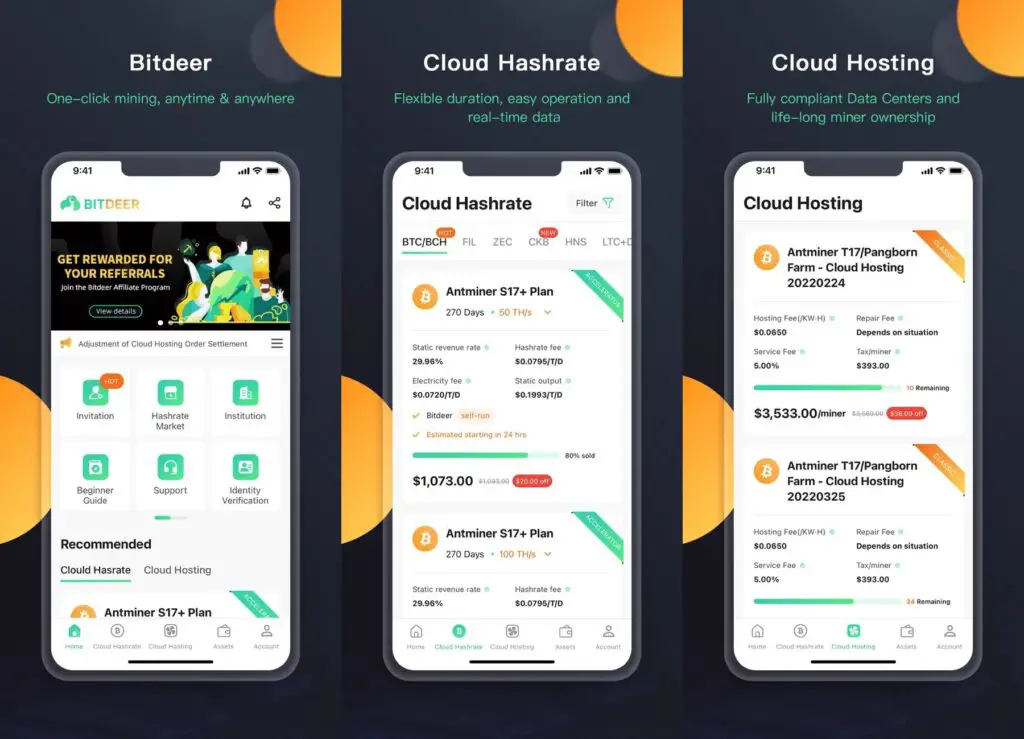 With Bitdeer, you can start mining cryptocurrencies with simple steps. Founded by Jihan Wu, Bitdeer is one of the top crypto mining apps in the market. Its headquarters are based in Singapore, but it also operates in other countries like Norway, the United States, and others.
---
Protect Your Online Privacy With Surfshark
[The VPN that we use here at Tech Arrival]
---
Bitdeer is quite popular among the crypto community. This is because it offers more than 10 mineable cryptocurrencies with access to global mining firms. It is protected by Minerplus software for better management and increased efficiency. It offers 24/7 customer support for maintenance and assistance.
10. RaveOS
RaveOS has everything that you would expect in an excellent crypto mining monitoring app. It enables you to monitor, configure, and administer your ASICs and rigs. You can control the rigs through the mobile app. It gives you access to hash rates, power consumption, errors, and more.
Mining cryptocurrencies have become much more manageable after these apps came into existence. These apps are developed for people who want to get serious about mining crypto coins. You can start with mobile-based apps and later shift to powerful software on desktops.
Also read: 11 Best Online Investment Platforms & Apps
Frequently Asked Questions (FAQs)
What is Cryptocurrency Mining?
Cryptocurrency mining is the process of creating new crypto coins by solving mathematical puzzles.
Can you Mine Cryptocurrencies on a Mobile Phone?
It is possible to mine cryptocurrencies on your phone if you have a good mining app and a phone that can handle it.
What are the Requirements to Mine Crypto on the Phone?
You need a smartphone with high processing power and a mining app. However, you should be careful because some mining apps affect the overall performance of your phone.
What are the Best Crypto Mining Apps for iOS?
ECOS, CryptoTab are some of the best crypto mining apps for iOS users.
Can you mine Bitcoin for free?
You can mine Bitcoin for free if you already have the required equipment. However, you may have to pay for the mining app you are using.
What are the Most Popular Cryptocurrencies Right Now?
Bitcoin, Ethereum, Ripple, and Dogecoin are the most popular cryptocurrencies.
What are Cryptocurrencies Used For?
Cryptocurrencies are digital assets that can be used as payment. People buy and sell cryptocurrencies as they do in conventional trading.
---
Protect Your Online Privacy With Surfshark
[The VPN that we use here at Tech Arrival]
---
Is Cryptocurrency Mining Legal?
Whether mining cryptocurrencies is legal or not depends on the laws of your country. But in most cases, it is legal.
Why is Bitcoin so Popular?
Bitcoins enable faster processing and are easy to liquify. This is the biggest reason behind its growth.
Is CryptoTab Good?
CryptoTab is a legit Bitcoin mining app and the best in the market.