The Internet is a vast resource of a lot of things which includes music, videos, movies and a lot of other things. The ability to download and save all these awesome things makes the Internet a boon. We can find anything on the web and download it on our computers, but having the best download managers for Windows PC is necessary.
It can be anything easily with few search strings. Every web browser has its integrated download manager for helping you download the files quickly. But almost every web browser has a fairly basic download manager, which is not much helpful for downloading big files. So, we recommend you to use the Best Download Manager apps for Windows to download big files.
There are many free and paid Download Manager software programs available for the Windows operating system. You can choose any one of them and enjoy downloading big files without any hassle. In this post,  we're going to share some of the best file download manager software for Windows pc. All these apps have been tested by us personally and we highly recommend you to choose one.
Also Read: 11 Best ePub Readers for Windows & macOS
List of Best Download Managers for Windows PC
1. Internet Download Manager
Almost every one of you knows about the Internet Download Manager. The Internet Download Manager is undoubtedly the best Download Manager app for Windows. I've been using the IDM for years, and it never disappointed me. The IDM can download the big files with ease, also you can use IDM to download a torrent and you can see the interactive progress bar of the download.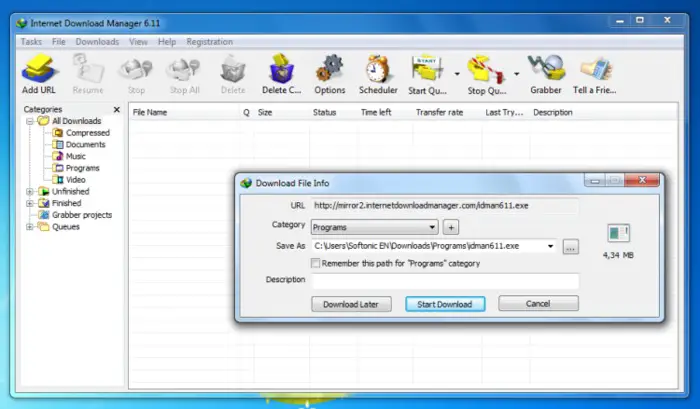 The IDM comes with the Pause and Resume option for most of the download. So, you can pause and resume the downloads as per convenience. The IDM is not a free-to-use software. It can be utilized as a Trial for 30 days, but later you've to pay the small amount for the lifetime license of this software. All I can say is that it is worth to buy the Internet Download Manager.
2. Free Download Manager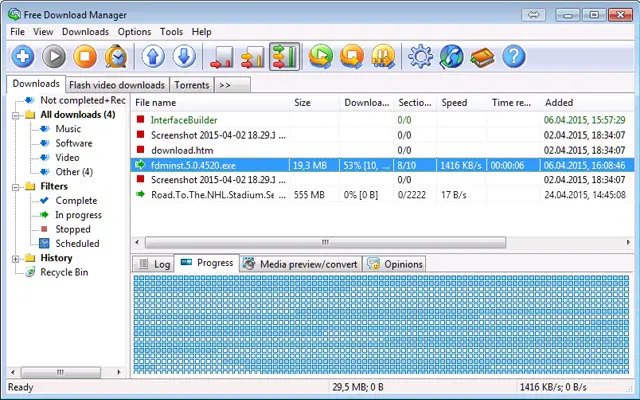 Free Download Manager or FDM is similar to IDM and is free to use. FDM brings faster download speeds than traditional browsers by splitting the downloading files into different parts and then downloading those parts simultaneously.
Interestingly, the Free Download Manager also supports torrent files. The ability to allocate bandwidth to separate multiple downloads is perhaps the best. So if you're watching a video and want to temporarily transfer bandwidth for that, you can do so by using FDM.
Also, FDM has a neat and clean UI which adds up as a plus point for its features.
Download Free Download Manager!
---
Protect Your Online Privacy With Surfshark
[The VPN that we use here at Tech Arrival]
---
3. JDownloader
The JDownloader is another free download manager software for Windows-based computers. The JDownloader is an open-source software program. With JDownloader, you can download any files quickly. Also, it allows you to pause and resume the added downloads.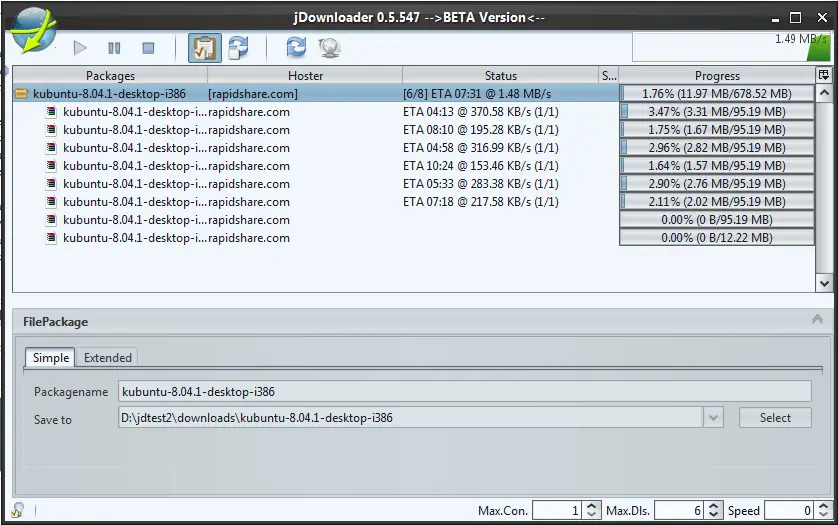 The great thing about this fantastic software program is that it changes the IP address while downloading if any Downloading service has blocked our original IP address from downloading the files at full speed. So, this feature is helpful for us to download files from any file-sharing services without compromising on the speed.
The JDownloader is a minimalistic file download manager for windows. If the user wants, then he can download many customizable themes for the JDownloader for free of cost. You can download JDownloader from this link.
Update: JDownloader 2 Has Been Released for Better Usability & Features. So try it out!
4. uGet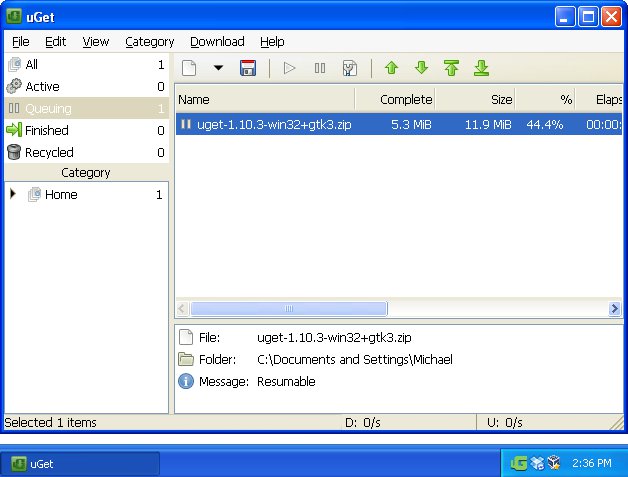 uGet is also an open-source download manager for Windows. It also has multi-threading downloading options., as well as the ability to pause and resume downloads. You can also download multiple files using the batch download with the file queuing feature.
Just like Free Download Manager, uGet also has browser integration. One of the best features of uGet is its ability to automatically prompt for downloads using the clipboard manager.
There are multiple theme support and a clean and intuitive UI which gets the job done without hassle. The download speeds are awesome and uGet is one of our favorite download managers on this list.
5. GetGo Download Manager
GetGo Download Manager is also one of the best apps for downloading, especially if you want to download many files. It has got some unique perks such as a floating box for quick drag and drop download feature. You can even import an LST file with links of all files to be downloaded and it will do the job very easily.
You can also sort your downloads and categorize them using file extensions. Another interesting feature in GetGo is that it can store login credentials for downloading files from password-protected websites. So you won't have to login multiple times to download files from such websites. It also includes integration with Firefox, Chrome, other modern browsers.
---
Protect Your Online Privacy With Surfshark
[The VPN that we use here at Tech Arrival]
---
6. Download Ninja
Google Chrome's default download manager is not sufficient to download large files from the internet. But, you can use a Google Chrome extension to do the same, in a quick way. The Download Ninja is a download manager extension for Chrome on PC. You can install the Download Ninja on the Google Chrome and start using it to download large files with ease inside the chrome.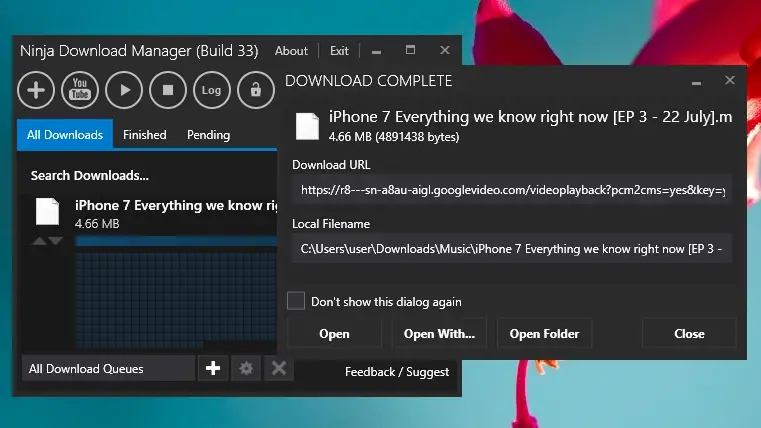 This Chrome Extension Replaces default download manager on Chrome. Also, it comes with features like pause/resume of the downloads, themes, and multiple language support. It is a great option for those who don't want to install a standalone download manager.
7. Xtreme Download Manager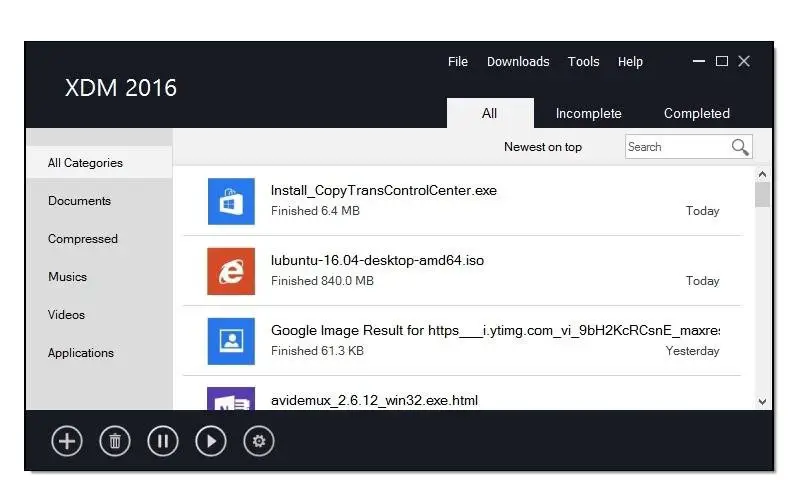 If you among the people who download a lot of videos and movies from the internet, Xtreme Download Manager is perhaps the best choice for you. It supports downloads from many video streaming platforms such as YouTube, Dailymotion, Facebook, Vimeo, and more than a thousand such websites.
By that, we aren't saying that Xtreme Download Manager is just for videos. It also downloads all types of files and their formats. One of the best features we liked about Xtreme Download Manager is that it can download an entire YouTube Playlist without the need to enter multiple links for each video.
There's also a unique and cool feature called the smart scheduler. It lets you schedule download time along with the ability to play and pause downloading files. Other features include bandwidth allocation, support for proxy servers, authentication algorithms, and more.
Download Xtreme Download Manager!
8. Download Accelerator Plus
Download Accelerator Plus (DAP) is a very secure download manager. It has got a built-in web browser through which you can browse your downloads securely.
DAP supports importing a list of links via an M3U or plain text file as well. It can even disconnect from the internet once all the files are downloaded. It has a virus checker as well as the ability to start downloads immediately after importing the links.
Integration with most modern browsers is available and also supports working on a schedule.
---
Protect Your Online Privacy With Surfshark
[The VPN that we use here at Tech Arrival]
---
9. EagleGet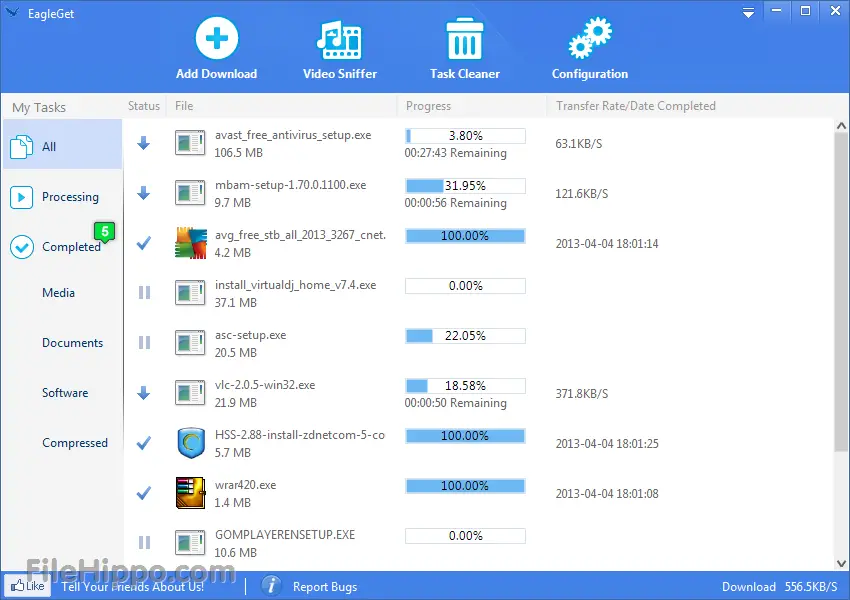 EagleGet is another great free download manager for Windows operating system. It is perhaps one of the most underrated download managers, but we assure you that it has some unique features that other download managers are missing.
EagleGet supports multiple protocols such as HTTP, HTTPS, FTP, MMS, and RTSP. This makes it easy to integrate with modern browsers such as Chrome, Firefox, and Opera. It can automatically catch links from these browsers and start downloading.
What's cool is that it uses multi-threading to increase download speeds. This ensures that you get no bandwidth to lose and full speeds while downloading files.
We loved the availability of the Themes for EagleGet. Also, the Batch Download and Browser integration is a fantastic feature. If you are looking for a light-weight download manager with customizable UI, then EagleGet is the best one from the crowd.
10. Internet Download Accelerator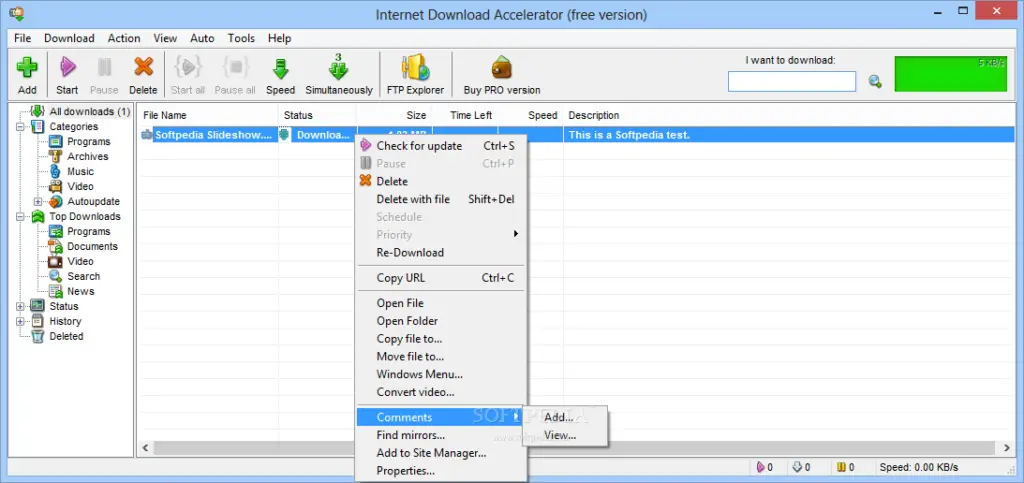 Internet Download Accelerator is one of the most advanced download managers on this list. It not only accelerates the download speed and manages the download files, but also includes the ability to resume broken downloads even from HTTP, HTTPS, and FTP servers. This feature is the most impressive feature on the apps we've featured on the list.
Just like other download managers, Internet Download Accelerator also splits huge files into multiple files and then downloads them simultaneously. Apart from that, there's browser integration with Chrome, Firefox, Mozilla, Opera, and all the major browsers.
Download Internet Download Accelerator!
11. FlashGet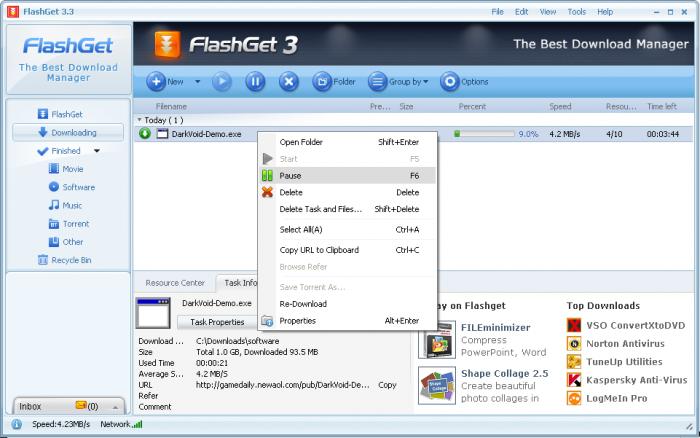 FlashGet is another great download manager for Windows. It has excellent integration with browsers and in addition to that, it even scans your downloads for viruses! How cool is that!
FlashGet supports HTTP, FTP, BitTorrent, and other protocols with seamless integration. With just a single-download button, it automatically detects which type of file you're downloading and handles your download.
---
Protect Your Online Privacy With Surfshark
[The VPN that we use here at Tech Arrival]
---
It also has a floating desktop button that you can use to monitor your download or to play/pause or add new download links as well.
Final Words
With such a comprehensive list of download managers, it's not surprising for you to get confused. Honestly, the free download managers are better than the paid ones, and also overweigh them in terms of features. Our best and most favorite download manager is the EagleGet Download Manager.
Also read: 11 Best Photo Viewers for Windows 10
We hope you enjoyed this post. Do let us know which one you used from the above list. Also, let us know if you want to add your suggestions or other download managers as well.