A good gaming keyboard must meet various requirements. It should be comfortable for e-mailing, chatting, and, most of all, gaming. Among the most important factors for a decent keyboard are build quality, keystroke feel, ergonomics, and additional features. In this article, we present the best keyboards in our opinion that are currently on the market. We have divided our proposals into several categories. Thanks to this, you will easily find a device that is adequate to your requirements and the content of your wallet.
Also read: 11 Best Game Recording Software for Windows
General Advice
Desktop keyboards are generally divided into mechanical (with switches under each key) or membrane (in which the activation of a given sign is created by pressing a rubber tab with an activator on a printed foil, so-called rubber dome). Various types of hybrids and "original inventions" are also becoming more and more popular.
Also read: Difference between Membrane Keyboard and Mechanical Keyboard
Mechanical keyboards are usually characterized by more solid artistry, a much higher price, and a much more interesting impression after hitting a key with a finger. The models that are in common use offer more and more extensive accessories and a much lower price. Many keyboards have special functions such as multimedia keys, macro functions, USB hubs, and volume control.
If you're a student, long gaming sessions can negatively affect your grades. You can ask your friends, "Who can do my homework for me?" Surely some friends will help you. You can also turn to writing services.
With a short acclimatization period, the pleasant feeling of using a mechanical keyboard will be especially appreciated by people who write a lot and often. The keys with greater resistance to pressing give a better feeling when playing, although here, a lot depends on selecting the appropriate switches.
However, experience shows that a mechanical keyboard will not necessarily provide us with a significant advantage of playing. Let's check out the list of available keyboards for gamers.
List of Best Gaming Keyboard Under $100
1. Logitech G213 Prodigy
The Logitech G213 Prodigy gaming keyboard, representing a slightly higher price level, is an advanced membrane keyboard that quickly responds to player commands and provides high comfort. Thanks to the wrist rest and adjustable height, it ensures ergonomic conditions, and its durable structure is also splash-proof.
You can assign functions to individual keys and separate buttons for multimedia control. As if that was not enough, we also have RGB backlight here, which is nothing else but the possibility of colorizing the device, using a range of 16.8 million colors.
---
Protect Your Online Privacy With Surfshark
[The VPN that we use here at Tech Arrival]
---
2. Corsair K57 RGB Wireless
What gaming keyboard is best for you if you adhere to the principle that wires are only there to be in the way? You may be particularly interested in the Corsair K57 RGB Wireless. As the last word in its name suggests, it is a wireless gaming keyboard. Such equipment is associated with considerable delays and short operation time.
The Slipstream technology provides reporting with a frequency of 1000 Hz (so just like when connected via a "cable"), and the built-in battery guarantees up to 175 hours of play (unless you turn on the backlight – then the maximum is 35 hours).
3. Razer Ornata Chroma
Another proposal is the Razer Ornata Chroma. It is a hybrid keyboard, so one that (not only according to the marketing department) combines the best features of "membrane" and "mechanics." In short: it is both fully comfortable and extremely precise, which we were able to confirm during the tests.
Add to this the optimal key height, durable construction for comfort while playing, a palm rest, and a toned look with RGB lighting, and it becomes clear why we decided to include this model in our list. It's a top choice for a low-budget gamer.
4. Logitech G413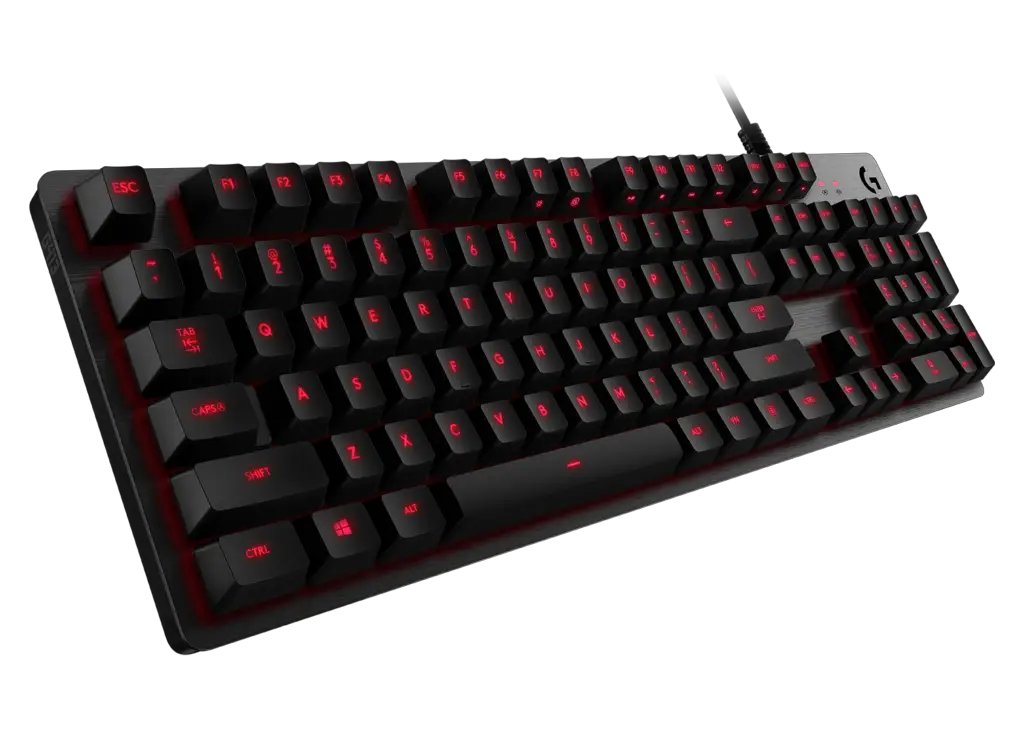 Logitech, whose portfolio includes, among others, the expensive G915 Clicky model, has also prepared equipment dedicated to less wealthy users. G413 is an interesting device because it combines many elements known from premium mechanical keyboards at an extremely affordable price.
Design at the beginning – simple, without any frills, but with a numeric keypad. The manufacturer, wanting to reduce the device's price as much as possible, deprived it of an extensive backlight (limited it to only one color).
It's a mechanical keyboard with a solid structure (its upper part is made of brushed aluminum-magnesium alloy), precise and quiet switches (Romer-G). It also has additional functions (such as the built-in USB port, which allows you to connect additional hardware easily). Logitech G413 is a reliable mechanical keyboard that is the perfect choice for all those who start their adventure with "mechanics".
5. A4Tech Bloody B975
If we are supporters of gaming equipment characterized by aggressive stylistics, we should pay attention to the A4Tech Company's offer. Of course, the flashy looks and multi-colored backlighting aren't the only reasons why you should lean over the Bloody B975. The keyboard uses mechanical infrared switches' technology, which theoretically ensures a much faster response of the device to pressure.
Of course, anti-ghosting and the ability to disable the Windows key are standard in this equipment class. To increase ergonomics, the device has been enriched with an attachable wrist rest. The mechanical switches used in Bloody B975 are to boast durability of 100 million hits. Simultaneously, special drainage channels have been prepared inside the keyboard – they are to protect the device from damage due to flooding. However, we did not dare to check on the copy received from the manufacturer whether this solution actually works.
6. SteelSeries Apex 3
The low-budget SteelSeries Apex 3 keyboard is a good choice for all gamers. That's quite a lot for a membrane keyboard, but much less than the semi-mechanical SteelSeries Apex 5 on the next page. The least necessary things from the more expensive siblings have been removed – so there is no OLED screen and RGB backlight, set individually for each key (there is "only" zone). The whole thing is made of good quality plastic, not aluminum.
However, a very comfortable, magnetic wrist rest and a multifunctional volume control knob are left. Thanks to the use of membrane keys, the manufacturer has made the device resistant to liquids and dust, confirmed by the IP32 certificate. The keys themselves work great in practice, both when typing and playing. They also work extremely quietly, which many night owls will find a solid argument to buy.
---
Protect Your Online Privacy With Surfshark
[The VPN that we use here at Tech Arrival]
---
The manufacturer declares their durability at the level of 20 million clicks, which is the same as in the more expensive Apex 5. All this means that this keyboard is a very sensible alternative to cheap mechanical models despite the rather high price (for a membrane one).
7. Alienware Pro Gaming Keyboard AW768
Dell has created a brand of Alienware gaming devices with a "space" design. Of course, among the products with a characteristic logo, we can also find keyboards. The Alienware Pro Gaming Keyboard AW768 makes an impression the moment you take it in the box's hand. The keyboard weighs almost 1.5 kg, which is double the weight of most competing designs! What does Alienware have to offer besides the mass? Of course, an unusual appearance that you may like because it is not associated with other "indulgence" equipment for players.
The more "functional" things: brown mechanical switches with a durability of 50 million presses, 1000 Hz polling rate, full anti-ghosting, and a volume control knob. Thanks to special software, we can freely configure the functionality of all keys. As if that was not enough, the equipment is equipped with separate buttons for macros (with the option of recording "on the fly"). Built-in memory allows you to save our settings even when connecting the keyboard to other computers.
8. SteelSeries Apex 5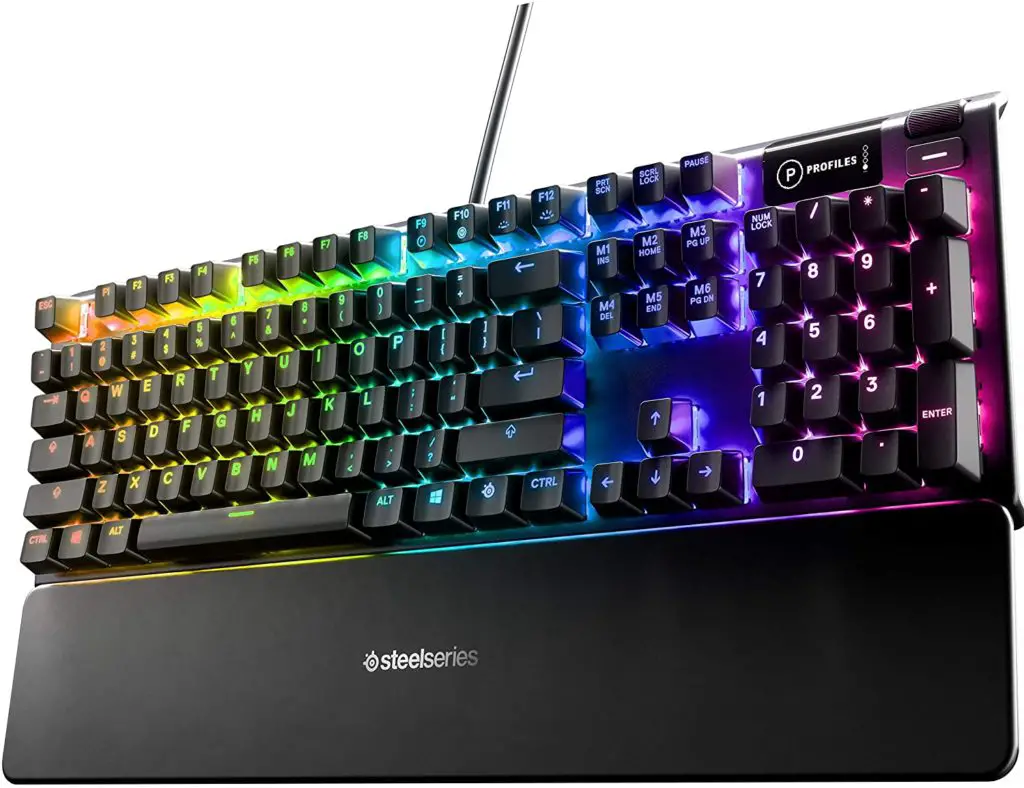 Suppose you want to experience a bit of luxury, but you do not intend to spend PLN 1000 on SteelSeries Apex Pro. In that case, it is worth focusing your attention on the similar in many respects, but costing half this amount, the SteelSeries Apex 5 model. Very high quality (aluminum), sensational, magnetic pad for wrists, and of course, the built-in OLED screen with a functional knob is a strong argument for choosing this model. It will appeal especially to all fans of the rather loud click, characteristic of blue switches.
The key life is 20 million presses, which may not be an overwhelming result from the competition, but it should not be treated as a disadvantage. However, a disappointment maybe the fact that the keys used here are not fully mechanical. However, in practice, we did not notice the difference between the hybrid solution and the traditional blue switches. RGB lighting fans will also be happy. SteelSeries Engine allows you to configure a whole host of effects.