Phone manufacturers have already tried to take a shot at making a gaming-oriented phone back in the days when we used to have keypad phones but they were not successful because there were no good games out there. Nowadays we have multiplayer games like PUBG Mobile, Fortnite, Call of Duty Mobile which is getting very popular day by day. These games are getting bigger and more power-hungry after each update and to run them smoothly we need something more powerful.
Since last year we have seen a lot of smartphone manufacturers launching their own version of Gaming Oriented Smartphone to fulfill your gaming needs. They come with some amazing features which take the gaming experience to the next level. Not only gaming but these smartphone are also good for the rest of the things like watching movies, Clicking Pictures and all your everyday tasks. The smartphone manufacturers are trying to target these small groups of people who are looking for the best smartphone just to play games. If you are among those small sets of people and serious about mobile gaming then this article is for you.
In this article, we are going to take a look at the best phones for gaming this year and help you make the best buying decision. Upgrading to a new smartphone is not easy and you can't do an experiment with it. You must look for the best brand out there and something which will last at least 2 years before you require another upgrade. We have picked the best smartphone out there to make sure every game out there like PUBG Mobile and Fortnite runs just fine.
List of Best Smartphones for Gaming
Note: We have made this list based on our personal opinion and the phones are not listed in any order. The main criteria were the performance, battery life and some unique gaming features which take the gaming experience to the next level. Now let's take a look at some of the best phone for gaming.
1. Asus ROG Phone 2
Asus ROG Phone 2 is one of the best smartphones for gaming right now this year. The newer model comes with a lot of improvements than the previous one. You now have a bigger screen to body ratio and minimal top and bottom bezels. The bezels are here for a reason, you get a twin speaker module with DTS:X which creates very crisp audio while playing games or watching movies. The speaker is detailed by copper accent on the top and bottom which looks amazing.
Talking about the display, the phone has a 120Hz refresh rate, 240Hz touch sampling, and 1 ms response time. This makes the phone feel very fluid and the games are not limited to 60FPS anymore. It also has HDR support which makes the viewing experience even better. Another main change from the previous-gen is the addition of an In-display fingerprint scanner.
The phone is powered by the latest offering from Qualcomm which is the Snapdragon 855 Plus and comes with 12GB LPDDR4 RAM. This makes sure your game runs in the highest frame rate possible and with the graphics settings. The internal storage here is UFS 3.0 with 512GB capacity. The newer storage standard makes sure you the highest read and writes speed on your device.
On the back, you have the Republic of Gamer logo which is Aura-powered RGB LED and inlaid within the glass back. The cooling feature is also improved from the last-gen the new GameCool 2 heatsink uses a 3D vapor chamber and connected to a vent on the rear side of the phone ensures that the phone stays cool even after extended gaming sessions and to keep these sessions running Asus has packed a large 6000 mAh battery inside.
When it comes to accessories there is a lot to choose from. You have an AeroActive Cooler 2, an Aero Case, twinView Dock 2, ROD Kunai Gamepad, Mobile Desktop Dock, a Pro Dock, WiGig Display Dock Plus and a ROG Lightning Armor Case.
Asus ROG Phone 2 Specifications
| | |
| --- | --- |
| Display | 6.59 inch, 2340 x 1080, AMOLED |
| SoC | Qualcomm Snapdragon 855 Plus |
| RAM | 12GB LPDDR4X |
| Storage | 128GB or 512GB UFS 3.0 |
| Rear Cameras | 48 MP + 13 MP |
| Front Camera | 24 MP |
| Battery | 6000 mAh |
| Software | Android 9.0 (Pie) |
2. Nubia Red Magic 3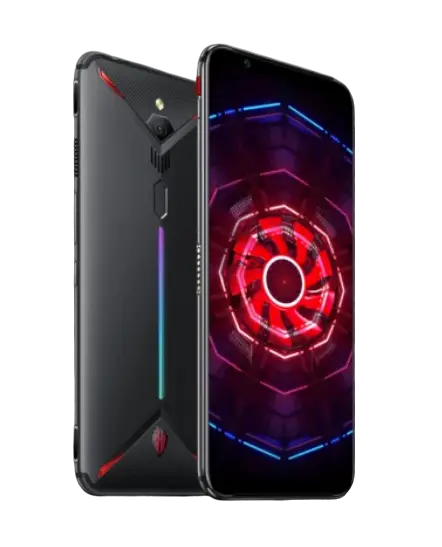 The Red Magic 3 is the 3rd gen smartphone from Nubia which focuses primarily on gaming. The phone has a lot of interesting features to offer, starting off with the design we have a tall 19.5:9 aspect ratio display on the front with minor bezels. It is an ultrawide screen with a 90Hz screen refresh rate and a 240hz touch response rate. You also have HDR support which makes the gaming experience even better.
---
Protect Your Online Privacy With Surfshark
[The VPN that we use here at Tech Arrival]
---
The device is powered by the latest Snapdragon 855 Chipset from Qualcomm and paired with 8 or 12GB of RAM. The gaming experience here is very smooth and the higher refresh rate screen makes sure you to get the highest frame rate possible. There is a Game Space 2.0 feature built into the software which allows you to play uninterrupted by tweaking some settings. You can get the storage up to 256GB to store all your games.
Some other interesting feature of this phone includes Active liquid-cooling with turbofan, it comes as an attachment on the back. Built-in shoulder triggers that give two extra buttons like L1 and R1 on Console. Stereo Speaker with DTS:X for crisp and cinematic sound. The phone has a large 5000 mAh battery onboard along with 18W Quick charge support so you will get back to 100% in a short amount of time.
The Red Magic 3 from Nubia also comes with a lot of accessories that you can buy such as the Protective Case, Red Magic Noobz Earphones, Red Magic USB Type-C Cable, and the Red Magic Quick Charger. There's a gaming port on the side that allows you to connect to the Magic Adapter so you can connect your headphone, insert a LAN cable for high-speed internet and also charge via USB Type-C all at the same time.
Nubia Red Magic 3 Specifications
| | |
| --- | --- |
| Display | 6.65 inches ultra-wide, AMOLED |
| SoC | Qualcomm Snapdragon 855 |
| RAM | 8GB/12GB |
| Storage | 128GB/256GB |
| Rear Cameras | 48MP |
| Front Camera | 16MP |
| Battery | 5000 mAh |
| Software | Android 9.0 (Pie) |
3. Xiaomi Black Shark 2
This is the second generation of Xiaomi Black Shark device and it fixes a lot of things which were missing in the last-gen. We now have a unique kind of design and RGB LED on the backs around the sides which gives the phone an attractive look. Xiaomi Calls it Gaming Light and it can produce over 16.8 million colors. On the front, we have a true view display with HDR support. It is an AMOLED screen and has an independent DSP. Xiaomi claims to have the world's lowest latency touch with a response time of 43.5ms. We also have a 240Hz touch report rate which makes everything looks very fluid.
The device is powered by a Qualcomm Snapdragon 855 Processor paired with 8GB or 12GB of RAM. Having the latest in terms of specs means you get the most out of your device. The game will run smooth and push the highest fps possible even on the highest graphics settings. The fingerprint scanner has been moved and is now under the display. You also have smart Antenna – X Type along with 2 Side Antenna for a strong connection.
Now let's talk about some software features. First of all, you have Shark Space which turns the whole interface into a Gaming hub with just one click. Game Dock helps you silent notifications, record screen and much more by just pulling down a menu and you don't even have to exit the game. You also have access to a Gamer Studio where you can tweak your display and touch settings, customize the theme and much more.
Xiaomi Black Shark 2 has a 4000 mAh battery with 27W fast charging support. It can give you 60% of battery in just 30 Minutes. Xiaomi Black Shark 2 accessories set includes a Black Shark 2 Rookie Kit, Black Shark 2 Pro-Kit, Black Shark Portable Gaming Kit, and a Black Shark Cooling Case.
Xiaomi Black Shark 2 Specifications
| | |
| --- | --- |
| Display | 6.39 inch, AMOLED Display |
| SoC | Qualcomm Snapdragon 855 |
| RAM | 8/12GB |
| Storage | 128/256GB UFS 2.1 |
| Rear Cameras | 20MP |
| Front Camera | 24 MP |
| Battery | 4000 mAh |
| Software | Android 9.0 (Pie) |
4. Razer Phone 2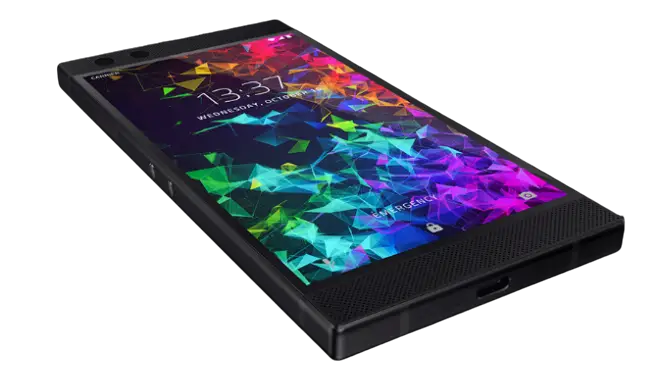 The new Razer Phone doesn't have a lot different when it comes to design. It has the same old rectangular design which indeed makes your hold it much easier. You can choose between the Mirror and the Satin color variant and there's a glowing Razer logo on the back of the phone. It is a customizable Razer Chroma RGB lighting and you can choose from 16.8 million different colors. It also gives you personalized notification alert which is interesting.
Talking about the display we have a 5.7 inch 1440 x 2560 IGZO IPS LCD display which is in fact 50% brighter than it's predecessor. The 120Hz High refresh rate and the HDR support make the content look better and more fluid. The display can also go very bright up to 580 nits. The phone feels more responsive and snappy and you won't face any kind of lag here. The phone has a Dual front-facing Speakers with Dolby Atmos and a 24-bit USB-C DAC.
The device is powered by the Qualcomm Snapdragon 845 Processor and 8GB of RAM. It is the last year's flagship processor and I would have loved to the latest one but considering the price the phone sells at it is completely justifiable. You can run every game out there and on the highest graphics settings possible and they will run just fine. You also have Vapor Chamber Cooling which allows the phone to have more stability and better performance when compared to some other phone with a different cooling technique.
Razar Phone accessories include some Razer Phone 2 Case, Razer Hammerhead USB-C Earphones, Razer Phone 2 Wireless Charger, and Razer Raiju Mobile Controller. The phone is also IP67 Water resistance and packs a 4000 mAh battery with Qualcomm Quick Charge 4.0+ fast charging support as well as wireless charging support.
---
Protect Your Online Privacy With Surfshark
[The VPN that we use here at Tech Arrival]
---
Razer Phone 2 Specifications
| | |
| --- | --- |
| Display | 5.72 Inches, IPS LCD, Wide Colour Gamut |
| SoC | Qualcomm Snapdragon 845 |
| RAM | 8GB RAM |
| Storage | 64GB Internal |
| Rear Cameras | 12MP + 12MP |
| Front Camera | 8MP |
| Battery | 4000 mAh |
| Software | Android 8.1 Oreo |
5. Apple iPhone XR
The iPhone XR is not a gaming-oriented smartphone at all. It doesn't have any fancy features like the large screen, Higher refresh rate display, 8 or 12GB of RAM, RGB Lighting, or any Detachable accessories. Instead, it comes with many toned-down features such as a low-resolution display, a smaller display but still, the XR is actually a better gaming phone than any other Android Phone out there so it was worth including in the list and I'll explain why.
The Apple A12 Bionic Processor is one of the best performing SoC out there. It is a year old but still performs has faster GPU performance than the Snapdragon 855 from Qualcomm. The A12 Bionic is also very efficient and doesn't require a cooling feature. The phone has a low-resolution display so it doesn't have to push a lot of pixels and you can enjoy your game at the highest graphics without any issue like lags or frame drops.
The Software on the Apple device is very optimized than Android. This is because Apple has full control over its software as well as hardware. Every game runs flawlessly on the iOS operating system thanks to the metal Gaming API. It is also the largest AR platform out there. There are already a lot of AR games out there for iOS and you can play them on your iPhone XR. The neural engine and machine learning make it no match with any other Android Gaming smartphone.
The iPhone XR is very famous amongst PUBG Mobile Gamers because it gives the best performance out there and has fewer bugs and glitches when compared to the Android version of the Game. The phone is also getting a lot of price cuts and you can easily pick this one over the iPhone XS Max if you want to buy it just for playing games.
Apple iPhone XR Specifications
| | |
| --- | --- |
| Display | 6.1 inches, IPS LCD, Wide color Gamut |
| SoC | Apple A12 Bionic |
| RAM | 3GB RAM |
| Storage | 64/128/256GB |
| Rear Cameras | 12MP |
| Front Camera | 7MP |
| Battery | 2942 mAh |
| Software | iOS 12 |
Final words
Now with that many phones in mind, the final question will be – How to choose the best gaming smartphone. Well, choosing a gaming smartphone is a little different from choosing a regular smartphone. Gaming smartphone is not just about the best processor and battery life, there are a lot of different things you might wanna consider.
Starting off with the performance you should always go for the latest processor out there. Last year's chipset is fine and there are few phones still running that but the latest-gen chipset will offer you much better performance and better battery life. The newly launched Snapdragon 855 Plus from Qualcomm or the A12 Bionic chip from Apple is what you should look for.
Now coming to the display, most of the regular phones features a 60Hz display which is not capable of pushing frame rates higher than 60fps. When it comes to gaming phone we are seeing a display up to 120Hz. If you play games that can go a higher fps than 60 then go for a 90Hz or 120Hz display.
Battery life is also very important because this is going to affect your long gaming sessions. Pick something which has a 4000mAh or bigger battery capacity and also comes with fast charging support. So you can juice it up in no time.
So there you have it. The best gaming phones you can buy right now and everything you need to know about it. We will be updating the list very frequently and you are going to see a lot of new gaming smartphones in the coming future.