Google Play Store is arguably the best place for Android users to download apps and games. However, it's not the only app store available for the Android platform. Many other alternatives exist, and some of them are even better than Google Play Store.
Some users might find Google Play Store to be too restrictive. If that is the case, you can simply go to any app stores discussed below. Because of these alternatives, you don't need to stay limited to a single source for apps.
Also read: 21 Best Android Apps Not on Google Play Store
List of Best Google Play Store Alternatives for Android
1. Amazon App Store

We are starting our list with the Amazon App Store, which is currently one of the best alternatives to the Google Play Store. It serves as the primary app store on Amazon devices like Fire phone, Fire tablet, and Kindle.
However, it doesn't have any web interface available. So you will need to download and install the APK file on your device. For the convenience of users, the apps are grouped into different categories. To add to it, Amazon offers a paid app for free every day.
Once you install the APK on your device, you must complete the signup process. The UI looks similar to Play Store, so you shouldn't face any complications while using it.
2. APKPure
APKPure is an open-source platform to download APK files on your Android device. It is quite popular among the Android community because of its unique app collection.
This is an Android marketplace, where users can download geo-restricted apps not available on Google Play Store. APKPure can also be used by iOS users.
At APKPure, you will find popular apps like TikTok, Facebook, PUBG, and others. For convenience, you can also check the app's version history. It is a safe app store, so you can download apps without worries.
3. APKMirror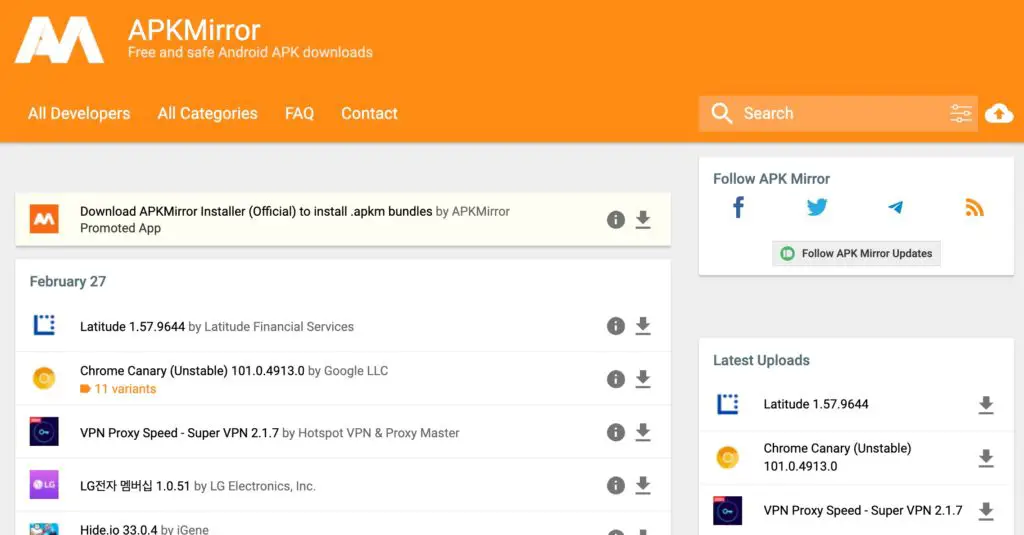 There are chances you already know about APKMirror. It is a very popular Android marketplace for Android users. APKMirror has all the apps available in the Play Store and more.
---
Protect Your Online Privacy With Surfshark
[The VPN that we use here at Tech Arrival]
---
People mainly rely on APKMirror when it comes to downloading geo-restricted apps. If you cannot find the app on Play Store, you will surely find it on APKMirror. It offers the best way to bypass this restriction.
Previously, APKMirror could be accessed on a browser. But they have recently launched an app in Play Store to make things more convenient for users. All you have to do is download the APKMirror app from Play Store and use it to get more apps. However, the website is still accessible, so you can use both.
4. Aptoide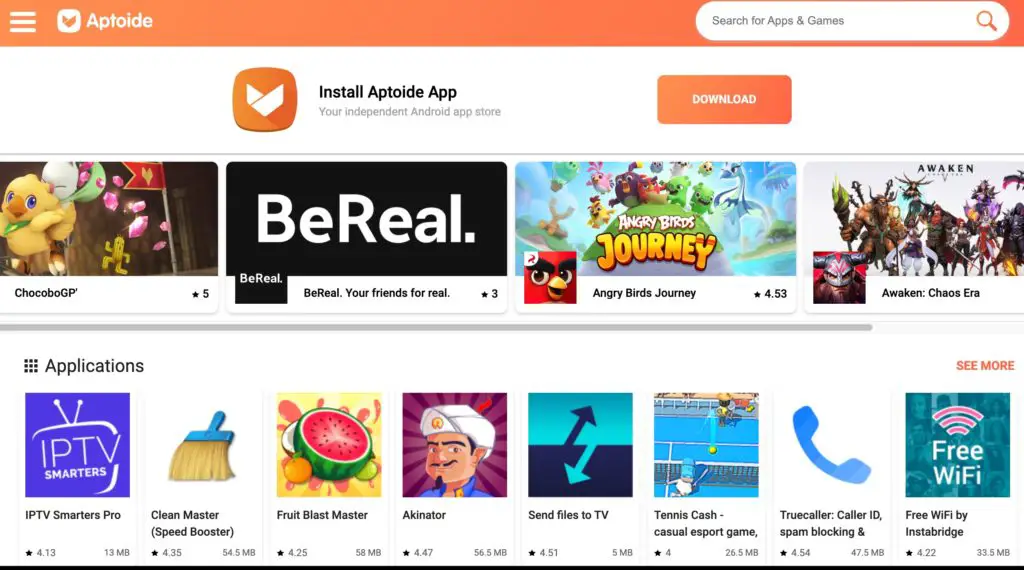 Aptoide is one of those Android marketplaces giving tough competition to the Play Store. It has created its place and offers unique apps and games.
It brings you thousands of apps, including those not available on the Play Store. So if there's an app that is banned on Google Play Store, you are likely to find it on Aptoide. It also gives you access to geo-restricted apps. Apart from that, Aptoide has all the major and popular apps like Twitter, Facebook, Roblox, and more.  
As far as security is concerned, you have nothing to worry about as all the apps and games are directly uploaded by developers. In addition, the apps are verified before they are launched in the Aptoide store. Right now, there are more than 1 million apps available on Aptoide.
5. 1Mobile Market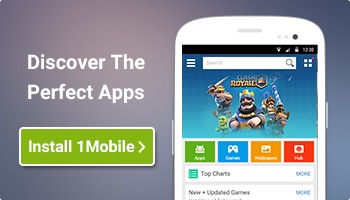 Next up, we have 1Mobile Market, which is slightly different from the other app stores on the list. They offer only free apps, especially the most popular ones. It is also a great place to upload your apps and test their popularity.
You can upload apps for free. Unlike other platforms, it doesn't cost any money. Before uploading your app, it needs to go through a selection process. This is to ensure that your app is free of malware.
1Mobile Market has high-quality apps that can be downloaded for free. It is used by millions of people worldwide and has hundreds of apps available on the platform. If you are looking for a Play Store alternative, you should check it out.
6. F-Droid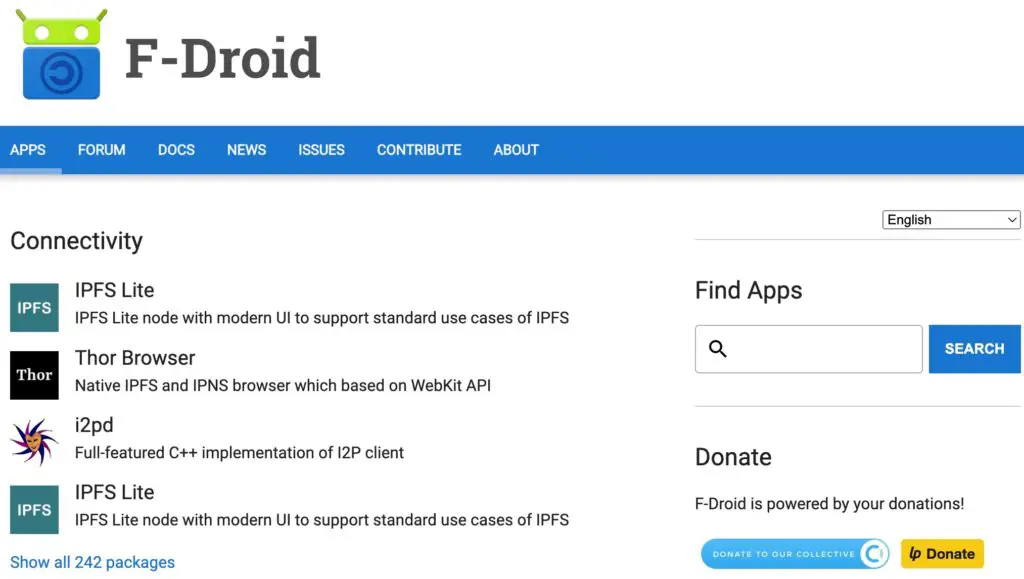 If you are looking for open-source and free apps, F-Droid is the ideal place for you. This is where you will find safe-to-use apps for your Android device. 
However, it should be known that F-Droid doesn't have all the popular apps from the Google Play Store. It mainly offers open-source apps like NewPipe. This app store is ideal for people who want to evade Google tracking.
F-Droid is a Google client that helps you draw apps directly from Google's repository, but without getting detected. To use F-Droid, you need to have a Google account, which needs to be linked to your Google Play Store.
---
Protect Your Online Privacy With Surfshark
[The VPN that we use here at Tech Arrival]
---
7. Samsung Galaxy Store
Lastly, we have the Samsung Galaxy Store, exclusively reserved for all Samsung users. This commercial app store comes pre-installed in most Samsung phones, smart TVs, smartwatches, and more.
If you are using a Samsung smartphone, you can access both Google Play Store and Samsung Galaxy Store on your device. It also manages a few of the apps in the background.
Samsung is dedicated to making Galaxy Store profitable to app developers. It is also striving to offer apps and games not permitted on Play Store. For example, Fortnite. It already has millions of users, and the numbers are expected to grow in the future.
With so many alternatives on the market, you don't need to stay limited to Google Play Store. Try out these app stores and find out great apps that you have been missing for all this while.
Also read: 17 Best Online Multiplayer Games for Android & iPhone
Frequently Asked Questions (FAQs)
Can you access Samsung Galaxy Store on other Android phones?
Samsung Galaxy Store is exclusively available for Samsung smartphones only.
Is Amazon App Store Available in Google Play Store?
No, Amazon App Store is not available on Google Play Store. To access this app, you need to download the Amazon Underground app on your Android device.
What is the Best Place to Look for Open-Source Apps?
You will find a huge collection of open-source and free apps on F-Droid.
Is ApkPure Safe?
Yes, ApkPure is a completely safe place to download Android Packages on your Android devices. 
Is Aptoide Good?
Aptoide is one of the best Android app marketplaces. It gives good competition to Google Play Store in terms of app availability.