Apple has unveiled its new iPhone 12 series for the year 2020 at its November event and many people have already bought the new iPhones including us. If you are hunting for the best cases for your new iPhone 12 or iPhone 12 Pro, we have compiled a list of the best ones you can get right now. Both the iPhone 12 and the iPhone 12 Pro have the same exact dimensions. So one case will fit both of them alike.
The iPhone 12 series also come with MagSafe technology. This is a circular magnetic strip that lets chargers and accessories connect with the phone firmly, because of the magnet. Apple's own cases come with MagSafe's magnets inside them but other cases that are thin enough also work with the iPhone's already firm magnets. If you want to charge it or hook some other accessories off the back, you shouldn't have a problem unless the case is too thick.
Also Read: 10 Best iPhone 12 Pro Max Cases
List of Best iPhone 12 and iPhone 12 Pro Cases
1. Mujjo Full Leather Wallet Case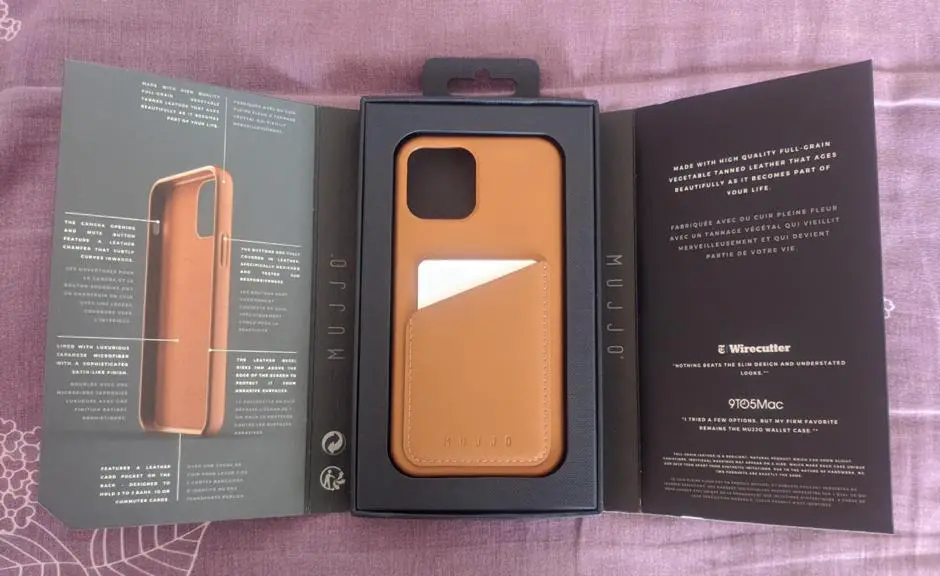 Mujjo full leather wallet case has a pouch on the back that doubles up as a wallet for your iPhone 12 or iPhone 12 Pro. The case has an overall slim profile, with raised edges around the front and the camera areas to protect against drops. The case can carry up to three cards inside the pouch which is not a lot of space but okay for daily use.
The greatest feature of the case is the organically aging and naturally tanned leather material used. Mujjo says that this leather breaks in and ages very uniquely giving users a personalized look as they keep using it for a long duration of time. The inside of the case is made up of microfiber from Japan giving it a satin-like treatment. The case is not compatible with MagSafe accessories since the cards will block the magnets. But you can use a Qi wireless charger with it.
2. Apple Silicone Case with MagSafe
Apple launched a whole bunch of new accessories that come with MagSafe. Among these are the new silicon cases that have the MagSafe magnet layout on the inside. This ensures that other MagSafe accessories such as the MagSafe charger or maybe the wallet can stick on top of the silicon case. Apple never told case manufacturers about MagSafe, so none of them currently features the design Apple has.
From the outside, the case looks like the good old Apple silicon case we have known forever. But peeking on the inside is where things start to change. Apple has carefully managed to sandwich the magnets between the cases' back and the microfiber lining on the inside. The case is of-course of great quality you'll expect from Apple and comes in eight colors – White, Black, Plum, Deep Navy, Kumquat, Cyprus Green, Pink Citrus, and Product RED.
3. Apple Clear Case with MagSafe
This is another well known Apple case that now features MagSafe for the latest iPhones. However, this time, it's not really clear as the magnets are still visible. These cases are similar to the silicon cases and have solid white magnets inside that are clearly visible. The case is made up of plastic and features the same quality as Apple's previous clear cases.
4. OtterBox Defender Series Case
OtterBox's Defender Series presents a rugged look for the iPhone 12 and 12 Pro and features multiple layers. The case is built to withstand serious drops, dirt, scrapes, and bumps. The company claims that the new case provides the same protection as before, but is now slimmer. Multiple layers of this case include a solid inner shell and a resilient outer one for long-lasting durability.
On the bottom, the port is covered so that dirt and dust don't clog up. There's also a holster on the back that works as a belt clip and also doubles up as a kickstand. The raised edges around the camera and screen sure there are no scratches and damage in case of an accident. Unfortunately, the Defender Series doesn't work with MagSafe but does work with Qi wireless charging including MagSafe. If this sounds confusing to you, let's break it down. You can still use a MagSafe charger with this case on, but it won't magically snap up like Apple's cases since it is thick and lacks magnets. You would have to properly align the center, or you can use any other Qi-certified wireless charger and it will work fine.
---
Protect Your Online Privacy With Surfshark
[The VPN that we use here at Tech Arrival]
---
5. OtterBox Strada Series Case
The Strada Series from OtterBox features a folio like design that protects not only your phone from the back but also from the front. The case has a cardholder and has got an ample amount of space for cash as well. The materials used feel premium and soft to touch. Even with a folio design, OtterBox has managed to keep the case slim and it easily goes in and out of your pocket.
The magnetic latch secures the folio when it is open and closed both. The case is made up of premium leather, the latch is metal and the shell is made up of polycarbonate for improved impact resistance and drop protection. The case is thin enough to support MagSafe charger and other accessories as well as Qi wireless charging.
6. Totallee Clear Case
If you are not a fan of the super-rugged OtterBox case or Apple's clear case, then the totallee clear case should be an ideal choice for you. The case is super thin and is clear, so you can easily flaunt your iPhone 12 or iPhone 12 Pro's design. It also doesn't feature any branding or logos and offers a very clean and minimalistic look. totallee says that the case does not attract lint or turn yellow which happens a lot in clear cases.
The case is made up of flexible TPU that is slim and offers protection for impacts at the same time. The thickness of this case is only 0.3 inches making it one of the thinnest cases in the world. Since the case is super thin, it works flawlessly with Apple's MagSafe chargers and accessories. Even though the case is thin, the raised portions around the camera and the front offer significant protection in case your phone drops.
7. Spigen Ultra Hybrid 
This is another clear case from the industry expert, Spigen. Just like totallee, this one is also extremely thin at 0.3 inches. The case is made up of TPU bumper and polycarbonate back and offers good support to your device if there is an impact. There are also raised edges around the camera and the front of the display for added protection.
Even though there are no MagSafe magnets in the case, the case works perfectly with MagSafe charger and other accessories since it is really thin. There is Spigen branding on both sides of this case which might not seem good for a clear case. But if you don't mind that, this is one of the best clear cases you can get for your iPhone 12 or iPhone 12 Pro.
8. Spigen Tough Armor
If you are getting bored from looking at all those clear cases, the Tough Armor just might be something for you. Spigen is known for its great quality cases and the Tough Armor for iPhone 12 and iPhone 12 Pro is no exception. Just like the name suggests, the Tough Armor is made for withstanding rough usage, impacts, and drops. This new generation case comes with something called extreme impact foam under multiple layers while retaining the slimness and grip as before.
The case has got dual layers with flexible TPU and hard Polycarbonate protecting your phone against all the impacts. The case is also military-grade certified with what Spigen calls 'Air Cushion Technology'. The case is compatible with wireless charging but MagSafe might not work as intended.
9. Urban Armor Gear UAG Case
Urban Armor Gear is also known for its solid rugged styled cases. And this one for iPhone 12 Pro maintains the UAG legacy. Unlike others, this case is handcrafted and features 5 layers of protection with UAG's signature Armor frame, a shock-resistant core that's layered with top-grain leather, a polycarbonate shear plate, and alloy metal hardware. All these make up for an absolutely solid case that will protect your phone no matter what kind of impact it experiences.
The core is made up of soft impact-resistant materials and the grip features a honeycomb design for added stability and firmness. The tactile buttons are oversized and responsive, delivering crisp feedback. The bezels and areas around the camera are slightly raised so as to offer added protection around those areas in case of a drop. UAG claims that the case meets twice the military drop-test standards (MIL-STD 810G 516.6). There is support for wireless charging but MagSafe functionality should be limited.
10. Caseology Parallax
Caseology Parallax features a slim and functional design for the iPhone 12 and iPhone 12 Pro. It has a 3D design on its back and has also improved ergonomics for better grip and stability. The bumpers on this one are dual-layered, which offers military-grade protection against impacts as well as soft and flexible materials on the inside. The case is not compatible with MagSafe accessories but you can use it for Qi wireless charging.
---
Protect Your Online Privacy With Surfshark
[The VPN that we use here at Tech Arrival]
---
Final Words
These were our Top 10 picks for iPhone 12 and iPhone 12 Pro cases. If you are looking for wallet and leather cases, Mujjo's Full Leather Wallet case and Otterbox Strada Series definitely are the best choices out there. We were slightly disappointed by Apple's not-so-clear clear case since other clear cases like totallee clear case and Spigen Ultra Hybrid also support MagSafe accessories. Nevertheless, the UAG and the Tough Armor are for the ones looking for a more rugged case and provide the most protection from the rest.
Also read: 10 Best iPhone 12 Mini Cases