The iPhone 12 Mini is the smallest of all the iPhones that were launched in 2020. Don't fall for the "Mini" in its name since the iPhone 12 Mini has the same A14 Bionic chipset found in the rest of the lineup. The only difference lies in the screen size and battery. If you have recently got your hands on an iPhone 12 Mini and love its compact size, you might want to make it more grippy and protective if something happens.
Apple also introduced MagSafe with the iPhone 12 series, which is essentially a series of magnets that lets accessories attach to the back of your iPhone magnetically. Some cases like Apple's official ones support MagSafe, others are thin enough to do so, but the rugged ones don't.
Also Read: 10 Best iPhone 12 & iPhone 12 Pro Cases
In this post, we curated a list of the top 10 best cases for your iPhone 12 Mini. Let's take a look at them:
List of Best iPhone 12 Mini Cases
1. Apple Silicon Case with MagSafe
The Silicon Case from Apple itself is great for your iPhone 12 Mini since it is one of the only cases with built-in magnets that officially support MagSafe accessories. Apart from that, the case is actually well made and feels like every other Silicon Case Apple has ever made – soft, grippy, and nice to hold. The inside of the case has a soft microfiber lining, and the outside is made up of Silicon.
Between these two layers is where Apple has carefully sandwiched the magnets essential for MagSafe. The case is available in many colors such as White, Black, Plum, Deep Navy, Kumquat, Cyprus Green, Pink Citrus, and Product RED.
2. totallee Super Thin Case
The super-thin case from totallee lives up to its name. It is just 0.02″ thin for the matte version and 0.03″ for the transparent one. However, the case still provides an ample amount of protection for your iPhone 12 Mini. It also doesn't have any brand names A raised lip around the camera protects the lens from scratches and drops.
The case doesn't add any bulk to your iPhone and retains its original aesthetic. You can also pair it with a screen protector for added protection. It also has a nice grip on the sides and is made up of Since it is very thin, the case supports MagSafe accessories. The case is available in Green, Navy Blue and Clear colors.
3. Spigen Ultra Hybrid
Spigen Ultra Hybrid is another thin and clear case for your iPhone 12 Mini. The case is made up of thermoplastic polyurethane (TPU) material to ensure that the case's rigidity while also providing protection. The edges on this case are raised slightly to protect the front of the phone, while it's also raised near the cameras to protect the lens as well.
The Ultra Hybrid is form-fitted for the iPhone 12 Mini and adds just the right amount of depth to increase grip in everyone's hands. The case also supports MagSafe accessories since it is very thin, and the TPU material doesn't obstruct any magnets.
---
Protect Your Online Privacy With Surfshark
[The VPN that we use here at Tech Arrival]
---
4. Spigen Tough Armor
The Spigen Tough Armor is one of the most renowned rigid cases you can get for your iPhone 12 Mini. The case features a dual-layer design that includes hard polycarbonate and flexible TPU materials. The all-new foam technology also provides an extra layer for shock absorption. Apart from the protection, the case also includes a versatile kickstand on the back that will let you keep your iPhone in a fixed position if you are in for one of those binge-watching sessions.
The case is military-grade certified [MIL-STD 810G-516.6] and also has Air Cushion technology for added protection. Of course, the front and camera areas are raised so that the case provides you all-around protection. You can also apply a screen protector along with this case. However, MagSafe accessories won't work with this one, so you might want to get something else if you're in for that.
5. OtterBox Defender Series
While we are checking out rugged cases for the iPhone 12 Mini, the Defender Series from OtterBox is a must contender of the space. The case is one of the best solid and rugged cases you can get and has got better over generations. The new generation of the Defender Series provides the same protection as before, with an even slimmer profile.
The case has multiple layers that include a solid shell on the inner side and a resilient one on the outside for long-lasting durability. The case has tactile oversized buttons and a port cover on the bottom so that dust doesn't clog up. The holster on the back also acts like a belt clip and double up as a kickstand as well. Just like the Tough Armor, MagSafe accessories also doesn't work on this one. But you can still use any Qi wireless charger with it.
6. OtterBox Strada Series
Remember when folio-like cases were popular? They still are! If you are one of those folks looking for something like that, OtterBox Strada is the perfect choice for you. When opened, the case can also hold your cards and some cash. OtterBox, just like every case, has used premium materials on this one, and the case feels soft to touch.
The magnetic latch secures the folio into place. The case is made up of premium leather, and the shell is made up of polycarbonate for added impact resistance and drop protection—good news for MagSafe accessories since the case is thin enough to support them all.
7. Under Armor Gear (UAG) Monarch Case
The UAG case is one of the stealthiest you can get with your iPhone 12 Mini. For starters, each UAG case is handcrafted and features 5-layer protection that has got UAG's signature Armor frame, a shock-resistant core that's layered with top-grain leather, a polycarbonate shear plate, and alloy metal hardware. All these layers make for one of the most impact-resistant cases you can ever get for your iPhone 12 Mini and are totally worth it.
The case also features a honeycomb-shaped traction grip that gives you a strong grip on your iPhone. Buttons are super tactile and slightly oversized as well. On the front, the bezels are slightly raised to protect the display. The area around the camera lens module is raised as well to prevent it from scratches. UAG Case meets twice the standard of military drop-test MIL-STD 810G 516.6, so you know your iPhone is protected.
8. Mujjo Full Leather Wallet Case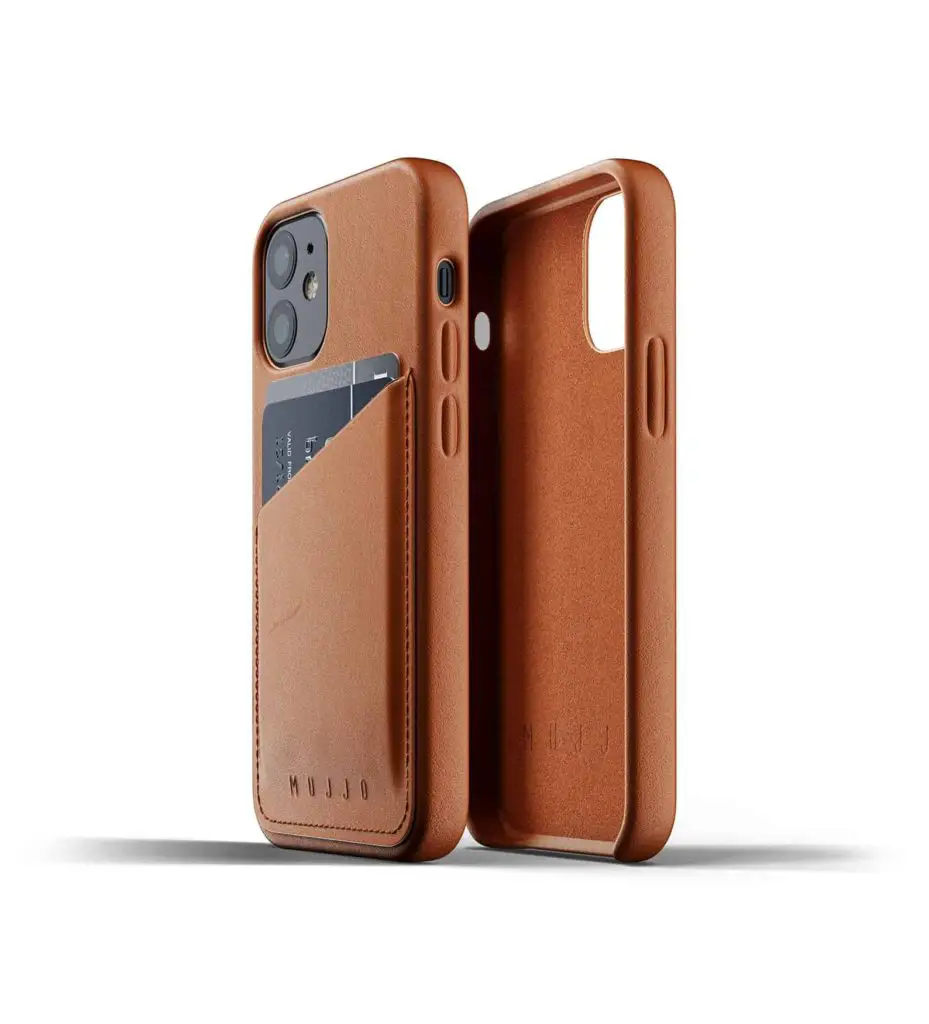 For those looking for a much rather premium feel to get their hands on, a leather case is what you need. Mujjo's leather case ticks all the boxes for an all-rounder leather case. The case is wrapped up in Mujjo's signature leather that comes all the way from Europe. The case has an overall slim profile and has raised edges around the front and around the camera lens module to protect against minor drops and scratches.
Mujjo uses authentic leather to make this case, and the case organically ages and tans as you use it. This gives it a much more personalized look and feel as you keep using the case for a long time. The case also has a great nifty pouch on the back for keeping your cards or some spare change. The leather case is available in Tan and Black colors. Due to its slim profile, you can easily use the MagSafe charger and other accessories along with it.
9. Apple Leather Case with MagSafe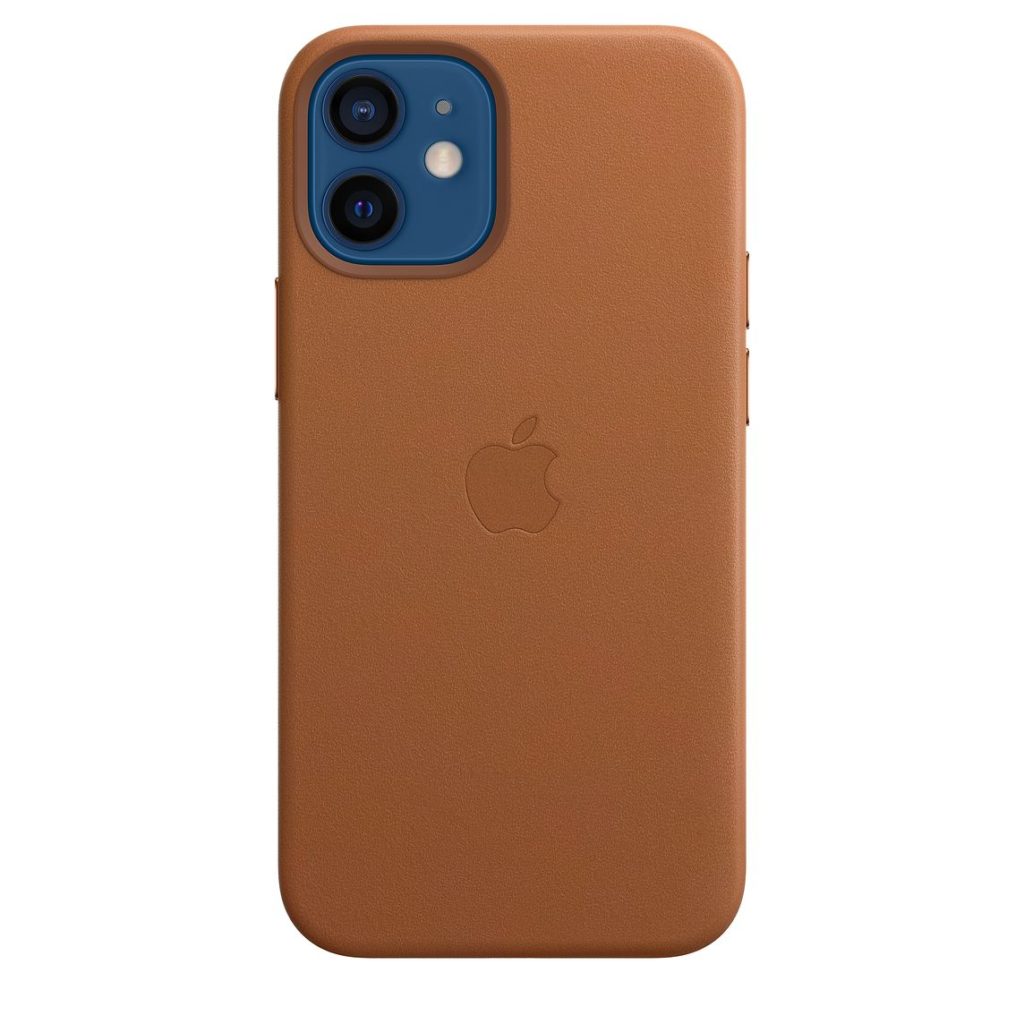 Speaking about leather cases, how can we forget the official one that Apple makes. The case is made up of specially tanned and finished leather. The case feels softs and premium to touch and develops a natural patina over time. The case fits snugly over your iPhone 12 Mini and is very lightweight. Since Apple makes it, the case has got built-in, perfectly aligned magnets that support all MagSafe accessories.
---
Protect Your Online Privacy With Surfshark
[The VPN that we use here at Tech Arrival]
---
Apple says that just like every other case made by them, this one too undergoes thousands of hours of testing throughout the design and manufacturing process. Not only does it add style, but it also adds the protection you expect from it. The case has raised bezels in the front and around the camera lens module to protect it from scratches and minor drops. It is available in Product RED, Baltic Blue, California Poppy, Saddle Brown, and Black colors.
10. Speck Products Presidio2 Armor Cloud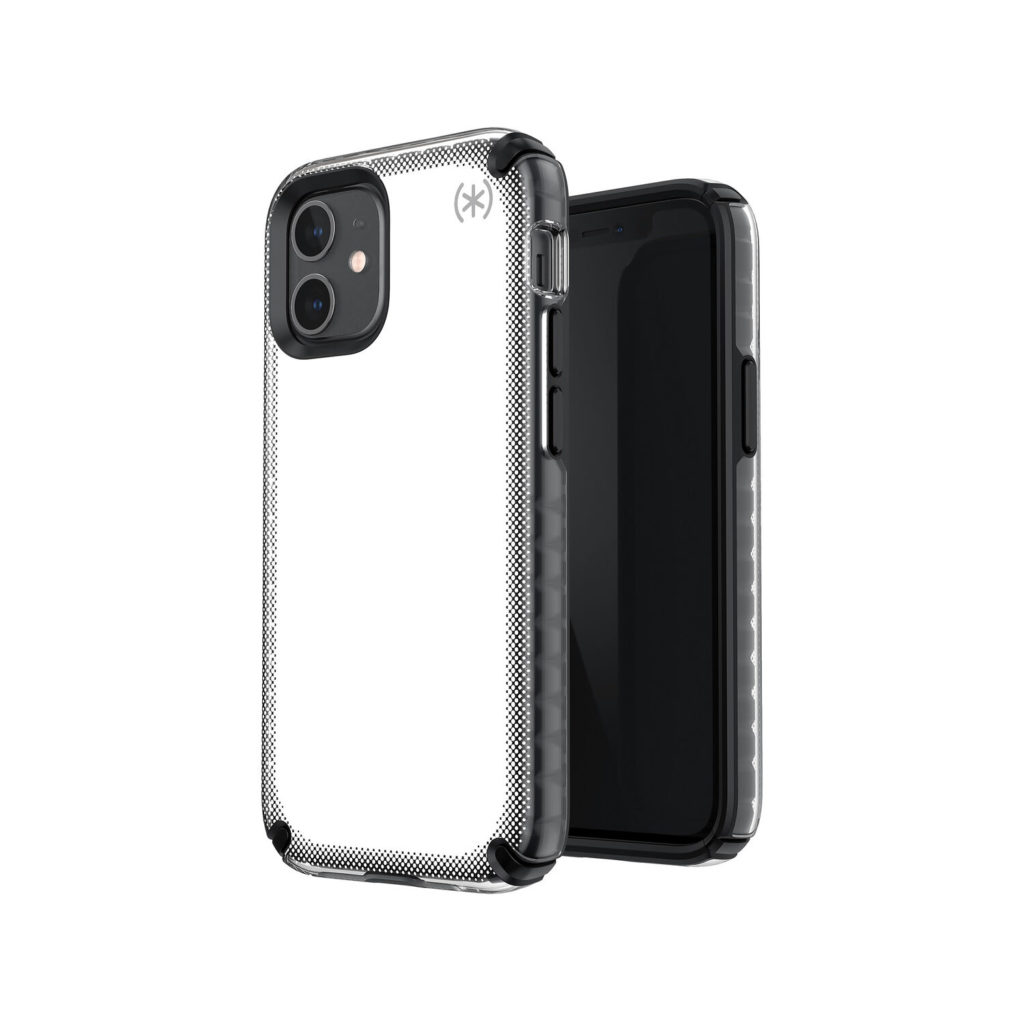 The Presidio2 Armor Cloud by Speck is another great case for unmatched protection. The re-engineered design of the case makes up for up to 16-foot drop protection, while the scratch-resistant film protects against imperfections on the surface. The Armor Cloud technology makes sure your iPhone 12 Mini is always protected by compressing air capsules and suspending your device on a protective cushion of air, just like an airbag.
These airbags are specifically designed to absorb shock and resist damage to your device. There's also something called Microban that provides antibacterial protection with a 99% reduction in bacteria on the case. The case is slim and has raised bezels in the front and back around the camera for added protection.
Final Words
These were our top picks for the best iPhone 12 Mini cases. We have covered different types of cases you would prefer – from clear cases such as Spigen Ultra Hybrid and totallee to ultra impact protection such as the UAG and Presidio2 Armor Cloud. We hope you will find something of your preference on the list. If you have other suggestions or favorite cases you rock on your iPhone 12 Mini, let us know in the comments, and we will surely check them out.
Also read: 10 Best iPhone 12 Pro Max Cases