The iPhone 8 Plus is one of the best phones Apple has ever made. It was the first series that introduced wireless charging and came with a glass back. The iPhone 7 Plus also introduced a second camera, a first for a Plus model. There's not much difference between both the phones in terms of physical dimensions. Even though Apple doesn't officially sell them as new, millions of users still use these devices and might be looking for a new case to protect the phones.
We have compiled a list of the best cases for the iPhone 7 Plus and 8 Plus so that you don't have to look elsewhere.
List of Best Cases for the iPhone 8 Plus and iPhone 7 Plus
1. OtterBox Defender Series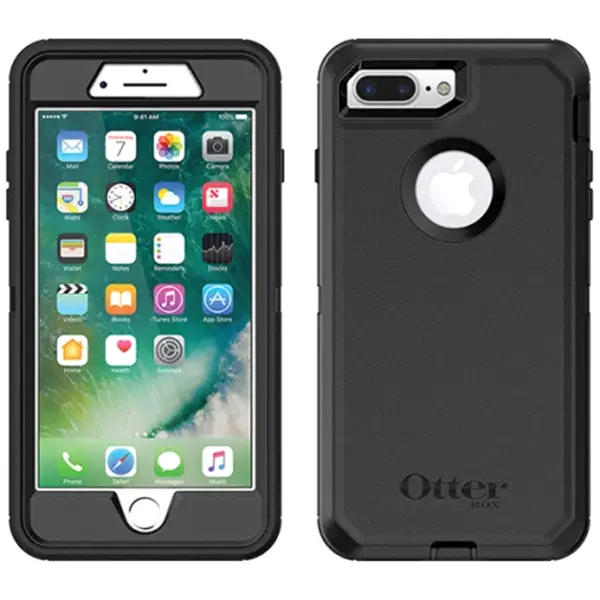 If you are in for a rugged case that protects your iPhone from all the corners and sides, OtterBox has something special for you. The Defender series is perhaps the best-rugged case you can get for the iPhone 7/8 Plus. The case comprises three layers – the inner shell, outer shell cover, and the screen protector – that makes your iPhone drop-proof. The port covers also protect your charging port from any dirt, dust, or lint from getting inside.
The holster, that's on the back, also doubles up as a belt clip to help you hold your phone better and a kickstand for watching all those movies and TV shows without your phone falling. The different layers of the case are made up of different materials. It has a polycarbonate inner shell, a synthetic rubber slipcover, and the holster is also made up of polycarbonate. With the built-in screen protector, the case provides good overall protection to your iPhone.
2. OtterBox uniVERSE Case
The uniVERSE case from Otterbox is a modular case that allows you to add multiple accessories to your iPhone 7 Plus/8 Plus. You can add many accessories such as an extra battery, card reader, camera lens, and even storage to the back of the case using the proprietary OtterBox connector. This case's interior is made up of synthetic rubber that helps absorb shocks from accidental drops and bumps.
The case's exterior is made up of hard polycarbonate that protects against scratches from different surfaces or keys inside your pocket. The synthetic rubber has raised bezels around the camera and the front for added protection. Even after being a modular case, the case is super slim and pocket friendly, although, with the modules on, it might stick out slightly from your pocket. You will need to purchase the modules separately, though, and the connector is also proprietary, which means there is no support for a slew of accessories for it yet.
3. Spigen Tough Armor [2nd Generation]
The Spigen Tough Armor 2 is another rugged case for those looking for overall protection for their phones. The case has two layers – the polycarbonate layer for scratch resistance and the TPU layer for shock absorption – giving your phone almost protection against accidental bumps and falls. The case's form-fitted construction makes sure that the case is slim and pocket friendly even with all the ruggedness.
The case also has precise cutouts and tactile power and volume buttons. It also has something called "Air Cushion Technology" that offers military-grade protection against bumps and impacts in all nooks and corners. The hands-free color-matched kickstand is also sturdy and doesn't rock the phone off.
4. Spigen Neo Hybrid Herringbone
The New Hybrid Herringbone Case by Spigen is an ergonomic centric case that offers decent protection to your phone as well. The case is characterized by its distinctive Herringbone pattern on the back that sets it apart from the rest. It has got a slim profile and a pocket-friendly design along with everyday impact protection.
The case comprises two layers – a polycarbonate one on the inside and the TPU on the outside. The TPU layer is the one having the herringbone pattern for improved ergonomics and comfortability. Its solid bumper provides great protection against minor bumps and falls. Overall, the case is ergonomic, stylish, and solid.
---
Protect Your Online Privacy With Surfshark
[The VPN that we use here at Tech Arrival]
---
5. Apple Leather Case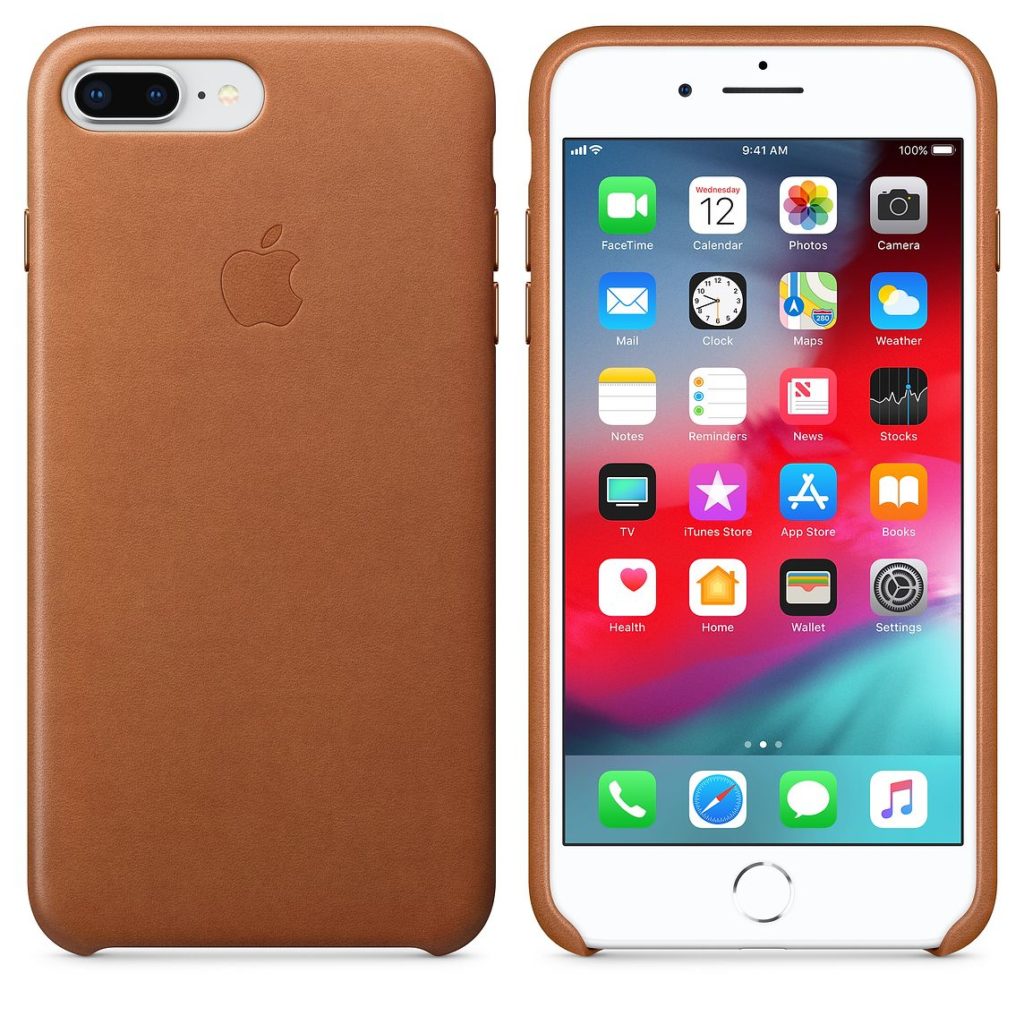 Apple Leather Case is one of the best leather cases you can get for your iPhone 7/8 Plus. The case is made up of specially tanned and finished European leather, so the outside feels soft to the touch. Just like any other leather material, the case also develops a natural patina over time. This makes your case very personal.
The case features machined aluminum buttons that match the finish of the leather case. On the inside, there is a microfiber lining that helps to protect your iPhone from scratches and other things. The case is now available in only three colors – Saddle Brown, Black, and (PRODUCT) RED.
6. Caseology Parallax
Caseology's Parallax series offers a cool looking 3D design that is textured to improve ergonomics and stability. The case is also super slim and lightweight that sits well inside your pocket. The slim profile is possible with a single layer that is made up of a tough TPU shell. The outer frame is made up of polycarbonate that protects your iPhone from bumps and falls.
On the sides are responsive tactile buttons that cover up the power button and volume rockers. The case has been tested drop-tested 26 times to ensure military-grade protection. Caseology Parallax is available in Matte Black, Black & Deep Blue, Pink, Burgundy, Red, Mint Green, and Navy Blue colors.
7. Vena vCommute Wallet Case
This one from Vena is like the swiss knife of cases. The vCommute wallet case combines both functionality and protection for your iPhone 7/8 Plus. It has got an ample amount of space to store your ID cards, credit or debit cards, or even transit cards. The case has dual layers of polycarbonate and TPU that meet the military standard (MIL-STD 810G-516.6).
The CornerGuard technology by Vena ensures that all four corners of the case can absorb shocks and disperse force from accidental drops. Vena notes that metal cards might interfere with Qi wireless charging on the iPhone 8 Plus, so it's recommended to remove them and open the card flap before placing it on a wireless charger. The card flap also doubles up as a kickstand. The case is available in Gold, Rose Gold, and Space Grey colors.
8. TUCCH Leather Wallet Case
This leather wallet case by Tuuch features a folio design. The case is handmade and has smooth curved edges. When opened, the folio's left side has 3 slots of IDs, credit or debit cards, and a section for keeping some change. The magnetic flap firmly attaches back to the phone to protect its front. The case has a premium synthetic leather that protects your device against scratches and drops.
The actual case is made up of TPU material that keeps your phone shockproof and protects from bumps. There's also a slightly raised area around the camera to protect the lens. The case has precise cuts for ports and speakers on the bottom and the ringer slider on the left. The power button and volume rockers are covered with tactile and responsive buttons as well. Tucch also provides a lifetime warranty for this case and will give you a free replacement or refund if anything happens to your case.
9. Alpatronix Wireless Battery Case
The wireless battery case by Alpatronix not only supports charging the iPhone 7 and 8 Plus, but you can also charge it wirelessly using a Qi wireless charger. So even if your iPhone 7 Plus doesn't have wireless charging support, you can essentially convert it into one using this battery case. The battery case has a 5000mAh UL-certified internal battery.
The case comes in two parts – the battery case and top tempered glass. This provides complete 360-degree protection to your iPhone and also the advantage of an extra battery that will last you for more than 24 hours. The case has a micro-USB port for charging itself, which can also be used to sync your iPhone to your PC. So basically, this makes your iPhone compatible with wireless charging (if not already) and micro USB as well.
10. Case-Mate Naked Tough
We know how much you love your iPhone's original design and color. Naked Tough by Case-Mate is a transparent but tough case that protects your iPhone and, at the same time, flaunts its design. The case has got anti-scratch technology as well as military standard protection (MIL-STD-810G).
---
Protect Your Online Privacy With Surfshark
[The VPN that we use here at Tech Arrival]
---
It also has a little hue (that they call "Iridescent"), which reflects off light in various colors if you look at it from different angles. The case works flawlessly with wireless charging and doesn't yellow over time.
Final Words
There were our top 10 picks for the best iPhone 7 Plus and iPhone 8 Plus cases. We have featured a lot of varieties of cases, ranging from rugged cases and leather ones all the way to battery packs and clear cases. We hope you find the case you were searching for. If you end up getting one from the above list, let us know which one was it and if you liked it or not. Also, if your favorite case isn't on the list, comment down below, and we'll surely check it out.