On its 10th Anniversary, Apple launched the iPhone X, the tenth iteration of its iPhone smartphone series. The smartphone popularised the notch fad and comes with a big edge-to-edge bezel-less display with no home button. The device is indeed gorgeous but the sandwich design with glass panels located on the front and back makes it fragile. The metal can bend and the glass can shatter and break with just one mistake. Also, we have only Silver and Silver Grey to choose from.
Only the bravest will opt to use the iPhone X without protection. As an Apple device, there are many high-quality and fashionable cases available in the market. In this article, we will be selecting the top iPhone X cases and covers. With these, you can protect your device without compromising on style. Our selections are based on taking online reviews, brand reputation, availability and the features it provides.
Here are the top Apple iPhone X cases for you. Scroll below for a surprise.
List of Best iPhone X Cases
1. Totallee Thin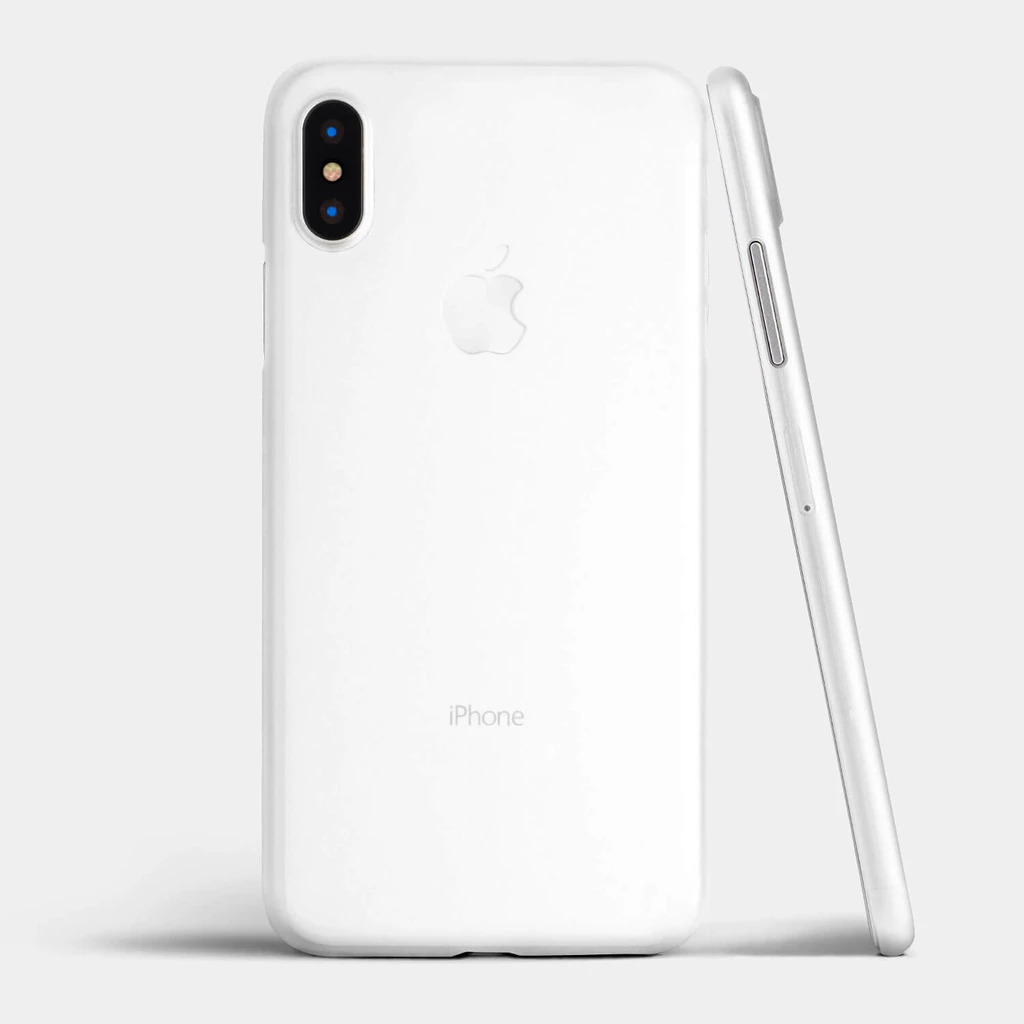 This is one the thinnest and lightest iPhone cases available measuring in at just 0.02 inches and weighs 0.1 ounces. The case is made of durable polypropylene that increases its durability. The material gives a premium feels and highlights the iPhone X's minimalistic design. Additionally, it has a raised lip around the camera to protect the lenses.
The case, however, doesn't give the best protection from drops because of its thickness. The buttons cover and openings are precise and hardly feel like an extra cover. You can choose from eight colors ranging from Frosted White to matte white or black.
2. Spigen Neo Hybrid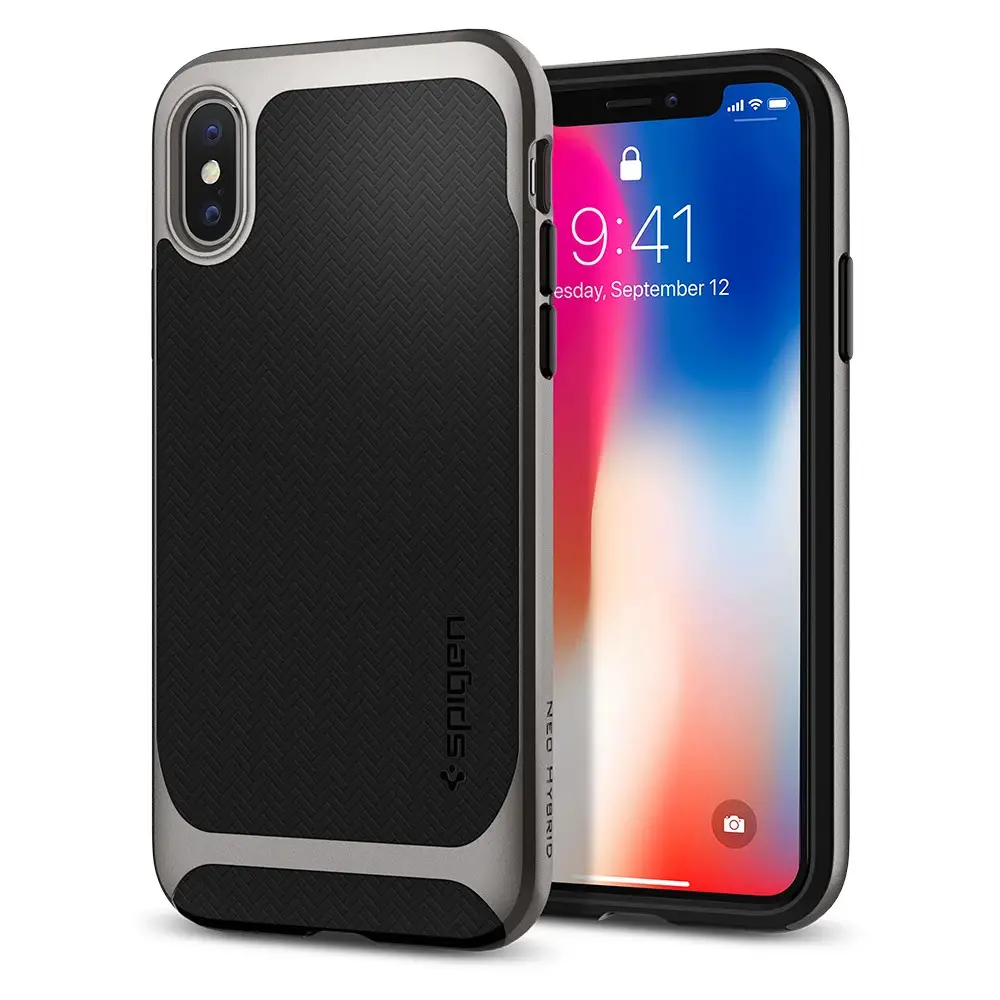 This iPhone X case from Spizen offers the best combination of hard and soft protects to keep your device safe from nicks and falls. Even after giving high protection, it doesn't compromise with the design and is very slick measuring 3 inches. It gives both protection and classy design at an affordable price.
It has a dual-material construction of TPU and PC with a rigid bumper frame and coated with a metallic paint job with a Herringbone Pattern. The form-fitted design makes sure that the iPhone X's X-lines are encased tightly, making it very durable. Spigen Neo Hybrid high-tech design aesthetic is completed with a wide option of attractive colors.
3. Urban Armour Gear Monarch
If you want the ultimate protection for your iPhone X then this is the case you should go for. With five layers of protection, it will handle pretty much everything you throw at. The case actually boasts 2X military drop-standards which mean it will handle all your falls and bumps with ease. It features soft-impact resistant core and honeycomb traction grip. The tactile buttons are ultra-responsive and are easy to use.
It has a platinum finish which is actually polycarbonate over leather with a textured area to enhance the grip. It does look chunky but actually is very thin and lightweight. The UAG Monarch iPhone cases are Apple Pay and wireless charging compatible.
4. OtterBox SYMMETRY SERIES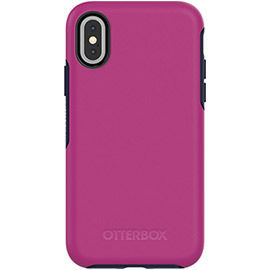 One of the classiest cases, it brings all-round protection to your iPhone thanks to its multi-layer design and a folio cover for the display. It is built to absorb the shock from falls and bump while avoiding scratches and scrapes. There is grip around edges to minimize the risk of slipping from hand.
---
Protect Your Online Privacy With Surfshark
[The VPN that we use here at Tech Arrival]
---
The one-piece leather built brings a premium look to your device and has a cardholder to keep the credit cards with your handset. It has a pocket-friendly design with wraparound colors and graphics add-in seamless style. Additionally, it fits in the iPhone XS too if you are thinking of upgrading your iPhone X in the near future.
5. TOZO Ultra Thin Hard
This case from the manufacturer TOZO claims itself to be the world's thinnest hard-shell case of the iPhone X. While we can't be sure of this claim, but it is extremely slim at just 0.35 mm thick. This is the perfect case for those who don't like the bulkiness that comes with rugged cases. The pricing is also lower compared to other products on the list. The case may be very thin but we don't guarantee that it will give protection from drops.
The TOZO Ultra Thin case has a semi-transparent, simple and elegant design with matte optical texture, anti-glare and reducing fingerprint or grease build-up. There is a camera hole ring raised protective layer to keep the device's lenses safe. It is available in Matte Blue, Matte Black, and Matte White color variants.
6. ESR Marble Pattern
We have seen leather iPhone X cases, but the next one on the list comes with a Marble Pattern that really stands out. The ESR Marble Pattern Cover is available in Black Gold, Grey Gold, Light Coffee, and White Sierra color options. It gives all-round protection without adding a lot of bulk.
Under the surface, we get a thin and light TPU case which will give you the basic protection. There is a smooth, anti-scratch and anti-fingerprint finish to protect the screen and camera. The cut-outs are precise and there is no trouble while connecting charging ports or the speaker. Plus, it will heap a lot of compliments from everyone.
7. Moshi StealthCover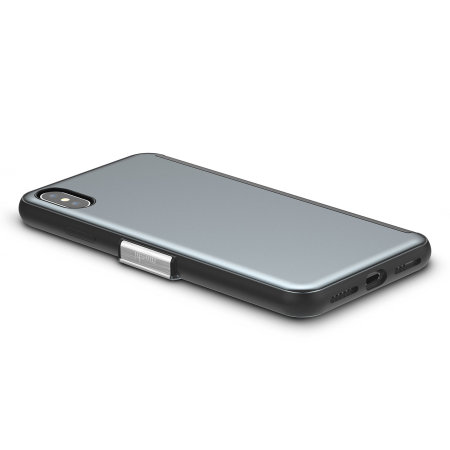 The Moshi StealthCover is a slim, folio-style case that gives 360-degree protection. The case is made of metal and has a magnetic clasp on the side to protect your device from scratches. It has wireless charging compatibility too.
As for sturdiness, you don't have to worry as it has a military-grade drop protection certificate which means accidental drops will not be an issue. Another feature is you can check the time and notifications without opening the cover. The StealthCover is offered in Gunmetal Grey and Champagne Pink color options.
8. Spigen Hybrid Armor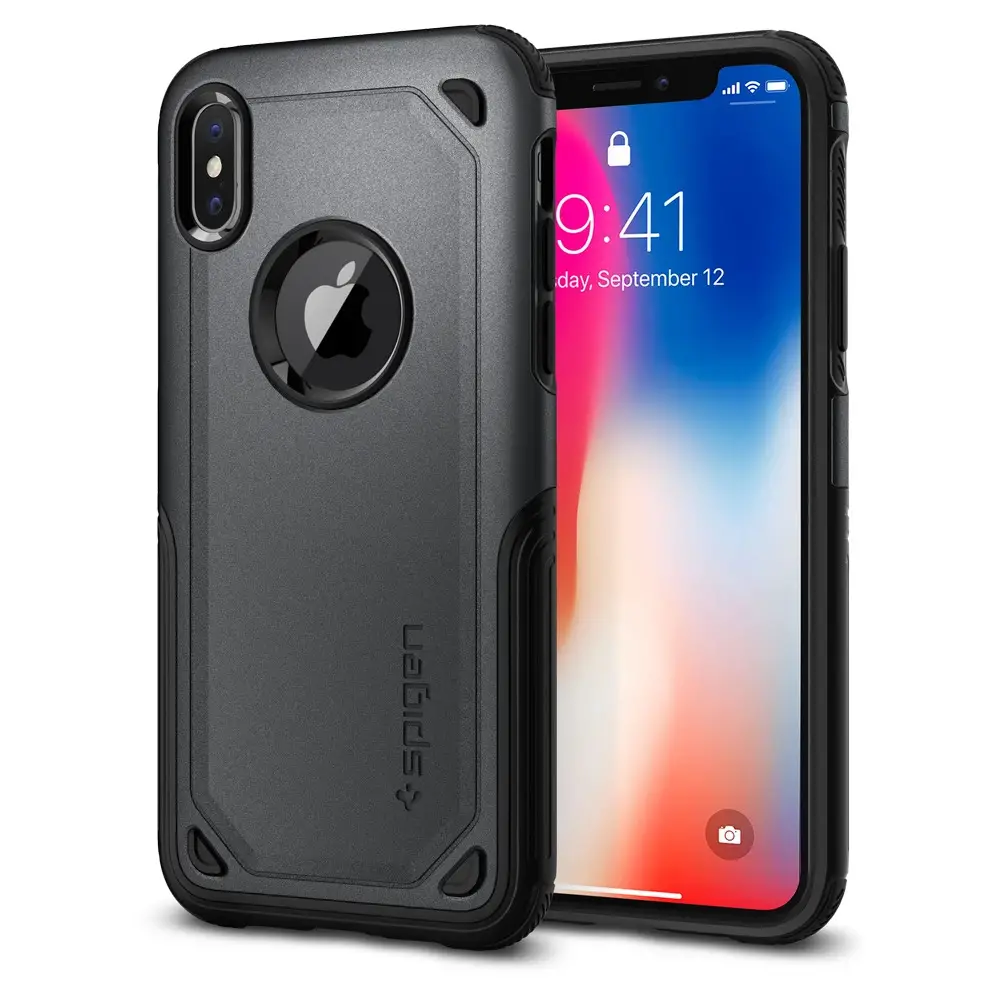 Spigen is a well-known brand and the latest classic case series, the Hybrid Armour offers a double layer with double protection. It consists of a shock-absorbent layer with a rigid outer shell for maximum defense against bumps. Additionally, it comes with Air Cushion Technology to protect the vulnerable corners of your device.
The case features an ergonomic, non-slip design with smooth curves that offer good grip. There are raised lips that are strategically placed to give the camera and back protection. The looks scream protection and the case feels solid to the hand while not adding much bulk to the device. It has 5 color options to choose from Black, Blush Gold, Graphite Grey, Gunmetal/ Black, Satin Silver/ Midnight Blue.
9. Native Union CLIC Marquetry
Native Union is another big name in smartphone case manufacturing offering the CLIC Marquetry iPhone X case. The case is stunning and simple but has a model feel with the color-block design. It has an advanced shock-absorbing polymer frame to dissipate the energy on impact while not adding bulk to the device.
The panels are made of genuine Italian Nappa Leather and bring a classy feel to it. It feels premium at the hand while the solid bumper rim provides protection from drops. It is available in Canary and Rose color options. While the price is a bit too high, it is totally worth it.
---
Protect Your Online Privacy With Surfshark
[The VPN that we use here at Tech Arrival]
---
10. X-Doria Defense Lux
This iPhone X case brings a combination of style and protection. It has an anodized aluminum frame with built-in air pockets for shock absorption. This case even exceeds military drop-test standards thanks to its metal frame and one-piece construction. The luxurious back panel gives a premium touch to it while the interior has a soft rubber lining combined with a hard polycarbonate shell for protection.
The raised lip protects the screen from drops and surface scratches but lacks a front cover or screen protector. It has an integrated front-facing audio channel that amplifies sounds and redirects audio to the front of the device for a better sound experience. It is available in Black, Red, Silver, Nylon, Pink Glitter and Rose Gold color options.
Bonus
We decided to add one more special case to our list of best iPhone X cases.
Case-Mate Brilliance Tough
You will not be able to take your eyes off this sparkling iPhone X case. Each case is encased with more than 800 real crystals framed by metal accents.  This beautiful case offers the perfect balance between elegance and edge. It's not just a case, but a fashion accessory in its own right.
There is an underlying dual-layer shell that meets military drop standards. There is a raised lip to safeguard the screen with metallic button covers. It works with wireless charging and has a lifetime warranty. This case is available in Brooch, Iridescent, Lace, Rose Gold, and Champagne options.
Conclusion
So, this is our list of the top ten cases for your Apple iPhone X. A phone case expresses your personality, accentuates your look and is an extension of your style. So choose the case according to preference and comment below your favorite iPhone X case even if it is not on the list.