While some writers prefer using a pen and a notebook to bring their ideas to life, most of us enjoy the convenience of a laptop. Thanks to their compact size, laptops can easily fit inside a bag and follow us anywhere we go. As writers, we never know when our creative inspiration will strike, so we need to be ready to type down our thoughts at any given moment.
Comfort is an important feature to keep in mind when writers buy a laptop. Since writers can sit still for many hours when they work on their projects, we don't want to end up with wrist pain from typing. These laptop keyboards should be designed ergonomically for typing long texts and reducing the physical strain in our hands.
If you are on the hunt for the best laptops for writers, this guide will help you find the perfect companion to write your next novel.
List of Best Laptops for Authors and Writers
1. ASUS ZenBook 13 UX333FA
The world's smallest 13-inch laptop is ready to follow you wherever your imagination goes.
This elegant ZenBook 13 by ASUS has an Intel Core i5 processor, 8GB of memory, and 512GB of storage. Like all ASUS laptops, the compact design is sleek, stylish and functional. There is a stunning 13.3″ FHD display, and most of its screen area is utilized efficiently thanks to a frameless NanoEdge design. This laptop also features an ergonomic full-size backlit keyboard that automatically tilts at the right angle for comfort.
You should buy the ASUS ZenBook 13 UX333FA if you want a small, lightweight laptop that allows you to enjoy a comfortable typing experience. With up to 14 hours of battery life, you will be able to use this laptop frequently on the go.
2. Microsoft Surface Laptop 3 15″
A stylish and powerful laptop that will help you get things done.
The Surface Laptop 3 15" features an AMD Ryzen 7 Microsoft Surface Edition processor that offers you speed and power. It comes with either 8GB or 16GB of memory, and you can also choose between 128GB, 256GB, and 512GB of storage. There is a 15" touchscreen with a vibrant display and its industry-leading keyboard will put you in control. For an even more portable model, the Surface Laptop 3 is also available with a 13.5" display.
You should buy the Surface Laptop 3 15" from Microsoft if you want a powerful, yet thin and lightweight laptop. With up to 11.5 hours of battery life, this laptop encourages you to finish writing a pivotal chapter in your next literary masterpiece.
3. Apple MacBook Air
Made from 100% recycled aluminum, this beloved Mac is now greener than ever.
---
Protect Your Online Privacy With Surfshark
[The VPN that we use here at Tech Arrival]
---
The Apple MacBook Air has an Intel Core i5 processor, up to 16GB of memory, and 1TB of storage. The Touch ID technology allows you to unlock the laptop with your fingerprint. The 13.3" screen with jaw-dropping Retina display will make anything you type appear sharp and clear. In addition, the comfortable keyboard with backlit keys and an ambient light sensor will allow you to keep typing even as the sun goes down.
If you love Apple products, the Apple MacBook Air allows you to start a document on your laptop and finish it on your iPhone after syncing. With up to 12 hours of battery life, you will be able to write on the MacBook to your heart's content.
4. Dell Inspiron 11″ 3000 2-in-1 Laptop
A compact laptop that can also be used as a convenient tablet.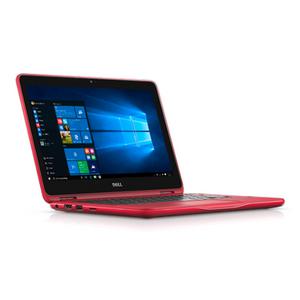 The Dell Inspiron 11" 3000 2-in-1 Laptop features an AMD A9-9420e processor, 4GB of memory, and 64GB of storage. With an 11.6" HD touchscreen, this small and versatile laptop can be folded to become a tablet. The non-backlit, spill-resistant keyboard is comfortable if you need to do some typing on the go. However, the battery life is not as good as most other laptops on this list, which should not be a problem if you use the device primarily at home.
Dell has a reputation for designing convertible laptops that are efficient, adaptable, and easy to use. The Dell Inspiron 11" 3000 2-in-1 is a great option if you like the convenience of a tablet, but also want the power and functionality of a laptop.
5. Lenovo Thinkpad X1 Carbon Gen 6
A robust, powerful and light laptop that will help boost your productivity.
The Lenovo Thinkpad X1 Carbon Gen 6 Laptop has an Intel Core 15-8350U processor, 8GB of memory, and 256GB of storage. Its 14" screen with FHD display presents bright and stunning colors. As with many of the Lenovo laptops, there is a sturdy yet stylish design. Touchscreen support is available, along with an intelligently designed backlit keyboard. The laptop also has a built-in sliding cover to ensure front-facing camera privacy.
If you want a laptop with innovative security features, the Lenovo Thinkpad X1 Carbon Gen 6 has a match-on-chip touch fingerprint reader to maximize your protection. With a battery life of up to 15 hours, you will only have to stop typing when you run out of inspiration.
6. Acer Aspire E15
An affordable yet powerful laptop that will become your reliable writing partner.
The Acer Aspire E15 features an Intel Core i5 8250U processor, 8GB of memory, and 1TB of storage. The large, 15.6" screen has a sharp FHD display, which makes it easy for you to use more than one document as you work on your next story. The Acer brand of laptops is known for being affordable, so even writers with limited funds should be able to afford this laptop.
If you want a powerful laptop that won't break your budget, the Acer Aspire E15 should meet most of your expectations and offer you great performance. The battery life of this laptop is a little more than 13 hours, which means it's always ready to accompany you on your writing adventures.
---
Protect Your Online Privacy With Surfshark
[The VPN that we use here at Tech Arrival]
---
7. ASUS VivoBook S15 S532FA
A colorful laptop with an intelligent touchpad like no other.
This ASUS VivoBook with unique color-blocking design features an Intel Core i7 processor, 16GB of memory, and up to 1TB of storage. The 15.6" full HD screen with NanoEdge display will allow you to get fully immersed in any writing project. This wonderful laptop has a full-sized backlit keyboard with an ErgoLift hinge. It also features the ScreenPad 2.0, an interactive touchscreen that makes it easy to multitask efficiently.
The ASUS VivoBook S15 S532FA is a powerful laptop ideally designed for the multitasking writer. The laptop will allow you to either focus on one project at a time or enjoy a seamless multitasking experience. With its fast-charge feature, you can quickly recharge a low battery and go back to work on your laptop.