Mobile wallets have evolved much more than what we thought over time. They are simply a more convenient and quicker method of making payments, and storing digital cash than the traditional banking systems, making it one of the best inventions of the 21st century where you can just tap and pay without any hassle.
You can use mobile wallets directly on your smartphone for shopping online, making payments to merchants, sending money to friends & family, doing mobile & TV recharges and even for paying electricity bills right from home. Given that mobile wallets rectify the need of carrying hard cash everywhere, you too might be looking for a good and reliable option to suit your needs and requirements.
You can also perform transactions at leading stores like Flipkart, Snapdeal, Jabong, MakeMyTrip, Yatra, etc followed by supported offline shops and restaurants. It is also worth noting that using such services opens the door of discounts for you. Besides, mobile wallet technology also has a proven track record of ensuring a superfast and secure transaction process as there is no need of sharing sensitive pieces of information such as debit card details, date of birth, etc.
Renowned online payment stores like Paytm, PayZapp, Freecharge, etc. are providing free mobile wallet services to people. They are developing their lives my making transactions easy, secure and smart. Additionally, few new good services too have emerged in recent times.
With that being said, today we are here with some of the most popular and trusted mobile wallet services in India which you can rely on. So without any further ado, let's begin with our list of Best Mobile Wallets in India.
Also read: 9 Best Direct Mutual Fund Apps & Platforms in India
List of Best Mobile Wallets in India
1. Paytm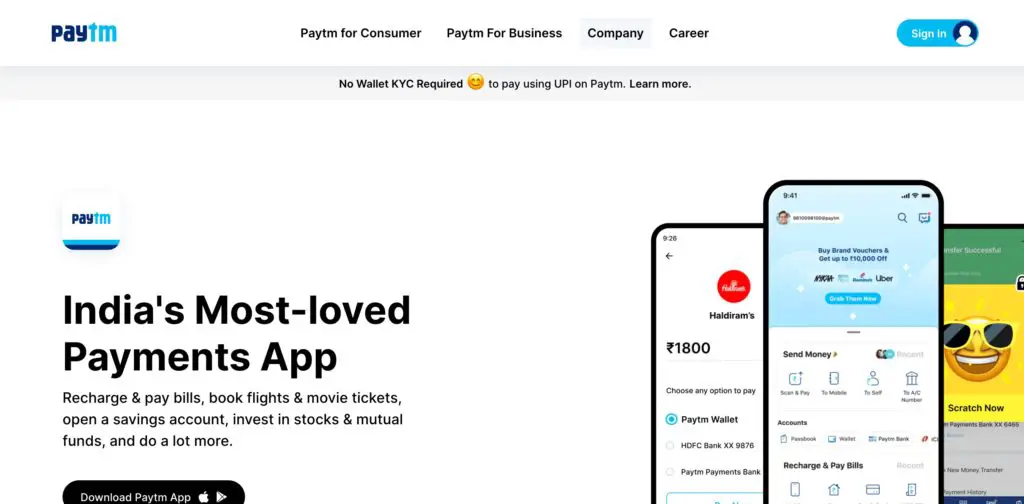 Paytm was founded by Vijay Shekhar Sharma and is the current leading online payment portal in India. Moreover, Paytm has gained immense popularity since its inception, and its digital wallet technology is indeed extraordinary. It all started up with a basic wallet service and ended up being a full-fledged e-commerce store where you can shop for clothes, electronics, furniture, home appliances, grocery, etc.
Further, you can do mobile recharges, DTH recharges, pay Electricity bills, buy Google Play gift cards, followed by booking Movie, Bus & Flight tickets and settling up credit card bills. Recently, the giant introduced the buying and selling of virtual gold on the mobile platform. Leading e-commerce portals like Uber, MakeMyTrip, Foodpanda, BookMyShow, and others have partnered with Paytm to allow customers to use the Paytm wallet system while going through the transaction process. 
One can also enjoy incredible Paytm cashback offers ranging from 10% – 70%, which is very much beneficial for people looking forward to buying expensive & branded products online.
There is also a Paytm upgraded wallet system that provides a user to make a user perform monthly transactions up to one lakh rupees which previously was ten thousand rupees. Paytm also accepts coupon codes from leading coupon stores available online and helps a user to earn new discounts in all their services.
---
Protect Your Online Privacy With Surfshark
[The VPN that we use here at Tech Arrival]
---
Moreover, you can link your bank account with Paytm to enjoy UPI services. Also, you can enroll in Paytm's KYC to open your own virtual bank account in Paytm Payments Bank which can be used for UPI, bank to bank transfers within the app and wallet to bank transfers.
2. PhonePe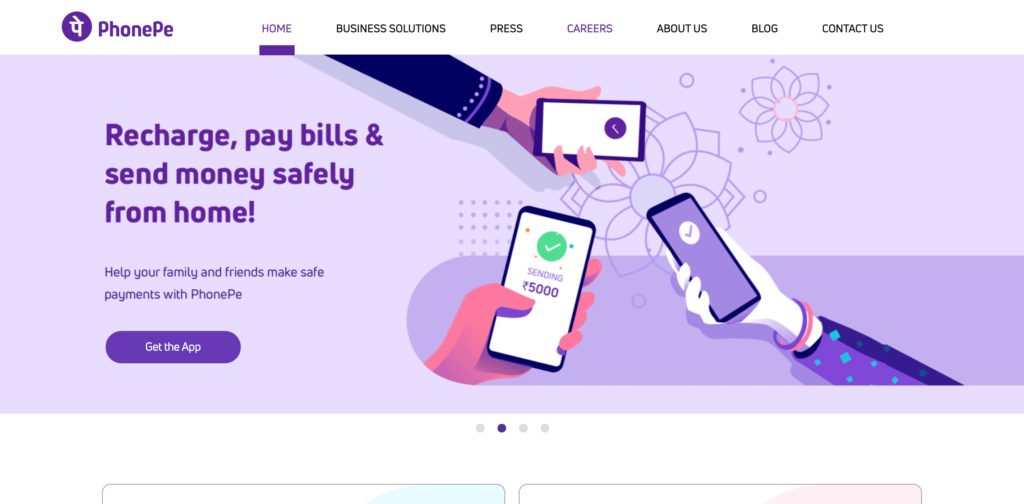 PhonePe is yet another popular mobile wallet which initially emerged as a basic wallet to be used for mobile recharges and bill payments. Later, it was acquired by the e-commerce giant Flipkart which further integrated PhonePe as its own wallet which makes it really useful if you often shop via Flipkart, thanks to the regular cashback options.
This wallet incorporates many other features like Sending and receiving money via UPI / Bank transfer / direct wallet to wallet transfer. You also get an option to Split bills among friends which is not available in Paytm or most other wallets.
Further, you can do mobile / DTH recharges, pay electricity, landline, gas, water, data card, and broadband bills. You can also pay for Insurance policies, Municipal tax and buy Gold. It is way ahead of Paytm when it comes to the number of options you get for dealing with household errands.
You can also pay at local stores using PhonePe and the best part is that it shows the location of all supported merchants on map. Also, PhonePe has partnered with merchants like RedBus, Ola, Myntra, OYO Hotels followed by food stores including Pizza Hut, KFC, Mother's Dairy, FoodPanda, McDonald s, CCD, Faasos, etc. All these merchants support booking via the app and are also clubbed with exciting cashback offers.
The only con about PhonePe is that you can't transfer the cashback rewards to a bank account, you can only spend it on Flipkart orders, or other services offered by the wallet. Except for this, we feel that PhonePe is a tad better than Paytm. You can surely go for it if you generally shop via Flipkart, and pay all household bills online!
3. PayZapp

With over 10 million active monthly users, PayZapp from HDFC is yet another great wallet you can use in India. It provides a complete payment solution to users. It takes just one tap to make payments. This is a user-friendly wallet app with the best features. Using this app, you can make payments, pay bills, transfer money, shopping, etc. Coming from India's one of the top banks, this app is safe to use. You can even use PayZapp to book hotels and flight and train tickets. If you are an HDFC customer and want a secure wallet to manage your transactions, PayZapp is the best option for you.
4. Amazon Pay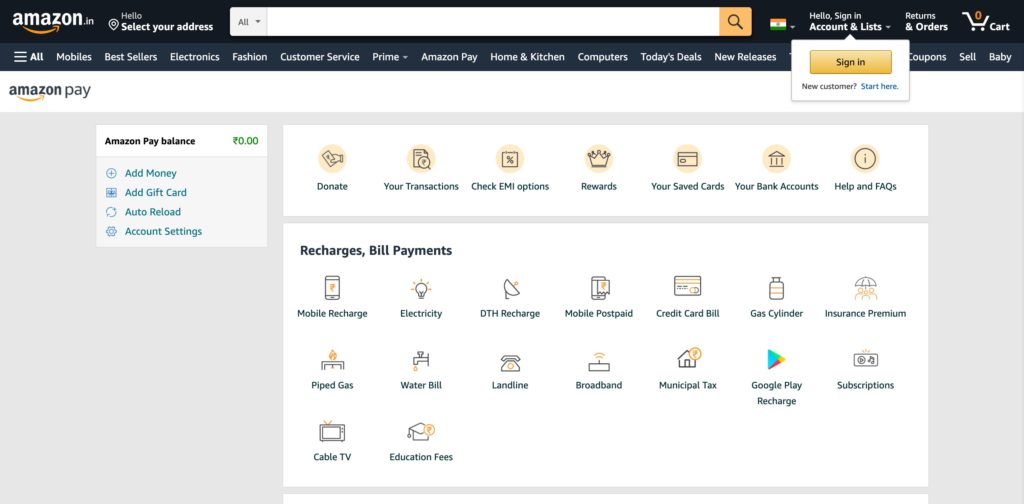 Amazon Pay is an Amazon venture which was started by the company to function as a wallet for the e-commerce giant. Later, it evolved with the inclusion of prepaid and postpaid mobile recharges, DTH recharge, Electricity bill payment, along with Broadband and gas payment.
You can further use your Pay balance to buy Google Play gift vouchers and other Brand vouchers. A unique thing with this wallet is its Auto-reload feature. However, most of the people hesitate while loading the Pay balance as once loaded, you cannot transfer it to your bank account. Like the PhonePe cashback credits, you can only use the Pay balance for services provided by Amazon like shopping, and others mentioned above.
This may not be the most feasible option but people who shop regularly from Amazon can try this, and of course, you do get a lot of cashback offers, especially during sales.
Moreover, Amazon Pay now supports Scan to Pay which you can use while opting for a new "Pay on Delivery" option, ultimately paying digital in cash on the Delivery case.
---
Protect Your Online Privacy With Surfshark
[The VPN that we use here at Tech Arrival]
---
5. YONO
YONO is an initiative taken by the State Bank of India. This app was launched to make money transfer easy. With the help of this app, you can pay bills, shopping, book tickets, recharges, and travel. This is considered one of the best wallets in India. It is a multi-lingual app that supports up to 13 regional languages. The best thing about this app is that it can be used by non-SBI customers as well. This app is completely safe and secure, so you have nothing to worry about. You can use it to set reminders for money transfers, dues and also view mini-statements of your transactions.
6. Freecharge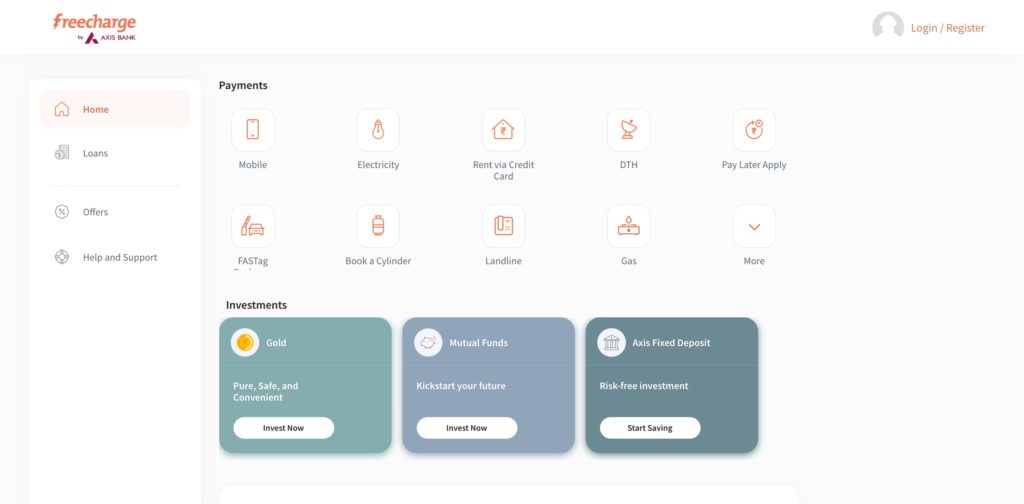 Freecharge ranks next to Paytm regarding popularity and recognition. There has been a dramatic rise in the number of online traffic in Freecharge for the last three years, and its digital wallet system has been a major competitor of Paytm counterpart. Users are getting benefitted most by free charge recharge offers.
Using Freecharge recharge offers users get a good amount of cashback. The free charge mobile wallet can be used to recharge mobile, fill up gas and electricity bills, and more importantly, MetroCards which are indeed a great relief for busy professionals who rush in the early morning to metro stations and often get frustrated by the long queues.
You can further get easy credit through FreeCharge EMI, send money via UPI or bank transfers and also invest in mutual funds. the app bears a very simple and minimal UI and borrows most of its features from Paytm except for the above discussed two options.
Moreover, Freecharge mobile wallet can be used to initiate an online transaction process in leading online shopping e-commerce portals like Snapdeal, FindMyStyle, and ShopO. It was recently bought over by Snapdeal if you aren't aware of it. You can even link your JioMoney and PhonePe accounts with FreeCharge to have a seamless payment experience.
Moreover, Freecharge also provides new cashback and discount offers and also accepts coupon codes to help people get a large price reduction and enjoy happy online payment. If you're looking for the best possible alternative to Paytm, then go give this a shot.
7. MobiKwik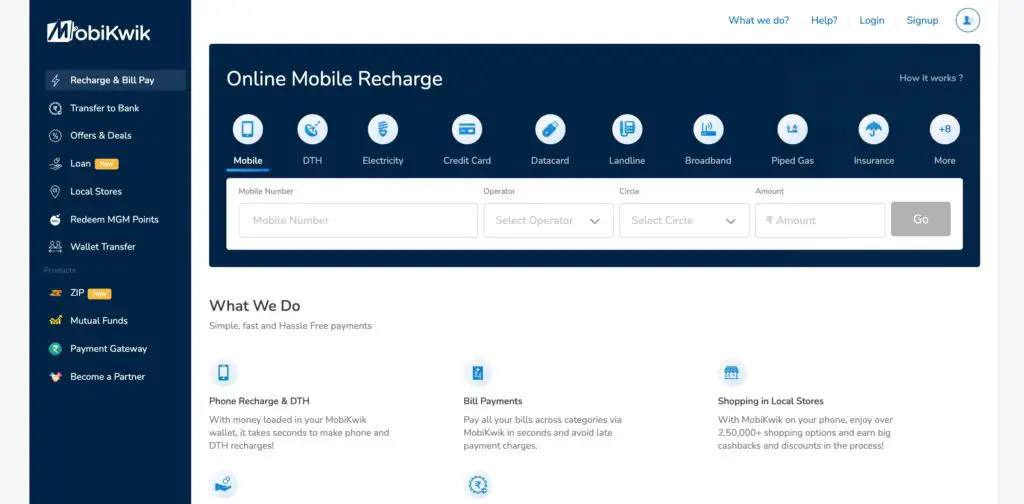 MobiKwik is one of the fastest growing online payment portals with a digital wallet system made up of cutting-edge technology. Based on reports MobiKwik has witnessed a 40% rise in the number of online traffic since the central government of India has decided to ban thousand rupees and five hundred rupees with Demonetization. MobiKwik digital facility is also highly beneficial for serving the purpose of making payments on various online merchants.
Moreover, MobiKwik has partnered with twelve electricity boards across eight states of India and helping the common man to avoid waiting before electricity board bill counter and pay bills more comfortably through their digital wallet system. Also, the digital wallet system of MobiKwik is highly encrypted, and the chances of getting hacked are meager.
MobiKwik digital wallet also helps in getting an enormous amount of cashback benefits that usually range around 30% to 50%. Additionally when the festive months come in, sometimes the cashback offers become even higher. All of this is indeed astonishing to many people.
Recently, they switched into the SuperCash system which are given as rewards to the users more they use Mobikwik services, further, one can use 10-15% of the SuperCash amount as a discount on other subsequent payments. This wallet may not be popular as Paytm, but it does stay on what it claims.
8. GPay
Google Pay, formerly known as Google Tez is not technically a dedicated wallet but offers the functionality to use your bank account itself as a wallet without the need for any wallet to keep your money. It basically relies on the UPI system for payments.
---
Protect Your Online Privacy With Surfshark
[The VPN that we use here at Tech Arrival]
---
Using Google Pay, you can pay and receive money straight from your bank account and it works with all banks which support UPI (most of the Indian bans have already implemented it).
Paying someone is super easy, you can either send payments over UPI to other persons UPI address or by entering their bank details. Whereas, two Google Pay users are free to quickly pay and receive payments by using mobile number/ email address or by the QR code displayed within the app.
All the transactions are securely carried by Google servers under various levels of security. It is much easier to track payments, due to its chat-like interface for each contact where you can see the money received and sent, also, you can send even text messages. The app also features Request money from friends and family option. You can also recharge your mobile using the same and even automate it.
To expand its reach, Google has further started a referral program, along with Scratch cards which reward you with a random amount of money, every time you make payments or transact with the partnered merchants which generally are Mi.com, BookMyshow, etc. In a word, if you don't want the hassle of reloading wallets and need an app which only deals with payments and no unnecessary stuff then you should definitely give a try to the all-new Google Pay.
9. Airtel Money
Airtel is one of the most popular cellular networks in India. The new Airtel Money wallet allows for limited but useful stuff do deal with. By providing your KYC details, you can get a savings account on Airtel Payments Bank which will further give you a virtual debit card for shopping online.
Other features include mobile recharge, bill payments, and transferring money using Bhim UPI. You can also send money to other Airtel Money users, shops and even to bank accounts. The app further packs in offers from online travel, lifestyle shopping, entertainment, medicine, and food merchants.
It is also worth mentioning that you can even buy Insurance and pay for other household utilities, just like the PhonePe wallet. However, you need to be an Airtel Sim card user in order to avail Airtel money services.
Airtel makes the use of it's My Airtel app for the wallet operation, the app also offers Airtel mobile services like checking balance, last recharges, DND, active subscriptions, etc which is a cherry on the cake for people who have an Airtel sim and are looking for a good online wallet.
Also read: 8 Ways to Manage Your Money Better using Technology
So, guys, these were some of the best mobile wallet services in India. You can choose either of them based on your comfort and convenience. All the mentioned services are free and safe to use. Let us know what's your choice for the best mobile wallet\in the comments below. Also, subscribe to our blog for more such articles.