Disclaimer: While this post contains information that is targeted towards BitTorrent and P2P users, we do not endorse or condone any inappropriate use of P2P technologies, including but not limited to: hacking, cracking, sharing, or downloading any copyrighted materials. BitTorrent and other forms of torrent are incredibly powerful and legal technology. Make sure you respect the property rights of others. – Team Tech Arrival
The use of torrents has facilitated better file sharing for many years. Users can share files across the internet in a matter of seconds, irrespective of the file size. And about file size, it works exceptionally well for huge bulky files since the BitTorrent protocol divides the files into multiple parts and then downloads them simultaneously, allowing for faster and reliable downloads.
With the help of torrent search engines, users can find all sorts of stuff quite easily. But to do all of this, you require a torrent client on your device. This is why in this post, we have come up with the best torrent clients for your Android device.
List of Best Torrent Apps for Android
1. Flud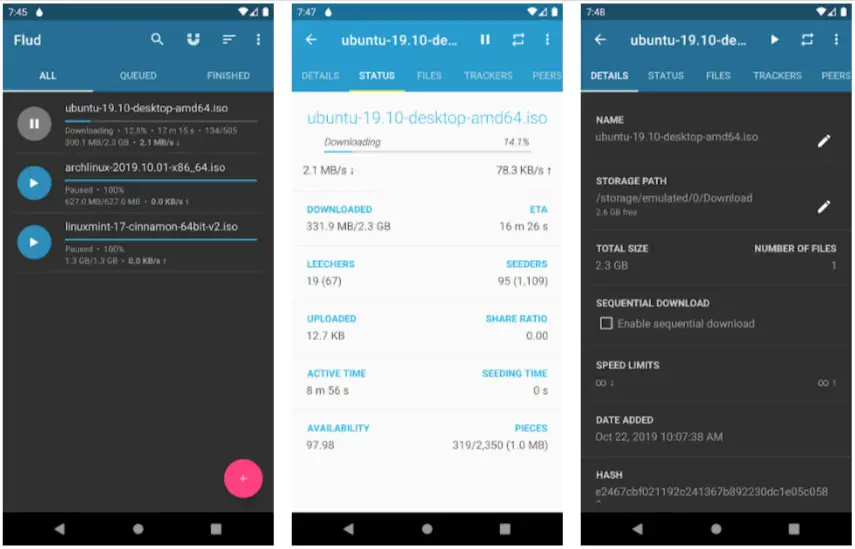 Flud is one of the best BitTorrent client apps that are available for Android. The application has a beautiful user interface that is based on Google's Material design. The app provides many features and even additional ones that are not so common for torrent apps.
For starters, there's no speed limit on uploads or downloads. The app lets you select which files you want to download within a torrent file. You can also prioritize specific files or folders within your download. There's support for the RSS feed with automatic downloading as well. It also supports magnet links.
Flud supports both µTP (µTorrent Transport Protocol) and PeX (Peer Exchange). It gives you the ability to download sequentially, move files while downloading, supports downloads with many files, recognizes magnet links from the browser. As a bonus, there's also encryption support, IP Filtering, and proxy support for trackers and peers.
2. uTorrent
uTorrent is the synonym of torrent irrespective of any platform. It is one of the most famous torrent apps ever created, and the same stands true for Android users. The app has more than 100 Million downloads on the Play Store, which clearly tells us how amazing of a torrent app it really is.
uTorrent has updated its user interface over the years. It now features an immaculate and simple design. You can use the app to share files directly to your Android phone or tablet. There's also no cap on download or upload speeds, and neither is there a limit on the size of your download. The application also features inbuilt music and video player that provides you with a great media experience without opening your media file on a different app.
uTorrent also supports magnet links and allows you to directly click on them while browsing, leading to instant download. If you have your music downloaded as different torrents, you can play them together by creating a playlist. It also supports downloading selected files so that you do not waste your data on unwanted files.
The application also has a WiFi-only mode that helps you save on mobile data and lets you take advantage of torrenting and seeding.
---
Protect Your Online Privacy With Surfshark
[The VPN that we use here at Tech Arrival]
---
3. Vuze
Vuze is another great BitTorrent client that brings you the complete torrent management experience to your Android device. The application is lightweight yet powerful and performs all the tasks you expect from a torrent client.
The application lets you search and discover torrent files in the app itself and also allows you to download them in simple steps. The app also lets you manage torrent downloads by selecting which files you want to download from inside a torrent. You can also set the download and upload speeds of your torrent files. The interface is quite simple and intuitive as well.
A WiFi-only mode lets you seed your torrents only on a WiFi connection that saves your data. Once your download or upload is done, the application pings you with a notification. It also allows you to auto-start on device reboot.
4. BitTorrent
From the makers of uTorrent, BitTorrent is also a beautifully designed torrent application for Android. The application is super friendly, even for beginners. It not only allows you to upload and download torrent files with no speed cap, but it also has a built-in media player that lets you access your music and video libraries without having to switch to a different app.
The company says that the Android app has better performance, faster downloads, and a more user-centric mobile torrenting experience. There's also support for magnet links that allows you to download files with a single click. You can also browse for licensed, free music and video torrents from BitTorrent's content partners such as Moby and Public Enemy– from the get-go.
The application also allows you to download multiple music files and play them simultaneously as a playlist. BitTorrent says that they use the very latest in core torrenting technology, continuously updated by dedicated torrent core engineers to maximize performance. This includes Canonical Peer Priority (reduces the hop length between you and peers in the torrent swarm) and faster handling of magnet link data.
5. FrostWire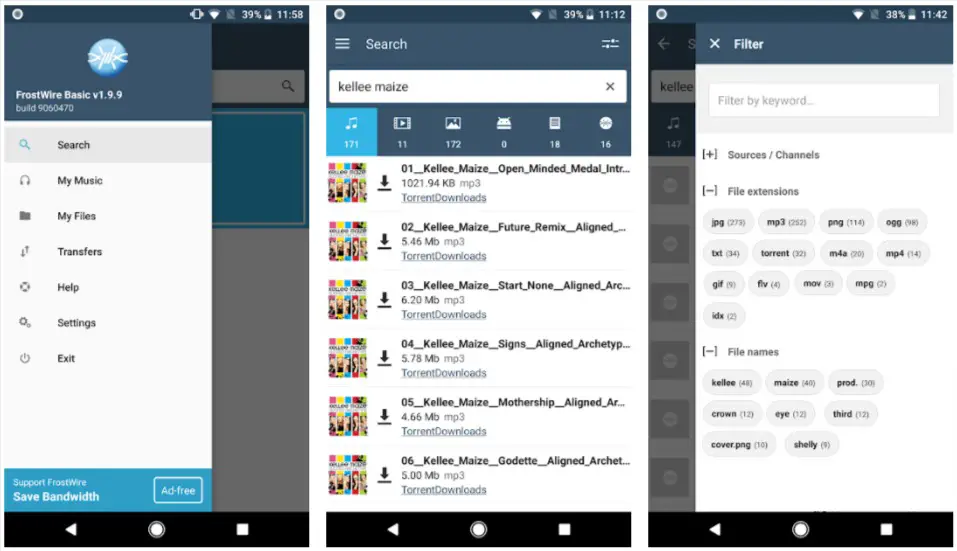 If you do not have many torrent sources, FrostWire might be a great app for you. It features a true built-in torrent search engine and an advanced download manager, music player, and a media library too!
FrostWire also does not cap you any speed limits, whether it be uploads or downloads. Since it uses a distributed peer-to-peer file-sharing network, it splits the file into multiple chunks and downloads from many sources simultaneously. This allows you to download huge media files many times faster than conventional methods. The application lets you download all types of audio, video, books, pdf, games, software, images, and more!
Also read: 3 Best VPNs for Torrenting and Torrent
The built-in media player and browser for searching torrent files give it an edge over other torrent applications on the list. It also has a WiFi-only mode as well as an auto-pause mode with a VPN drop. It even supports sequential downloads to start playing your media while the rest of it is being downloaded.
6. TorrDroid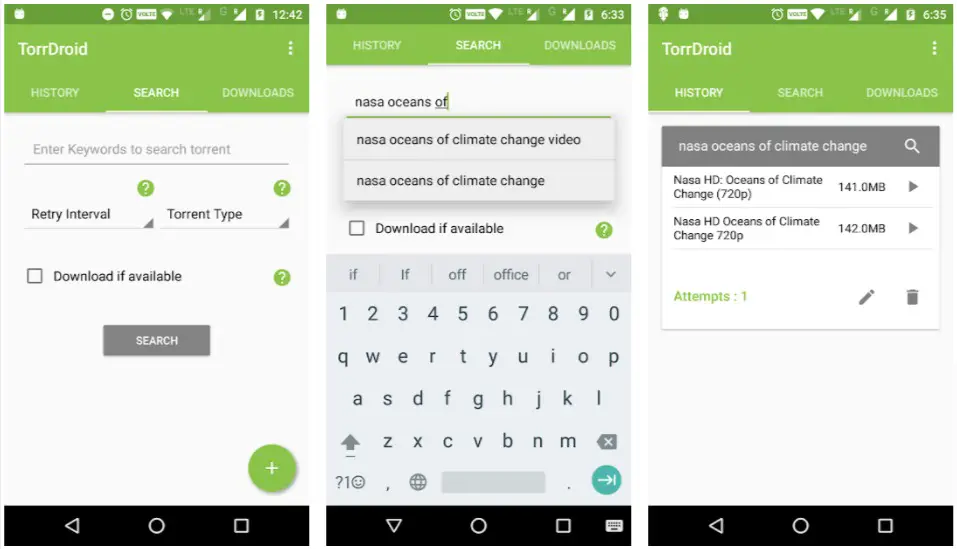 TorrDroid has been a renowned name for torrent clients, and the Android app proves nothing more than that. The application is a torrent client and a search engine that features a hassle-free way of searching and downloading torrents. With the built-in search engine, all you have to do is to provide a term put a word or two about your search query, and you will get ready to download results instantly!
---
Protect Your Online Privacy With Surfshark
[The VPN that we use here at Tech Arrival]
---
It also features automatic downloading of the most appropriate and reliable torrent as per your search preferences so that you can sit back and relax while your torrent download is being taken care of. The app also makes sure you do not accidentally download viruses and fake torrents and provides a safe torrenting experience. It also supports downloads using magnet links with no speed limit on uploads and downloads.
The application supports DHT, LSD, UPnP, NAT-PMP formats. It also supports downloading for individual files and sequential downloads as well. This allows you to play the video before the download is even finished! There's downloading over Wi-Fi to save mobile data and automatic queuing of downloads in case of insufficient RAM availability.
7. tTorrent Lite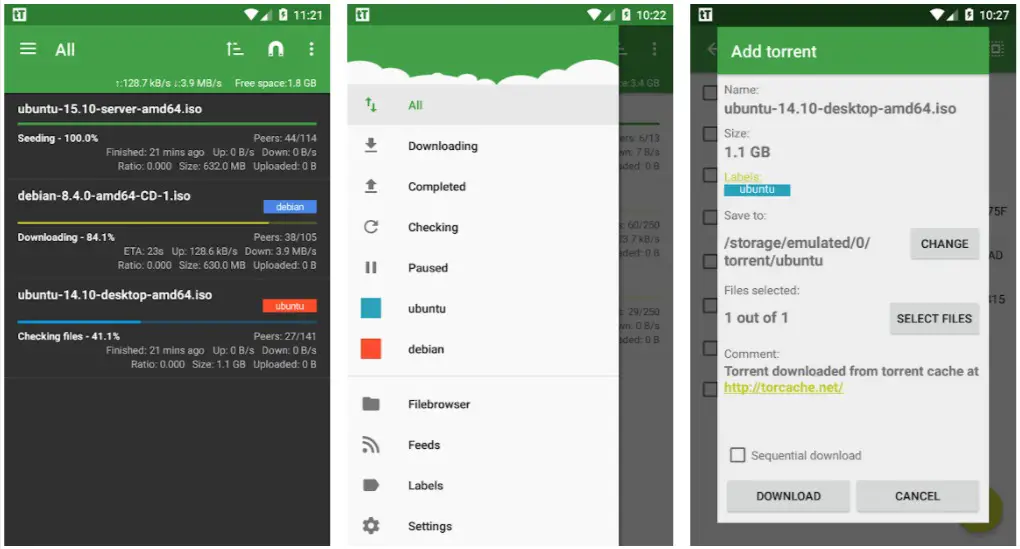 tTorrent Lite is based on the famous tTorrent app that has been there for a while now. The lite version features an ultra-light and fluid app experience with even more features than the other version. The application lets you create, share, and download torrent files. You can choose selected files from a torrent and downloading only those that are required.
The application also supports writing on external storage like SD cards. With sequential download support, you can stream a video while it still is being downloaded. The Wi-Fi-only mode lets you do all of this while saving up mobile data. It also supports magnet links, trackerless torrents, and DHT. You can also set up RSS feeds for automatically downloading torrents that are published in feeds.
It supports both UPnP and NAT-PMP protocols. The application also includes IP Filtering, proxy support with SOCKS and HTTP, encryption, web interface, and label support too!
8. LibreTorrent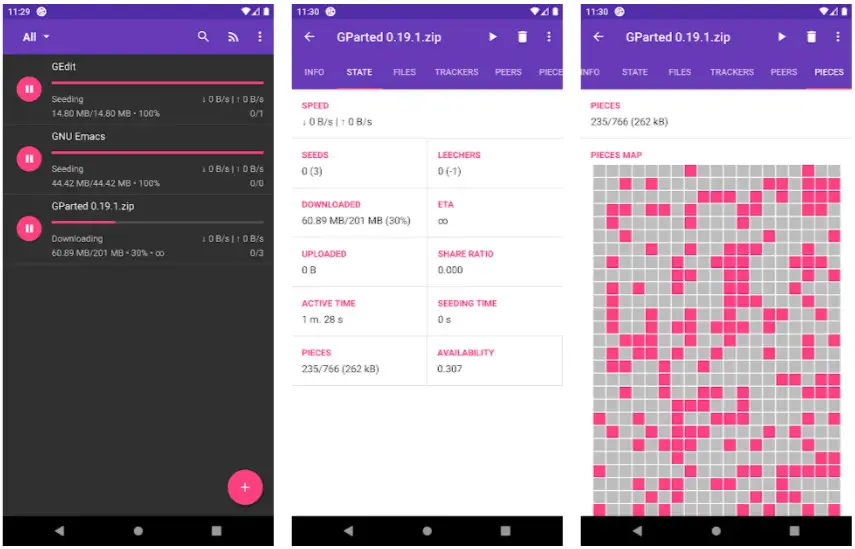 We have been using LibreTorrent's open-source client on our Windows machine for quite a while now. And their Android app is just as awesome. It features support for DHT, PeX, encryption, LSD, UPnP, NAT*PMP, µTP. It also has IP Filtering support.
The application lets you fine-tune network settings, power management, battery control, UI settings, and more. It has got HTTP/S and magnet link support as well. You can select which files you want to download and even modify their priority. There is also support for sequential downloads. The user interface of the app is based on Material Design which makes it look terrific.
The app can also be used on your Android TV and has a tablet-optimized UI as well. There's an RSS manager for all your downloads from your feeds as well.
9. Torrnado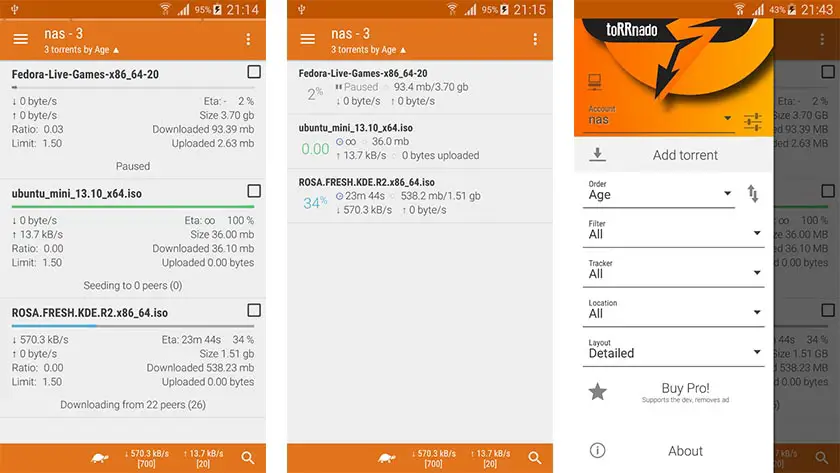 Torrnado is a little different from all other torrent clients here. It actually allows you to remotely access your Transmission BitTorrent app that is running on your desktop or server. This allows you to initiate downloads on your computer from your mobile phone itself!
The app is designed to give you access to the most important information and functions that are related to your downloads (or uploads) without much navigation – all in one place! You can list, filter, search and sort torrents. You can also start, pause or delete torrents from your mobile phone that will reflect on your computer.
It also allows you to download on your phone too. You can set the location of the download, whether it be your internal storage or SD card. There are detailed statistics about all the downloads and uploads you do through the app. You can even add multiple accounts! The application is also optimized for long torrent lists, and you can also choose multiple torrent lists with different levels of detail.
---
Protect Your Online Privacy With Surfshark
[The VPN that we use here at Tech Arrival]
---
10. aTorrent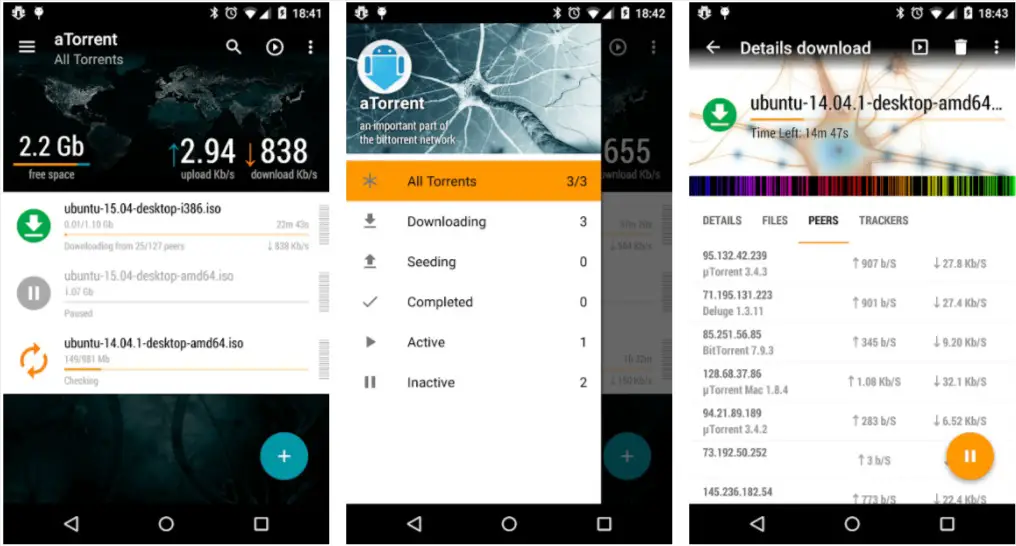 The most attractive feature of aTorrent is its unique and attractive design! The app has one of the best interfaces of all torrent clients and is based on Material Design. It supports searching for torrents from the dialogue box, magnet links, and adding torrents from a file. You can also select the download folder you wish to add your torrent downloads to.
The app supports partial and selective downloads from torrents that have multiple files included in them. There is also support for parallel downloads that lets you download many files all at once. It includes support for BitTorrent P2P, DHT, Advanced DHT Bootstrap, Magnet links, HTTP & UDP trackers.
Final Words
These were our top picks for the best torrent apps for Android. Most of the apps do the basic job correctly, allowing you to upload and download torrent files. But if you are a slightly advanced user, you might want to check out LibreTorrent and Torrnado, which offer even more flexibility in terms of usage and features.
Also read: 10 Best Torrent Sites of This Year
Which torrent client do you use? Let us know in the comments below.