Today, almost anywhere we go, we are surrounded by tons of WiFi Networks, whether at our homes, hotels, workplaces, or even public places like airports, metro stations, bus stations, etc. If you have limited mobile data on your Android device, it comes in handy if you can access a WiFi Network. And for this reason, friends, you are in the right place.
Before beginning, we would like to limit your expectations from this list of apps because, by design, generic smartphones are not meant to be designed for hacking WiFi networks or anything at all. They lack some of the necessary hardware performance required in a brute-force attack and whatnot. Also, if you aspire to be a professional ethical hacker, you'd be better off with a laptop running Linux on it.
But for those willing to step into the hacking territory, it is an excellent place to start. Most of the apps listed here will be able to analyze the WiFi networks around you and maybe help you figure out a way in. On that note, if you frequently use a public WiFi network, we highly recommend you read our guide on How to Protect Yourself on Public WiFi Networks to stay safe.
So without any further ado, let's get right into the list of the best WiFi Hacking Apps for Android that can help you gain access to nearby WiFi networks.
List of Best WiFi Hacking Apps for Android
Before we start, note that you should try these apps only on your network or on a network you have permission. We won't be responsible for any damage that occurred to you or others by using these apps.
1. Kali NetHunter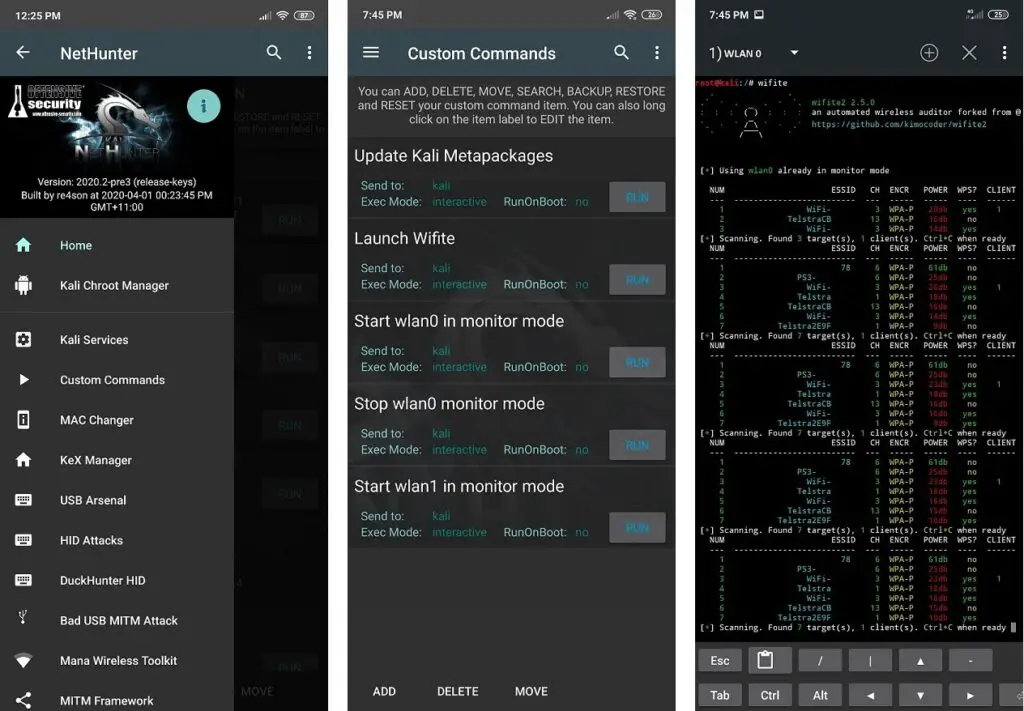 Kali Linux is one of the most popular Linux Distro for ethical hacking purposes for PCs. Mati Aharoni founded Kali Linux, which is currently maintained by Offensive Security Pvt. Ltd. What makes Kali NetHunter unique is that this is the first open-source Android penetration testing platform.
The good news is that Kali NetHunter is available for multiple types of devices. If your device is not rooted, you can opt for NetHunter Rootless. If your device is already rooted (Geek Alert!), you can flash NetHunter Lite using Custom Recovery on Your Android Device. And If you are lucky enough to have a device with a NetHunter-specific kernel, you can install the Full-Fledged NetHunter. 
Kali NetHunter contains all the tools as well as applications that are packed with Kali Linux. It also has a custom App store where you can download custom security apps that will help you in penetration testing. KeX (Kali NetHunter Desktop Experience) is also available that helps you run Full Kali Linux Desktop Session by connecting your Android device to a display via HDMI or Screen Mirroring. How awesome is that!
Everything about this cannot be covered here, so please go to the below link to read about it all.
2. zANTI: Mobile Penetration & Security Analysis Toolkit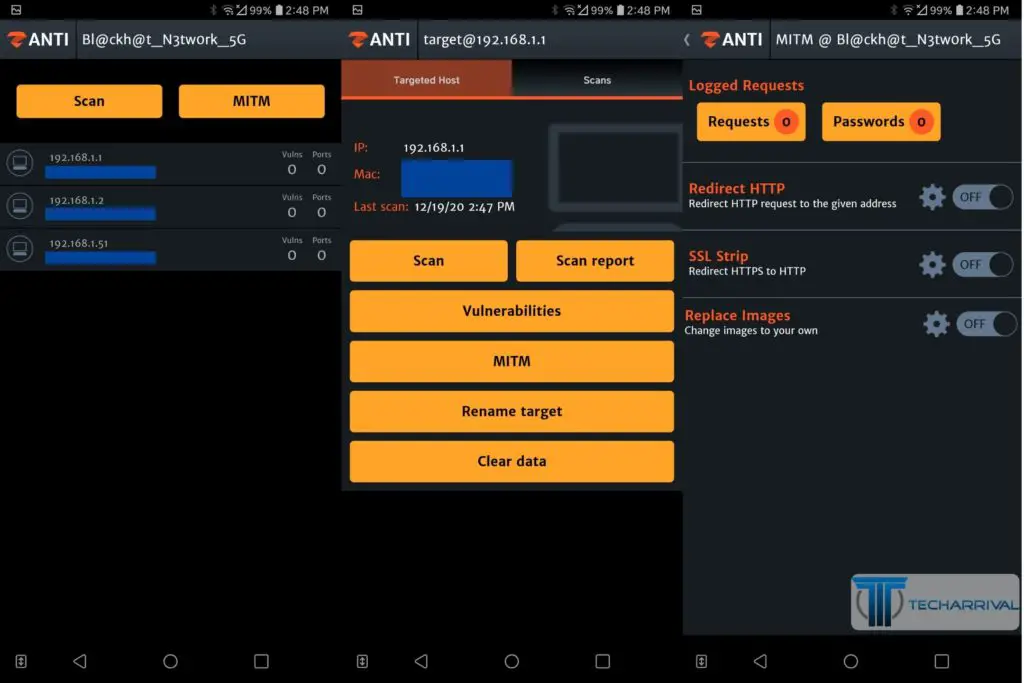 zANTI is a mobile penetration testing Hacking toolkit for Android that helps you find out the amount of vulnerability of your WiFi network. The App interface is Simple and Fluid. zANTI Penetration Toolkit is very easy to use because of its simple UI. Thus it enables IT Security Administrators, Ethical Hackers, and other types of users to simulate and find out an advanced attacker that can get access to the network and thereby try to identify the malicious tools or techniques they can use in the dark side without being visible to compromise the corporate network.
---
Protect Your Online Privacy With Surfshark
[The VPN that we use here at Tech Arrival]
---
zANTI can conduct network scans and identify the connected devices and their vulnerabilities. It also supports metasploit, brute-force attacks, and MITM attacks. 
If you are keen on learning about the security of your WiFi Network and the various ways you can use it to protect yourself from hackers and other users, this app is a must-have for you!
3. Arcai.com's NetCut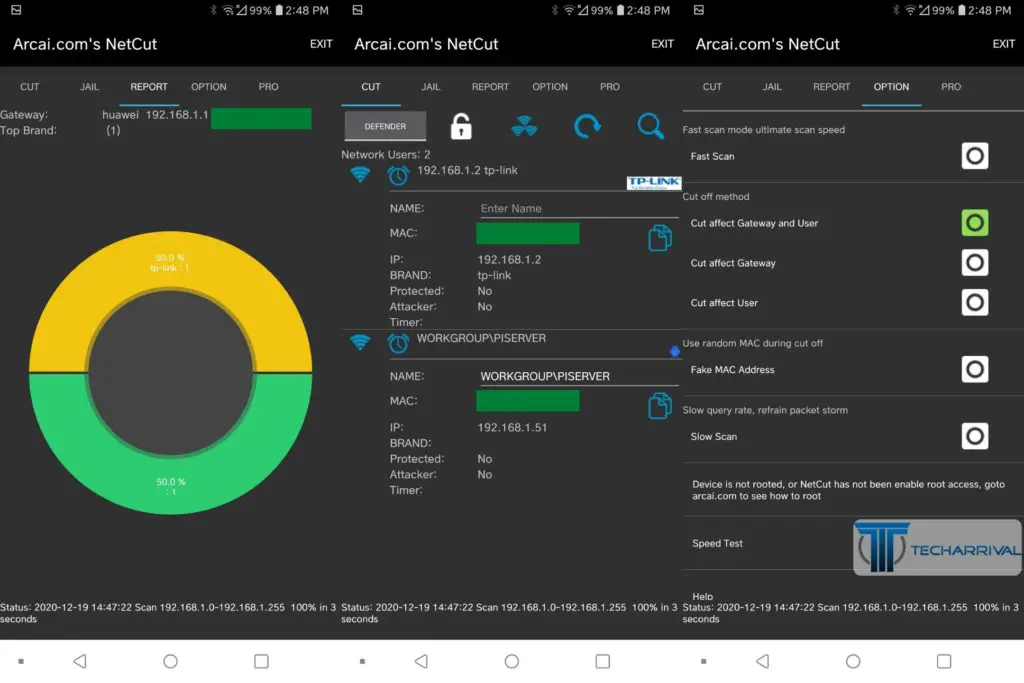 NetCut has been a popular app for the Windows platform, and Arcai also launched it for the Android platform. The advantage it offers over WiFi Kill is that it can protect your WiFi from other NetCut Software.
There are a few things we like about NetCut. The best thing is that it supports Android 4 to the latest Android versions. So if you are on one of the older versions, don't worry; NetCut is there to save you. (Though we recommend you get a new phone, man :P Because if you are reading this article, you are a tech geek)
Some of the best features of Arcai's NetCut include Speed Control, a One-click limit for all devices, search devices by IP/Brand/Name, Random Fake MAC Address, 3 Way Attack, and more. It also has NetCut Defender built-in that will protect you from other NetCut instances running on the same network. 
Please note that there are a lot of fake and malicious versions of NetCut available on the web. We highly recommend you download this app only from Arcai's official website. (Link Below)
4. WiFi WPS WPA Tester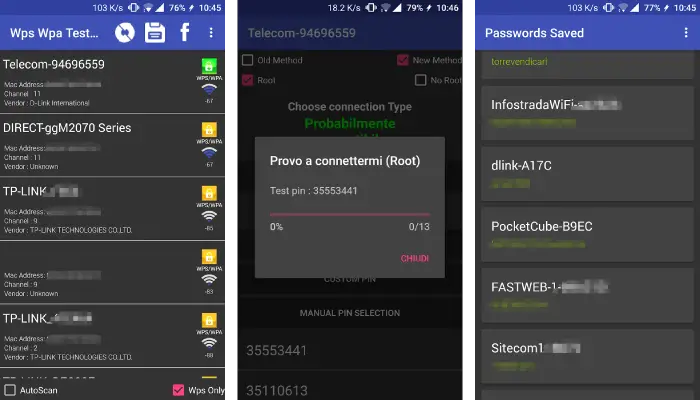 The WiFi WPS WPA tester, developed by Saniorgl SRL, is the first app in the list available on the play store, making it one of the most popular WiFi Hacking Apps. It can scan the vulnerabilities found in the WiFi Networks.
This app tests the connection to Access Points with WPS PIN, calculated using various algorithms like Zhao, Belkin(root), FTE-xxx, Dlink+1, TrendNet, Dlink, Asus, AiroconRealtek, EasyBox Arcadyan, Arris, and more.
5. Fing – Network Tools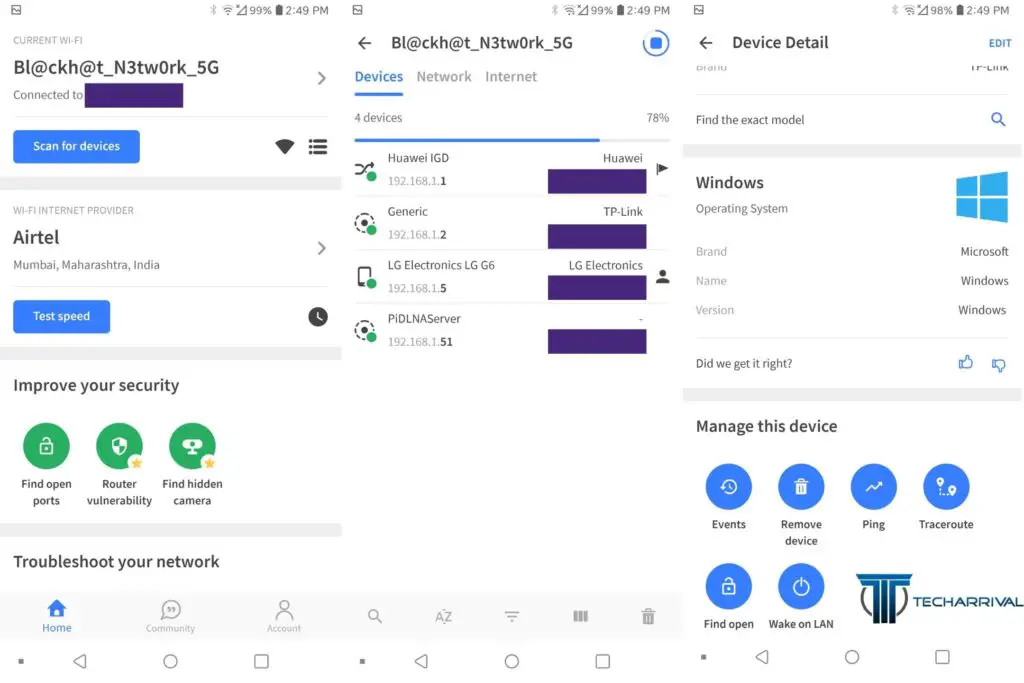 Fing – Network Tools, just like zANTI, help find out and analyze more about your network. It helps you find all devices connected to your WiFi network in just a matter of a few seconds. This app is straightforward to use, fast, and yet accurate.
It can help you detect if any unauthorized device is using your WiFi network without your permission. It can also detect the cameras connected to your network. Find Network Tools can also detect vulnerabilities that arise by using some older configurations.
6. WiFi Analyzer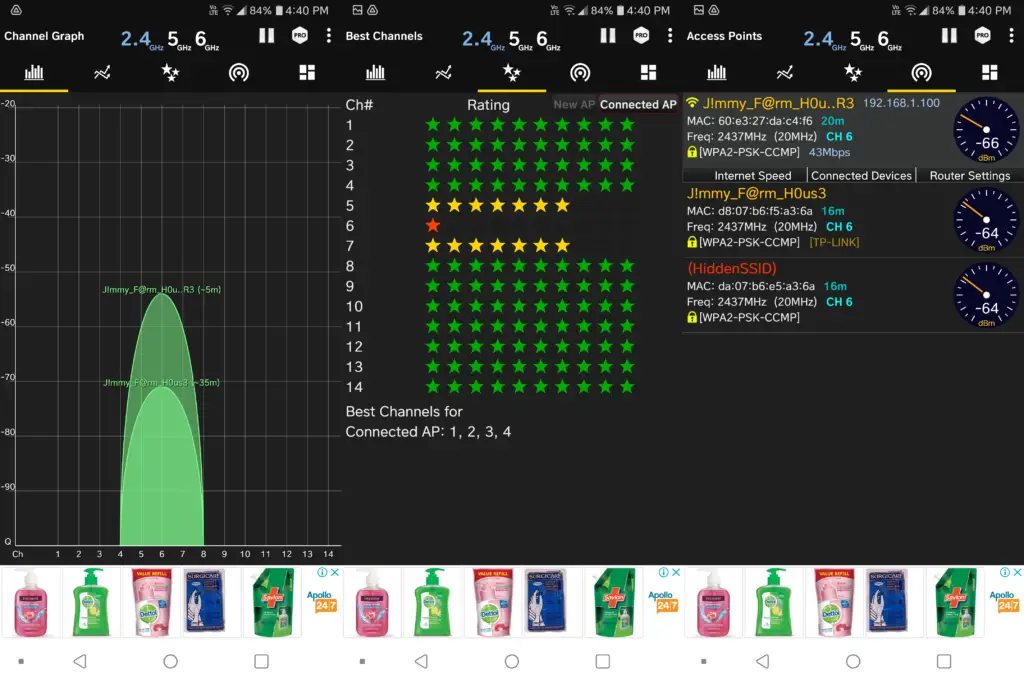 As opposed to the other apps listed above, this app does exactly what its name says. It helps you analyze the WiFi networks around you. This app will show you all the networks plotted on the graph as per their channel. 
---
Protect Your Online Privacy With Surfshark
[The VPN that we use here at Tech Arrival]
---
Using this, you can determine which WiFi channels in your area are crowded and which are free from interference. This app will come in handy if you are setting up your WiFi Access Point.
7. WiFi WPS Connect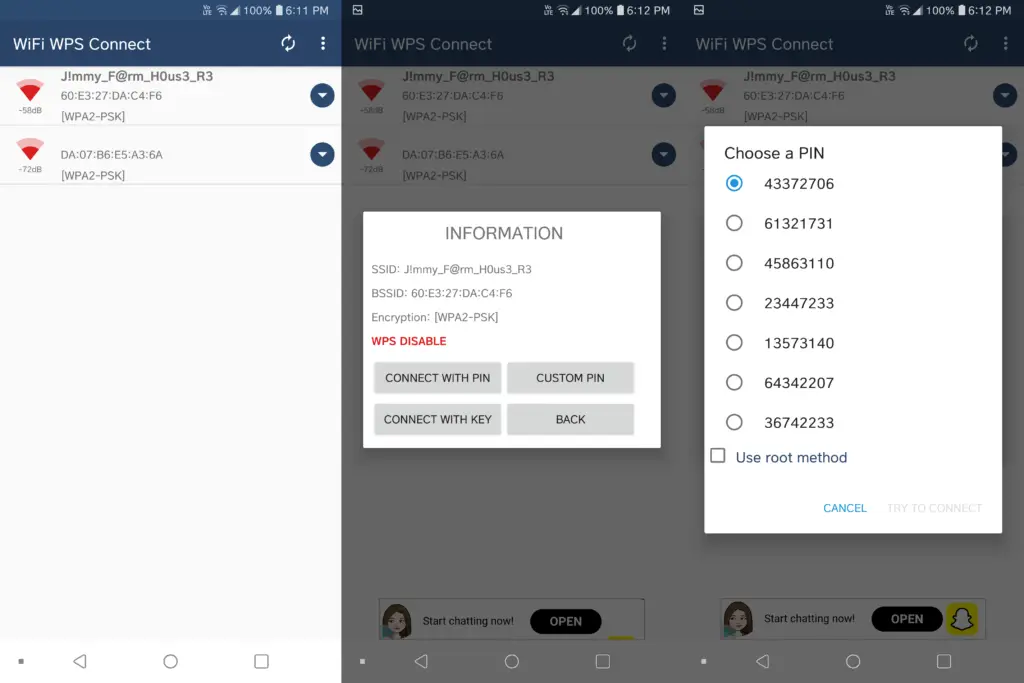 If some of the WiFi networks near you have WPS enabled, then WiFi WPS Connect can come in handy. This is because this app focuses on the WiFi APs that use the default factory WPS PIN. If this is successful, you will be able to join that network and enjoy free internet.
8. WiFi KiLL Pro
WiFi KiLL Pro provides the same functionality as Arcai's Netcut. It is an alternate version of WiFi Kill (OG) because that one is no longer supported on newer devices. 
This app will help you disable the internet connection of the devices on the network. You can use this app to free up some of the bandwidth for yourself on a public WiFi network. Using this app will require you to have root access. Apart from that, you can check out the WiFi AP Configurations and common router admin login passwords. 
9. WIBR+ Pro
WIBR+ (OG) was created to test the integrity and security of WiFi networks. However, the official WIBR+ OG is no longer available. WIBR+ Pro is an alternative to that app that uses Brute force and Dictionary Based methods.
You can also use custom dictionary methods to attack and find WiFi passwords. Depending upon your priority and network type, you can choose different options- numbers, lowercase, uppercase, and special characters – for performing a different dictionary-based attack. If the WiFi network has a WPS vulnerability, it can try to connect to that network as well. 
10. IP Tools: Network Utilities
Much like the other apps in the list, IP Tools will help you determine the WiFi signal strength, connectivity speed, internal IP, public IP, SSID, Mac address, and all of those things if you are already connected to a network. It also includes a WiFi analyzer that will plot a graph of all the nearby WiFi Networks, along with the necessary details in the next tab. 
In addition, it comes with a host of features that includes whois, ping, traceroute, port scanner, LAN scanner, DNS lookup, IP calculator, IP & Host Converter, and more. 
11. NetSpot WiFi Heat Map Analyzer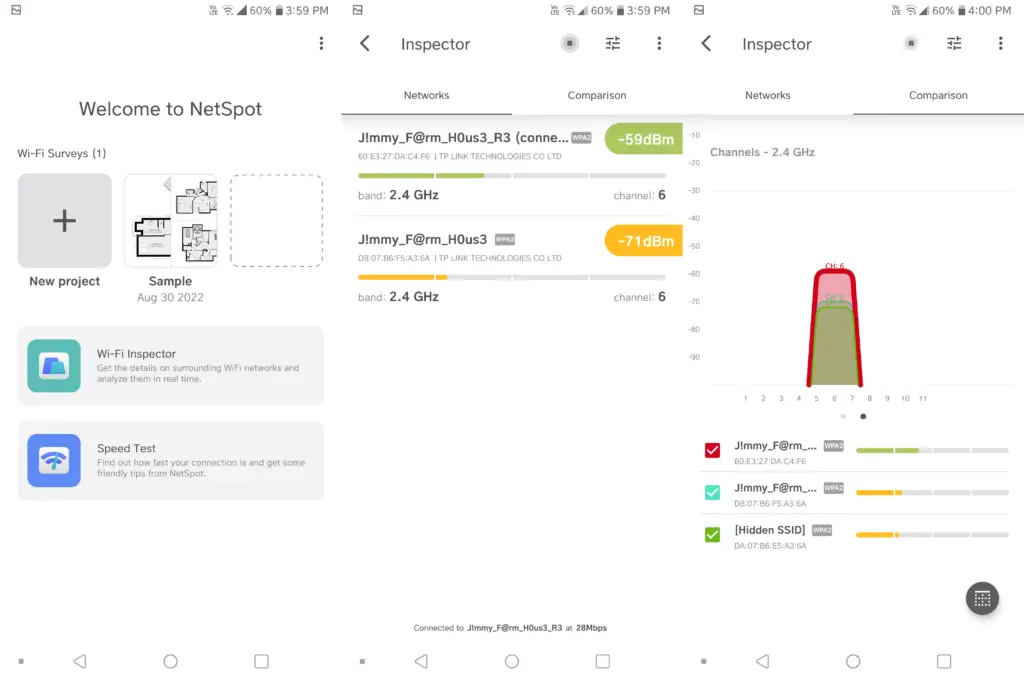 As the name suggests, it is a WiFi analyzer that will help you get details of all the nearby WiFi networks. You can see the SSID, Channel Number, Signal Strength, and more with this app. It also includes a SpeedTest tool to check your network bandwidth. 
All of the apps mentioned above was tested using LG G6 at the time of writing this article. If any of the app is having any issue let us know so that we can check that out for you.
Honorable Mentions
Here we are listing some of the apps that were popular back in the 2010s. It was then this article was originally written. To be very honest with you guys, that was the golden era, where the possibility of smartphone devices seemed endless. These apps are not updated for a long time, but to give you an idea about them, we mentioned them along with the official link, if available. 
---
Protect Your Online Privacy With Surfshark
[The VPN that we use here at Tech Arrival]
---
Aircrack-ng – https://forum.xda-developers.com/t/guide-use-aircrack-ng-on-android-phone-using-wireless-usb-adapter.2338179/
Nmap for Android – https://github.com/kost/nmap-android/releases
WiFi Kill OG – https://forum.xda-developers.com/t/app-wifikill-disable-internet-for-network-hoggers-android-4-x.1282900/
ARPSpoof – https://github.com/robclemons/Arpspoof
Network Spoofer – https://github.com/w-shackleton/android-netspoof/
WIBR+ – Link Not Available
dSploit – https://forum.xda-developers.com/t/app-2-3-dsploit-v1-0-31b-an-android-network-penetration-suite.1914699/
Wrapping it up
Many such apps in the market can help you play with Vulnerable WiFi networks, but if we try to include them all, it will be impossible. We tried to shorten our list, and after researching by keeping Certain criteria in mind, we came up with these apps. These are some of the best WiFi hacking apps you can currently find on the market.
Also read: Best Game Hacking Apps from Android
Some of the apps in the above-foresaid list will require root access for some tasks. If you haven't rooted your Android device yet, it is a good idea to do so now. You will love it if you, too, are a Techy geek or a Tech-Enthusiast like us.
Finally, we must warn you again that everything we taught you in this article is intended for educational purposes only, so try these apps on your or your friends' network with permission if you don't want to get into any trouble.
The list includes the apps that can help you gain access over a network, but this list will also help you find out the various ways you can use to protect and increase the security of your WiFi network up to the best possible limits.
Frequently Asked Questions (FAQs)
Is WiFi Hacking Illegal?
Yes, any type of hacking done for illicit purposes is illegal and can also put you in a lot of trouble. The only case when the hacking is legal is when you are trying to improve a system's security (with permission).
Does WiFi Hacker really work?
Yes, but there are a lot of variables you need to consider here. First, let's be clear that not all WiFi networks can be hacked. Let's say, for example, a router running WEP security can easily be hacked, and the ones using the latest WPA2 security are tough to get into. As a security researcher, it is your job to find the vulnerability in a system and then try to penetrate it using the proper tools.
Is it possible to get Free WiFi?
Yes, of course. Some open networks and hotspots allow users to surf the internet free of cost. But the only challenge is whether you will be able to find one or not in your area. You can use apps like WiFi Warden to check out if there are any free or shared WiFi networks in your vicinity. 
Do I Need a Rooted Android Phone to Use WiFi Hacking Apps?
If you want to perform some tasks that need system-level access, you will need root-level access. But for some of the basic WiFi security analysis tools, you can get away without a non-rooted Android phone. However, we strongly recommend you root your Android device if you want to take full advantage of these apps' feature set.
How can I see the Saved WiFi Password on my Android Mobile?
If you are on Android 10 or later, you can go to the WiFi Settings on your phone and select the share option to view/share the saved WiFi password. If you are using Android 9 or earlier, you will have to root your device first. After that, some apps, like WiFi Warden, will help you see the saved password of WiFi Networks on your phone. 
Can anyone hack my WiFi with these apps?
Of course not; if you are using proper security settings as well as a password that is long and secure enough, you needn't worry. 
---
Protect Your Online Privacy With Surfshark
[The VPN that we use here at Tech Arrival]
---
What can hackers access if they hack your WiFi?
If someone gets access to your WiFi network, they will be able to connect locally with the device in the network. If you have unencrypted traffic on your network, they can also monitor that. If you are using services like NAS, DLNA, or Security Camera stream without authentication, they might also access them. If you have a limited data plan on your WiFi, they can use them up as well.