Romanian cyber-security company Bitdefender recently released its consumer antivirus suites for 2019 including an upgrade to its internet suite, Bitdefender Internet Security. Apart from that Bitdefender provides other solutions for Windows, Mac, Android and even IoT devices (Yes we are talking about Bitdefender BOX).
Bitdefender Internet Security 2019 is the perfect choice if you don't require all the features present in the Total Security 2019 or you want protection for just your Windows device. In this in-depth detailed article, we will try to explain the features of Bitdefender Internet Security 2019 and why you should go for it.
Bitdefender Internet Security 2019 Review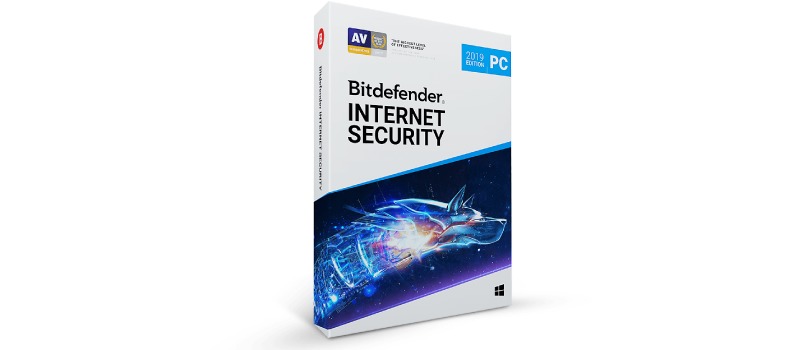 Bitdefender has been in the anti-virus industry since 2001 and has made a name for it winning several awards over the years. It is trusted by over 500 million users worldwide for its innovation and a deep passion for security. The new update brings a new control panel and a couple of features like Network Threat Prevention and improved existing features like Ransomware Protection.
How to Setup?
For setting up, users need to set up for a free account for a trial download of the Bitdefender Internet Security 2019. Users need to provide their email address, and in turn, they will be able to view their device security status from Bitdefender's web console known as Bitdefender Central.
After registering, downloading and installing the trial users will be given a simple tour of the features and the user interface. The console is simple and hands with features like Quick Scan and VPN just a click away.
The left-hand sidebar categorizes Internet Security's other features into Protection, Privacy and utility areas, The maximum number of tiles is five and users can add one more using the Add a Quick Action tile. It's quite simple and users are able to figure out easily if they had used any other antivirus before. Handle functions can be added as a shortcut to the console and the default buttons can be swapped according to the user's requirement.
Internet security's easy interface makes it easy to use the plethora of features even for the beginners. It may look simple but it offers the configurability and control needed for expert use.
Features
Real-Time Protection
The Bitdefender Internet Security 2019 offers real-time protection against all sorts of online threats like viruses, malware, Trojans and even ransomware. The built-in ransomware layer protects by introducing multiple data protection layers that use behavioral threat detection to safeguard your photos, music, videos, and documents from any kind of ransomware attack. There is a Safe Files feature which allows you to select which directories you want to protect.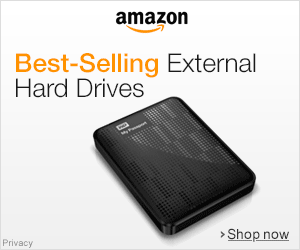 Advanced Threat Defence feature allows you to keep an eye on the application if they exhibit any suspicious behavior. Rescue mode is also available for persistent threats like rootkits. Bitdefender Internet Security 2019 comes with its own Firewall so that your personal information stays safe from hackers and data snoops.
Protection from Malicious Websites
Bitdefender updated its Web Attack Prevention feature to ensure that users are protected from malicious websites and also inform whether or not the website linked from a search result is safe to enter. The software installs its own extension in your local browser like Chrome, Firefox or Edge from where it does the work automatically.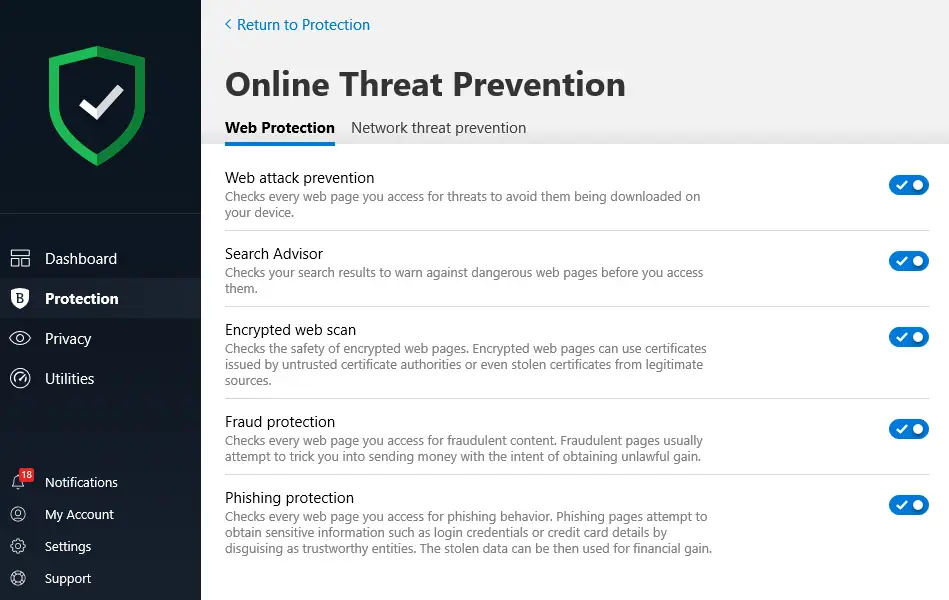 BIS 2019 comes with anti-phishing and anti-fraud detection features which will alert if you land on a phishing site. For heavy social networking users, the Social Network Protection will protect users from malicious links and any online threats their friends unwittingly pass to them via social networks.
An improved Safe Online Banking feature allows users to bank and shop from a unique, dedicated browser that secures their transactions to prevent fraud. The Bitdefender Safepay fills out credit cards automatically in billing fields. The Webcam Protection protects your privacy and prevents webcam links by notifying when an application tries to access the webcam. Advanced controls include blocking access to all but selected applications, block browsers and disable the webcam for all.
File Encryption, Password Manager, Parental Control and Vulnerability Assessment
Bitdefender Internet Security 2019 features a File Encryption feature to create encrypted password-protected vaults on your computer for confidential documents. It's very easy to create a file vault, protect it with a password that will encrypt and protect all your files in it. A very useful feature if you share your device with other people at home or workspace.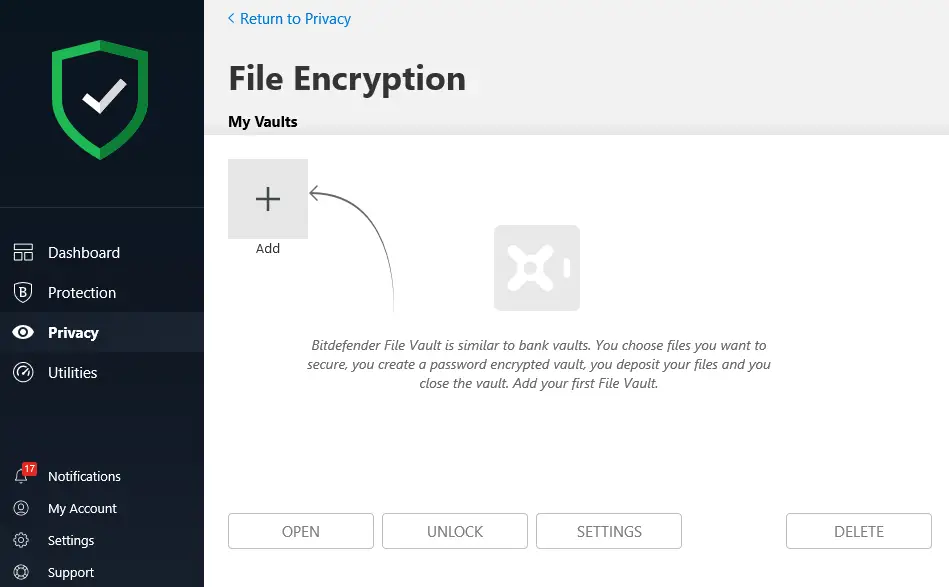 Another feature called File Shredder allows you to delete a file for good without leaving any traces that it ever existed on your computer. BIS 2019 comes with its own password manager that secures your password credit card information and other sensitive data in a cyber-vault for easy access whenever you need them. Additionally, it allows you to auto-fill online forms and even recommends strong passwords.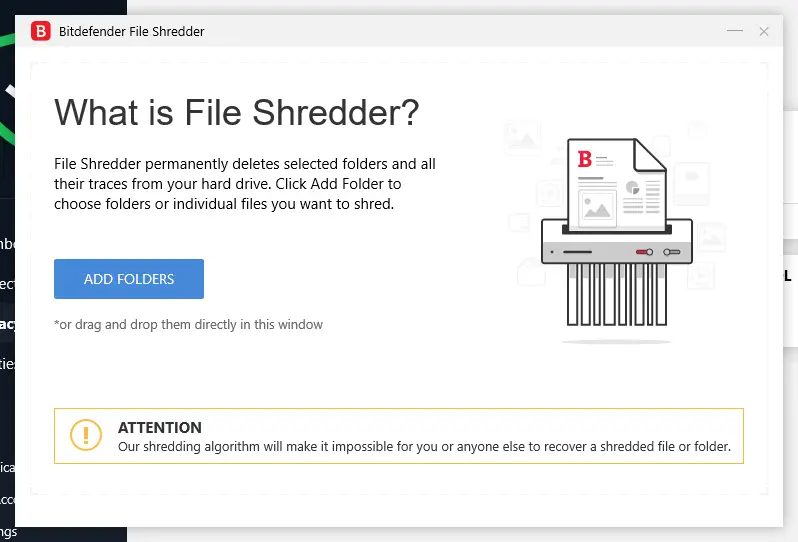 The Vulnerability Assessment feature scans for potential security holes with a single click and checks your PC for outdated and vulnerable software, missing Windows security patches and potentially unsafe settings suggesting you the best solution. As for the Wi-Fi Security Advisor, it accesses the security of your Wi-Fi network and router and informs about any vulnerability.
Parental Control allows parents to keep an eye on their children offering extra online safety. You can filter out inappropriate content like websites and also limit their screentime each day. There is also the option to remotely connect to Bitdefender Central so that you can keep up with them.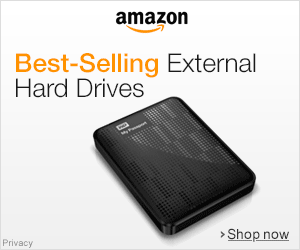 Bitdefender VPN
Bitdefender Internet Security 2019 also features its own Bitdefender VPN (Virtual Private Network) that protects your online web presence by encrypting all the internet traffic. This is a perfect option if you want to keep your online activity hidden from your ISP or other snooping threats. However, the free version of the BIS 2019 will only give 200MB of data limiting usage to light browsing and checking e-mails.
Performance
It's important to compare the Bitdefender Internet Security 2019 to other antivirus protection alternative products available in the market. Bitdefender has a good record for its protection with its products usually topping the charts in the test phase.
AV-Comparatives' February to June 2018 Real-Word Protection conducted their test which reported the summarized the results of five individual tests where Bitdefender's performance was excellent. The engine was able to block 99% of threats (1078 out of 1080) gaining the third rank after Trend Micro and F-Secure. In AV-Test's Windows 10 test for April 2018, Bitdefender score even better results, blocking 100% of the test threats.
Price
Bitdefender offers a free 30 day trial of the product after that you have to pay for a license. Customers can get a license for one, three, five or ten devices which makes Internet Security perfect for both home and office use. If you are a Windows user you should definitely go for it.
Pros:
Protection: Bitdefender Internet Security 2019 offers one the best protection among the products available in the market currently. It offers flexibility in use and can be configured according to the user's requirements.
Online Protection: The browser extension helps in identifying malicious links from the search engine results
Less Performance Slowdown: Using the software has a very low impact on the performance of the system. It experiences little performance slowdown compared to other anti-virus products.
Firewall: The firewall is quite intelligent works quite well even with less human intervention.
Extra Features: The Bitdefender Internet Security 2019 is laden with features from VPN to Ransomware protection.
Parental Controls: Parental controls are one of the best highlights of Bitdefender Internet Security 2019 helping users to protect their children from both telecom and internet threats.
Cons:
Missing Features: The OneClick Optimizer feature and the Anti-Theft feature are missing from the Internet Security 2019. To avail these features you have to buy the higher-priced Bitdefender Total Security 2019.
Slow Initial Scan: The initial scan is slow but it improves according to the number of scans
Conclusion
Bitdefender Internet Security 2019 is undoubtedly one of the best anti-virus suites in the markets and has a lot of improvements and features over its predecessor. The threats are no more just viruses and malware and Internet Security 2019 is the perfect solution for it. The addition of a VPN is a nice touch meaning users can save some bucks instead of buying one.
Get Bitdefender Internet Security Now!
Though it is missing a few features and multi-platform support compared to the Bitdefender Total Security 2019, it has all the features needed to protect and your family from both online and offline threats. The product is quite impressive in its protection capabilities and solid performance and you should definitely go for this one if you are looking for an anti-virus suite.