Audio output from gadgets we use daily is as important as the speakers or headphones. Sometimes, these devices don't take full advantage of the headphones and often produce a flat output. Professionals often use amplifiers to fine-tune their audio experience. But what if we told you there is a way to boost your audio experience by just using the software?
Here is where equalizer apps come into the rescue. We came across Boom 3D and were totally surprised by the amount of control it lets you have over your sound. It contains a bunch of features that not only make your music sound better but also increase volume levels, and even lets you control sound output from individual apps! Let us take a look at everything Boom 3D has to offer to us and how it scores against its competition.
Boom 3D Features (Mac & Windows)
Boom 3D is available for both Mac and Windows. Here are the features it offers –
3D Surround Sound
The application features a surreal 3D surround sound system that offers an immersive virtual surround sound that can be experienced on any headphones. The 3D Surround sound technology is patented that gives Boom 3D an edge over its competitors. While watching movies, the sound output gives a theatre-like 3D experience. Playing games with this ensure that you always sense your enemies' footsteps or from where the bullets are being fired.
Advanced Audio Player
A full-fledged audio player lets you play audio files from your computer right inside the application. You can also organize your local songs into playlists. To add songs from your computer, drag and drop them onto the interface while the music section is opened, and you are good to go.
Equaliser Presets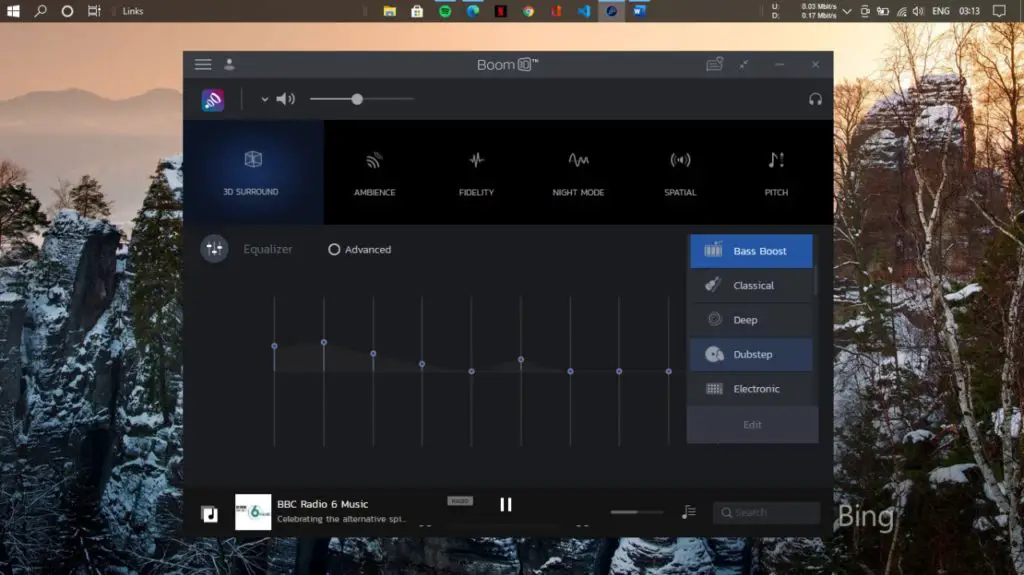 You can save time by applying advanced equalizer presets that can modulate your audio experience with just a few clicks. These have been carefully fine-tuned to match different genres of music. Preset options include Windows, Game, the 60s, Acoustic, Classical, Deep, Dubstep, Electronic, Flat, Hip Hop, House, Jazz, Loud, Metal, Movie, Music, Party, Pop, Reggae, Rock, Soft, Treble Boost, Vocals. If you do not like any of these presets, you can choose to fiddle around and set your own tone to match your preferences.
Radio Stations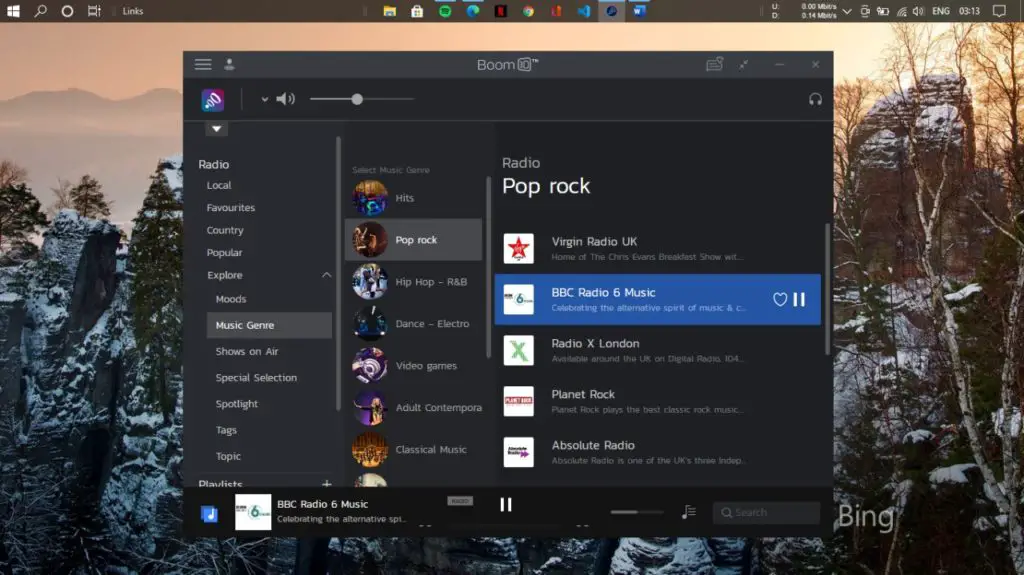 The application also comes with 20,000+ local and international radio stations across 120 countries. You can find the Radio option on the left panel. The local option shows radio from your region. Favorite shows up stations you have added to favorites. Country and Popular show up radio stations in the respective genres. The explore section further expands the available genres and gives you additional insights about the radio shows you can listen to.
Controlled Boost
Boom 3D makes sure that the high-volume levels do not feel too harsh and adjust accordingly while keeping the sound in perfect range.
Intensity Slider
The slider offers full control over the entire range from bass to trebles. You can choose the presets or take things into your own hands to experiment with different sound signatures.
Audio Effects
There are various audio effects such as Ambience, Fidelity, Night Mode, Spatial that redefines your audio experience.
---
Protect Your Online Privacy With Surfshark
[The VPN that we use here at Tech Arrival]
---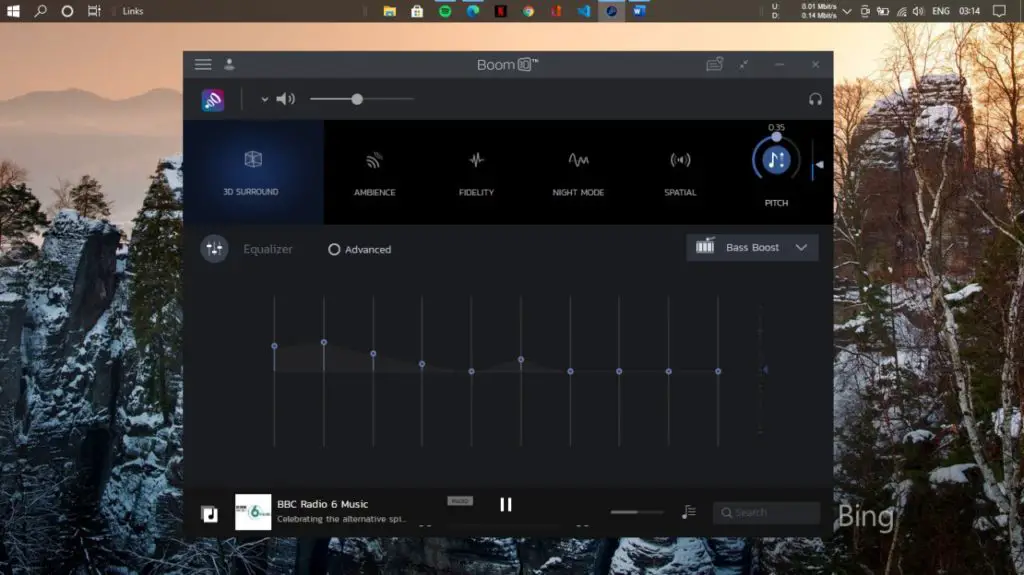 Ambiance: Brings your favorite games and movies feel real by making all the ambient sound move around you. The application adds advanced stereo sound, natural reflections, and instruments more enthralling, making the ambiance sound better.
Night Mode: With night mode, loud explosions are lowered down, and quieter sounds like whispers can be heard more clearly while keeping other sound levels the same. This volume effect also comes with a slider that allows you to adjust the level of balancing needed.
Fidelity: This effect boosts the frequency that is often missed by low range headphones or speakers. The boosted frequency results in better audio quality, balance the complete gain and calibrates the audio-rendering making the sound quality vibrant.
Spatial: The spatial effect intensifies the 3D effect making it feel like the audio source is further than actual. This is good for listening to music, watching movies and sports.
Pitch: The app also allows you to change the pitch of the sound output by 5 semi-tones. This can be used to match other instruments, make fine adjustments, or during your Karaoke sessions too!
App Volume Controller (only for Mac)
The system-wide volume booster safely increases the volume beyond its regular limits to deliver a rich and intense audio experience. It does this by processing the audio output and raising it a couple of notches without any distortion. It also lets you control individual volumes for individual apps.
Bonus – If you want the feature on Windows, you can use a free app called EarTrumpet that lets you do the same as App Volume Controller on Boom. You can use it alongside the Boom app and get a great audio experience without missing out on features.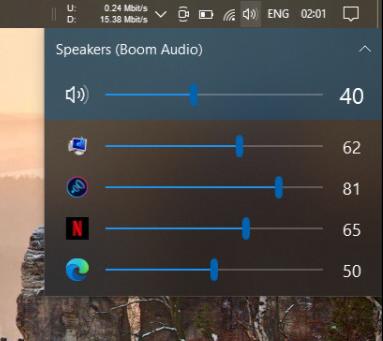 Installing Boom 3D
Boom 3D comes with a 30-day free trial period that lets you explore all of its features without having to pay for it. After 30 days, you can choose to buy the license from their official website.
On Windows:
Boom 3D is pretty easy to install. All you have to do is go to their official website and download the Windows' application on your computer.
After downloading the app, double click on the Boom Setup file from the downloaded location.
Follow the installation steps and enjoy Boom 3D on Windows.
Please make sure that you select the desired output device (Control Panel -> Sound -> Select Boom Audio).
Please note, Boom 3D is compatible only with Windows 10 x64.
On Mac:
Like with the Windows version, you need to go to their website and download the Mac file.
Double click on the .dmg file downloaded from the link.
Drag and drop it in the Applications Folder.
Open the Applications folder and double click on Boom 3D.
Once the app opens, click on "Install".
As the installation is done, click on "Restart" to restart your system.
Once it restarts, Boom 3D is ready.
Join Boom using the email address that you have used to purchase Boom 3D.
Using Boom 3D
Once you have installed Boom 3D successfully, it should be running in the background doing its job. To explore more, fire up the application on your computer. The application will show you a nice demo and introduce how 3D sound works. We recommend you to use your headphones for that experience.
Now you can use the equalizer, and its presets according to your preference. You can also customize it on your own and save that preset for later use.
Boom App for iPhone and Android
Instead of a full-fledged equalizer, Boom is rather a premium music player for mobile. Here is what the app offers –
3D Surround Sound: Like the PC version, Boom can deliver a powerful surround sound experience on any headphones.
Equaliser Presets: You can fiddle with the advanced equalizer that offers a wide range of customizable options or select one of the 27 presets that come with it.
Audio Intensity Slider: The slider lets you tune up bass or treble according to your preferences.
Spotify, Apple Music, and Tidal Integration: You can connect your Spotify, Tidal, or Apple Music accounts with Boom to experience the quality sound from the app.
Radio and Podcasts: Along with support for major music streaming services, Boom also gives you access to more than 20,000 radio and podcasts stations!
On the Android version, Boom provides a system-wide equalizer control called Boom System FX. This functions just like the windows version.
Pricing
The Mac and Windows variants are priced at GBP 29.99. As mentioned earlier, Boom 3D comes with a 30-day trial period for both Mac and Windows that lets you fully explore the features without making a purchase.
The Christmas Sale is on as we are writing this and the prices are down to just GBP 9. There's also a game you can play that lets you get up to 100% on the purchase, depending upon your luck.
Final Words
Boom 3D certainly changes your sound experience regardless of what device you are using it on. It is perhaps the best equalizer app we have covered, and the pricing is great as well. If you want to fine-tune and enhance your audio experience, we definitely recommend downloading Boom 3D.
---
Protect Your Online Privacy With Surfshark
[The VPN that we use here at Tech Arrival]
---