Some of you might know that there are various audio enhancers available on Android (Viper4Android FX is my favorite). Have you ever wondered that we can also enhance the audio quality to a very great extent on our windows computer using simple little software? So here we are going to discuss how to enhance audio quality and boost sound level on a windows computer.
Boost Sound Level Above Maximum Mark in Windows 7, 8, 10, 11
Using DFX Audio Enhancer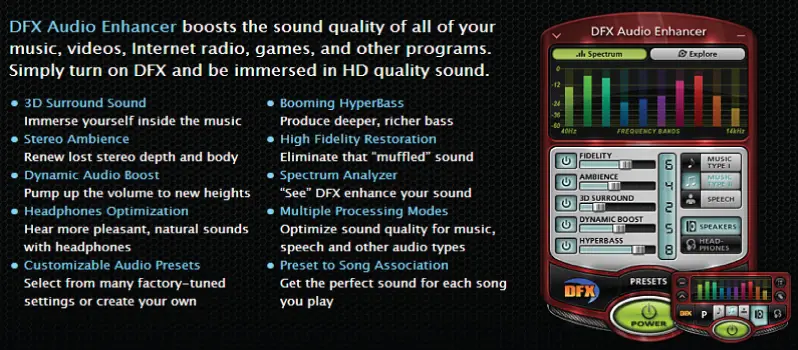 So here are its important features :
Easy to use
Harmonic Fidelity Restoration:- It eliminates muffled sound and regenerates missing high-frequency harmonics in the audio.
The Ambiance, Stereo Imaging
HyperBass:- Adds deep, rich bass sound to audio.
Dynamic Gain Boosting:- Increase the loudness of the audio.
3D Surround Sound
Speakers and Headphones Modes:- It allows users to quickly change the type of listening device to optimize audio for that device.
Customizable Music Presets
Dynamic Sound Spectrum Analyzer
Multiple Processing Modes:- Music Type I & II / Speech.
Efficient Performance with very low CPU usage
5.1/7.1 Surround Sound Support
We hope that you will be surprised by the features offered by DFX audio enhancer. You can view all features offered along with how it will work. So without thinking anything download this software from here.
Enable Loudness Equalization in Realtek Drivers
We have mentioned explicitly Realtek here because we have tested this on two different computers and one with the Realtek drivers we got an option for loudness equalization while on the other with beats audio we found no such option.
So luckily if you have Realtek drivers installed for your sound card then you can follow the procedure given below:
1. Go to Control Panel -> Hardware and Sound.
2. Click on sounds and you will find a pop-up window that will have a list of speakers and microphones attached to your computer.
3. Right-click on the speakers and go to properties.
4. There you will find enhancement tab and from there enable "Loudness Equalisation".
Note: If you ever mess up the audio settings, you can always reset them to default settings using the button "Restore Defaults" at the bottom left corner.
Thank you for reading this post and keep connected to Tech Arrival to continue enjoying wonderful posts. Share your views on this post in the comment section below. If you are still having any query throw it in the comment section.
---
Protect Your Online Privacy With Surfshark
[The VPN that we use here at Tech Arrival]
---
If you find this post helpful, don't hesitate to share this post on your social network. It will only take a moment and also it is quite easy and helpful for others.