Over the years of extensive usage, computers get filled with a lot of files, many of which we don't necessarily need. But given how complex file systems are on our computers, it is not an easy task to differentiate between which file is useful and which is junk. Well, of course, reviewing them one by one does the job; it takes a long time for one to do so.
Here's when CleanMyMac comes to your rescue! The application goes into the nooks and corners of your Mac and helps you clean, optimize, and improve the performance of your Mac significantly. The app has a bunch of modules that help you make your Mac more efficient with both storage and performance.
To make it easier for you to decide whether this application is useful for you or not, we have tested every module and explained what they do. It will help you explore the application deeply and also fully know its capabilities. We tested this application on the 2017 15-inch MacBook Pro running macOS Catalina version 10.15.5.
Let's take a detailed look at what CleanMyMac X has to offer in this review.
Features
Let's have an overview of the new major features the application provides –
SmartScan – A single-click launch button that scans your entire Mac not only to find unused and unimportant files but also provides an in-depth analysis report about optimization, protection, speed, and more.
CleanMyMac Assistant – A virtual assistant that provides explanations and suggests how you can further improve and optimize your Mac and even reminds you regularly about cleanups.
Malware Removal – The application also scans your system for potential malware and other vulnerabilities and advises you to remove such files. It even has a vulnerability database that keeps track of all the latest app vulnerabilities and lets you know before it does any harm.
Optimization – This a special module that gives you an idea abut login items, launch agents, and other resource-consuming apps that helps you increase system efficiency and responsiveness.
Updater – This one looks for updates to the apps that you have already installed and lets you know if there is an update available to them.
CleanMyMac Review
Now let's talk in detail about each of these modules and find out how they work.
1. Cleanup
To perform a cleanup of your device, you first have to scan it using the SmartScan feature. It will take some time depending upon how much data your Mac has. Our machine had total storage of 400 GB (excluding Bootcamp), out of which around 172 GB was available.
So sit back and enjoy a cup of coffee while CleanMyMac X scans your entire system and gives you a detailed report of everything. Once the scanning completes, you will have an idea about how much junk you are keeping inside your Mac. In our test, the scanning took approximately 2 minutes and 9 seconds. Just like we said, a lot of factors determine the speed of the scan.
Cache forms a huge part of the system junk. Cache files are nothing but temporarily downloaded files saved on your Mac. These temporary files often occupy several gigabytes of storage. It could be in the form of logs, broken app data, unused languages, several versions of the same documents, and more. The application also deletes a lot of Xcode junk like unnecessary build information and project indexes.
CleanMyMac not only deletes cache from the system but also deletes cache from the Photos app, Mail, and other apps and ensures you don't have a lot of junk lying around.
---
Protect Your Online Privacy With Surfshark
[The VPN that we use here at Tech Arrival]
---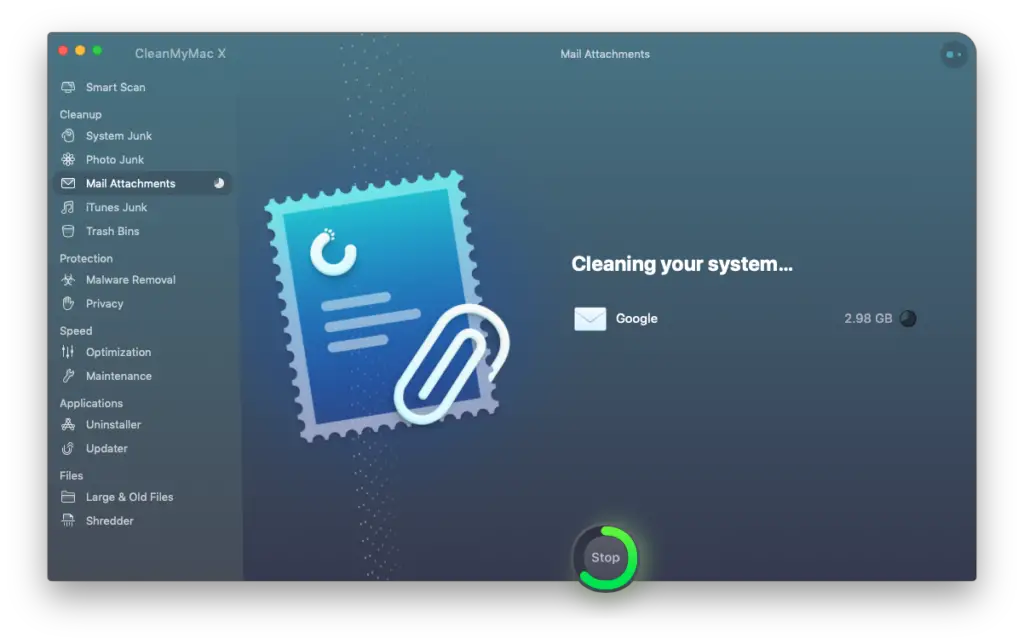 2. Protection
CleanMyMac X isn't just a cleanup application for your app; it also helps you to disregard potential malware and other security issues and solve them. Under the protection section, there are two modules – Malware Removal and Privacy.
Malware Removal provides you with a detailed analysis of the potential threats your Mac would be facing, such as malware, spyware, and adware. You can review apps that you think aren't a threat and remove the rest. It can even scan cryptocurrency miners hidden inside your system, which is a good thing to look for, especially in these bitcoin days.
The Privacy section is quite impressive. CleanMyMac X scans for chat history, browsing history, cookies, downloads, recent item lists, and more. This feature is quite good for people who have been using their Mac for a long time and want to get rid of all those useless cookies and cache files that the browsers often collect.
3. Speedup
The speedup section helps you make your Mac even faster by eliminating various applications to launch automatically and also helps you perform diagnostic checkups for the necessary maintenance of hardware components. It has got two different modules to perform these separate operations – Optimization and Maintenance.
The Optimization module identifies sources that are responsible for a drop in the performance of your Mac and gives you control to disable them. You can remove things such as login items (apps launched when you boot your Mac), Launch Agents (items that extend the functionality of a certain app, but hog resources). It also tells you about the apps which are not responding and apps that hog your system's resources too much. Some of these are genuinely needed apps, but for those which aren't, you can easily remove them to ease up system loads.
The Maintenance module, on the other hand, accounts for handling regular diagnostic checkups and optimizations that are needed for your Mac. With this module, you can run maintenance scripts that will improve the performance of your Mac, repair disk permissions, free up RAM, verify startup disk, and more.
4. Applications
You probably have tens or hundreds of applications on your Mac. A few of them are super important, others are essentials, and a lot of these are just sitting on your Mac hogging memory resources. To help with you your Applications, CleanMyMac X has another set of modules – Uninstaller and Updater
When you typically uninstall an application on your Mac, the app itself gets deleted, but there are a lot of remnants of random data spread across your system. The Uninstaller module first searches for all the applications that are installed on your Mac and shows them to you in a single list. The module also groups them according to the developer and download source for added simplicity.
CleanMyMac applies a separate filter to 32-bit legacy apps and other applications that you no longer use to clarify if you need them or not. Once ready, you can select the apps you want to completely remove and uninstall all of them with just a click. CleanMyMac X also allows you to reset an application to its initial state, which you can do by choosing the "Application Reset" option.
The Updater module, on the other hand, checks if there is an update available for all of your installed applications. It also makes sure that the installed applications do not have any compatibility issues with your OS version or anything else. If found, it can also fix that. The module also provides you with a nice changelog/description of the available updates. You can select all the apps you want to update and update them with a single click.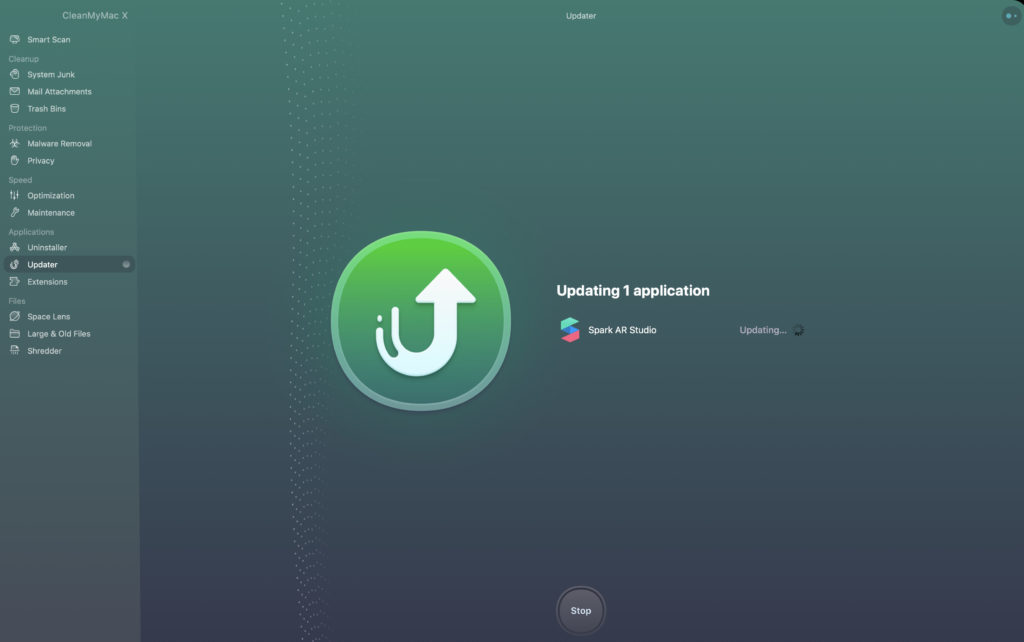 The updater can also update third-party apps. We tried updating Spark AR Studio, and it performed the job as intended.
---
Protect Your Online Privacy With Surfshark
[The VPN that we use here at Tech Arrival]
---
5. Files
The files section gives you an overview of your files and provides you with controls over it. CleanMyMac doesn't apply any suggestions in both the modules that are included with the Files section since any item can be valuable, and the final decisions should be made by you, the user. It also contains two modules – Large & Old Files and Shredder.
The Large & Old Files module simply tells you about all the files that are stored on your Mac and sort them according to size, kind, and access date. If you are looking for a particular file type or size, the module can let you know about it. It doesn't give you any suggestions about which files to keep or delete since you have full control here.
But for those files that you no longer need and want to vanish from your Mac permanently, you have the Shredder module. Just like the name suggests, it makes sure there are no underlying bits of data anywhere in your system. It even gets around Finder errors and can also shred files that are currently running.
Pricing
CleanMyMac X, the third iteration of the application, is available on both subscription and one time buy options.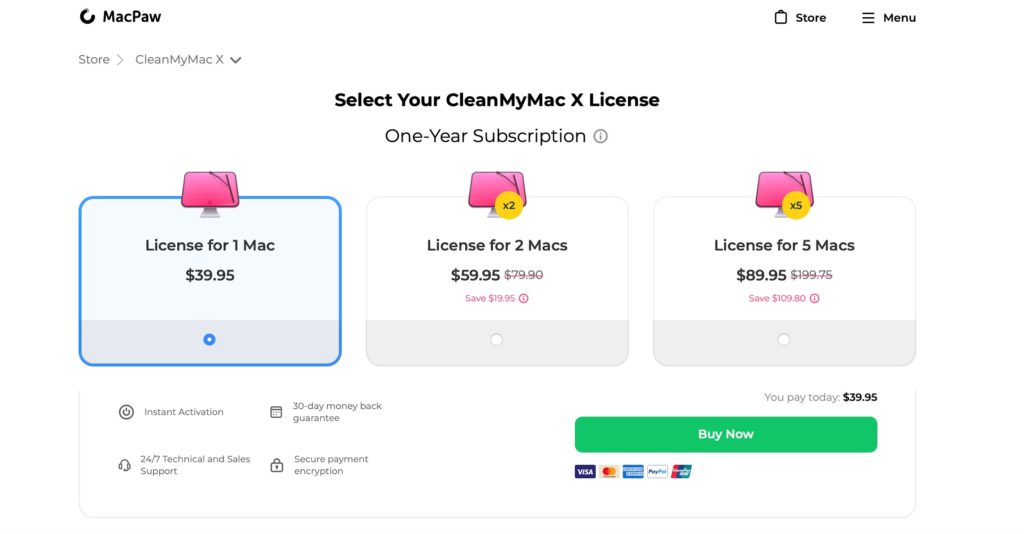 As you can see, you can get licenses for one, two, or up to 5 Macs for one year.
License for 1 Mac – $39.95
License for 2 Macs – $59.95
License for 5 Macs – $89.95
You can also purchase CleanMyMac X as a one-time purchase.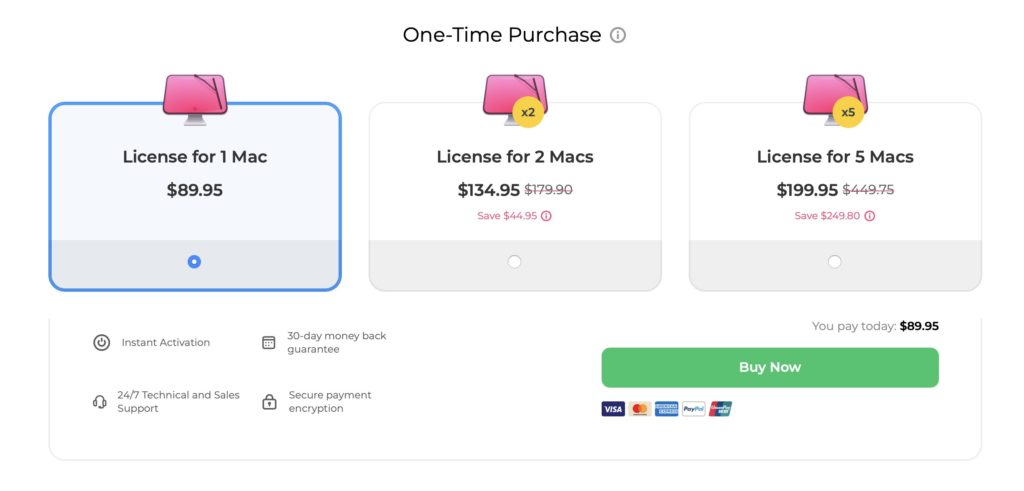 License for 1 Mac – $89.95
License for 2 Macs – $134.95
License for 5 Macs – $199.95
Our Verdict
CleanMyMac X is hands down the best cleanup application we have ever tested on our Mac. Every module does its jobs perfectly, and we have no complaints with performance. The app has an excellent user interface, perhaps the best we have seen on any cleanup application.
The scanning time might take some time, but still, it is quicker than most other cleanup applications we have used. CleanMyMac claims that you can feel the difference in the performance after cleaning up, and we definitely did. The boot time also improved, and the time it took to get started was reduced to just some mere seconds. The application cleaned a lot of unnecessary plugins and other elements as well that you won't usually remove using the Finder. The pricing might be slightly higher, but when you look at what CleanMyMac X offers, it's worth it.