Internet is accessible by millions of people. Still, watching downloaded content is far better than streaming. Why? Because even now, the internet is not very reliable. ISPs have weekly maintenance cuts and mobile data, well let's not really talk about it. This makes us resort to only one option – downloading the content. But what's the best way to do so?
There are many applications which are made specifically for this purpose. Not all websites offer to download their content. But we can still download things using downloading tools and software.
Today, we are going to talk about a tool, which will help you download movies and videos from the internet very easily and effortlessly. Let's take a look into what the Fast Video Downloader offers us.
Also Read: 10 Best Free YouTube Downloaders
Features
Fast Video Downloader offers multiple features as follows:
Download Videos – Download videos from multiple websites such as Youtube, Dailymotion, Vimeo, Metacafe, Facebook, Bing & more.
Multiple Download – Download one or more video simultaneously at the same time.
Download HD Videos – Download high resolution, Full HD (1080p), HD(720p) videos.
Download Schedule – Schedule your downloads at a particular date and time.
Video Search – Search videos using keywords and download them instantly.
Paste Video URL – Automatically paste video URL which you copied.
Convert Video Formats – Convert downloaded videos to iPhone, iPad, iPod, Android, PSP device compatible format. You can also convert videos to 3GP, AVI formats.
Change Video Resolution – Change resolution of the video without changing the format.
Unrestricted Download Speed – The application doesn't restrict the download speed. So you can use the full bandwidth.
Proxy Settings – If you use a proxy for connecting to the internet then you can specify that proxy to download videos.
Fast Video Downloader Review
The first thing you are going to notice after launching the application is four options –
Add video URL
Download List
Search Result
Recommended
Let's take a look at each one of them.
1. Add Video URL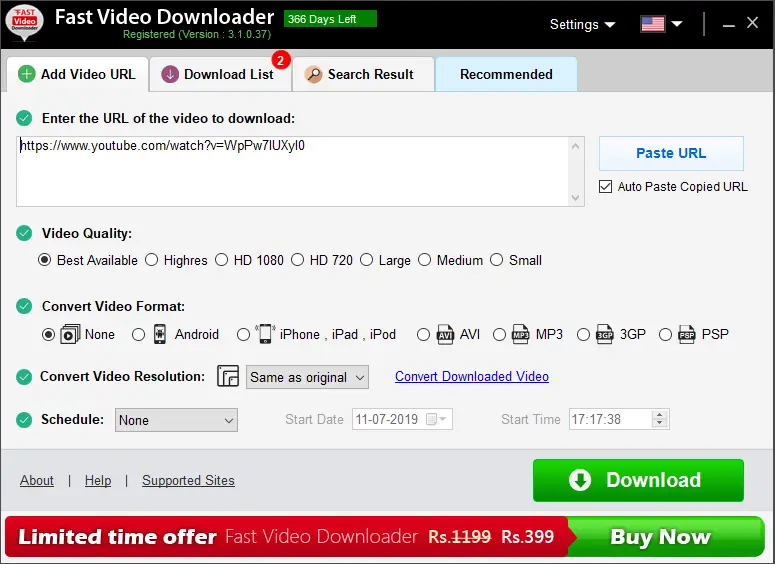 So this is the part where all the actual stuff happens. At the top, you have to enter the URL of the video you want to download. If you have the URL on your clipboard, it will automatically show up in this area.
Video Quality – Here, you can select the video quality such as small, medium, large, 720p HD, 1080p HD, High Resolution and Best Quality Available.
Convert Video Format – Here, you can convert the format of the video according to different devices or formats. Supported devices and formats include Android, iPhone/iPad/iPod, AVI, MP3, 3GP, PSP.
Current Video Resolution – This option gives you more flexibility over the resolution of the video to be downloaded. Here you can see the number of resolutions in which you can download your video.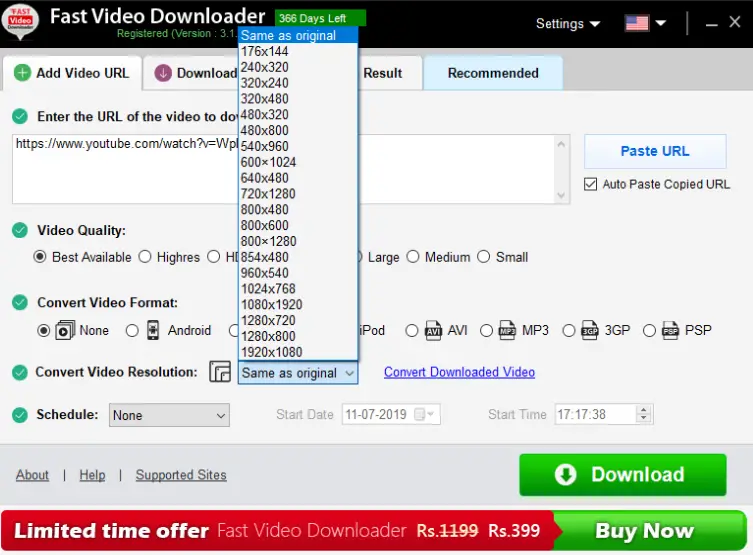 Schedule – If you want to schedule your download, this is where you select that. You can select the date and time for the downloading to start. You can also schedule to download a video daily, but we wonder why would someone want to do that.
Download Button – At the bottom right, there's a big green Download button to initiate the downloading process.
2. Download List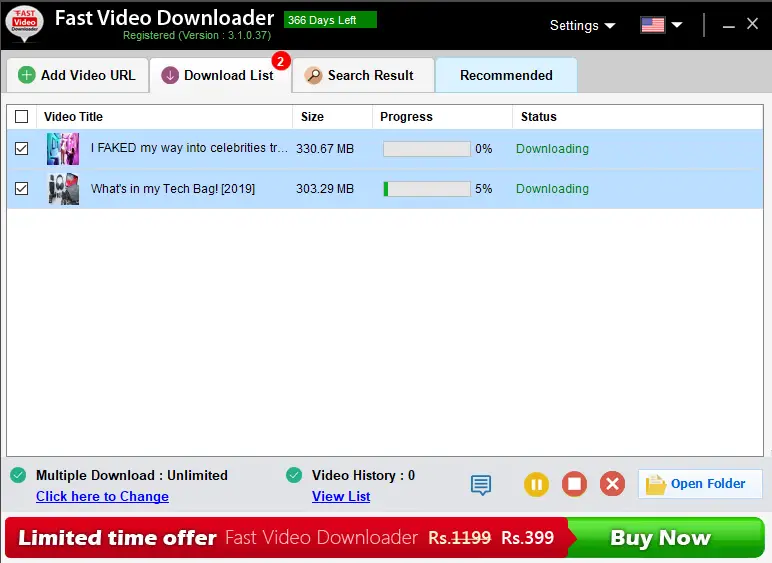 After you tweak all the options and hit the Download button, here's where you can see the progress of all your downloads. You have the option to pause, stop or remove current downloads. You can also select whether you want to download multiple videos at the same time or one by one.
3. Search Result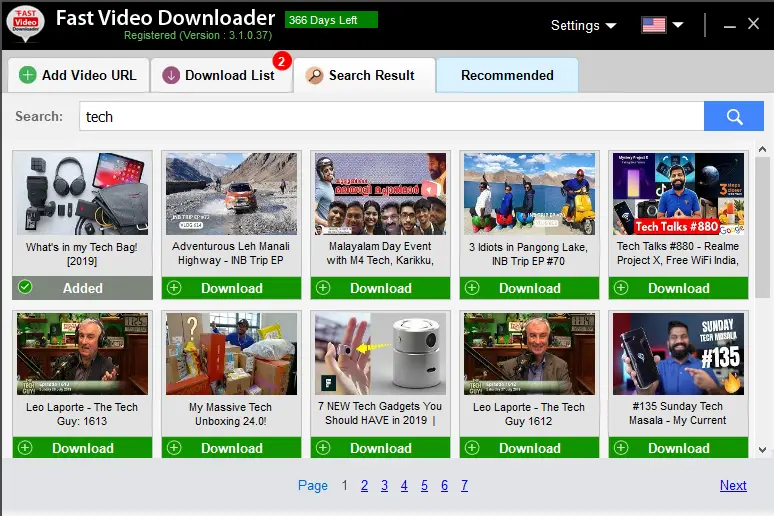 If you are not sure what video you want to download, then you can search for them using the Search Result option. All you have to do is type your favored keyword and wait for the videos. Once the videos load, you can either watch them or download them using the green "Download" button on the bottom of each video.
---
Protect Your Online Privacy With Surfshark
[The VPN that we use here at Tech Arrival]
---
4. Recommended
This option is just for promotion. It opens in your browser and takes you to the recommended software by FastPCTools, the developer for Fast Video Downloader.
Final Verdict
Fast Video Downloader is a simple yet powerful tool to download your favorite videos from sites which do not allow you to download their content directly. The application provides you a way to download videos from websites very easily. The search feature lets you overcome the lack of valid links. You can also process multiple links at once and download all of them simultaneously.
Apart from that, the application also processes playlist links and shows the list of available videos in the Download List section. From here, you can decide to download all the videos on that playlist or select any number of videos of your choice. Also, the files are batch downloaded. So the settings apply to all the videos. However, you can still choose to apply settings to your videos individually.
The bonus part is that the application keeps track of your videos. So in case you want to download the video again, but you forget the website you downloaded it from, you can head over to Settings > History. Here, all your past downloaded videos will be present and you can choose to download them again.
You can even convert music videos in MP3 format. The UI, however, is not clean, but it does the job anyway. Also, the application doesn't run full screen. The proxy setting is also super helpful, especially if you want to download videos which aren't available in your region.
Overall, if you want a fast and super responsive downloader, we recommend you to go for the Fast Video Downloader. It's light and fast and is available for just $39.9.
For Indian users, the software is available for just ₹399 for a limited time!