Some things are just private. You don't want to share it with others, no matter how close they are—for example, text messages.
Trying to hide text messages is not always about cheating. It could be something you want to remember or prepare a surprise for someone.
There should be a way to hide messages on iPhone without having to delete them. If you are an iPhone user, you are in luck. This guide will teach you multiple ways to keep your messages a secret.
Can you Hide Messages on your iPhone?
Finding a safe place to hide text messages on your iPhone can be tricky. Many users turn off the "message preview" option so no one else can see their private conversations. Some also use messaging hiding or locking apps.
Luckily, there are plenty of ways to keep your messages secret. The easiest thing to do is set a passcode on your device. This will make it less vulnerable to sneaky people.
Also read: How to View & Delete Saved Credit Cards on iPhone?
List of Ways to Hide Messages on iPhone
It is not uncommon for people to worry about their privacy. Whether you want to hide messages from your nosy girlfriend or possessive boyfriend, we have you covered.
1. Use Invisible Ink
This special feature enables you to hide messages on your iPhone. Many would agree that using Invisible Ink is better than deleting messages.
Launch the Messages app on your iPhone.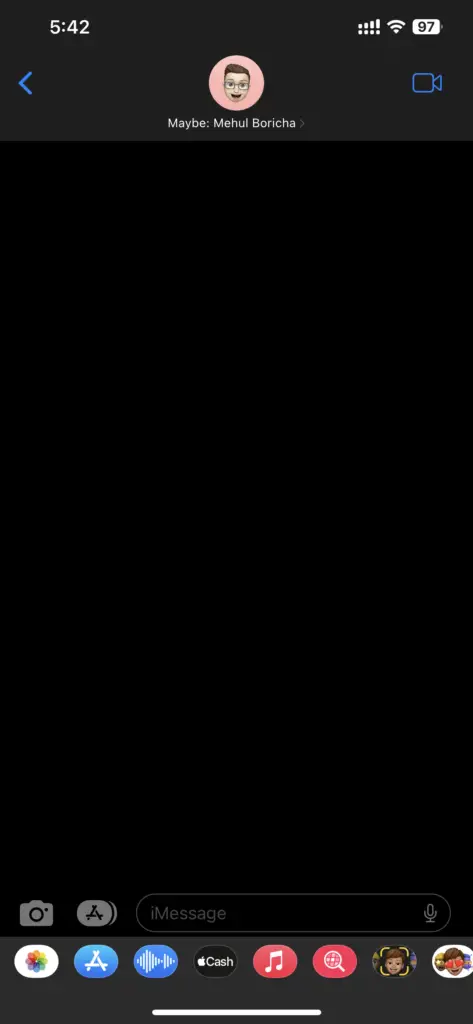 Select the recipient's conversation thread you want to send a text to.
Type in your message and long-press the Arrow icon.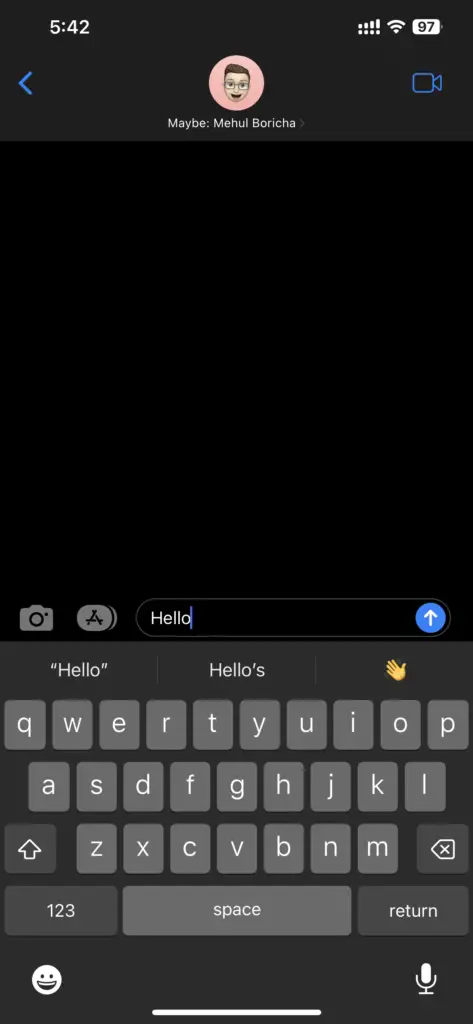 It will ask you to enable the Invisible Ink feature.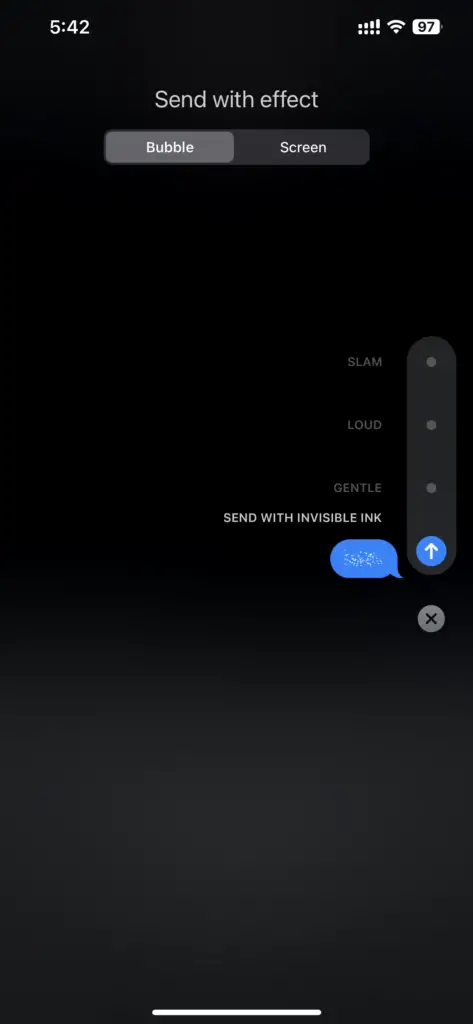 Tap the Arrow icon once again, and then send the message.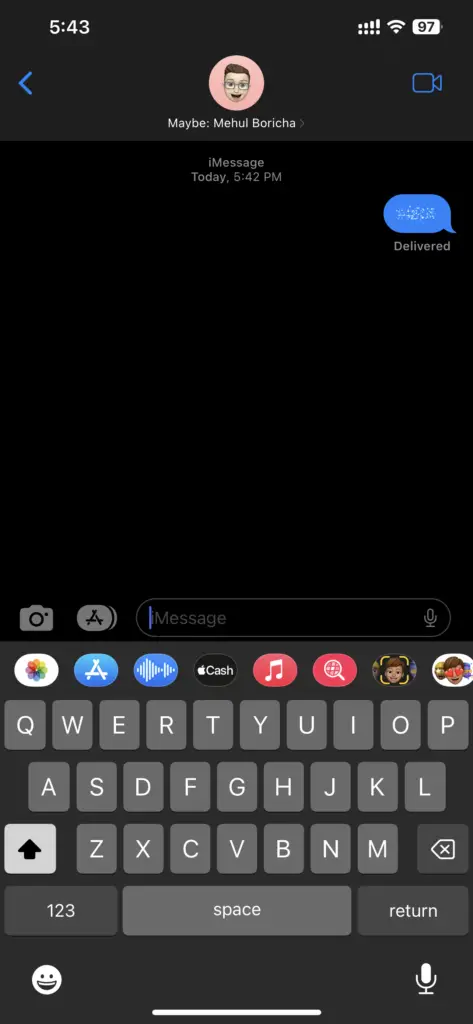 2. Set a Timer for the Messages App
Yes, you read that right. Setting a time limit on the Messages app allows you to keep your messages safe from others.
First of all, open the Settings app on your phone.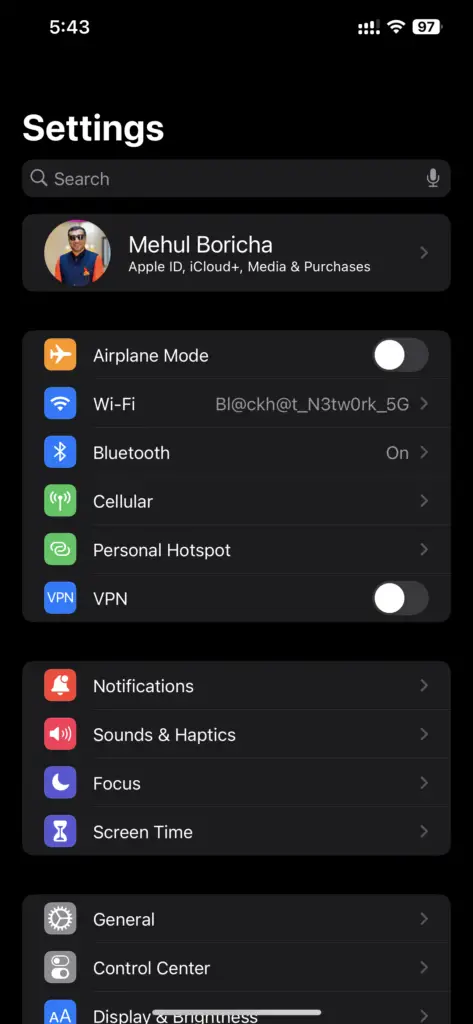 Go to "Screen Time" and enable that option.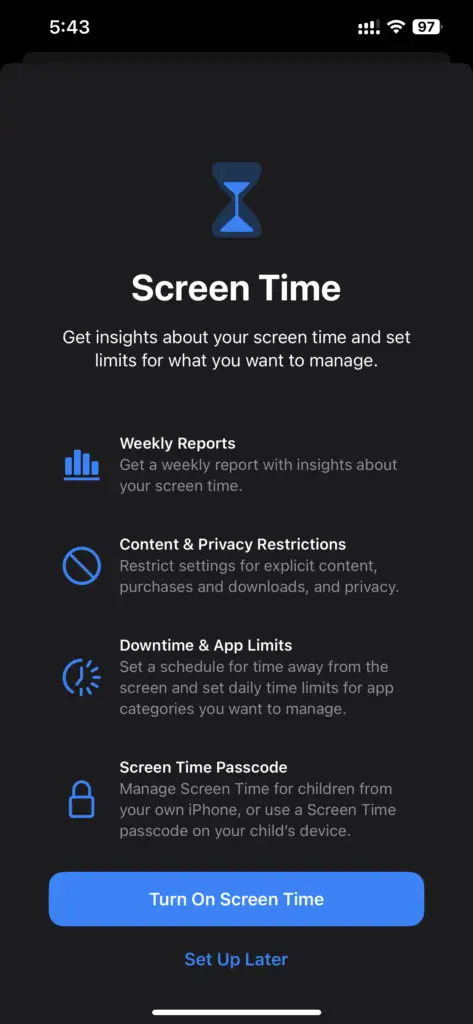 Tap "Continue," then select "This Is My iPhone."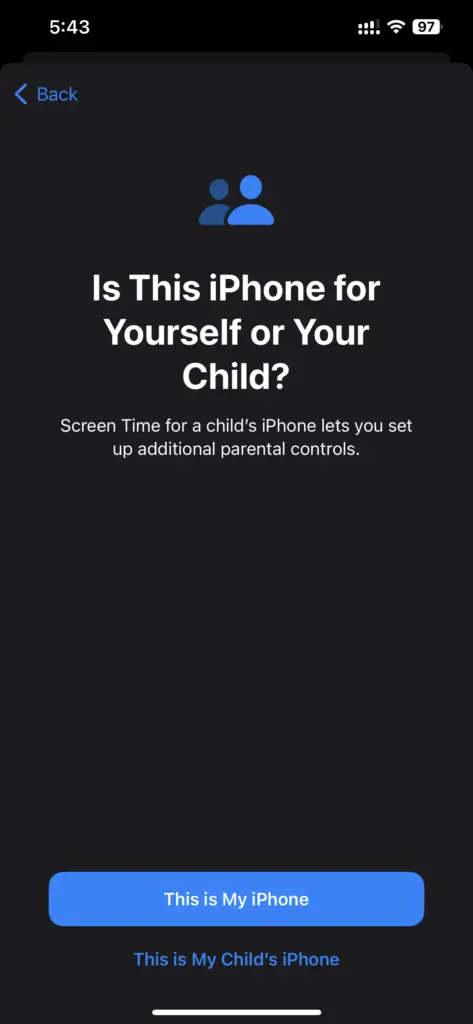 Tap the option "Use Screen Time Passcode." You will be asked to enter a four-digit passcode.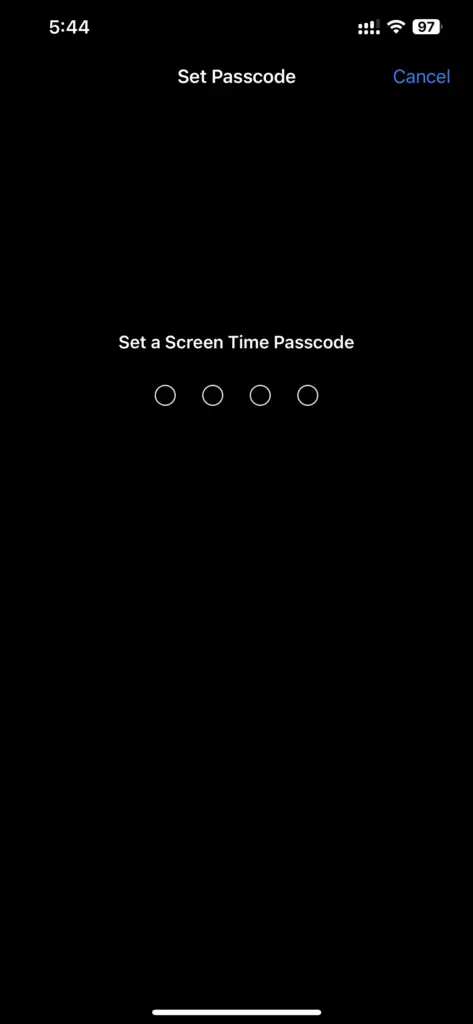 Now select "App Limits," then go to "Social Networking."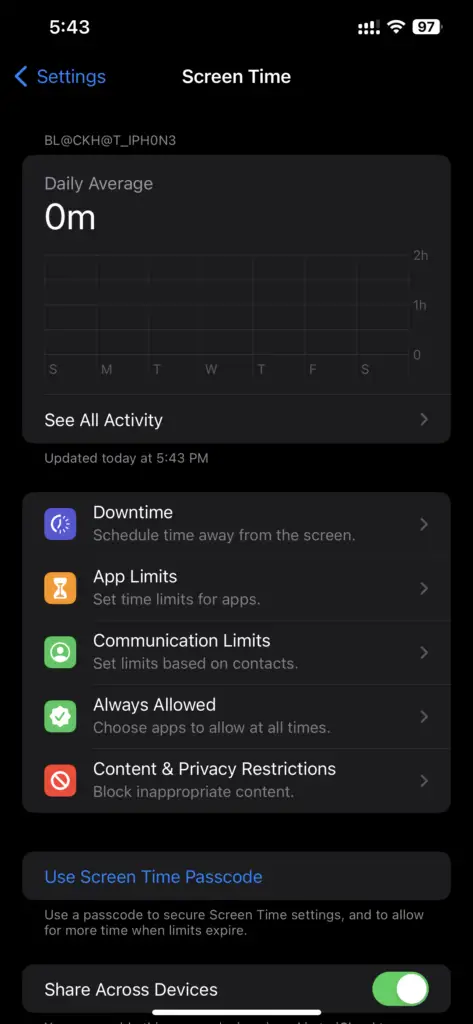 Select Messages, and then click "Next."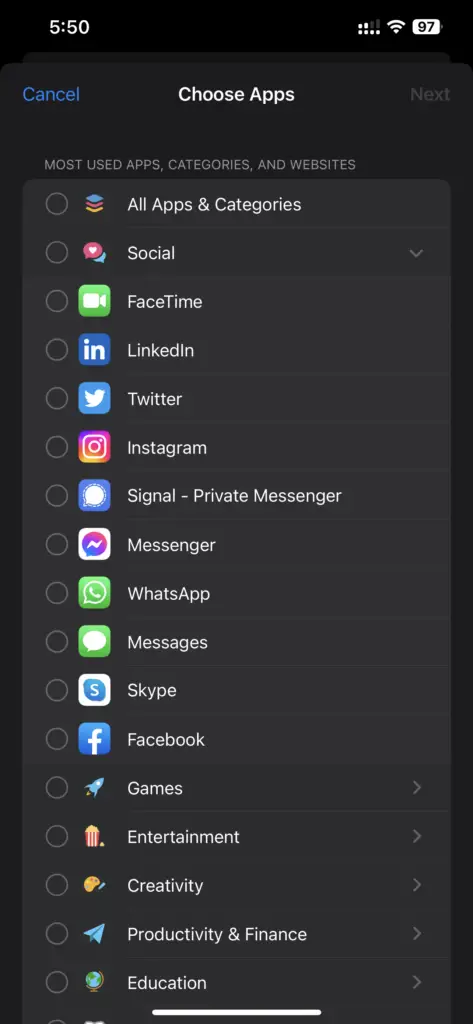 You will be asked to set the "time" and "days" limit. Ensure the option "Block at the end of Limit" is enabled.
Once you are done, tap "Add."
Every time you open the Messages app, and it reaches the time limit, you will be locked out of the app. If you ask for more time, it will ask you to enter the passcode.
---
Protect Your Online Privacy With Surfshark
[The VPN that we use here at Tech Arrival]
---
3. Lock and Hide Text Messages in the Notes App
Instead of downloading any third-party app, you can simply use the Notes app that's already there on your phone.
Open the Notes app.
Copy all the texts you want to hide and paste them into the Notes app.
After you are down, lock the app.
To keep the date, time, and sender's name, take a screenshot, share it with the Notes app, and lock it.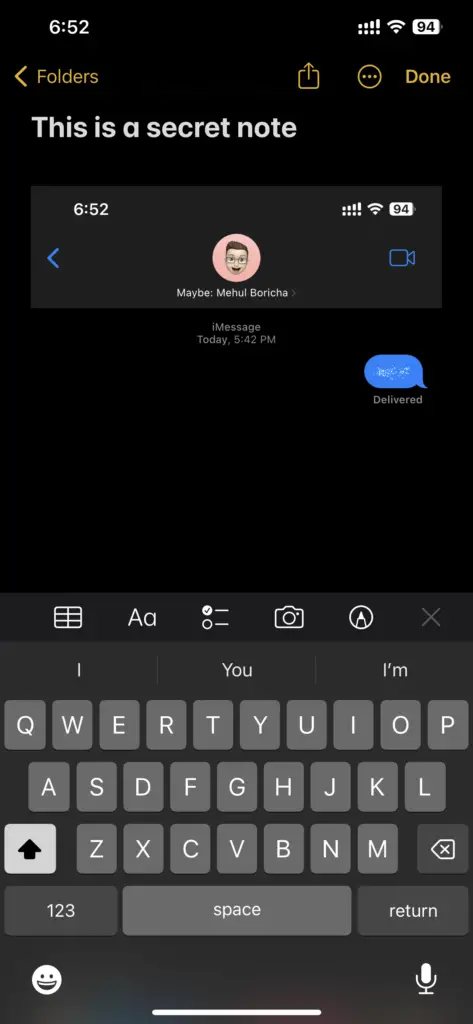 To lock the Notes app, swipe it from right to left.
Tap the "lock" icon in the menu.
You will be asked to enter a passcode.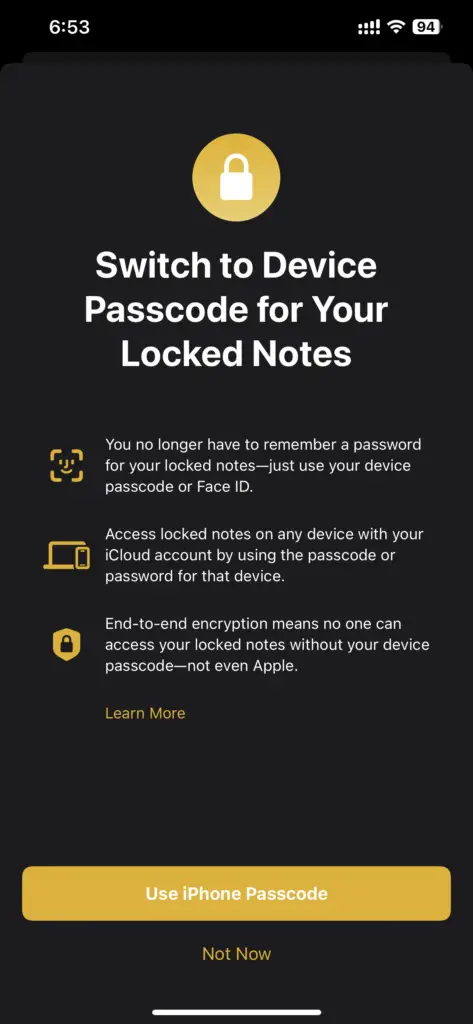 Once you set the passcode, the note will be locked.
The note can be unlocked using your Face ID or Touch ID.
4. Move Target Contacts to Unknown Senders
As mentioned in the title, you can use this method for specific contacts who are not very familiar with the iOS setup.
Go to the "Contacts" section on your phone.
Look for the recipient and click on them.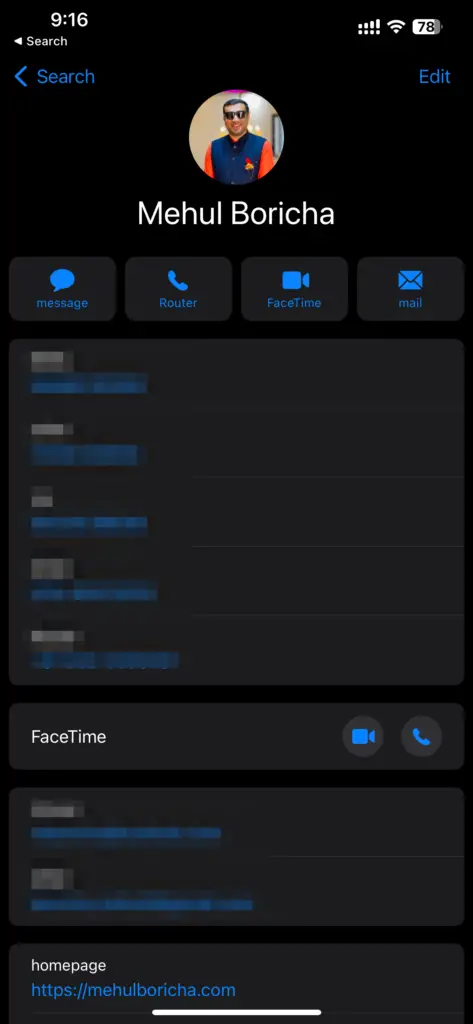 Tap the "Edit" option and delete the contact.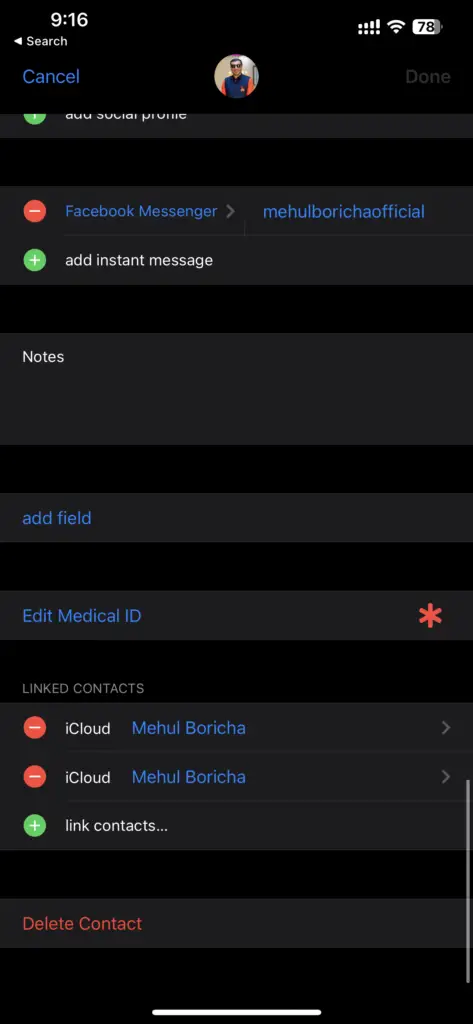 Now open the Settings app and go to "Messages."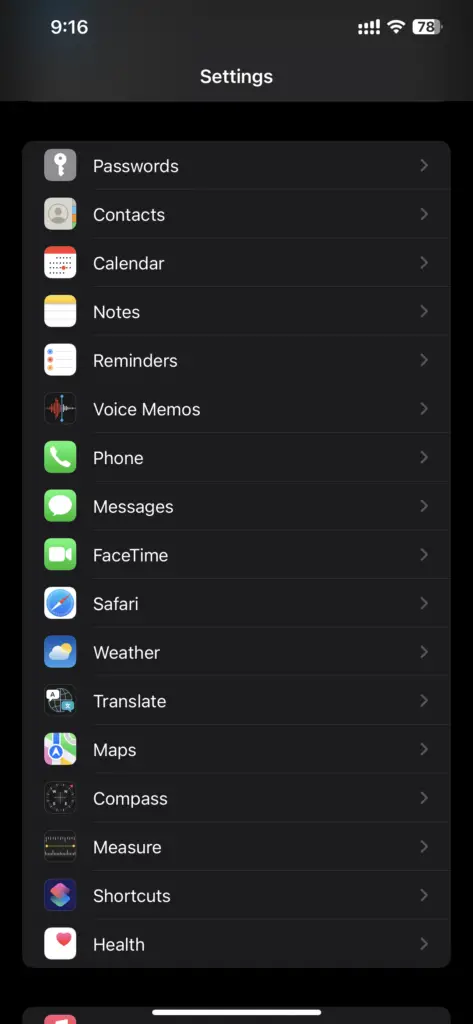 Select "Unknown & Spam".
Enable "Filter Unknown Senders".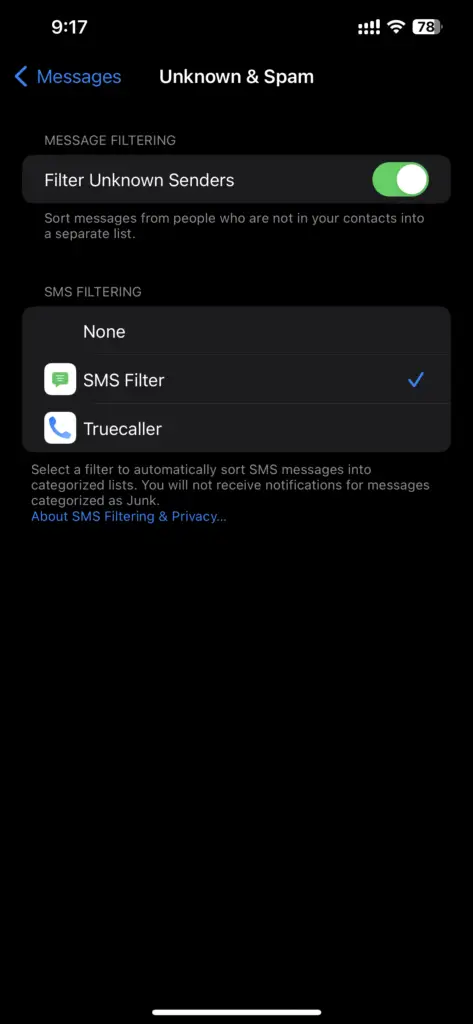 Go to the Messages app and select "Filters."
In the end, tap "Known Senders."
Once you are done, close all the apps you opened.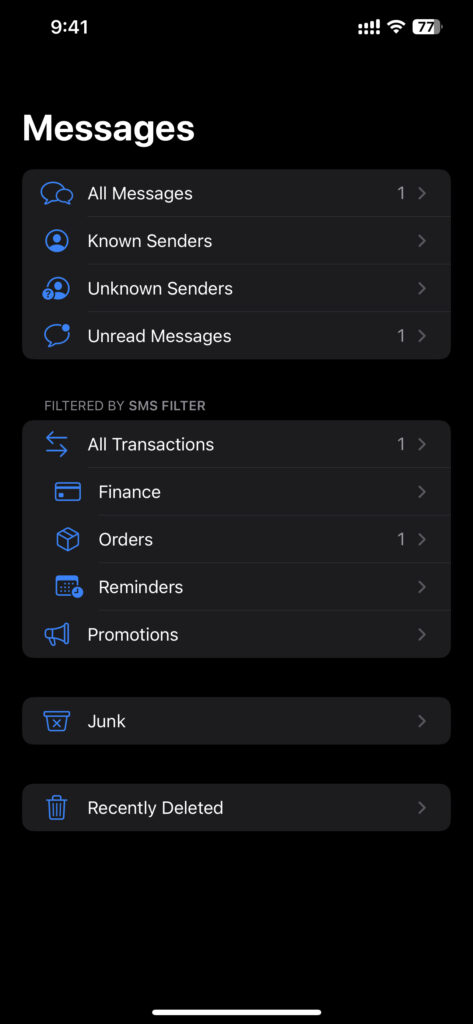 5. Use Third-party Apps
If unsatisfied with the abovementioned methods, you can always download a third-party app to protect your messages. These apps will provide additional protection for your messages.
Some of the best third-party apps you can use are:
Signal
Wire
CoverMe Private Text & Calls
Privatext
Private Message Box
FreedomPop
If you are constantly worried about the privacy of the messages you send and receive, try the methods mentioned in this post. It will help you keep your privacy intact.
Also read: Top 6 iPhone Privacy Settings You Should Enable Now
Frequently Asked Questions (FAQs)
How to hide messages in the Notes app?
You just have to copy and paste the messages or share the screenshot of the messages with the Notes app and lock them down.
Are there any third-party apps to hide messages on iPhones?
Apps like Signal, Wire, and Privatext enable you to keep your messages safe on your iPhone.
Can I recover the messages I deleted on my iPhone?
Unless you have taken an iCloud backup of the messages, you won't be able to recover them after it is deleted.
Is Invisible Ink an app?
Invisible Ink is a feature in iPhones that allows you to send messages in private.
Why should you hide your messages?
There are certain messages and private information that you don't want anyone to know. In such situations, people look for ways to keep their messages hidden.
---
Protect Your Online Privacy With Surfshark
[The VPN that we use here at Tech Arrival]
---