While travel budgets for many organizations may be under scrutiny, and the use of videoconferencing on the rise, statistics show that corporate leadership still prefers a face-to-face interaction whenever possible.
Although this is encouraging for the many venues that rely on hosting conferences and business strategy meetings, it is also a challenge for those responsible for organizing an event.
Like the many channels on digital television, surfing through the multitude of options to find the "right place" can be a time-consuming, laborious process – especially when you only have one chance to get it right!
Fortunately, we have a few tips that will make your planning process easier so that your strategic planning event will deliver not only important business insights but great memories!
Like Real Estate
You do not have to be in real estate to know that "location, location, location" is most important for success. This same sentiment is equally applicable when you are looking for the ideal venue to host your organization's strategic planning event.
While there are no shortages of beautiful locales to consider, the first thing you want to do to shorten your search efforts is to find a place that aligns with and compliments your event theme.
For example, if your meeting is one in which there will be a focus on unlimited possibilities and getting to the top of your industry, then an expansive vista of mountains as a backdrop would be ideal.
The key is to make sure that the venue aligns with the image you want to project and the energy you want to impart to those in attendance. If clients are going to be involved, this is especially important.
The Lay of The Land
Of course, finding the right locale is just one part of the equation. Making sure that the facilities are first-rate, including having access to the latest A/V technology is critical.
If you are hosting a large event, the availability of a grand ballroom that can comfortably accommodate many people with an easy-to-access path to smaller rooms for adjunct breakout sessions is key.
Also, make sure that the passageways between rooms are spacious and that there is a strategic placement of fully-stocked refreshment and information tables along the way.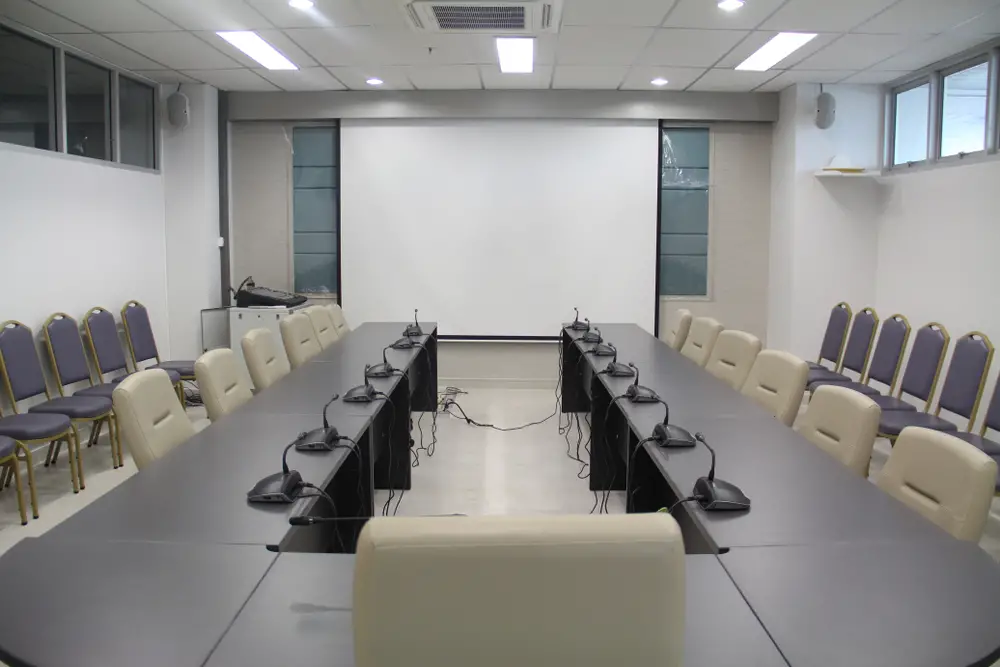 If your strategic planning session is for a smaller number of people, make certain that you have a room that is the right size and is equally appealing from both aesthetics as well as A/V equipment standpoint.
Even though the best facilities will know to put up signage welcoming your guests to your conference, make sure that the venue's staff is fully up to speed on any special requirements you might have for welcoming attendees on their arrival.
Making Time Count
One of the biggest questions you will face as the organizer of the event is whether you should choose an all-inclusive site in which attendees do not have to leave the grounds or select a venue with nearby attractions.
For a 2-day event, staying on the grounds of the venue is probably a good idea. Just make sure that there are diversions such as an adjacent golf course or a sandy beach to help attendees relax and reenergize between sessions and at the end of the day.
If longer than 2-days, going off-site is a viable option providing that you properly coordinate transportation to the venue. In New Orleans, the organizers of one event made arrangements for the city to close down several streets so that attendees could take a short walk to a local hot spot for dinner and drinks Mardi Gras style with marching bands, beads, and performers along the way.
After a long day of important meetings and presentations, it was a great way to unwind.
The Right Flavor
The local fare is another important part of creating a memorable event.
Like scuffed-up shoes can detract from someone wearing the nicest suit, a boring or mediocre food menu can undermine all your hard work everywhere else.
Even if you hit it out of the park with your main dinner, an uninspiring breakfast, lunch, and break menu will dampen the tone of the entire event.
Diversity and uniqueness should be the goal, including presentation when planning your menu. Remember what is appetizing to eat, must also be appetizing to the eye, and served with a flare that tells those in attendance that you care.
Also, be mindful of the fact that there may be a few people who are not adventurous, so make "off the event menu items" available to accommodate them with more familiar or traditional fare.
Making Room
While size doesn't necessarily matter, the layout of the rooms is important. In short, where attendees rest their heads at the end of a long and energized day means that their room shouldn't just be a place to crash.
Even though in-suite coffee and tea are standard everywhere, ideally that first cup of the day should be the best cup of the day. Some places even offer high-end brewers with a variety of flavors.
Also, remember to have a welcome package in each room. Depending on your theme and budget beyond a "branded" agenda and notebook with an accompanying pen, you may want to include a token of your event. For example, if you are in wine country, it is customary to provide a complimentary bottle of wine with an opener. Another great idea is a small box of chocolates.
The key is to let your creativity flow because as the saying goes, "little things mean a lot." A comfy room in the right environment will set a positive tone for your strategic planning conference.
From Point A to B
Like the front and back cover of a book, making the arrival and departure process easier for the attendee sets the stage for everything in between – especially for a travel-weary veteran.
When you first invite someone to your event, be sure to include information on all available travel options including flight, train, or driving times.
Also provide them with climate information and suggestions of what they should wear to ensure they have the appropriate attire for the business strategy sessions, as well as ancillary activities.
Of course, do not forget to provide them with information on where you will be holding the sessions, including colorful pictures and a list of amenities that the venue offers.
A week to 10-days before the event, send everyone an event brief including an outline of the full agenda. Also, provide them with any notable updates such as a change in the weather or activity plans.
Finally, make sure you provide all attendees with a contact name and number for any questions or last-minute issues. No matter how well you plan, there is always something unexpected that comes up, so expect the unexpected.
Curtain Call
So, you have come to the end of a memorable few days in which everyone has been informed, empowered, and energized. Your strategic planning event is a success.
But wait, you have one more important thing to do.
As everyone gets ready to depart, you will want to include in your send-off package follow-up information about your organization's mission and vision statement, a reminder of what the event was all about, and a commitment to provide an outcome or overview paper highlighting the key points regarding your business strategy.
If you haven't previously, you will also want to provide a feedback form asking attendees to rate key areas of the event including but not limited to; their thoughts about the venue, what they believe was the greatest benefits derived from attending, as well as suggestions regarding possible areas of improvement.
If you are planning to do this on an annual basis, you will want to let them know when and where next year's event will take place so that they mark it in their calendars.
And Remember
Maya Angelou said that "They may forget what you said, but they will never forget how you made them feel."
As much as the knowledge you share and the insights attendees gain from your strategic planning session are important, the environment and surroundings you provide will also make an indelible impression.
Think of it as your providing a complete package.
If the attendees are clients, they will come away with not only great insights but great experiences and memories that they will share with others, and in the process, promote your brand.
If those in attendance are employees, they will return to work with greater energy, a new sense of purpose, and enthusiasm for the company vision.
One final thought; "success breeds success!" When your event is a hit count on being put in charge of planning another one for next year.
Now that you know the steps for organizing a business event, the only challenge you will face is to top what you did this year.