If you have used torrent websites in the past, you might have come across something called magnet links. Magnet links are a popular offering among torrent websites and recently, people have even started using magnet links more than torrent files. But what exactly is a magnet link and how does it differ from the torrent files you are used to downloading?
What exactly are Magnet Links?
A typical link or hyperlink points you to another document or file by telling you where it's saved (its address). A magnet link, on the other hand, magnet links rather contain the information about the file and their hash values instead of their location. This makes it super easy for users to download torrent files.
Torrent files are small files that contain a list of files and integrity metadata about all the pieces, and optionally contains a list of trackers as well. So essentially, when you download a torrent file, you download the information about the actual file you want to download. Magnet links omit this whole process of downloading since they already include that information within the link itself. So when you copy a magnet link and paste it into your torrent downloading client, the client already has all the information it needs to start the download and the download starts instantly.
Also Read: How to Download Torrent Files with IDM (Torrent to IDM)
How do Magnet Links work?
A traditional torrent file contains a data structure with two top-level keys: 
Announce, for identifying the tracker to use for the download, and
Info, that containing the filenames and hashes for the torrent. The "infohash" is the hash of the encoded Info data.
When you paste the magnet link onto your torrent client, it may know nothing about the torrent except for its infohash. The first thing your torrent client needs is to find other peers who are downloading the same torrent. It does this by using a separate peer-to-peer network by operating a "distributed hash table" (acronym – DHT). A DHT is a big distributed index that maps torrents (that was identified by infohashes) to lists of peers (identified by IP address and ports) that are participating in a swarm for that torrent (uploading/downloading data or metadata).
When a torrent client joins the DHT network for the first time, it generates a random 160-bit ID from the same space as infohashes. It then uses bootstrap as its connection to the DHT network using either hard-coded addresses of clients controlled by the torrent client developer, or using the DHT-supporting clients that were previously encountered in a torrent swarm. Usually, the client has a bootstrap node built in to start with. Once it has gotten into the network of peers, your torrent client doesn't need that bootstrap node anymore.
It can also participate in a swarm by searching the DHT network for several other clients whose IDs are as close as possible to the infohash. To do so, it needs to notify these clients that it would like to participate in the swarm and ask them for the connection information of peers they already know of, that are participating in the swarm.
When these peers are uploading/downloading a particular torrent, they try to tell each other about all of the other peers they know of that are participating in the same torrent swarm. This makes it possible for peers to know each other quickly, without the need for a tracker or DHT to ask requests. Once your peers know a few peers from the DHT, your client will ask those peers for the information about making a connection to other peers. This process continues until you have all the peers you need to download your file.
Once you have got all of this, your client finally asks for the torrent's Info metadata we earlier talked about, that contains the filenames and hash list. After we get this information and verify that it is accurate, we are in the position as that of a client that started with a .torrent file that is having a list of peers from the included trackers.
---
Protect Your Online Privacy With Surfshark
[The VPN that we use here at Tech Arrival]
---
Finally, the download begins.
How to use Magnet Links to download a file
Now that you know what magnet links are, and how exactly they work, you might be want to finally download a file using magnet links. You can follow these steps to do so.
Also Read: How to Use The Pirate Bay in Blocked Countries
1. Head over to the torrent site of your choice. We are using 1337x in our case, but you can use any one of the popular websites. Make sure you are connected through a VPN if using torrent is banned in your country.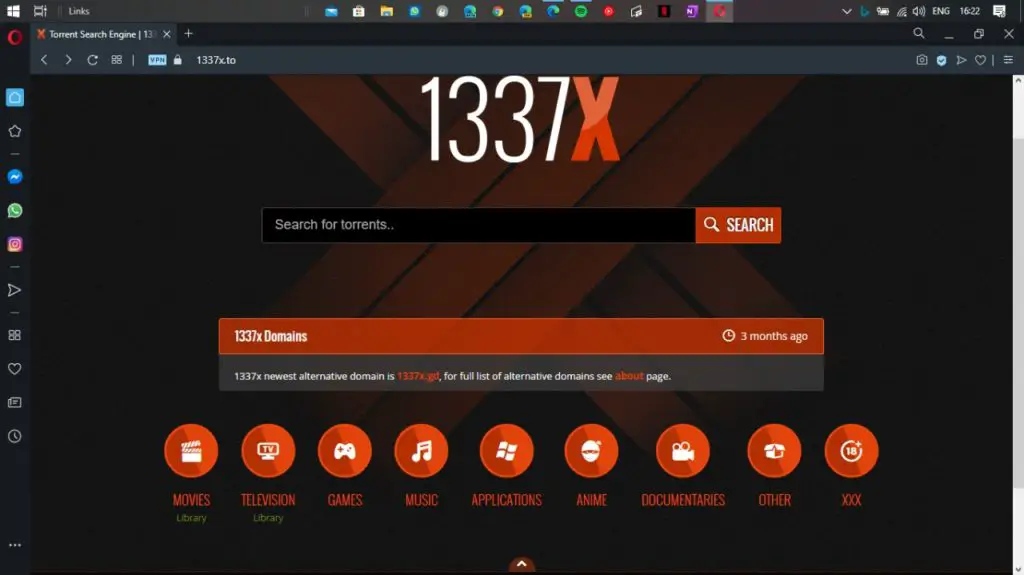 2. Search for the file you want to download and open its page. You will something like this – where magnet download and torrent download will be available.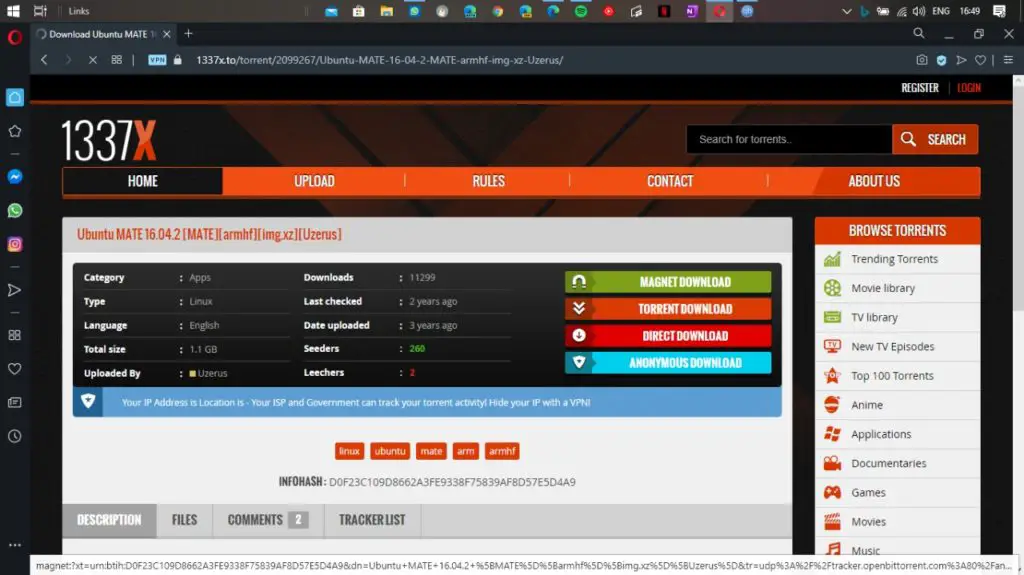 3. Now click on the "Magnet Download" option. Or you can also just copy the link and paste it into the field of your torrent client.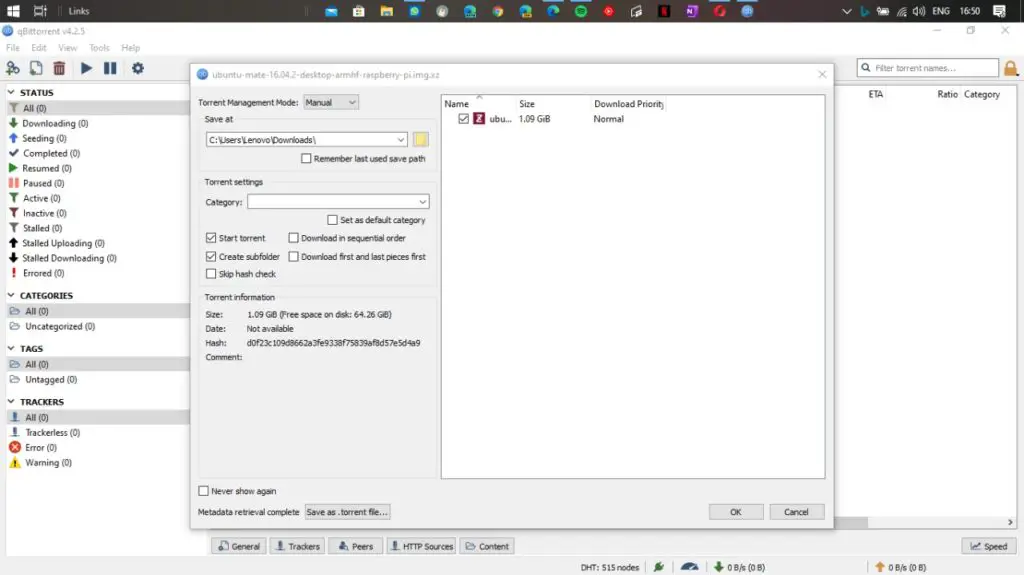 4. After fetching the details, click OK and the download will begin.
Why Magnet Links are better than Torrent Files
Here are some reasons why magnet links are better at downloading files than torrent files.
1. Torrent index sites will require lower bandwidth and space when using a magnet link.
2. It is easier to share just a (magnet) link than to share a link to a file on a server.
3. Magnet links are easy to update as to when torrent files are unavailable.
4. There is a better chance your file will get downloaded even if a specific tracker is not available.
5. Magnet links provide you with the ability to obtain downloads from alternative, non-torrent methods.
Like we have said before, as opposed to torrent files magnet links take some time to connect with the peers so your download may start a couple of seconds later when compared to a .torrent file download. But apart from those initial few seconds, magnet files give you the best downloading experience.
Final Words
We hope you have got a detailed idea of how magnet links work and how you can use them to download your favorite torrent files. We encourage users like you to only download files that are not pirated. We at Techrrival do no support piracy and we condemn any illegal ways to download torrent files. The above tutorial is intended to be used for educational purposes only.
---
Protect Your Online Privacy With Surfshark
[The VPN that we use here at Tech Arrival]
---
If you have any further questions, comment down below and we will surely answer them.