Ever thought of How Recover Deleted Files from Memory Card?
Memory Cards are the best way to store data. They offer a lot of storage at an affordable price, and that too at a really compact size. Most of the people use memory cards on their phones to store data like Music, Images, Videos, Documents, Backups, etc. In fact, many of us use memory cards as a substitute to the pen drive, given the fact that they are compatible with most of the gadgets including PC, Mobile phones, and portable audio players. Being such a popular means of storage also makes them highly vulnerable to data losses. Therefore, here we will learn how to recover deleted files from Memory Card.
There are many causes of data loss from memory cards and knowing them is important as it not only prevents further data losses in the future but also helps in efficient recovery of already lost data. The major cause of data loss from Memory card is improper handling which may cause damage to the card. Another main reason is improper formatting or machine failure while copying data to the memory card. One should also make sure that they do not expose the memory card to heat and water which may lead to permanent damage.
Until the memory card has suffered extensive physical damage, it is possible to recover most of the data which was accidentally deleted by the user or corrupted due to issues with the file system and so. Let us see that how to recover deleted files from Memory Card using Recoverit free data recovery software.
What is RecoverIt?
RecoverIt Data Recovery is a software developed by Wondershare which is intended for recovering lost or deleted files, photos, audio, music, emails from different storage devices like hard drive, memory card, flash drive, digital camera, and camcorders. The software supports the recovery of files lost due to accidental deletion, external device corruption, formatting, lost partition, machine failure, malware attack etc. The memory card recovery software program supports all OS for an efficient cross-platform recovery.
It comes with a very intuitive user interface and is very easy to use. Even a person with basic knowledge of computers can easily put the software into service due to its minimalistic design and straightforward options.
Moreover, the recovery process is very simple and constitutes of Selecting the external drive, Scanning for the deleted files, and finally Recovering the required ones. The scanning speed is very quick and efficient.
Interestingly, RecoverIt supports over 550 data formats, including almost all image types (png, jpeg, gif, bmp, img etc), multimedia files (audio and video), documents, emails, archives (zip, rar, tar, etc) and other popular formats. The software supports all the devices running on NTFS, FAT16, FAT32, HFS+ and APFS file systems.
RecoverIt can be downloaded for free so that users can recover their lost or deleted content without spending a penny. However, the free version limits the data recovery at 100MB, therefore, for unlimited recovery, technical support and lifetime upgrades you have to pay a premium of $40 for a year license. RecoverIt supports Windows XP/Vista/7/8.1/10 in addition to Mac OS High Sierra 10.13 for recovery of lost data. Wondershare also offers dr.fone application on Android and iOS platform for data backup, data recovery and other features.
How Recover Deleted Files from Memory Card
Before getting started, make sure that you have connected your memory card to your PC using a Card reader, and make sure it is accessible.
Also, after realizing that your data has been deleted, don't do anything to your memory card i.e. don't perform any actions with it and simply remove it from the phone or camera where you have been using it.
Also, when you'll connect the memory card to your PC, you might get a Check Disk popup asking you to fix file system errors and scan for & attempt recovery of bad sectors, just ignore that popup and close it right away. Now, follow the step by step guide given below on how to recover deleted files from memory card.
Step 1: Download Recoverit
Firstly, download the RecoverIt data recovery on your PC from here and install it. Once the software is installed, launch it. You will now see a plethora of options including deleted files recovery, recycle bin recovery, formatted disk recovery, lost partition recovery, external devices recovery, virus attack recovery, system crash data recovery and All-around data recovery. Simply select the "External Devices Recovery" option.
Step 2: Select Memory Card (Disk)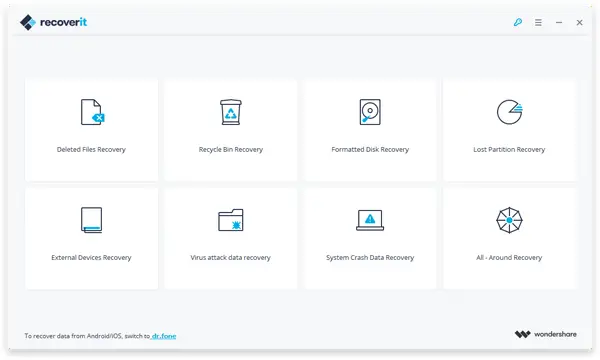 Now you will be asked to select the disk from which the files are to be recovered. Just check and select the questioned memory card. If the card doesn't get detected, make sure that it is properly connected to the PC and you have necessary flash drivers installed (mostly present). After selecting the card, press on the "Start" button to start the scanning process.
Step 3: Searching for Deleted Files
RecoverIt will now scan your memory card for all the previously deleted files. It just takes few minutes and detects most of the files which you want to be recovered, however, if you find that you haven't got that particular file then you can try the All round recovery mode which is slower than the normal scan but performs an in-depth scan of your external drive and results in more number of files.
Step 4: Recovering Deleted Files
You will see a list of all files once the scanning process is completed, you can select between tree view/ files view and also choose between the file types as per your convenience. The files are displayed along with their size, format, date of creation and the date they were last modified. You can also preview the files before recovering them which further adds to the overall comfort. After selecting the required files, simply click on Recover and wait for few minutes for the software to process the data.
After the process is completed, you will be welcomed with a message showing that you have successfully recovered so and so files along with errors (if any). For your assurance, you can check the recovered files.
Note: If you're using the Mac version and if the external device like the memory card or pen drive is not detected then make sure that your memory card was formatted using the compatible file system which most probably should be FAT32 which is fully compatible with Windows and Mac OS.
Conclusion
So this was an easy helping guide on how to recover deleted files from memory card using the top free memory card recovery software, following the guide you can recover deleted data from memory cards from all major manufacturers including Samsung, Sandisk, Integral, Strontium, Kingston, PNY, Panasonic, Toshiba, Lexar, Sony, Fujifilm, Transcend etc in uncomplicated steps.
We hope that you might have successfully got your important data back by using the same. Let us know about your experience in comments below and do tell us your preferred method of recovering deleted files from memory cards and other external devices.