SEO refers to Search Engine Optimisation in simple words; SEO refers to the way of optimizing articles to rank higher on Search Engines like Google, Yahoo, etc.
An Introduction to SheerSEO

SheerSEO is a software that helps small organizations to Rank their Business.  It can provide you with depth reports on your links and can help you in link building. SheerSEO is one of the best software I ever used for Keyword Research.
Social Media Reporting, which is becoming a significant factor in SEO, is also supported on SheerSEO. SheerSEO is a complete package, and hence it offers a lot and a lot of features. I cannot include all of them in one article, but rest, I can assure you that if you are looking for small sector SEO, you should surely look forward to SheerSEO.
Though it includes a lot of features, there are some cons, too, like it does not support the analysis of competitors, and it does not provide a lot of keywords; hence keywords are limited. It is actually for the people who are low in budget and are looking to do SEO campaigns with fewer budgets.
Great for Small Businesses
Well, in the modern-day, if you want to run your business online, you need to analyze your site. To get in front of the world or to bring your work in front of the world, you will need to rank it higher than your competitors for similar keywords. And to do the best of SEO, you will need an SEO tool like SheerSEO to analyze your work.
When you bring your work online, you should remember that there are thousands of competitors on the same keywords as yours, and some of them are the pros who can easily rank their work on the top, so for this, you will need the help of the tool like SheerSEO.
SheerSEO is an SEO tool for those business owners who wish to bring their business online to increase their profits. But to gain something, you will need to pay some, and hence you should blindly go to SheerSEO to rank your site to maximize your business.
This tool helps keep track of all the detailed stats of your website so that you can do better with your site.
Getting Started with SheerSEO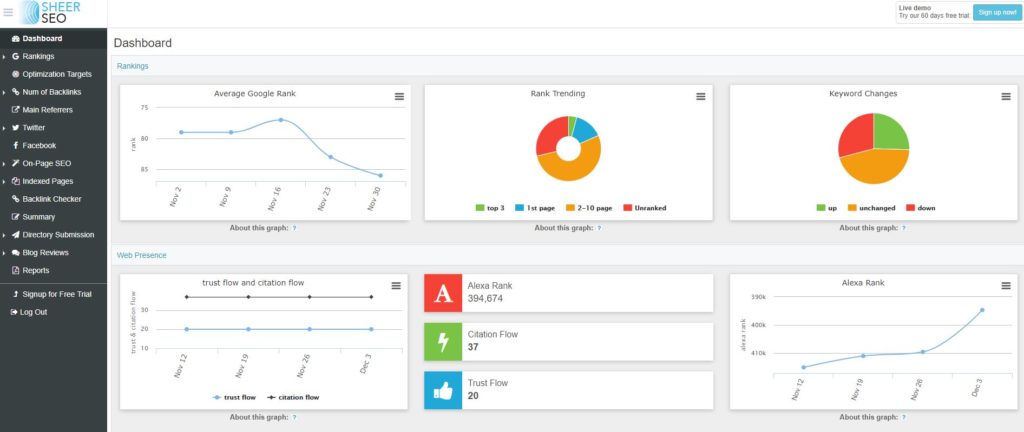 You can avail SheerSEO free for two months as a trial to get the taste of this tool. Later if you are satisfied with the tool, you can upgrade to premium at a plan you are best fitting too. There are many plans on SheerSEO, depending upon the budget and usage of the user. There is a 7$ plan, a 10$ plan, a 15$ plan, a 25$ plan, and the professional 40$ plan giving better features, respectively.
Though the tool provides you with the basic features at the budget, it is serving you those features is pretty good. There is one more con, and that is, you can only add the single domain to an account, and hence if you own multiple accounts, you will have to buy more accounts by subscribing to agency plans.
---
Protect Your Online Privacy With Surfshark
[The VPN that we use here at Tech Arrival]
---
There are some unique features too, like the link building facility it provides, also reads your social media comments and mentions and also shares that is it also monitors your reach. We all know that sharing on social media can quickly increase our Google page rankings. In short, SheerSEO helps in making complete use of social media in ranking our site. It can monitor all your social media accounts like Facebook, Snapchat, Instagram, and Twitter. It is the best feature I like about SheerSEO personally.
Features
In the basic plan of SheerSEO, you won't get the facility to analyze your competitors, but if you add few more bucks, you will get this facility in the Professional plan.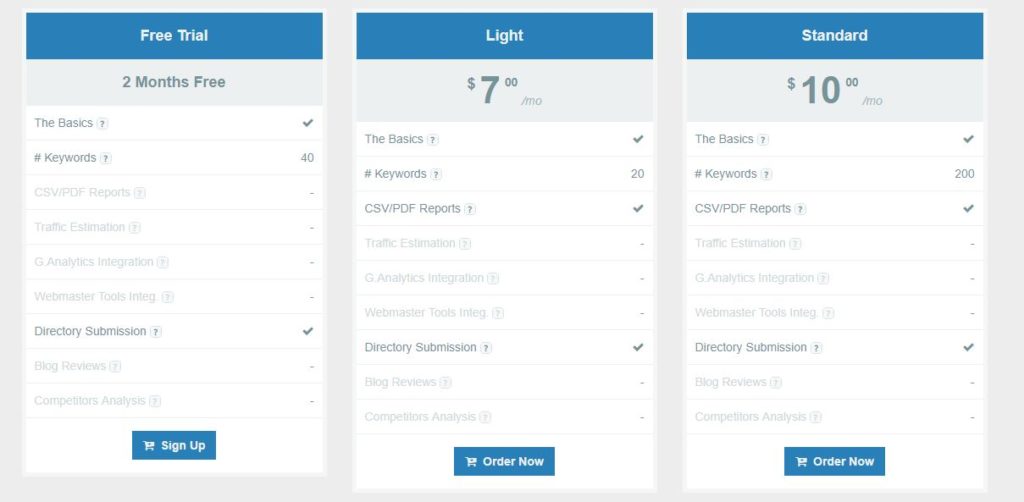 SheerSEO uses the graphical representation to show stats of how well you are doing with SEO so that you can know when your SEO technique is going flop. You can keep track of your performance in SEO with SheerSEO.
One more thing that I like about SheerSEO is that it is pretty user-friendly. So unlike other SEO tools, SheerSEO is pretty easy to use if you are a newbie and don't know much in the field of SEO.
You get some of the features in SheerSEO like:-
You can Submit your Directory.
Track your Keyword Easily
Analyze your Keyword in Depth
Analyze via your Social Media Reach
You can Analyse your Page's rank.
It can give you an estimate of total traffic
You can also get an estimate for live traffic
It can help you with backlinking too.
Get all reports, including indexation.
You can integrate Google Analytics Into SheerSEO
A tool to check Destiny of Specific keyword
You can easily get a benchmark report for your Content
It also includes social bookmarking
XML API
And blog reviews
And a lot more features which you can quickly unveil by taking two months trial for SheerSEO.
You can also subscribe to SheerSEO to get reports related to your site on your email in your desired format.
Final Verdict
When we compare this to other SEO tools, it has few pros and few cons, but if you are a new user and know less in this field, then you should go for SheerSEO as it includes all the essential features with such an excellent User interface at such low prices. You should take the trial for SheerSEO now and experience the power of such a useful SEO tool by yourself.
SheerSEO has many features, pros, and a few cons, and hence you should consider using it for SEO. At least you can give it a try by availing two months' trial they provide. Want to build your business online? Subscribe SheerSEO and take your SEO skills to another level with it.