Video games are a form of artistic expression and there's a huge number of people out there that embrace them as a way to unwind. Games offer a lot more than just relaxing, however, since they're also a way to appreciate digital storytelling, socialize with friends and make new ones, and even seek some escapism from the dullness of life's routines. Every year brings new releases and even greater graphics, making it even easier to get sucked into lush sceneries and hyperrealistic scenarios.
Sometimes, game developers, the artists that they are, like to plant hidden references and playable features known in the industry as easter eggs, essentially rewarding players who take pause and soak up the environment to its fullest. For example, you might find that the game you're playing actually houses another game, whether it's meant to be known or not. Some games include entirely original minigames while others include pre-existing ones; and though some are added as a secret, others, like tabletop casino games, are added for authenticity and to create a realistic virtual experience. You can't venture across the barren badlands of Fallout New Vegas without tossing dice in at least one casino, right?
Easter eggs are common but only a few games go as far as adding whole other titles in there. Keep reading to learn about the most popular examples and the titles that likely thrived because of it.
List of Best Console Hits
1. Fable Pub Games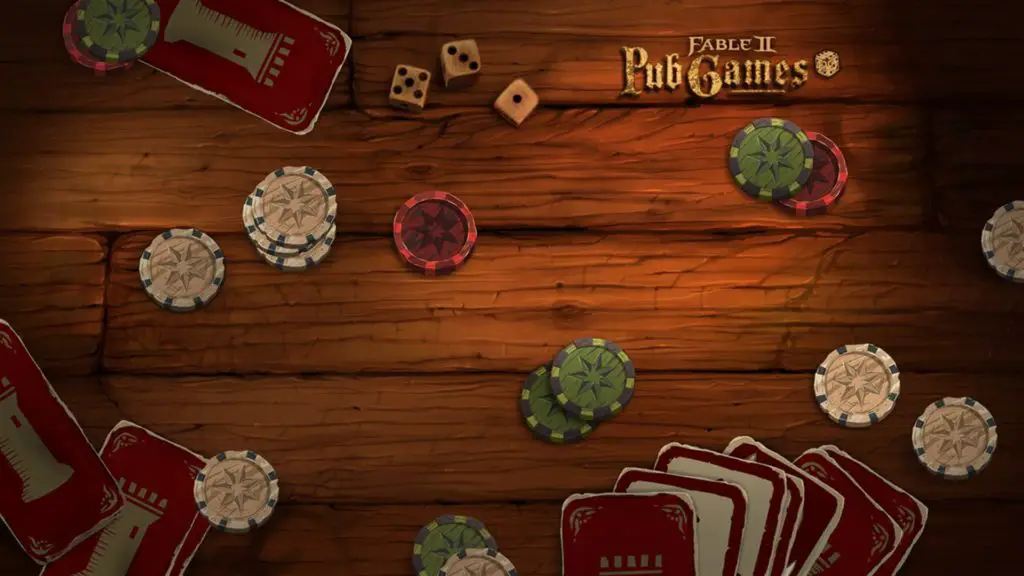 If you're not aware of Fable Pub Games then you've probably never played Fable, or you've only played the third one. While Fable III was a wonderful game, with an unusually star-studded cast, Fable I and II included an enormously popular side game exclusive to Fable called Fable Pub Games. It was just one of many stops you'd make as a weary traveler passing from an unknown town to the next, getting to know the locals and, by the same token, taking their money. The pub games are made up of three individual games and no doubt we all have our own favorite.
If you haven't played the first two Fable games, then it's highly recommended that you do so. The stories and decision making are just as immersive, but you'll also get to play the Fable Pub Games as they were first intended. They became so popular that, while the addition wasn't included in Fable III, beloved fans can download the game as a separate game and play against people online or offline, rather than the usual faces and peasants of Bowerston Old Town.
2. Fallout: New Vegas Casinos
Gaming doesn't get more real than with the pinnacle and prime example of a full package post-apocalyptic action RPG, Fallout New Vegas. Set in a crude and seemingly well-adapted Las Vegas in the year 2281, the game offers decision making and cause and effect-based progression that most apparently similar RPGs can't compete with. It's not all killing and shilling, however. Once in a while, it's good to take a brisk walk with Dog Meat and who knows, maybe you'll find yourself at one of the six casinos spread evenly across the New Vegas wasteland.
From blackjack to roulette, it's not too difficult to find the nearest casino to trade caps for chips and try to double your revenue. The great thing about Fallout: New Vegas casinos is that they're actually realistic, including drunken gamblers and strict anti-cheating measures known in real-world Las Vegas. Counting cards or cashing in fake chips at a real casino will get you thrown out; online casinos will suspend your account and take funds if you're seen abusing bonuses. Fallout: New Vegas uses a one-minute load-save rule for protecting its casinos. If you intend to beat the banker by reloading every time you lose, the game will prevent it using an embedded anti-cheat script. Players can't gamble for one minute after every load to make economic cheating an even more painstaking process of raising caps. This script is obviously easy for PC users to bypass, however.
3. Call of Duty: Black Ops (Dead Ops Arcade)
Hidden in the seemingly rigid loading screen of Call of Duty: Black Ops is one of the most enjoyed top-down-view games since the first GTA, though the graphics are admittedly way more advanced here. Reminiscent of the old flash games you'd secretly play in computer science class at school, Black Ops Dead Ops Arcade was the start of one of Call of Duty's most well-loved trademarks that went on to rival the feature game in terms of playability. At least in my opinion, anyway.   
The popularity of this retro-themed arcade hit probably took the developers by surprise, though, let's be honest, everyone loves finding easter eggs and hidden playable in games. The fans love it so much that when it came to making Black Ops 3, it had to be home to Dead Ops Arcade 2. Everyone knows where to find the game in the first Black Ops but if you want to play Dead Ops 2, the 64-round hidden game can only be accessed after completing the second mission and can be found on the terminal at the safehouse. There's a hidden button on the top left of the screen.
4. Uncharted 4: A Thief's End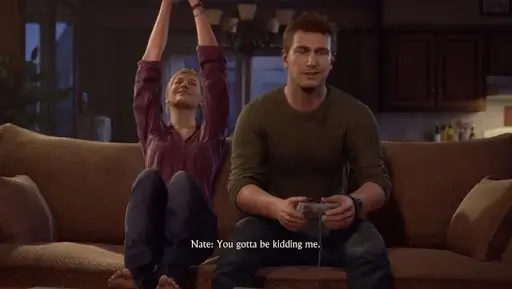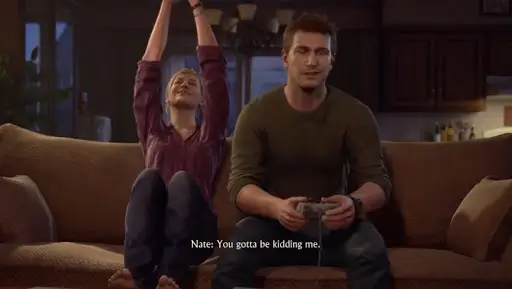 Likely one of the biggest and most nostalgic surprises in Uncharted and perhaps all of gaming history itself was the inclusion of Naughty Dog's Crash Bandicoot in the fourth installation. It wasn't the full game but rather just the first round, which was probably a good thing since there are important adventures to be had in Libertalia instead of sitting on Nate's couch all night playing Crash Bandicoot.
Seeing Naughty Dog's creation back on PlayStation in 2016 was what fans needed and certainly didn't expect. It was only a year prior to release that the game's co-director, Bruce Stanley, said that the developers wanted to add Crash Bandicoot into the game but in the end, it wouldn't be happening. The easter egg wasn't the only thing to excite fans of one of the original 3D-platformers that year, as a remastering of the original trilogy was announced shortly after. Rather than sit and try to beat Elena's score on the first round in Uncharted 4: A Thief's End, gamers can enjoy the full original works on PlayStation once again.
5. The Witcher III's Gwent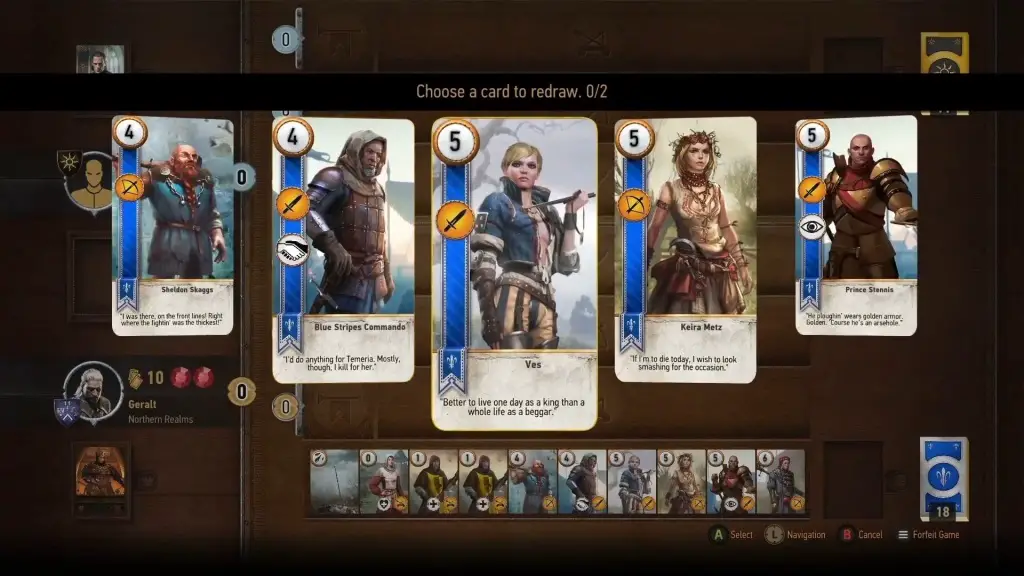 After the game release, the Gwent was like a joke amongst the players but in the end, it was very successful and roundly praised. The Gwent is a fully fleshed mini-game which rewards its player who shows patience, and deep thinking. It also made its way out as a separate title. It is a simple card game very much similar to hearthstone.
The minigame is very well made with a smooth flow into the game's main real-world system. It is about clashing two armies locked in mortal struggle on a battlefield where the players are the leaders and the cards their forces. Witcher III's Gwent also gives you a virtual pub experience. The cards can be bought, won or stolen through various means and mechanics.
6. Fallout 4's Pip-Boy
The Fallout 4 was recently launched and includes a massive open-world port apocalyptic macro game, the game also includes a handful of minigames, however, they are ripped directly from some of the previous games available back in the days. You have classics like Donkey Kong, Missile Command, Pitfall, and Space Invader reskinned into Fallout 4's theme. The game mechanics are very much similar to the original game. Fallout 4 gives it is a player a lot of different ways to access the minigames and also allows them to personalize their gaming experience.
The Fallout 4's mini-games doesn't only bring back the nostalgia but also showcases a very functional way of using the second screen technology in today's game. These games are playable in many different formats. Payers can enjoy the game in the computer terminal in the game itself, on the player's Pip-Boy menu screen or via the Companion Phone App which is available for your Smartphone. The Phone app also includes Fallout 4's minigames, including Red Menace, Atomic Command, Zeta Invaders, Pip Fall, and Grognak and the Ruby Ruins.
7. Red Dead Redemption's Poker and Blackjack
Red Dead Redemption is another great console hit and the new iteration of the game also introduced a new Minigame, in fact, it has 4 different mini-games where you can spend the dollars you collected in the journey across the wild west. The four games are Poker, Blackjack, Dominoes and a Knife Game – Five Finger Fillet. The game is a little difficult at first especially when the game throws a lot of rules at you. However, once you have figured it out its great fun.
The minigames are well integrated into the game's open-world system and its a part of the side quest. When the player discovers it they are tusked with bluffing, drawing, folding and raising. The player simply has to watch out for "tells" and also choose to cheat if they want. Apart from these players can also take out their revolver and start a bloody gunfight. Just like other games Red Dead Redemption's Poker and Black Jack also gives you real-world pub-like experience.