Have you been locked out of your iOS device because you forgot your own Apple ID password? Or is the device locked and cannot be unlocked without iTunes? Then, you can use UkeySoft iOS Unlocker to remove iPhone/iPad screen passcode or Apple ID.
This UkeySoft iOS Unlocker is one of the best ways to unlock any iPhone, iPad, and iPod Touch without iTunes, iCloud Activation Lock, and Apple ID. It can bypass all of these security features with ease. The program is compatible with iPhone, iPad, iPod touch, and other devices running iOS/iPadOS 7.0 – 15.
If you have been searching for a way to remove the passcode from your iPhone or iPad, then this article is for you. We have created a comprehensive UkeySoft iOS Unlocker Review that will help you to understand the software and its features in detail. In addition, we have also included a Guide to help you set up and run the program, along with a FAQ list to provide you with complete answers to some of the common questions.
Also read: 10 Best Apple Mail Alternatives for Mac & iPhone
UkeySoft iOS Unlocker Features
There are many reasons why you may want to unlock your Apple device screen passcode, maybe you have just forgotten the screen passcode as well as Apple ID Password, perhaps you entered the wrong password too many times, maybe you got the device from your friends or relative, and they forgot to remove the screen password, or your child activated the screen lock. Whatever the reason is, the UkeySoft iOS Unlocker is the perfect solution. It is available on both Windows and macOS.
The software is straightforward to use, and you don't have to be tech-savvy to install and run the application on your device. There are only two use cases of this software: You can use it to remove the Screen Passcode, or you can use it to reset the Apple ID password. How does it work? There are only a few simple steps you need to follow, and the iOS unlocker performs a check to figure out your device model. Then it downloads the firmware file for your device and then flashes it to remove all the security features. Keep in mind that the data on your device will be gone and cannot be recovered.
Unlock All Kinds of Screen Lock
The UkeySoft iOS Unlocker can unlock all kinds of Screen locks, whether a password or passcode. On top of that, it can also remove biometric authentications such as fingerprint sensor lock and even face ID lock and unlock a disabled iPhone easily.
Unlock Apple ID & iCloud Activation Lock
Apple ID is essential for your Apple device. You don't want to forget the Apple ID you used during your purchase or signed in on your device, as it can lock you out if you have forgotten your device password. Well, now all these worries are gone. UkeySoft iOS Unlocker can help you quickly get rid of your Apple ID even after forgetting your password.
User-Friendly Interface
The interface is as simple as it gets. It's very easy to use and has a user-friendly interface, which is excellent for someone who hasn't used a tool like this before! In addition, it is very straightforward and doesn't require any learning curve; just two main options are available, "Unlock Screen Passcode" and "Unlock Apple ID," so anyone without any technical knowledge can use the software safely.
System Requirements, Supported Devices and Limitations
The software is very small and doesn't take up many resources. This means it can be installed on any modern or old Windows or Mac computer. Here are the basic system requirements:
---
Protect Your Online Privacy With Surfshark
[The VPN that we use here at Tech Arrival]
---
Operating System Windows 7 or later (32-bit & 64-bit) / Mac OS X 10.9 or later
Processor 1GHz processor or above
Monitor with 1024×768 pixels or higher resolution
RAM 512MB or higher
Devices & iOS Versions All models of iPhone, iPad, and iPod touch, supports the latest iOS/iPadOS 15
Support Languages English, Japanese (日本語), and another language will be supported soon.
When it comes to devices, the UkeySoft supports all the latest Apple hardware up to iPhone 13 Pro, iPad 2020, and iPod touch running up to iOS 15.
* Limitations
If the "Find My Device" setting is turned off, the unlocker will work on all the supported devices to remove the Apple ID. However, in case the Find My Device setting is enabled, then the software can only unlock devices running iOS 12 and older versions.
Only iOS versions 10.2 to 11.4 are supported to unlock the device without any data loss. Devices running other versions of iOS will have to be factory reset during the unlocking process.
How to Install UkeySoft iOS Unlocker
Windows
The installation of the software is relatively straightforward. First, download the latest version of the Ukeysoft iOS Unlocker tool from the official website. After downloading, locate the downloaded file and Run the "Ukeysoft-Unlocker.exe" executable file by double-clicking it.
Click on Next and then Agree to the License Agreement. After that, you need to choose the installation folder. Again, we recommend you leave it default. Now follow the instructions in the setup wizard to install Ukeysoft iOS Unlocker on your machine.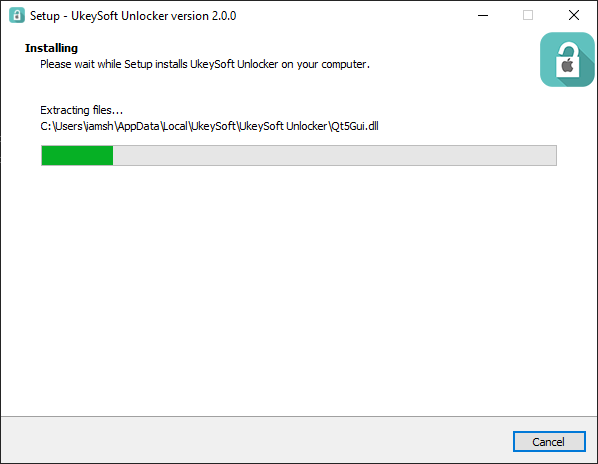 Once the installation is complete, the software icon will appear on your desktop. You can double-click on the icon, and it will launch the application.
macOS
On macOS, the installation process is a little different. After downloading the file, locate it and then double click on it. A new window will pop up and then drag the Ukeysoft iOS Unlocker icon on the Application icon to start the installation process.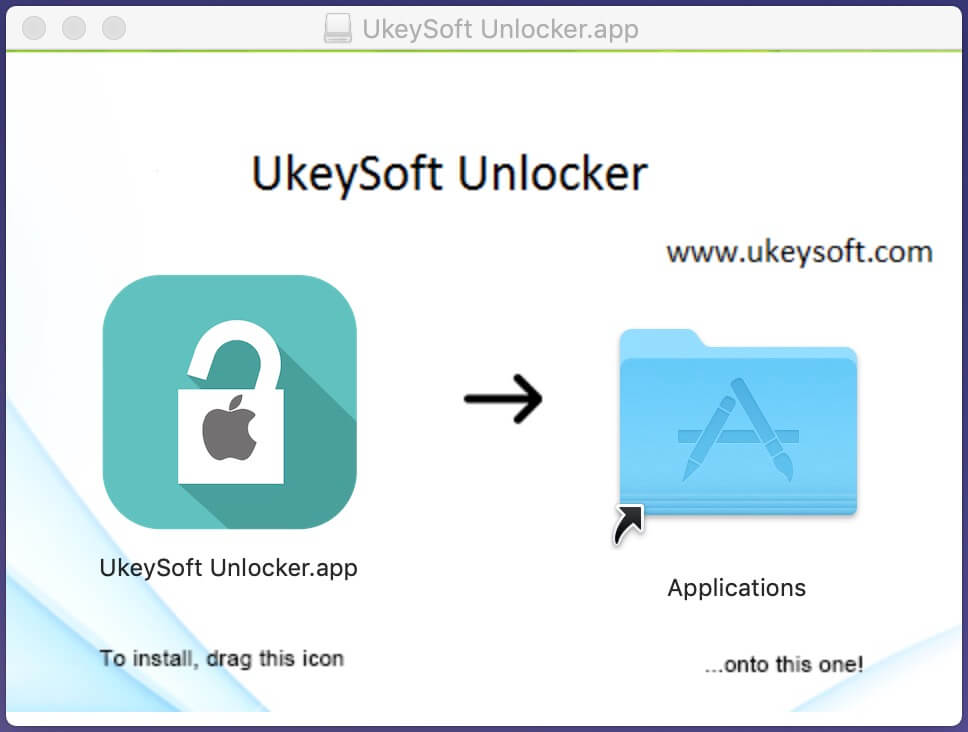 Once the installation is done, the UkeySoft iOS Unlocker app will appear on your Mac desktop. You can now click on this icon to open up the program.
How to Unlock a Disabled iPhone with UkeySoft Unlocker?
The unlocking process is straightforward. Just follow these steps, and you will have your screen passcode unlocked in no time.
Step 1: Launch the UkeySoft iOS Unlocker Software.
Double click on the UkeySoft iOS Unlocker icon on your Windows or Mac desktop to launch the application. On the home screen, you will find two choices "Unlock Apple ID" and "Unlock Screen Passcode," Click on Unlock Screen Passcode. It will open up a new screen, and here you have to click on Next.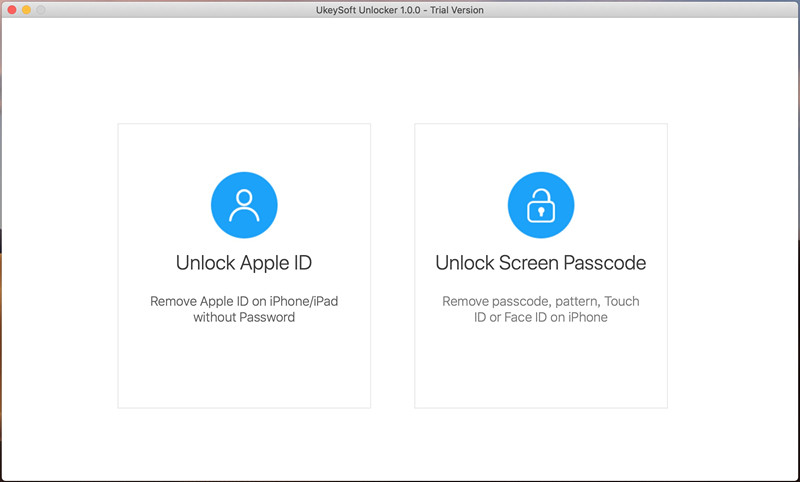 Step 2: Put your Apple device in Recovery Mode.
If the software does not automatically detect your device, it will prompt you to Enter Recovery Mode. You will find three different sets of instructions on the screen, one for non-iPhone devices such as iPad and iOS touch, one for iPhone 7 and 7 Plus, and finally for iPhone 8 or Later devices. Choose according to your device and then follow the on-screen instructions.
---
Protect Your Online Privacy With Surfshark
[The VPN that we use here at Tech Arrival]
---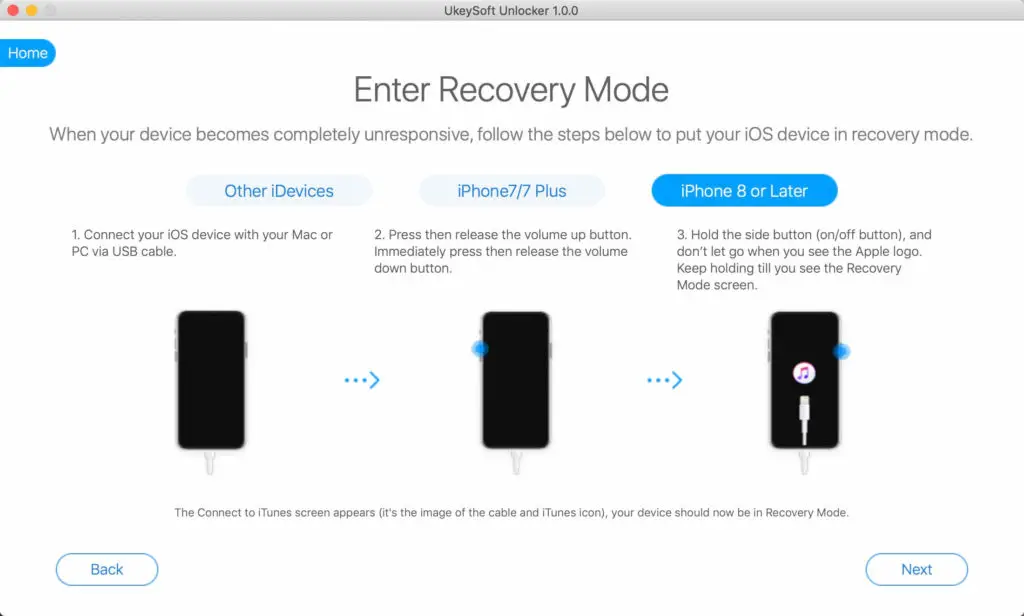 Step 3: Download Firmware Package
Once your device is successfully detected, the UkeySoft Unlocker will find the latest and most suitable firmware for your device. You can confirm the device name and firmware version and then click on the Download button. A new page will open up with a progress bar indicating your download size and percentage. Please wait for the download to complete; once it is done, click on the Start button.
Note: Once the unlocking process begins, all the data on the device will be deleted and cannot be recovered. Therefore, make sure that you have a stable internet connection, and the device is also fully charged. Also, make sure to be patient while the device is being unlocked. You should not, in any case, remove the USB cable from the device.
Step 4: Removing the iPhone Screen Passcode.
After you have pressed the start button, the program will begin the unlocking process. It will take a few minutes to remove the lock, and once it is done, the phone will automatically restart. Once the device is successfully booted, you can remove the USB device to disconnect it from the computer and begin the setup process on your Apple device.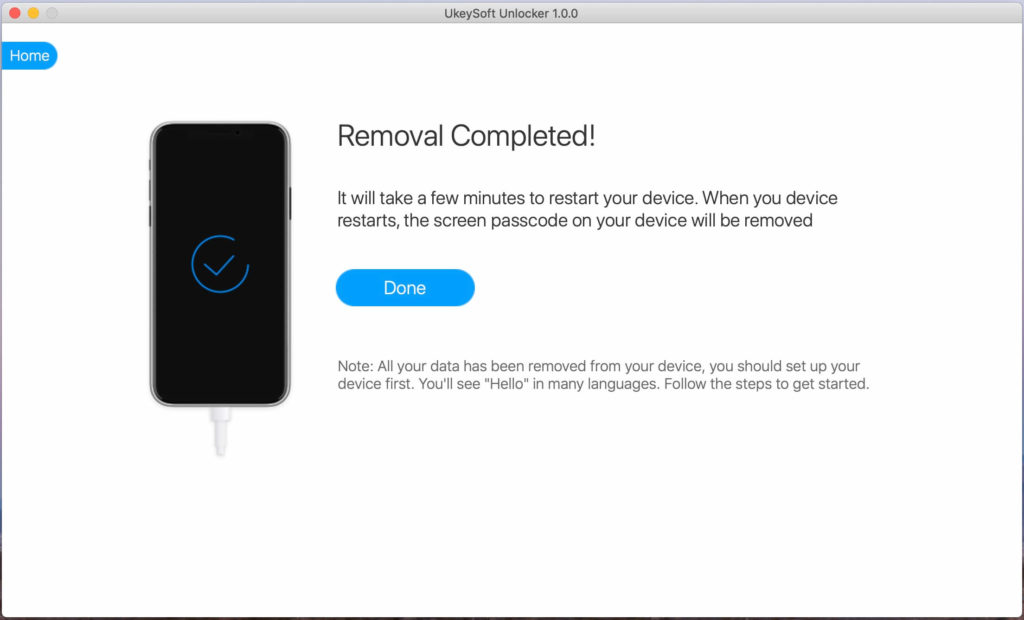 Your screen passcode has been successfully removed from the device.
Pros:
Simple and User-Friendly Interface.
Safe and Secure Way to Unlock the iOS Device – No Jailbreaking Required.
Offers full support for all iPhones and iPads.
Unlocks Any Kind of Screen Lock.
Free Download, Up to 30 days trial version.
Cons:
Cannot unlock the unactivated devices.
You need to purchase a license to unlock full functionality.
Find My Device needs to be disabled.
Final Words
In conclusion, UkeySoft iOS Unlocker is a great tool to remove iPhone/iPad screen passcode or Apple ID without having to use iTunes. This software is easy to use and does not require any technical skills. It can be used on both Mac and Windows computers with ease. It is a must-have tool for anyone who has an Apple device. The program has been tested by our team, and we have found that it works as advertised. However, the only major con is it does not offer full support for a few iOS devices.
If you are still not sure whether to download this software or not, We recommend you to jump on a free trial for 30 days, and if you like the software, then get the full version with a 30-day money-back guarantee.
Also read: 12 Best iOS Keyboard Apps for iPhone and iPad
Frequently Asked Questions (FAQs)
Is UkeySoft iPhone Unlocker Legit?
UkeySoft iPhone unlocker is a legit tool that unlocks most Apple devices, including iPads, iPod touches, and even jailbroken or iCloud-locked devices. In addition, it is 100% safe to use.
What is the Difference Between Free and Paid Version of UkeySoft iOS Unlocker?
You can use the free version on various iOS devices without any issues. It is free to try, But it has limited functionality and only lasts for 30 days. So, if you are not satisfied with the free version, you can upgrade to the paid version.
Is There a Refund Policy in Place for This Software?
UkeySoft only provides a 30-day money-back guarantee for their product. So, if you are not satisfied with the software, you can request a refund within 30 days of purchase.