Nowadays, we hear a lot about virtual reality on social media, news, etc. Many manufacturers like Samsung, LG, Google, OnePlus are coming up with new virtual reality devices, commonly known as VR headsets. So let's take a walk down to understand what it means.
Virtualmeans "nearly as described" and Reality means "what we experience." Combining these two meanings, we can say that it is something related to reality emulsion. The video given below will help you understand more about VR:
Also Read: How does VR work?
With the help of Virtual Reality, you can experience the things or places that even actually don't exist. It can be a believable computer-created virtual 3D world that you can explore without actually being there, but you feel that you are present there physically and mentally.
experience of Virtual Reality is Believable, Interactive, Explorable and Immersive.
Now let's talk in brief about how it is implemented and what you need to experience it. The devices that are being popular these days are known as VR Headsets (head-mounted display). The price range of these devices is expensive for advanced headsets(Oculus Rift) and cheap for a beginner level headset(Google Cardboard).
Is Virtual Reality available for Computers and Smartphones?
It depends on the VR headset you want to buy. Some headsets are for computers and Gaming Controllers, while others are for smartphones.
VR headset for computers (for example, Oculus Rift) requires some specific minimum hardware requirements to run. It includes a high-end graphics card, processor, ram, etc. while VR headset for smartphones splits the screen into two halves and uses the sensors of the smartphones allows users to experience the virtual reality.
To make this experience more interesting, In virtual reality gaming, users can play interactive games like first-person shooting games with VR accessories like gloves to control the movement in the game.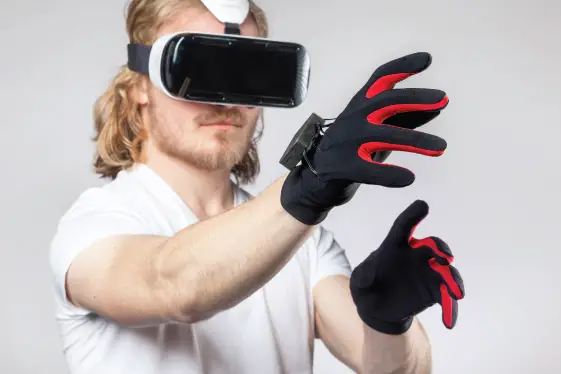 For Smartphones, there is a DIY kit of Google Cardboard (roughly around $15) to give VR a try. You can use the Google Cardboard app for the same. Mobile Manufacturers like Samsung (Gear VR), One Plus (Loop VR), Lenovo (Ant VR) are also coming up with their VR headsets and apps. Some of them come with a remote to control the interface of the device.
Virtual Reality: The Future
Since VR is a fantastic technology, manufacturers and software vendors are now creating the inbuilt support for VR. For Example:
Google's new Android N is coming up with the inbuilt feature called Daydream, which is the new platform for VR, and Microsoft is working on it's VR platform called Hologram. It is said to have its own OS in the VR headsets.
---
Protect Your Online Privacy With Surfshark
[The VPN that we use here at Tech Arrival]
---
It would be a great pleasure to watch movies in VR mode, and hopefully, we are expecting that movies will launch in 360 VR very soon.
But this is just the beginning of the Virtual Reality; in the future, there is much more to come, and we will make sure to update you with the same.
Also read: Top 10 Best VR and Google Cardboard Apps
Thank you for reading this post and keep connected to Tech Arrival to continue enjoying beautiful posts. Share your views about this post in the comment section below. If you still have any queries, throw it in the comment section.
If you find this post helpful, don't hesitate to share this post on your social network. It will only take a moment, and also it is quite easy and useful for others.