There are plenty of online tools for copying videos from DVDs, but a dedicated copier is a must for a perfect flawless copy. Most of the tools are limited in functions and features leaving the user unsatisfied which is why we have selected the best DVD copy tool out of them: WinX DVD Copy Pro.  In this article, we will be talking about copy DVD to DVD with WinX DVD Copy Pro, give a quick hands-on review on using the tool.
What is WinX DVD Copy Pro?
WinX DVD Copy Pro is one of the best DVD copying and burning software specially designed to meet user's up-to-date DVD back-up demand. You can Clone DVD to DVD disk for backup, copy DVD to ISO that you can burn later on, copy DVD to MPEG2 file with an intact content for further use, mount ISO to a virtual drive and burn DVD to DVD and many more. Your input can be a DVD Video disc, DVD folder or a DVD ISO image.
The latest released DVD has 99 titles and size is around 40GB. Other DVD copier programs will either stuck or crash out but WinX DVD Copy Pro will automatically detect the right DVD title and ensures smooth cloning from DVD to DVD, ISO, Video_TS folder, DVD to MPEG2 and more with correct order. It is constantly updated to support the latest DVDs.
Since its debut in 2011, the WinX DVD Copy Pro has always been tested as the optimal best DVD Cloner all over the world. Its updated, versatile features like sector-to-sector duplication and one-to-one DVD scanning mechanism makes all types of DVD region free ensuring a 100% copy in quality, structure and content. WinX DVD Copy Pro is the perfect all all-in-one solution for making a back-up of your precious DVD collection.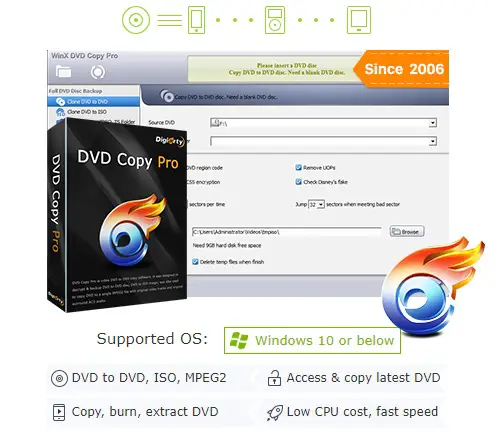 WinX DVD Copy Pro Review
With WinX DVD Copy Pro, you can always get a 100% original copy in quality, structure, and content. It recognizes and uses the relative decryption module to make all types of DVD region free, especially new 99-title DVD, workout, Japanese DVDs. To produce a perfect copy it takes around 12-17 minutes depending on your PC configuration.
The software automatically repairs scratched DVD's corrupted sectors, Disney's Fake, Sony ARccOS bad sector to the greatest degree. It is perfectly well suited for people with old DVD collections who want to make a digital backup giving a second chance of life or who has some old scratch DVD that you want to transfer in a  new disk.
Multiple Options
WinX DVD Copy Pro comes with 9 refined copy modes to meet with the user's DVD remands roundly. It allows users to 1:1 Clone DVD to blank DVD without any quality loss. You can copy D9 to D9 (8.5 GB), copy D5 to D5 (4.7GB) or clone intact DVD video and audio data to a blank DVD-/+R (DL), DVD-/+RW (DL), DVD RAM.
You can also clone DVD to ISO image and DVD to Video_TS folder at 1:1 ratio while preserving all the Menus, Subtitles & Languages.
The software's DVD to ISO copy engine takes less time but produce a better outcome.  There is also the option to copy original DVD video and audio data to a single MPEG2 file which can be later played back on PS3, Xbox, Wii, TVs using USB flash drive and even edit in Windows Media Centre. It supports DVD Title/ Chapter backup, Extract Video/ Audio for a particular use.
Corrupted & Copyrighted Discs
This best DVD copy tool comes with support for all sorts of DVD's accessible that have perfect compatibility with any Region Codes, CSS, RCE, UOPs (FBI warnings), Sony ARccOS, APS as well as Disney X-project DRM tricks. The Disney fake checking feature entitles the software as one of the best DVD cloning software that is able to successfully copy the latest DVD with 99 titles. The tool comes with a built-in ISO mounter and DVD burner with which it can mount DVD ISO image and burn ISO image or VIDEO_TS folder to a DVD disk. In the process of mounting, it creates a virtual drive to virtualize the ISO image as a real disc loaded in the drive.
---
Protect Your Online Privacy With Surfshark
[The VPN that we use here at Tech Arrival]
---
Bad Sector Recovery
The software has an advanced in-built bad sector recover engine that repairs the corrupted sectors to the greatest degree while backing up old and worn-out scratched DVD. It can clone DVD with Sony ARccOS bad sectors that are deliberately created on the DVD to crash other DVD cloning tools. The power demand is also less with an average cost of less than 1% to produce 1:1 DVD copy in 12-17 minutes.
Last but not least, WinX DVD Copy Pro comes with an easy DVD backup solution for all user level. It comes with a simple and straightforward user interface so that beginners don't take extra time in getting accustomed to the features. For the advanced level users, the tool offers flexible settings for DVD backup meaning, for instance, you can choose the exact type of protection mechanism you want to and the number of sectors you want to read while backing up read-only DVD movies.
WinX DVD Copy Pro Giveaway
Though the software allows you to download a trial version you can try your luck a win a license key at the giveaway offer.
How to Use WinX DVD Copy Pro to Backup DVD to DVD
Installation Guide
To download WinX DVD Copy Pro head over to the official website and click download. It will download a free version of the software that allows you to use the software without restriction for some time. To buy you can go directly to the buy option.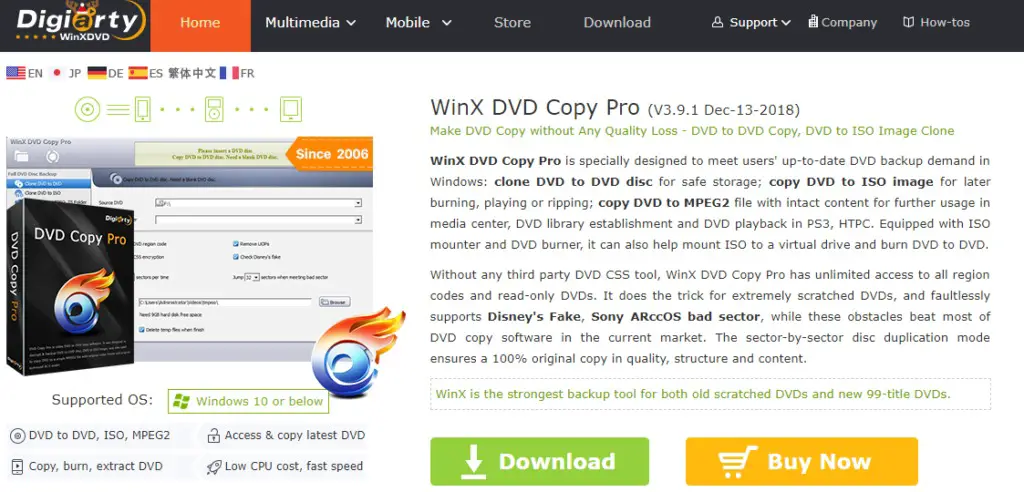 Click on the downloaded "winx-dvd-copy-pro.exe" to install and Click "Yes" if the UAC window pops up.
Select your preferred language, accept the terms and select the desired location and click on the Next button.
Click finish and the software will be installed in your PC.
After downloading, it will automatically launch and you can see the user interface. Enter the license code you grab from the giveaway page to activate the product or you can directly go to the Buy Now button link.
A Step-by-Step Guide on How to Copy a DVD with WinX DVD Copy Pro
In this how-to guide, we will be guiding your way to backup DVD to DVD. However, as a reminder most commercial DVD publishers prohibit making copies, so only make them if you have permission or doing for personal backup use. Before starting, make sure you download and install the latest version of WinX DVD Copy Pro.
Step 1: Getting to Know the Interface
Launch WinX DVD Copy Pro. Here you can see the interface
Content folder: It opens the DVD backup content produced by WinX DVD Copy Pro.
Mode menu: The main menu is divided into Full DVD Disc Backup, DVD Title Backup and two tools – ISO Mounter and DVD Burner, which adds up to 9 modes.
DVD info display: The software automatically searches online about the DVD information from the authoritative DVD library. The DVD library gets regular updates so don't have to worry about missing one.
Step 2: Source & Destination DVDs
Enter your DVD and select the source DVD
WinX DVD Copy Pro usually automatically detects the DVD after inserting but if you have multiple drives you have to select your DVD. Select your favorite output video format (ISO, VIDEO_TS or MPEG2) and click Save As.
Step 3: Customizing the Copy Settings
Click on the "Temp" folder with browse button and make sure the temp destination has more than 9GB vacant space.
If you are copying commercial DVD's make sure Remove DVD Region Code, Remove CSS encryption, Remove UOPs, Check Disney's Fake options are selected.
WinX DVD Copy Pro additionally offers customizable DVD-sector Reading / Jumping value, if your DVD is severely scratched or damaged. The larger the value, the more power for the software to handle bad sectors. However, you will also lose more DVD Video/Audio data because you may have jumped in more sectors. The default recommended value is 32.
Step 4: The Burning Process
Click Run.
For multiple drives Click Burn in the pop-up window to complete copying from DVD to DVD. If you have a single drive the content will be backed up to the temp folder first and a notice box will pop after the backup completed. Insert a blank DVD and press "Burn" to finish the whole process.
The Final Verdict
WinX DVD Copy Pro is a must-have DVD backup tool if you own a collection of DVDs. The feature-rich software's uncluttered and user-friendly functions make it usable by professionals to novice users. It's sheer convenience and abundance of powerful tools makes it one of the top DVD copy tools among the DVD tools available in the market. If you are interested in ripping DVD into digital copy, you can go for the WinX Free DVD Ripper.