There are a lot of videos on the internet. The majority of them are on YouTube and Facebook while there are plenty of videos on other platforms like TikTok, Dailymotion, Vimeo, and more. Not all of these websites provide you with a convenient process, in case you want to save those videos on your device. Solution? There is plenty of software in the market that takes care of the downloading process from all of these sites.
In this post, we are going to tell you the Top best free YouTube Downloader you can get for your computer and also compare them with others on the list.
Disclaimer: Before using any of the free YouTube downloaders from our list, make sure you are not using them for unethical purposes. Using third-party software to download videos from YouTube is against their policy. Downloading other's videos is a potential copyright infringement so make sure you do that only if the video is yours or is free of any copyright.
Also read: Best Video Sharing Sites You Should Use
List of Best Free YouTube Downloaders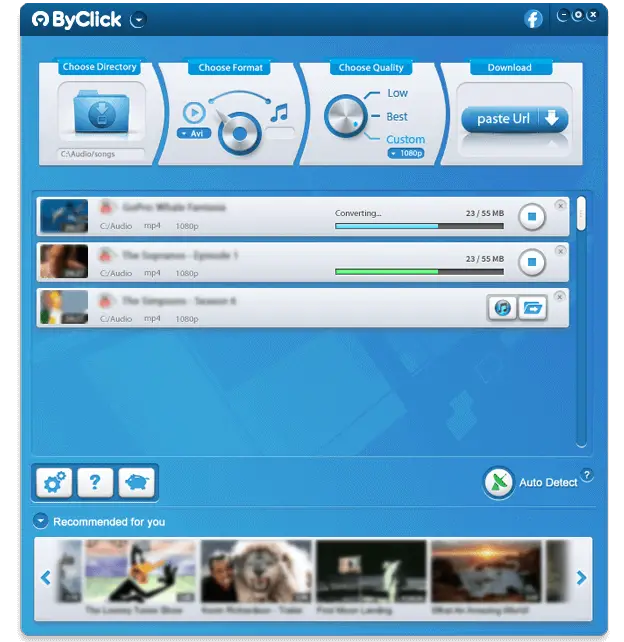 By Click Downloader has the best experience for downloading content from YouTube, Vimeo, Facebook, Instagram, and other 40 websites. With its native integration with the major browsers available, it automatically recognizes that you're navigating through video content and prompts you with a message window at the right corner, presenting you with some options of file formats to download the content. This presents a seemingly frictionless experience.
With By Click Downloader, it's possible to convert YouTube Videos to MP3, download entire playlists, download subtitles, and much more. In addition, it's 100% free of viruses, secure, and reliable. Updated every week, it's guaranteed that the software will support major websites, like Instagram, YouTube, TikTok, and many others.
2. YTD Video Downloader & Video Converter
It is always frustrating to watch videos on popular streaming sites and not be able to download the video for offline viewing. Don't worry; YTD Video Downloader & Video Converter is one of the best tools you can use to solve this problem. It allows you to download videos from TikTok, Vimeo, Bing, Facebook, Dailymotion, Metacafe, Yahoo, Liveleak, and many other websites. With just a few clicks, you can download any video in 720p, 1080p, 2K, and 4K resolution. The YTD Video Downloader & Video Converter is one of the most user-friendly and feature-packed software that you can use. The application has a clean and easy-to-use interface that makes it easy to use. The best part is that it can convert the downloaded video into all the most popular video formats that can be viewed on any device. It supports most popular file types like MP4, MKV, M4A, MP3, AVI, etc. YTD Video Downloader is a Windows application, and it is available for Windows 10, Windows 8, Windows 7, Windows Vista, Windows XP & macOS as well.
YTD Video Downloader & Video Converter
3. CleverGet
CleverGet is one of the best YouTube downloaders for Windows and Mac. Apart from YouTube, it supports downloading videos like movies, TV shows, live stream videos, music videos, etc. Over 1000 websites like Twitter, TikTok, Twitch, Dailymotion, Netflix, etc. It can also act as a live video downloader to download live streaming videos through a direct live video URL or live video M3U8 link. With powerful video analysis capability, it can download videos ranging from 480p, 720p, 1080p, 4K, and even 8K UHD with 320 Kbps audio quality.
---
Protect Your Online Privacy With Surfshark
[The VPN that we use here at Tech Arrival]
---
Featured with a user-friendly interface and a high-speed browser, you can quickly and efficiently download videos by copy-pasting the link of the target video or searching for what you want to download. For time-saving, you can batch download up to 5 videos simultaneously. Furthermore, it can download a single video or a batch of videos 6x faster thanks to advanced hardware acceleration technology. After downloading videos, you can watch videos through the built-in media player.
4. 4K Video Downloader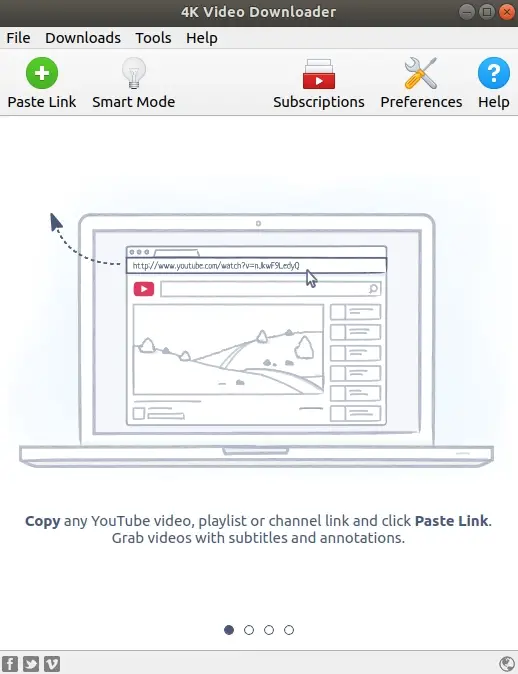 4K Video Downloader is another top-notch software to download YouTube videos and other videos from multiple sites on the internet. It is easy to get started since the installation process is super quick. The software has a great user interface and also recommends which videos to download based on your preferences. It also allows you to download a private playlist, videos saved as "Watch Later" and videos from "Liked Videos" on YouTube as well.
You can even download videos with subtitles both embedded or as separate SRT files. As the name suggests, not only can you download videos in 4K resolution but it even supports up to 8K resolution. You can control the connection speed (or bandwidth) of your downloads as well. It is available for Windows, Mac, and Linux.
5. HitPaw Video Converter
HitPaw Video Converter is a powerful tool for converting videos and audio files to various formats for different devices. It's very easy to use and comes with a very intuitive interface that makes it simple to navigate, making it an ideal tool for beginners to use.
The conversion speed is also really fast, so it's perfect for those who want to quickly convert multiple videos to different formats. It has an unbeatable combination of features; The ability to convert videos and audio to 800+ formats is very useful. 
And the fact that it can download media from 1000+ popular websites with a single click is also very useful. The video editing functions are very powerful and versatile, and it allows us to edit the videos to our liking.
The free version has everything you need to produce great-looking, top-quality results. HitPaw Video Converter is worth checking out if you're looking for a powerful video converter. All in all, a great product, and we highly recommend it.
Download HitPaw Video Converter
6. SnapDownloader
SnapDownloader is perhaps one of the best YouTube downloading software we have come across. It has got a minimalistic user interface and feels fast and snappy to use. To download a video from YouTube or any other website from the internet, all you have to do is to copy the video URL and paste it inside the search box of the application. It will then fetch the video details and provide you with options to select resolution and format for downloading.
---
Protect Your Online Privacy With Surfshark
[The VPN that we use here at Tech Arrival]
---
The application supports videos ranging in different formats and resolutions. You can not only download HD videos from it but also go all the way to 4K or even 8K! The ability to download all videos from a playlist or a channel is icing on the cake. You can even select the ones you want to download from a particular playlist and leave the rest. There's also support for setting up a proxy, the ability to schedule your downloads, and converting videos into different formats in the application.
7. YT Saver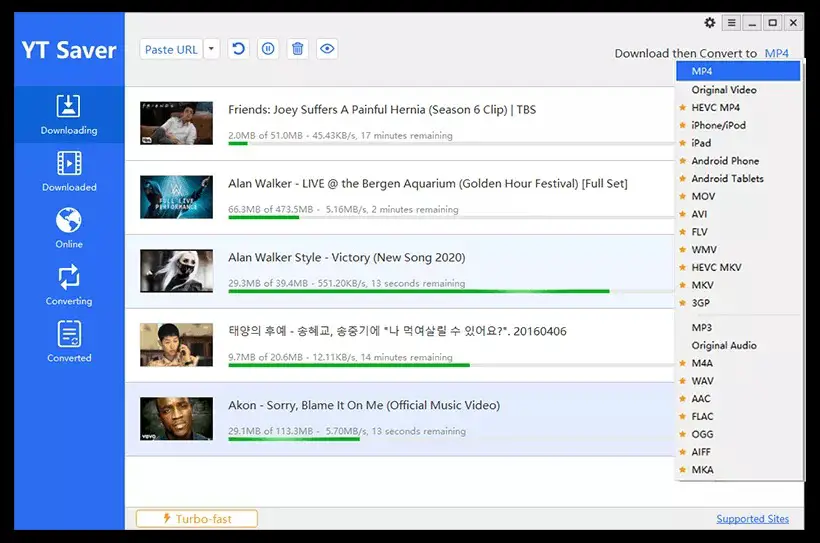 YT Saver is the ultimate solution to get the most recent, most popular videos and convert them in almost any format for easy playback on all devices, including mobile phones, tablets, and laptops. It is a video downloader and converter software, and it's also extremely powerful. With YT Saver, you can download videos from YouTube, Facebook, Vimeo, Dailymotion, Instagram, TikTok, Ok.ru, etc., directly to your PC or mobile device with a click of a button. Download Video, Audio, Playlists from 10,000+ websites, Convert Video to MP4, MOV, AAC, WAV, and More!
YT Saver is an easy-to-use application that supports both Windows and macOS. It can be used by professionals and beginners alike. The program has a built-in web browser, which makes it easy to browse video-sharing websites. After you find a video you like, simply click the download button to download it directly to your computer. YT Saver allows you to download videos at ultra-fast speed and get the fastest conversion speed. It also protects your video and audio from prying eyes. You can keep your downloaded contents in a password-protected folder with YT Saver's Private Mode.
8. SurFast Video Downloader
SurFast Video Downloader is an excellent YouTube video downloader you can't miss for your PC. As one of the top YouTube video downloaders available, SurFast Video Downloader supports both Windows and MacOS operating systems. It allows you to download YouTube videos in the highest quality of up to 8K resolution in MP4/WebM. But it doesn't stop there. You can also directly rip audio from YouTube videos as MP3 songs for offline listening on any device. Its batch-downloading feature makes it simple to download entire YouTube playlists or multiple videos simultaneously, greatly relieving you from repeated operations and long waiting times. Along with YouTube, SurFast Video Downloader can download videos and audio from over 1000 sites, including Instagram, TikTok, Twitter, Twitch, Facebook, Sound, MySpace, Bandcamp, and more.
Download SurFast Video Downloader
9. VideoProc Converter
VideoProc Converter is a One-Stop Video Processing Software. It allows you to download video easily, and on top of that, it also works as a converter, so you don't need to download other converters and have multiple software programs installed. The app features a built-in media downloading engine that can fetch any video from the internet from 1000+ websites. You can easily download full-length videos from YouTube, Dailymotion, Vimeo, Facebook, and many more sites. The software has a user-friendly interface and supports batch processing that allows you to download multiple videos at once. Videos can be downloaded in multiple formats and resolutions, depending upon your requirement. They can also be easily converted into different formats for your iPhone or Android devices. You can also record live streams supported by this software and save it locally on your PC without any issue. This YouTube downloader and converter is a one-stop solution for all your online video needs.
10. Allavsoft Video and Music Downloader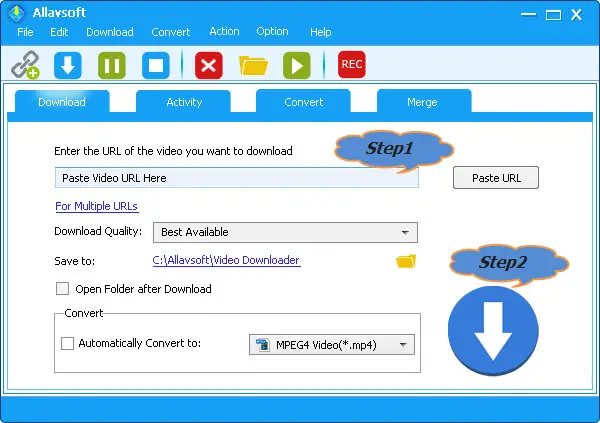 Allavsoft Downloader is also a great application for downloading videos not only from YouTube but also from other websites like Facebook, Vimeo, Twitter, Dailymotion, Crunchyroll, Spotify, Udemy, Soundcloud, and more than 1000+ video/music websites. You can directly set the format first and then download your video or music files. The application supports major formats like MP4, MP3, AVI, WAV, MOV, etc.
One of the best features is the batch downloading option. Users can select multiple files or add multiple links to the queue. Once ready, the batch download feature will download all these files and even full playlists to your desired location. You can also convert multiple files to a particular format using the application.
---
Protect Your Online Privacy With Surfshark
[The VPN that we use here at Tech Arrival]
---
The built-in player can play the downloaded file after the download is finished instead of before downloading them. It also recognizes the advertisements before or in between the videos and skips them for downloading. There's even a record option that lets you record whatever is on your screen and create a video out of it.
Download Allavsoft Video and Music Downloader
11. iTubeGo YouTube Downloader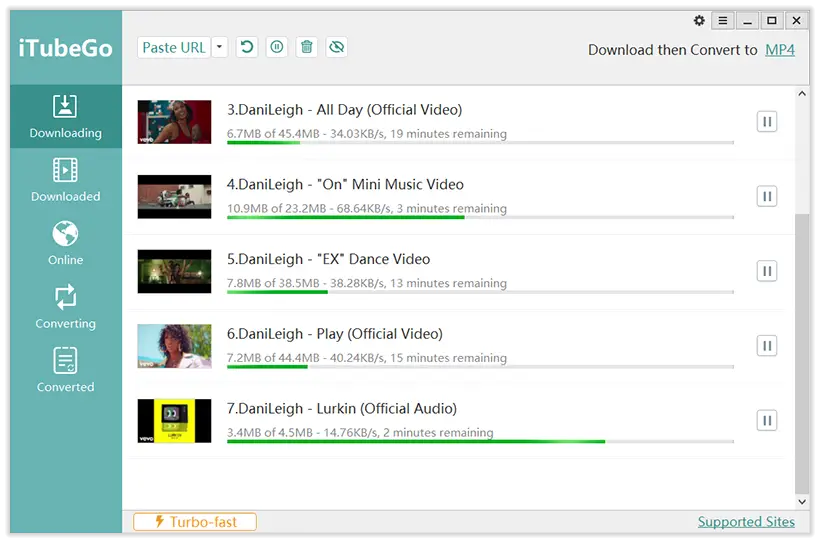 iTubeGo YouTube Downloader is one of the best and fully-fledged video downloading software. It supports downloading video, audio, and playlists from multiple websites such as YouTube, Facebook, Twitter, Instagram, TikTok, Dailymotion to name a few.
iTubeGo provides the option of HD video download, you can download videos up to 8K. In addition,  it allows you to easily convert any streaming media to MP4, MP3, AVI, M4A, and other dozens of different formats.
iTubeGo also has an inbuilt browser that can be used to download videos from any video hosting website. You can even cut a part of a video and download only the selected part of it. The Turbo Speed feature allows the software to consume the full bandwidth available which boosts up the download speed. The application is available for Windows, Mac, and Android.
Download iTubeGo YouTube Downloader
12. Videoder
Videoder is one of the most popular apps to download YouTube videos for Android, but it is available for PC and Mac as well. It can download from more than fifty websites such as YouTube, Instagram, Facebook, Hotstar, Voot, and more. You can even contact the developers directly to request support for download from a new website. Videoder supports downloading of videos up to 4K resolution. It also supports batch downloading wherein you can just browse and select multiple videos and other media while browsing and then download everything in just one click.
Speaking about browsing, it even has its own inbuilt browser with adblocker which is super convenient while looking out for things to download. Videoder accelerates your downloads by using something called multiple network connections that facilitates faster downloading using the full potential of your bandwidth. Apart from all of this, you can also extract audio from videos and edit the metadata like cover art and titles of your songs. The smart link detection tool automatically detects if you have a YouTube or any other link on your clipboard and prompts you to add it to the downloading queue. The software is available to download for both Mac and PC as well as Android.
13. Airy
Airy is one of the most renowned YouTube downloading software ever created. It was developed by Eltima Software back in 2013. Since then, it has been updated with a lot of features and it has been downloaded by hundreds of thousands of users. Airy claims that it provides a perfect combination of functionality, versatility, and user experience. Airy can convert videos from YouTube into various other formats including mp3. It is perfect for downloading music for offline listening on any device.
It also supports downloading YouTube playlists directly. This makes it easier for you to save the entire playlist without any hassle. Not only playlists, but Airy's batch download also allows you to download all the videos from an entire channel at the same time. Perhaps the most convenient feature of Airy is that it integrates quite well with most of the popular browsers such as Google Chrome, Microsoft Edge, Firefox, and Opera. Whenever you are watching a video on YouTube, Airy will add a download button next to it for a seamless downloading experience.
---
Protect Your Online Privacy With Surfshark
[The VPN that we use here at Tech Arrival]
---
14. ClipGrab
ClipGrab is marketed as a "Friendly" YouTube downloader and does its job exactly as intended. The software supports video downloading from YouTube and many other websites like Facebook, Instagram, Dailymotion, Vimeo, and more. Not only just videos, but it can convert those videos into any format. The software also supports downloading into lossless FLV and MPEG4 formats.
ClipGrab has a very user-friendly interface. It is an open-source project and is absolutely free. ClipGrab, however, encourages users to donate in order to raise money for the future development of the software. The software can automatically detect URLs from sites like YouTube from your clipboard and prompt you whether you want to download the video or not. ClipBoard definitely stands out from the crowd with the best and cleanest user interface with awesome functionality. The application is available for Windows, Mac, and Linux.
15. Gihosoft TubeGet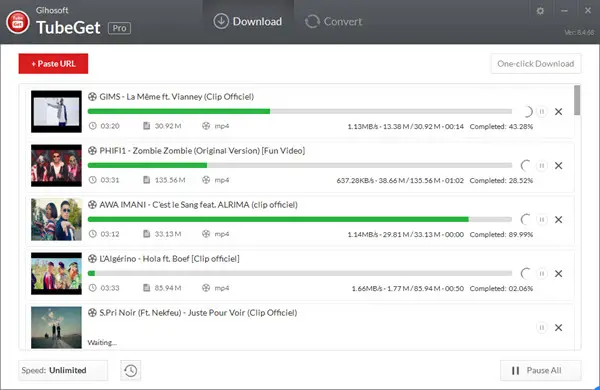 Gihosoft is one of the most renowned companies that provide both free and paid software. One of their creations is TubeGet. The software allows you to download from YouTube and more than a hundred other websites. The software also has a converted that allows you to convert your YouTube video into any format your device supports. It can also easily convert your videos files into audio ones.
After setting up the download format, download quality & output directory, you can just download any video in just one click. TubeGet also supports subtitles. You can either choose to merge the subtitles or closed captions file into the video or just download it separately as an SRT file as well. Gihosoft TubeGet is available for both Mac and Windows.
16. WinX YouTube Downloader
WinX YouTube Downloader is super easy to use. It is clean, powerful, and supports downloading videos from multiple websites. All you have to do is to copy the URL of your video, select the format of the output, and set the quality you want. Once you have added all the videos you want to download, select the download option. The software will process all your videos at once and will download them simultaneously.
The software supports the downloading of videos in up to 4K resolution. Unfortunately, it cannot download audio separately from videos like other software on the list. If you are looking for a basic YouTube download, you can check this one out.
Download WinX YouTube Downloader
17. aTube Catcher
aTube Catcher is another excellent software for downloading videos from the internet. Not only does it support YouTube but it also supports hundreds of other websites to download from. Downloaded videos can be converted into multiple formats of your choice. You can convert videos to watch into different types of devices that support them. The software also lets you max out your bandwidth if you are looking to download a lot of videos all at once.
---
Protect Your Online Privacy With Surfshark
[The VPN that we use here at Tech Arrival]
---
The software, however, bundles adware as well. So make sure you cancel the installation of any app that comes abound "aTube Catcher" while the installation process occurs. Another feature of this software is that it also doubles up as a screen recorder. This is something unique and none of the other downloaders on this list has this feature. It also allows you to merge multiple videos, burn CDs and DVDs, and a lot of other things as well.
18. Free YouTube Downloader
Free YouTube Download by DVDVideoSoft offers a really hassle-free and clean downloading experience. It might not be feature-rich like other contenders on this list. But it definitely does what it advertises quite well, that is downloading videos from YouTube and other video hosting websites. It supports downloading videos from your YouTube playlists, channels, or personal playlists like watched videos, liked videos, and more.
The multistream downloading feature takes care of simultaneous downloads all at once. It also supports downloading up to 8K and can also convert your videos into audio files. You can also edit metadata of your audio files, add subtitles, transfer files to iTunes, and more.
Download Free YouTube Downloader
19. Any Video Converter
Last but not least on our list is Any Video Converter. Although advertised as a video converter software, the package includes a converter, YouTube downloader, video editor, and a CD burner. The user interface might not please the masses, but the functionality should definitely do that. The software can download videos from YouTube, Facebook, VEVO, Vimeo, SoundCloud, Dailymotion, Vimeo, Metacafe, Howcast, Niconico, and hundreds of other websites as well.
The basic editor included with the software lets you crop or trim a video, add effects, subtitles or text and export it into various formats. Make sure you uncheck the included bundled software from Bytedance and Yahoo and you are good to go. The software is available for both Mac and PC.
Final Words
These were our Top picks for the best free YouTube Downloader. Most of them do a satisfying job of downloading content from YouTube and a bunch of other websites. A lot of them have additional functionality like music downloads, converting into various formats. For example, the iTubeGo, 4K Video Downloader, and Airy are all perhaps the best overall software for downloading both video and audio in various formats. Any Video Converter surprised us for the package it gave in such a lightweight software experience as well.
Also read: How to Disable YouTube Shorts Permanently
Which is your go to software for downloading YouTube videos? Let us know in the comments below.
---
Protect Your Online Privacy With Surfshark
[The VPN that we use here at Tech Arrival]
---