It doesn't take long for Android users to realize that the stock gallery app is pretty incompetent.
Is there an option though? Turns out there is. There are several, in fact.
Media Player apps are among the most crucial apps an Android smartphone needs. What else will allow you to watch movies or play music? What even is the use of an Android phone if you cannot watch videos or play audio on them better than on a silly feature phone?
There are several options you may try, so we thought it would be a good idea to list down the 7 best media player apps Android smartphones could be equipped with. The choosing was hard, so we increased the number of slots to 7. I hope this list helps you out.
Also read: Best Video Sharing Sites You Should Use
List of Best Media Player Apps for Android
1. MX Player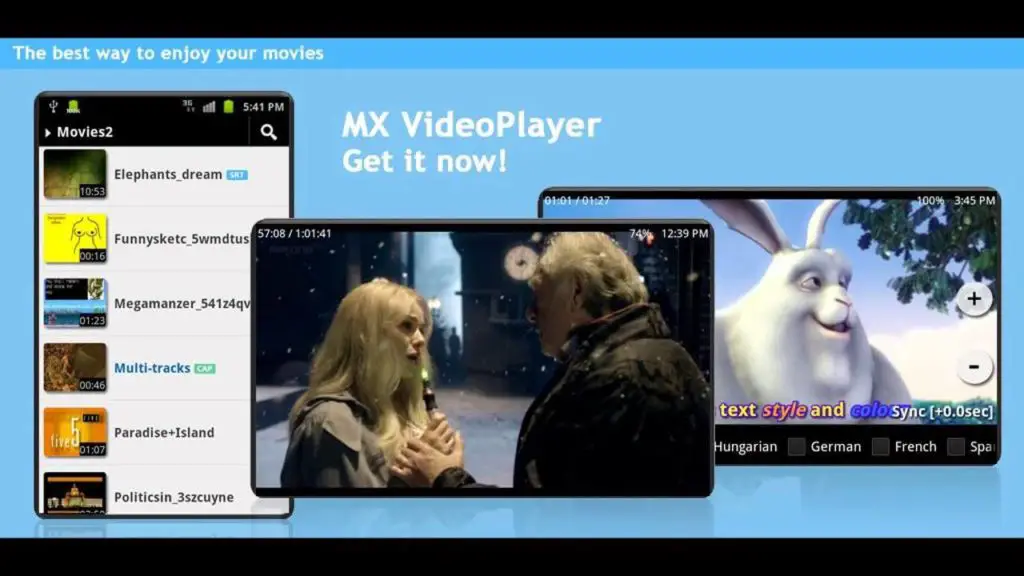 Not a lot of apps can claim to be at par with MX Player. In some ways, MX Player is the gold standard for media player apps and hardly any apps can claim to meet it, let alone surpass it. The USP of the app is the touch-friendly interface which allows you to change the most important parameters of your video through simple touches and slides.
You can seek by touching at the seek bar, as with many other apps, but you can also slide horizontally, forward and back for finer seeking. This way, you get to start watching your video once again from the closest point you stopped last time.
Vertical scrolls can alter volume and brightness on the right and left sides respectively. There are also easy menus you can access on the top right which gives a lot more options.
MX Player was free until recently. If you can manage a few ads here and there, it is still a worthy choice. Otherwise, you can buy the cheap pro version to eliminate all advertisements.
---
Protect Your Online Privacy With Surfshark
[The VPN that we use here at Tech Arrival]
---
2. VLC Media Player
VLC Media Player is perhaps the most well-known video player, has made itself the ruler of entertainment in the PC world. In Androids too, VLC brings the capability to play both audio and video files, though you must admit the audio needs a bit of refinement, especially in the widget department. It is still entertaining enough to occupy the second place.
VLC Player is not terribly different from the Google Play Music interface, which is nice because most other players are too much of a shock to the user and it takes the time to figure out the whole app. But that doesn't mean it has compromised on innovation. One thing that stands out with the app is the built-in equalizer that lets you visit the same song in different acoustic settings.
And have you seen how Youtube videos get minimized in the app into a small window, a feature that Facebook recently replicated? Yeah, VLC lets you do that but better. How? Your video can be viewed even outside the app while using another app, and the window can even be positioned differently!
3. Vidmate
Well, Vidmate can do a lot of stuff, right from downloading videos to making memes, getting you latest apps and games and encrypting files out of sight. But the video player is what stands out to me. Unfortunately, it is a bit neglected by users, which makes this app sort of a hidden gem.
Vidmate lets you control parameters of your video just like MX Player, only it is a little more sensitive so you don't have to keep scrolling the screen and you'll probably be done in a single swipe. But the high sensitivity isn't necessarily a good thing. A common problem reported by users is that they routinely scroll too forward ahead with the swipe and they have to tap the screen repeatedly to reach back to the point they left off. Apart from that, the video player can help you make funny memes and share them with friends, as well as do a bunch of other cool stuff. Try it out!
4. LISTENit
If VLC Media Player felt a little too vanilla to you, maybe LISTENit will have the spice you need. Coming from the makers of SHAREit, a pretty amazing music app that shares files between devices over a proxy WiFi network, LISTENit includes a pretty sweet equalizer with more tweak options than VLC. You have a ringtone cutter that helps you pick out bits and pieces from songs to set as your ringtone. The interface is a lot edgier and interesting as well. And you can tell your app to stop playing after a set time, which helps save battery for people who like to go off to sleep with their favorite music playing.
---
Protect Your Online Privacy With Surfshark
[The VPN that we use here at Tech Arrival]
---
5. ES File Explorer
To be fair, ES File Explorer isn't really a music player. But it has a pretty neat music player feature which lets you listen to songs and music files stored on your device. There is also a video player that is like a slightly better version of the Android Gallery app, but there's not much to talk about it. The audio player, however, comes in handy when you're trying to listen to say podcasts you have stored. Access from the lock screen is quite better than other apps, which is a major plus point.
6. KMPlayer
There are a few apps that can offer you video playback speed control, but I find KMPlayer to let you control video speed easiest. It allows for a screen float while you access other apps. You can even use the app as a cloud storage application to keep important or favorite videos available across devices. There's a neat mirror mode to play with as well. The music player is pretty cool as well, but it can come off a bit repressed in the package.
7. Kodi
Kodi isn't really a standalone app with video player capabilities. For mobile phones, it is more like a touch-enabled remote you can use to control the TV (which also needs to be installed with Kodi using Amazon Fire Stick or an Android Box, for example). But with channels enabled, Kodi is among the best ways you can access your favorite entertainment. It can also load or bridge you with other apps like Netflix or Showbox and let you watch content online.
There are a whole lot of interesting ways you can use your media player applications, and not just to watch movies. If you use Garageband for your PC to make music, you can use a video tutorial on a float while you edit your music according to what the tutorial says. You can put on a game walkthrough and let it play in a float, or have instructions play over audio as you try the techniques on the game yourself. Media Player apps are the very life of the Android experience. Which ones are you going to try?
Also read: 9 Free Music Download Apps for Android
About Author: Shaira Williams
---
Protect Your Online Privacy With Surfshark
[The VPN that we use here at Tech Arrival]
---