iTunes is one of the largest media player, media library, and Internet radio broadcaster in addition to being a mobile device management application for Apple devices. Generally, the iPhone users use iTunes to play, download, and organize digital multimedia content like music and video, on personal computers running the macOS and Windows. Although the software runs fine on macOS, it sometimes really becomes a nightmare for people using Windows OS.
The users not only face difficulty in installing iTunes but also are annoyed by the deletion of files during sync in addition to the ceaseless freezing and crashing issues with iTunes. Also, the software experience is a bit intrinsic and confusing, making it difficult for users to follow up with.
In such a situation, you may require to rely on something else and when it comes to the alternatives for iTunes, WinX MediaTrans is the one that we feel is the best tool in the market. It comes with a highly intuitive and minimal user-interface and is an effective replacement for iTunes.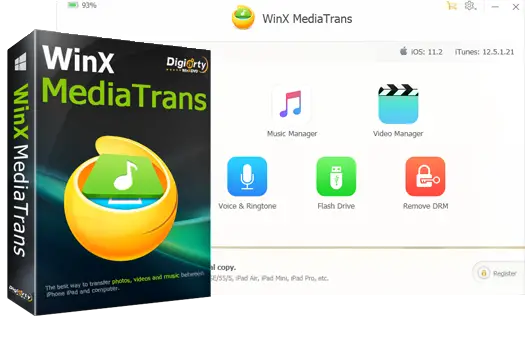 What is WinX MediaTrans?
WinX MediaTrans (developed by Digiarty Software) is an easy and a full-fledged software for managing iOS devices on Windows. It offers ultimate control over your content making it capable of transferring photos, music, videos, eBooks, movies, ringtones, iTunes, and podcasts across Apple devices including iPhones/iPad/iPod, and PC. Furthermore, it also offers saving voice memos on PC and removing DRM restriction from iTunes purchases.
You can also use the software for organizing files including encrypting photos and videos on Apple devices and PC, permanent deletion of photos from iPhone and iPad, editing and creating new music playlists & ringtones, and mounting iPhone as a USB flash drive on PC.
The overall user interface on the WinX MediaTrans feels a lot lighter and modern resulting in a better software experience than Apple iTunes. Let's have a detailed look at some of the key features of this powerful tool below.
User Interface & Design
The User Interface of WinX MediaTrans is very minimal and sober. It looks very basic and to the point when compared to the one on iTunes. Read more comparison between iTunes VS MediaTrans.
It offers an easy and simple navigation system, you can just select the action you want the software to perform through the home screen and you are good to go. All the options are present straight on the home screen page, giving the ease of access to the newbies, which is not the same case with iTunes.
In comparison, iTunes feels a lot more complicated and a mess to work with. In such a case, the WinX MediaTrans is the best iTunes alternative to look upon for hassle-free media management.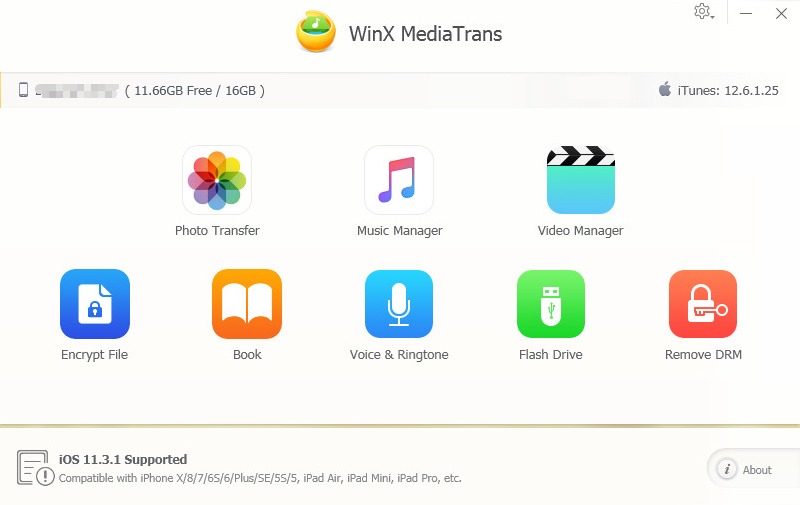 WinX MediaTrans vs Other Software
Before considering this software, you might consider knowing what's exactly different from iTunes and other similar software. The first major benefit of using WinX MediaTrans over other such software is that it allows you to manage iPhone and other iOS devices without the need of installing iTunes or any of its components which is not the same case with others.
---
Protect Your Online Privacy With Surfshark
[The VPN that we use here at Tech Arrival]
---
Also, you don't need an Apple ID to organize your files like iTunes, instead, the software relies on direct two-way USB transfer which is as simple and flawless as copy and paste.
WinX MediaTrans is a bit more stable than the iTunes and runs without freezing and crashing issues. It offers a friendly user interface with one-click installation, hassle-free connection, and uncomplicated synchronization between Windows and iOS device which adds to the overall user comfort.
Last but not the least, working with non-iTunes music is a big nightmare for iTunes users, the software misses out on some of non-iTunes music and videos during sync whereas, on the other hand, WinX MediaTrans has the flexibility of allowing ultimate control over any music, movie, photos and other media files From PC to Apple device and vice versa which is one of the major reasons why you should switch to MediaTrans from iTunes.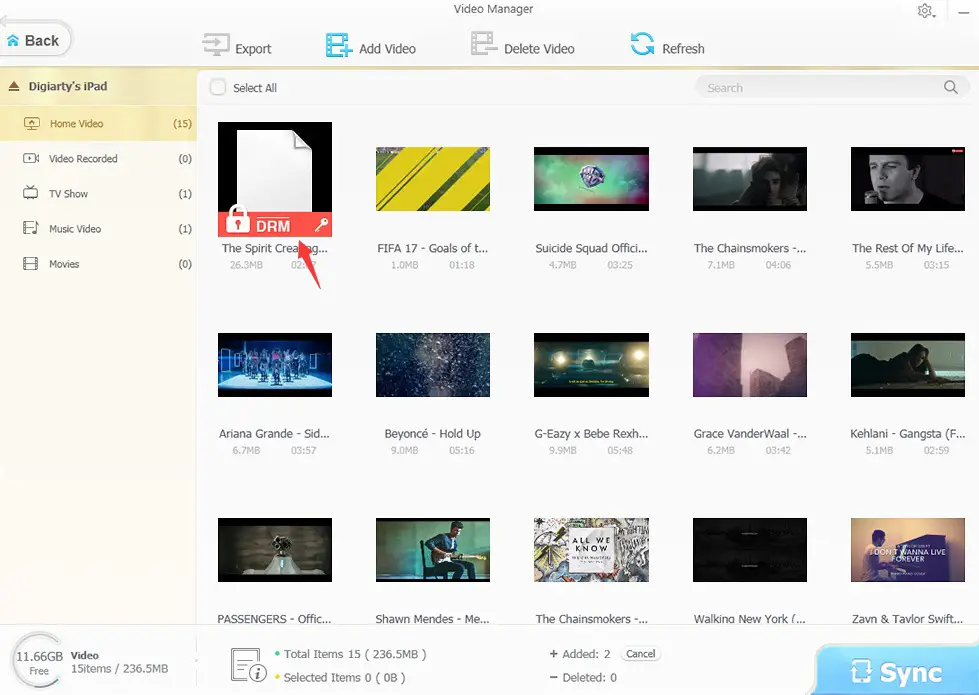 Features
The WinX MediaTrans offers you a number of useful features with its dedicated system control clients which include Photo Transfer, Music Manager, Video Manager, Encrypt File, Books, Voice & Ringtone, Flash Drive, and Remove DRM options. Let us discuss the same in detail.
Organizing Music Files
2 Way Music Transfer
By using this software, you can transfer the music files between your iPhone/iPod/iPad and Windows PC flawlessly. It ensures that you do not face any crashing or hanging issues while sync and is compatible with non-iTunes music as well, rectifying the issues with media detection that many people face while using iTunes on Windows.
Managing and modifying playlists
WinX MediaTrans allows you to play with the playlist as per your convenience. You can either create a new playlist or can modify or delete the existing ones. This not only gives you full control over your choices but also saves your time.
Modify Music Information
This software lets you have granular control over Media files, following the same, you can even edit the Album and Artist information and that too with ease.
Organizing Video Files
Video Conversion
At times, the video files are not compatible with some of our Apple devices like the iPhone and iPad. WinX MediaTrans solves this problem by letting you convert the video files into MP4 formats which are consonant with the iDevices for smooth playback.
Remove DRM
The media files purchased from iTunes contain DRM license which limits the consumption of such files to Apple devices. Using the "Remove DRM" option, you can remove such restrictions, allowing you your iTunes purchases to be available for non- apple devices. This is one of the most useful and unique features of WinX MediaTrans when compared to iTunes.
Also read: 7 Questions to Ask When Choosing the Right PDF DRM Protection Software
Compress and Import 4K Videos
Most of the iPhone users might be aware of the annoyance caused by Low storage warning and to get rid of the same, you can compress your videos up to 50% of their original file size without affecting the quality of the clip.
---
Protect Your Online Privacy With Surfshark
[The VPN that we use here at Tech Arrival]
---
In addition to this, you can also import videos in batches, with the support for working with Ultra HD (4K) content.
Organizing Photos 
The WinX Mediatrans offers one of the fastest photo transfer speeds in this industry, achieving a transfer rate of as high as 100 high quality (4K resolution) pictures in just 8 seconds and that too without the need of iCloud or WiFi, making it one of the best iTunes alternative for Windows in the market.
You can transfer your iPhone pictures to your PC for backup in case you are planning to perform a factory data reset or looking for free space for upgrading to the latest iOS version.
iPhone as a USB Drive?
You might have noticed the USB Drive option in the software. It is used for converting your iPhone and iPad into a USB flash drive, allowing you to transfer all your archives, documents, and other proprietary files from your iPhone to PC or vice versa.
Conclusion
Although the WinX MediaTrans is a paid software, it is also available for a free trial for those who want to test the potential of the software before actually buying it. It also comes with a 30-day money-back guarantee for user convenience.