AVS Video Editor is an industry-leading video editing software that makes it easy to edit videos. It's an affordable solution for any beginner and comes with many features to help you make your videos look professional. AVS Video Editor also includes over 300 effects for adding transitions and other effects to your video footage and support for most video formats.
This review will cover everything about this software, including, what it offers, who can use it, and how much it costs. Read on to learn more!
What is AVS Video Editor?
AVS Video Editor is a video editor, video capture, and video playback software for Windows developed by AVS4YOU. It's been around since 2003. AVS Video Editor is a video editing package that includes everything you need to edit the length, footage, sound, and transitions of videos.
It offers many different effects for your clips, including 300+ types of effects, transitions, and overlays. You can also change individual parts of an image like contrast or saturation levels and add dynamic text captions with AVS Video Editor.
The best part of AVS is that it only takes a few seconds to install and offers tutorials and guides for newbies or more seasoned editors, so you won't get lost in the software. The interface is also easy on the eyes with its dark backgrounds, making videos look professional from start to finish.
Also read: Top 11 Best Video Sharing Sites You Should Use
Hardware Requirements
AVS Video Editor is available only for Windows PC and supports Windows 10, 8.1, 8, 7, XP, 2003, Vista, making it easy to install on any computer.
Minimum System Requirements:
Processor: Dual-core (Intel Core 2 Duo or AMD equivalent)
RAM: 2 GB or higher
Video: Intel HD Graphics, NVIDIA GeForce, AMD Radeon Graphics
Sound: Windows compatible sound card
CD recorder: for importing from CD
DVD recorder: for importing from DVD and creating Video DVD
Video capture device: required for capturing
Windows Media Player: 11 or higher for WMV video playback
DirectX: Microsoft DirectX 9.0c or later
Recommended System Requirements:
Operating system: Windows 10/Windows 8.x/Windows 7
Processor: Quad-core (Intel Core i5 series or AMD equivalent)
RAM: 4 GB or higher
Video: Intel HD Graphics, NVIDIA GeForce recommended for hardware acceleration
Sound: Windows 10/Windows 8.x/Windows 7 compatible sound card
Why You Should Use AVS Video Editor
AVS Video Editor really does make your videos look professional. The interface of AVS Video Editor is straightforward, and it can be installed on a Windows computer with no problem at all, which makes it easy for beginners to start editing videos without having a lot of trouble figuring out how things work. The timeline makes it easy to organize each clip in an order that will not only tell your story but also keep viewers entertained from start to finish.
---
Protect Your Online Privacy With Surfshark
[The VPN that we use here at Tech Arrival]
---
The buttons on the toolbar are very self-explanatory and easy to use, but you can always hover over each button to get a short explanation of what it does. The primary editing features that AVS Video Editor offers are video trimming, cutting out unwanted parts of the movie (trimming), adding effects like titles, transitions, and overlays, plus cropping the video to remove any unwanted parts. The software also offers different templates that make editing easier, like basic color correction or editing a video to look like it came from an old movie.
How to Use the Basic Features of AVS Video Editor
Once you have downloaded the software, install it as instructed. When you first boot up the software on your computer after installing it, You will find a popup for a quick start guide. You can skip this for now, but it's a great place to start at some point. We recommend you watch the videos if you would like an in-depth guide on using the software.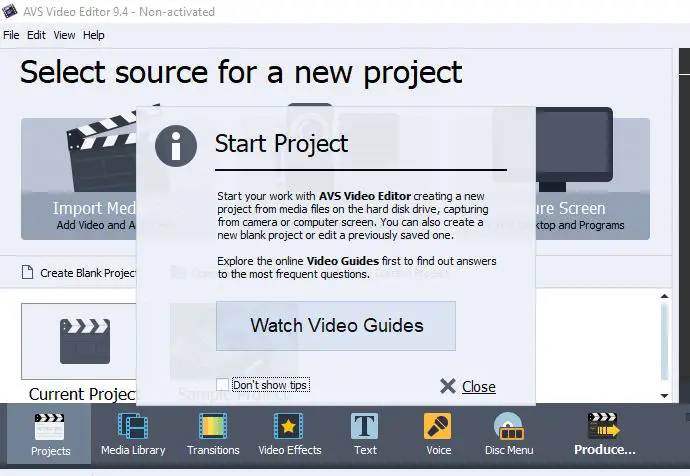 The first thing you'll notice when you open up AVS Video Editor, it has many of the same features as other editing software. You have the option to drag-and-drop files directly onto the program or to import them from other sources like your Desktop or cloud storage. You can also capture media directly from the camera and even capture your desktop screen.
Once the media is loaded on the timeline, you will find several buttons for different functions. This will allow you to trim the clip, enhance it with a filter, add text or music, and more.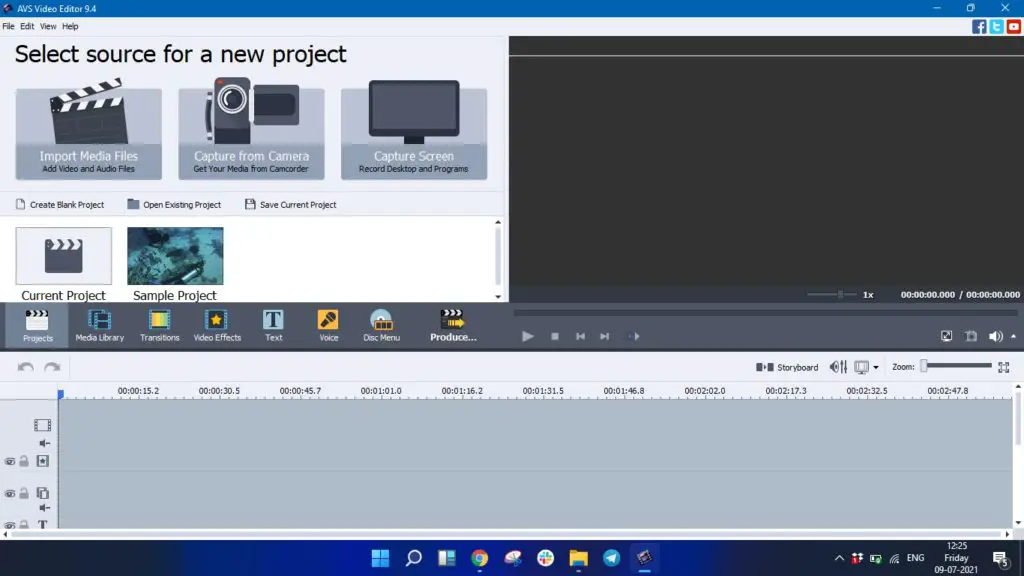 The one thing that sets AVS Video Editor apart from other video editing software is the different effects you can add to your videos. For instance, once you have a clip open in the program, there are tons of preset transitions and visual filters for you to choose from. You can also change the brightness levels or make adjustments with audio.
The most useful features of this program are those you can't find in other video editing software. For example, one thing we love about AVS Video Editor is its ability to make edits that would be impossible with other programs, like adding a watermark and overlays without any lag time or loss in quality.
Another feature we truly appreciate is how it can create a video with animated text and logos. At the end of your project, you can add an intro or outro to give it that professional touch before publishing it on YouTube for all your friends to watch!
Pros:
It has more than 300 video effects, transitions, titles, and overlays to choose from.
Various features make it easy for you to get the perfect results for your videos, like being able to flick through shots in your timeline with a single click.
It has the ability to work in two modes: Basic and Advanced Mode, allowing you to choose based on your skill level.
The video speed control makes it easy for you to change the pace of your videos while keeping them at their original quality.
Cons:
The software is only available on Windows.
AVS Video Editor has a steep learning curve.
Pricing & Download Info
To get the AVS Video Editor, you have to buy the AVS4YOU Multimedia Suite for Windows, which comes with 5 professional software along with the AVS Video Editor; you also get free upgrades and lifetime support.
1-year access to 5 AVS4YOU programs will cost you $39
Unlimited access to 5 AVS4YOU programs will cost you $59
Downloading the program is also very straightforward. Visit the download section on the official website and hit the big blue download button. This will download the AVS4YOU software in 1 installation package.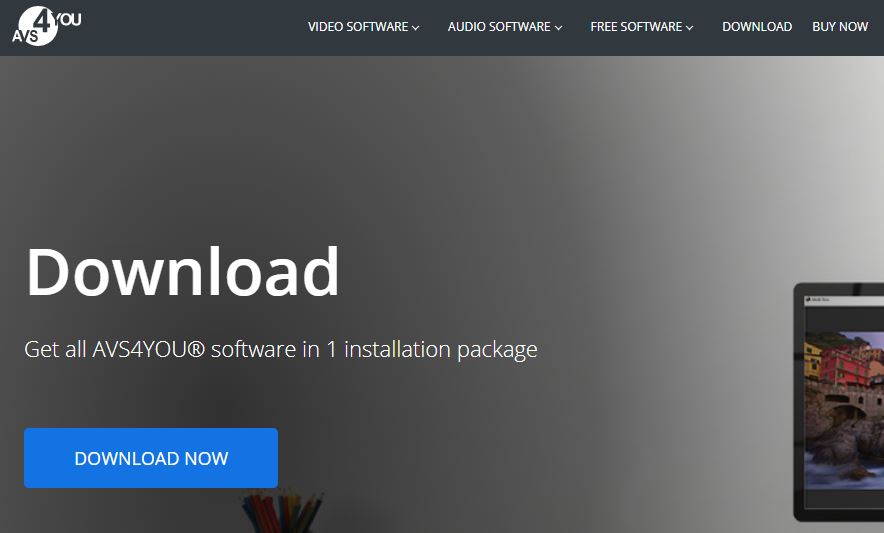 However, if you just want to download the AVS Video Editor, scroll down, look for the AVS Video Editor section, and hit the download button.
Also read: 19 Ways to Watch Videos with Friends Online
---
Protect Your Online Privacy With Surfshark
[The VPN that we use here at Tech Arrival]
---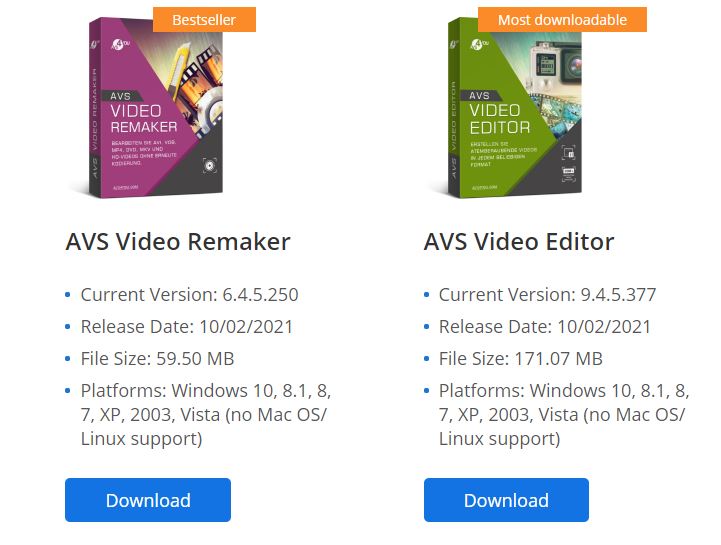 Final Verdict
AVS Video Editor is a great option for anyone looking to spice up their videos. It's easy to use and affordable, making it the perfect choice for amateurs who want to look like professionals. If you're not sure which package would be best for your needs, take advantage of their free trial, so you can see how it works before jumping on board!
You can try all of these features risk-free with a 30-day money-back guarantee if you don't love it after using it for one month! With these features, as well as how affordable this software package really is, there's no reason why you shouldn't get started right away! If you are still on the fence about trying this program out, now might be your chance!