Sole traders and businesses mainly use Accounting Software to keep track of their finances and perform other accounting-related tasks.
If you also belong to the same category, you have come to the right place. We bring you the top accounting software choices for macOS & Windows. These tools are shortlisted based on parameters like flexibility, pricing, performance, security, etc.
Also read: How to Keep Accounting Records for Small Business
List of Best Accounting Software for Mac & Windows
1. Zoho Books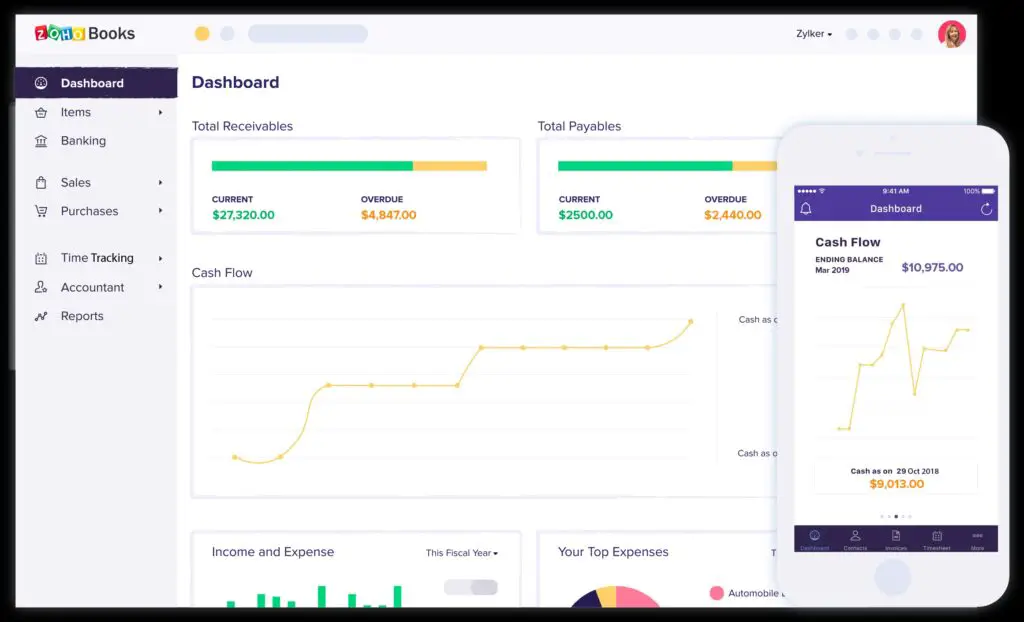 Zoho Books comes with a robust feature set that is specifically designed for Mac & Windows users. It also includes an iOS and Android mobile app that allows you to take care of your accounting tasks on the go. This tool can be integrated with Apple technologies such as Apple Maps, iMessage, 3D Touch, and Siri. Not only that, but it also has an app for Apple Watch.
It is a user-friendly software that allows you to manage expenses, view reports, track time, share numbers, and create and send invoices. It is best suited for beginners, small businesses, and freelancers in all industries.
It is also suitable for Wave users in the UK as it offers the option to import accounts from Wave. You can use this software for tax filing. Additionally, it includes time tracking for contractors, employees, and yourself.
Zoho Books pricing starts at $9 per month for two users and 50 contacts. Or you could choose the $29 per month plan that includes 10 users, unlimited contacts, and additional features.
2. QuickBooks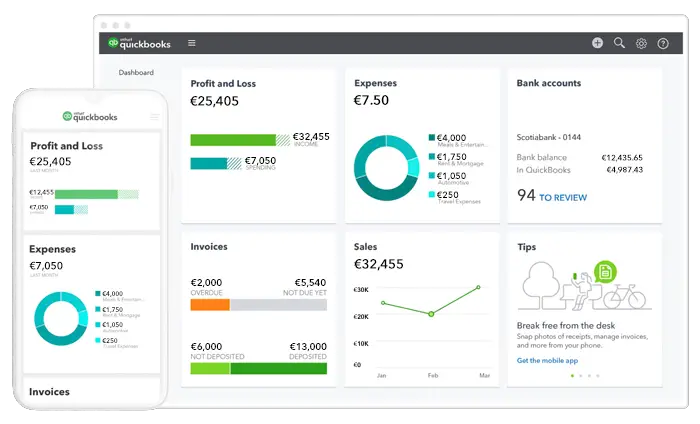 QuickBooks is feature-rich financial software that is ideal for small business owners. Its complete transaction, invoice, reconciliation, and workflow features offer unparalleled service.
With this software, you can organize your accounting data on the cloud. By doing so, you can easily create and send invoices, track sales, and analyze the position of your business. It is user-friendly software with a modern and clean interface. It doesn't require you to be an accounting expert to use this software.
It allows you to connect your bank account and automatically import and categorize transactions. Not just that, but you can also sync it with other popular apps. It has powerful invoicing features, including payment reminders, invoice tracking, and more.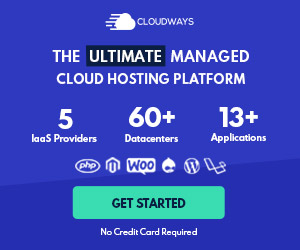 It allows you to manage your expenses and access several reports in one place. If you have Mac/Windows computers in the office and want to take advantage of the best financial software, then QuickBooks could be your best choice.
It is budget-friendly software that offers its services at minimal rates. It has a free trial period, after which the software costs $99 per month.
3. FreshBooks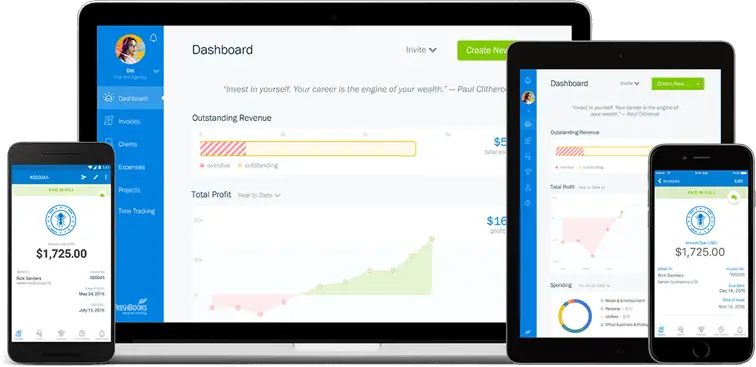 FreshBooks is incredible software that can be used to meet all your financial requirements. This cloud-based software is designed for startups, freelancers, and enterprises. It has an array of features that enables you to complete a wide range of tasks.
With the help of this award-winning software, you can manage your budget, create invoices, and track expenses. Other notable features are time tracking, estimates, and online payments.
It comes with an intuitive interface, so non-accountants can also use it. The budgeting feature comes in handy when monitoring the budget of a project. Apart from that, you can also create and customize proposals for clients.
It can be integrated with multiple payment gateways like Stripe and PayPal. It offers three pricing plans, so you can select one based on your business needs.
The lowest plan starts at $15/month, while the most expensive one is $50/month. Last but not least, FreshBooks helps you generate financial reports and track your balance sheet in real time.
4. Xero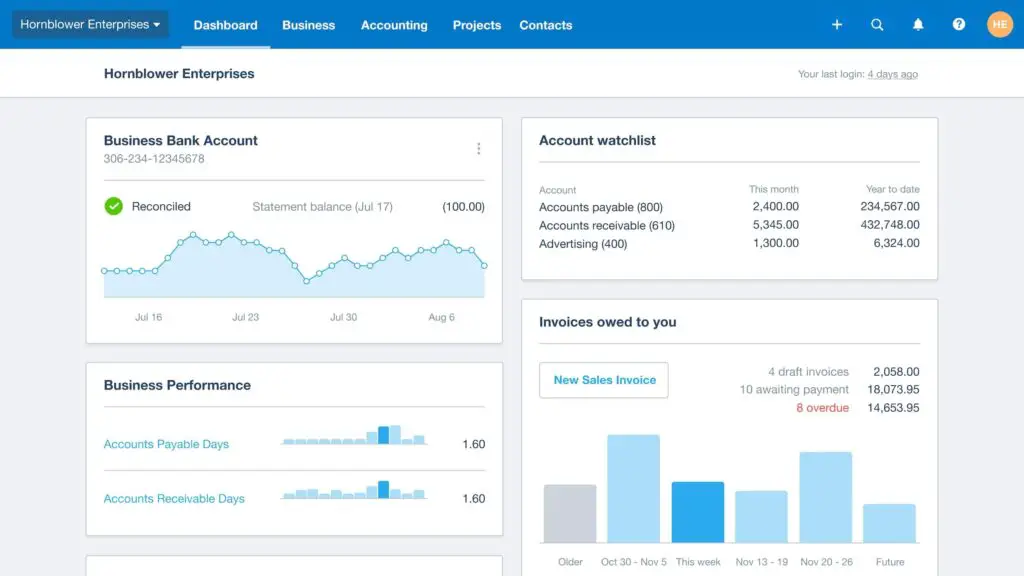 Xero is ideal accounting software for large enterprises and SMEs. It is designed to take care of all your accounting and finance needs. Users who like to maintain their accounts can also reap the benefits of this software.
Xero includes many automated features, such as sending invoice reminders, importing receipts and bank transactions, and more. With features like bill payment, project tracking, and bank reconciliation, you can manage your business funds better.
The project tracker feature consists of tools that will help you to prepare quotes and budgets for clients. Not just that, but you can also keep track of profitability and costs incurred for each project.
This software can also be used for sending contracts, online filing, and sharing documents, receipts, or bills. Best of all, it can be integrated with 800+ applications. Some of the integration options include PayPal, Evernote, Expensify, Squarespace, and others.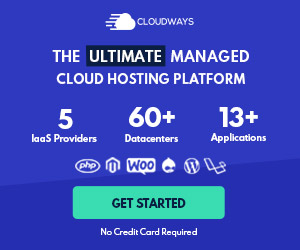 Xero offers three pricing plans: Early Plan, Growing Plan, and Established Plan. Each plan is priced differently based on the features offered. The Early Plan is the most affordable of the three plans.
5. FreeAgent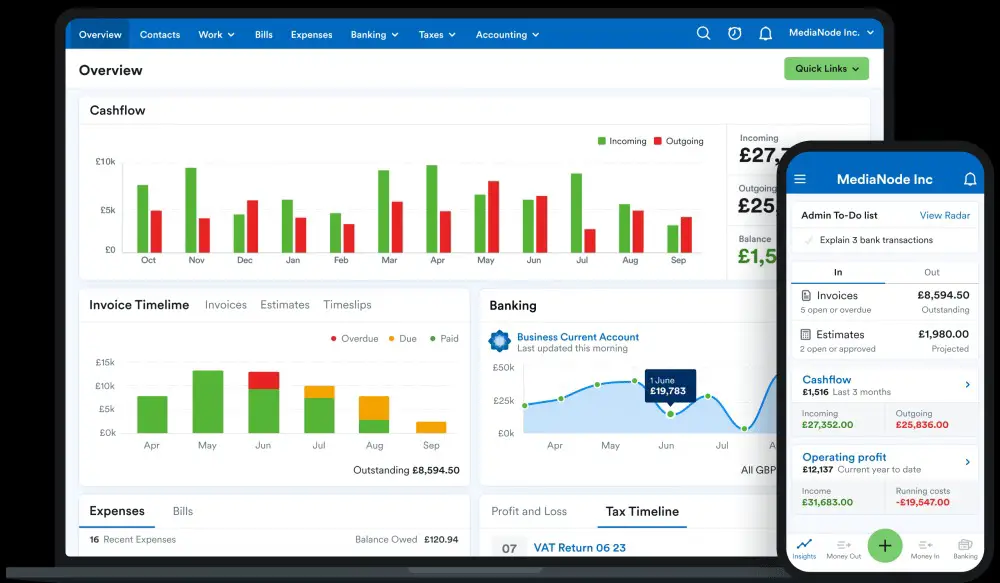 FreeAgent is an online accounting tool that brings expense management, budgeting, invoicing, sales tax reports, and project management together.
Although this software is targeted at freelancers, it can also be used by small businesses. It brings all the accounting features to one place. It helps you to see the bigger picture and plan your finances accordingly.
It allows you to create online estimates within minutes. Not just that, but the estimates can be created in multiple languages and currencies. The auto-notification feature informs you whenever your clients reject or accept your quotes.
With FreeAgent, you can customize your budget proposals. It includes various options such as templates, themes, logos, colors, etc. The good thing about this software is that it can be integrated with several other apps like Stripe, PayPal, and others.
As far as the pricing is concerned, FreeAgent is one of the most affordable options. It starts at $10/month for the first six months, and then the price increases to $20/month.
6. Sage 50cloud
Sage 50cloud is the perfect combination of desktop and cloud-based software. It comes with a range of management and accounting features that can help reduce admin work.
You can connect your bank account to see your income and expenses. This will give you an idea of the amount you can spare for your business. This feature comes in handy when you have company funds to manage.
Two other features that are worth mentioning are invoicing and cash flow. It allows you to check your account balance to keep you updated on your financial position. Additionally, you can get a more granular view of your finances by customizing the filters.
The advantage of using Sage 50cloud is that it can be used with your existing software ecosystem. You can also integrate it with other apps such as Skype, Excel, etc.
Like most other finance software, Sage 50cloud also has three subscription plans. Compared to other software, it is slightly more expensive. The starting plan is $50.58/month, and the most expensive is $197.55/month.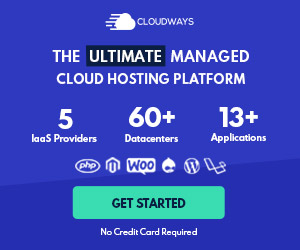 7. Vena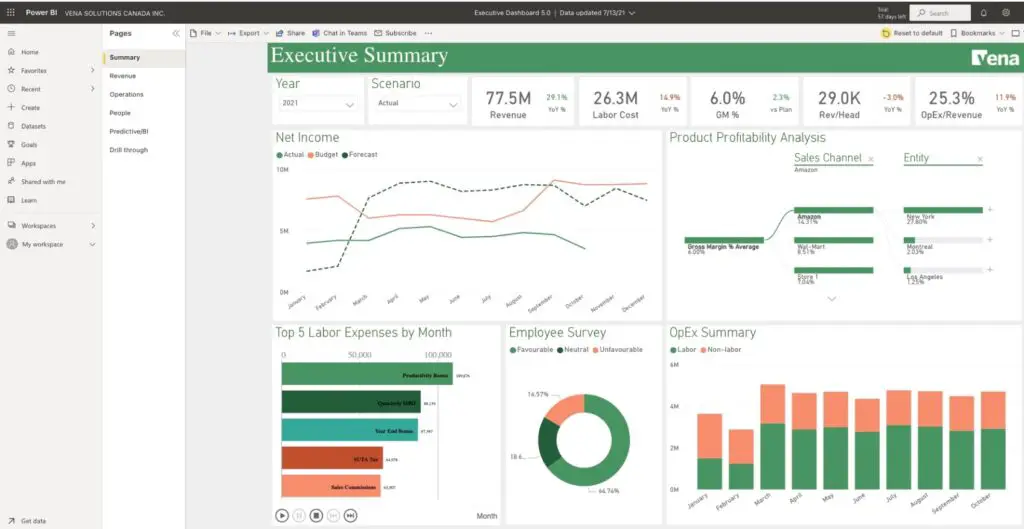 Vena is a budgeting and planning platform based on the Vena Growth Engine. If your accounting team is accustomed to working with Excel, then Vena would make an excellent choice for your company.
It is a native Excel planning tool with OLAP cube technology and an Excel interface. This ensures complete security for your data. It allows you to work with Excel and automate the workflow to make it less tedious for everyone.
Vena is packed with excellent automation features that help simplify the processes. You can also create customized workflows as per your business requirements. This tool ensures that your budget plans always align with the company's financial goals.
Talking about integrations, Vena works seamlessly with CRMs, ERPs, and other apps such as MS Office, Salesforce, etc. As far as the pricing is concerned, it offers quote-based plans. You will have to contact the team to get the pricing details.
Accounting software is a powerful tool that can free your mind of accounting-related worries. It doesn't matter what the size of your business is; every company can enjoy the benefits of efficient accounting software. It helps you manage your business finances and lets you know you are doing financially.
Also read: 13 Best Invoice Apps For iPhone & iPad
Frequently Asked Questions (FAQs)
Why do we need accounting software?
Accounting software is an essential tool for businesses. It helps you to manage billing, invoicing, inventory management, tax calculations, and more. It can also be used to manage clients and generate insightful reports to help your business grow continuously.
What is the best accounting software for inventory management?
The best accounting software for inventory management would be Zoho Books, as it has features like inventory tracking, purchase orders, and sales orders.
Is Xero worth it?
Xero is one of the best cloud-based accounting software. It offers a range of features, including bank reconciliation, expense tracking, and invoicing.
Is there user-friendly accounting software?
If you want user-friendly accounting software, try FreshBooks. It has a simple interface and is easy to navigate.
What is the best accounting software for small businesses?
QuickBooks is probably the best accounting software option for small to medium-sized businesses.
---
Protect Your Online Privacy With Surfshark
[The VPN that we use here at Tech Arrival]
---
What are the benefits of using accounting software?
Accounting software is an essential tool for businesses as well as individuals. It helps you to manage and keep track of your finances.
How to choose reliable accounting software for Mac?
Choose accounting software that has the features you need and is optimized for the Mac platform. Besides that, you should also consider your budget.
Can accounting software generate financial reports?
One of the main tasks of accounting software is to generate financial reports, including loss statements and balance sheets. It helps businesses to make informed decisions.
What is the best cloud-based accounting software?
Xero is one of the best cloud-based accounting software.