Android is very customizable, hence is one of the main reasons it is so popular among users. Android phones come with an inbuilt launcher. This is what allows you to navigate through your phone and open apps. But there exist other third-party launchers as well. Some of these launchers may be better than the default launcher on your phone.
Also read: Best Travel Apps for Android & iPhone
List of Best Android Launchers
1. Microsoft Launcher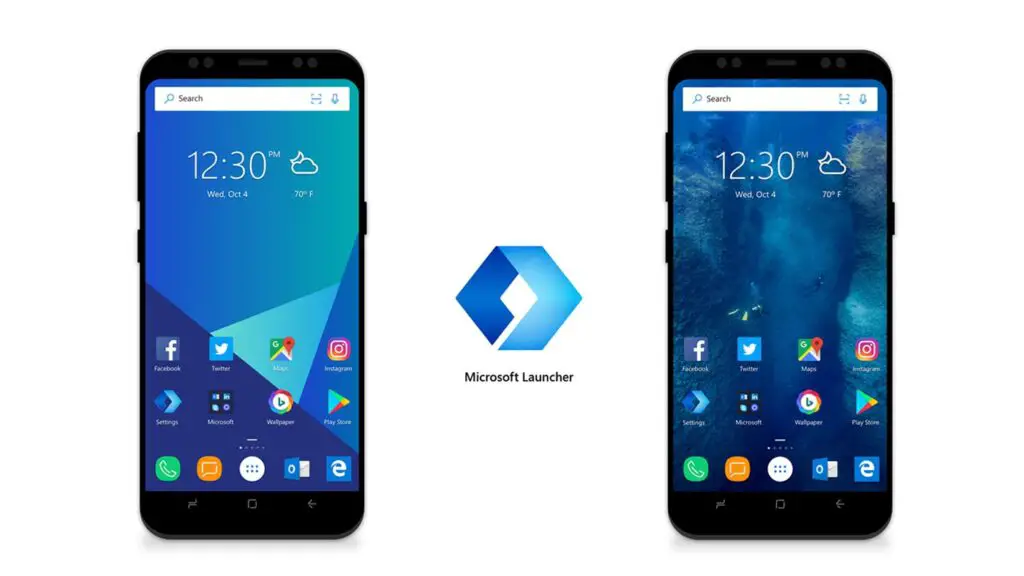 When it comes to Android launchers, Microsoft Launcher is the best you can get. It is also one of the fastest launchers you will ever use. It features a clean and elegant interface with dozens of customizations.
You can update new wallpapers every day. One of the impressive things is the well-decorated home screen, which resembles Google Cards.
However, the best thing about this launcher is that it gets synced with the entire Microsoft account. This helps you view your search results, personalized feed, and more.
2. Nova Launcher
Nova Launcher is one of the best third-party launchers available in the Play Store. It comes with an array of customization options that stand out from other launchers.
To start with, it is fast, lightweight, and efficient. It also includes notification badges for convenience. Apart from that, it also displays the apps that are frequently used. Other notable features include gestures and icon customizations.
It also supports shortcuts for apps and allows you to edit icon labels. If needed, you can get rid of labels completely. Although the app is free to download, you will need to get the premium version to access the best features.
3. POCO Launcher 2.0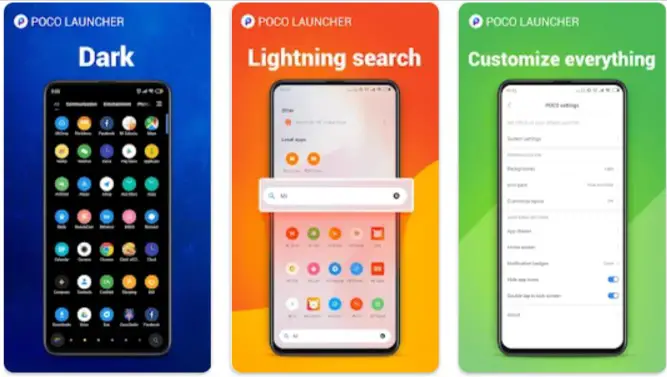 If you want a free launcher, you should check out POCO Launcher 2.0. It is very popular among the Android community because of obvious reasons. It is not only fast but also very easy to use. If you use a POCO handset from Xiaomi, you will get it pre-installed on your phone.
An interesting feature about this launcher is that it allows you to group apps based on color and category. This makes it easier to search the apps. Other than that, you can also use the option to hide app icons when needed.
---
Protect Your Online Privacy With Surfshark
[The VPN that we use here at Tech Arrival]
---
The only drawback is that it lacks a Google feed on the home screen.
4. Smart Launcher 6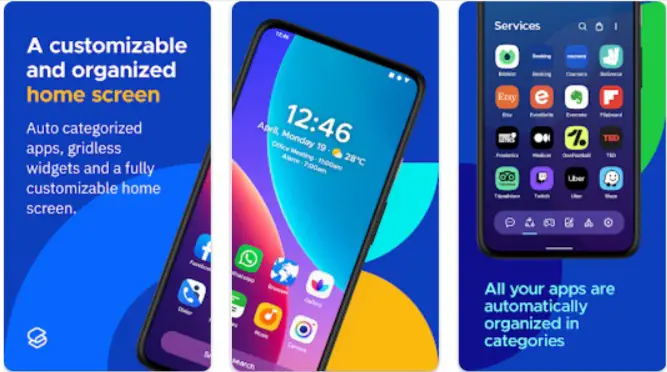 Smart Launcher 6 is designed to keep the needs of users in mind. It extends and improves the features of your device to give you a whole new home screen.
It automatically sorts your apps into categories, so you can find them easily when needed. It comes with a powerful search engine that helps you search for whatever you need with just a few taps. It matches your wallpaper colors every time you change it. To sum it up, it makes everyday tasks faster and easier to perform.
5. Apex Launcher
Apex Launcher is popular because of its amazing visuals. It offers thousands of icon packs and themes, so you can make your home screen look more aesthetic.
It comes with many customization features that will help you personalize your home screen to match your style. The good thing is that you can use this launcher on tablets and smartphones.
It allows you to add up to 9 home screens, which can be customized as per your requirement. You can also hide apps in the app drawer if needed. You should get the pro version to get the most out of this launcher.
6. Action Launcher: Pixel Edition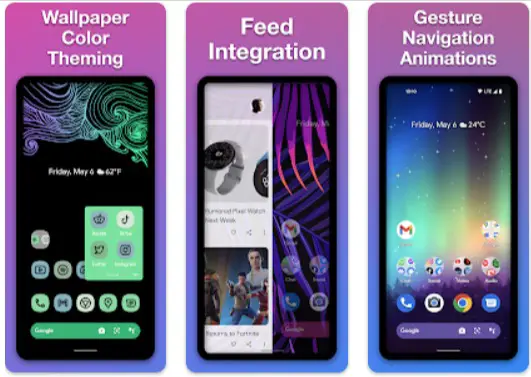 With Action Launcher, you can customize your home screen, change its color, and more. With just a few taps, you can make your home screen stand out.
It has a fully customizable dock search box that gives you complete control over color. You can personalize the search box and icons as per your liking. With the glance widget, you can quickly check the date, weather, and more.
It also allows you to add shortcuts for quick and easy access. That's not all; it has Google Discover integrated into it. It can automatically resize the icons to match Material Design's icon size. Last but not least, you can use it both on Android phones and tablets.
7. Apex Launcher Pro
Apex Launcher Pro is a powerful launcher using which you can create a stylish and customized home screen for a better experience.
It is packed with features, and each of them helps make your home screen shine. Drawer customizations allow you to sort apps or folders in the drawer. It offers convenient icon gestures, including two-finger gestures.
---
Protect Your Online Privacy With Surfshark
[The VPN that we use here at Tech Arrival]
---
Other features include advanced widgets, transition effects, and folder support. You can unlock more features by opting for the premium version. 
8. Niagara Launcher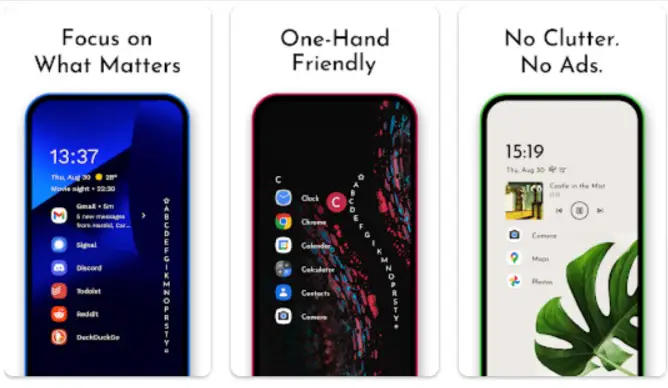 If you like to keep things minimal, Niagara Launcher is for you. It comes with a fast and clean user interface and loads of features. It has a feature that allows you to drag the screen at the right edge and search apps using their first letter.
What feels great about Niagara are the customization options. It includes basic options like changing icon shapes, icon packs, font, and sizes. It also offers a dark theme to make your phone's interface look stylish.
Niagara Launcher aims to reduce clutter and keep your interface clean. This is probably why it doesn't include any sponsored ads or bloatware. The good thing about this launcher is that it can work on low-end devices. To unlock all its features, you will have to purchase the premium version.
9. Hyperion Launcher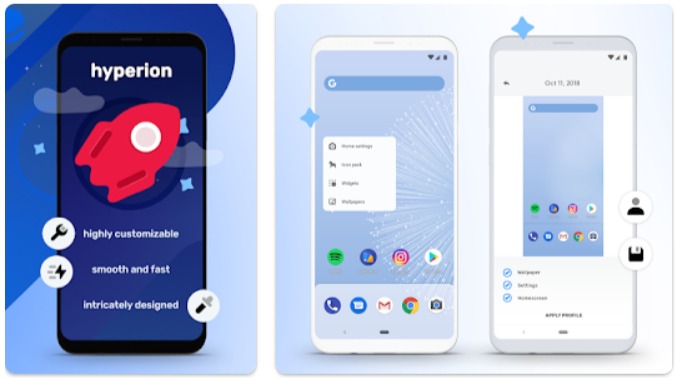 If you want a perfect balance of customization and a clean interface, Hyperion Launcher is for you. It offers dozens of exciting customization features. Starting from interface to theme, it allows you to customize everything.
Hyperion Launcher is trusted by more than 1 million people. With this app, you can customize your home screen as per your liking and preference. You can take advantage of all these features for free.
10. AIO Launcher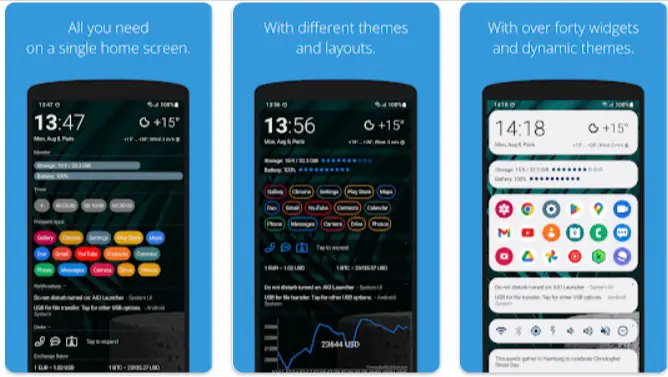 AIO Launcher is different from other Android launchers on the list. Instead of a home screen, it offers a single screen with an information layout. You will find different categories covering everything like apps, mailbox, notifications, etc.
To access the apps, you just need to swipe forward or backward. With just a single button tap, you can open the apps you want. You will also find a search button at the bottom left, used to search contacts, apps, and information on the web.
If you long-press the search button, it will take your settings. Swipe it, and you will be shown the quick launch menu. With the premium version, you can unlock themes, widgets, custom fonts, icon packs, and more.
If you are unsatisfied with your current default launcher, you can replace it with any of the mentioned third-party launchers. These launchers are loaded with features and can help you entirely transform your home screen.
Also read: Best Android Apps Not on Google Play Store
---
Protect Your Online Privacy With Surfshark
[The VPN that we use here at Tech Arrival]
---
Frequently Asked Questions (FAQs)
What are Android launchers?
Android launchers are apps that help you to customize your phone's home screen. Some of them also act as personal assistants.
Should You Use a Third-Party Launcher?
Usually, the inbuilt launcher in your phone comes with basic features. To get more features and customizations, third-party launchers are the best. With the best Android launchers, you can give your phone a total makeover. It can help you change the feel and look of the icons, colors, themes, etc.
What is a Default Launcher?
The default launcher is the one that comes pre-installed on your Android phone.
What are the Best Android Launchers?
The best Android launchers you can use are Nova Launcher, Niagara Launcher, Microsoft Launcher, and Apex Launcher Pro. Some of these launchers have a paid version, giving you access to more features.
Is Microsoft Launcher Free?
Yes, Microsoft Launcher is completely free to use. It doesn't have a paid or premium version.
What is the Fastest Android Launcher?
Microsoft Launcher, POCO Launcher 2.0, and Nova Launcher are some of the fastest and most reliable Android launchers.
What is the advantage of using Action Launcher: Pixel Edition?
Action Launcher allows you to change the background width, color, tint effect, etc. It also offers multiple dock separator styles and supports app shortcuts.
Do Launchers Make Android Faster?
With the help of a custom launcher, you can boost the overall snappiness and functionality of your Android device.
Are There Any Free Android Launchers?
Microsoft Launcher and POCO Launcher 2.0 are both free. Unlike other launchers, they don't have a paid version.