The iPhone 13 Mini is the new, smaller phone from Apple, which has a 5.4″ display. Everything is the same as other expensive models in the iPhone 13 Series except for the display, battery, and cameras.
If you're looking for a clear case for your iPhone 13 mini, you've come to the right place. In this post, we look at some of the best options available for your iPhone.
There is no shortage of options when it comes to iPhone cases. While each offers some level of protection, it's essential to know what the case does and doesn't offer.
We'll go over which case you should get and why, as well as other factors to consider when purchasing your next clear case for your new phone.
Also read: 37 Best iPhone Widgets You Should Use
List of Best Clear Cases for iPhone 13 Mini
1. Apple Official Clear Case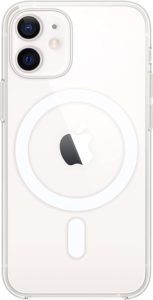 This Apple-designed clear case with MagSafe is designed to protect your iPhone 13 mini while still showcasing its beautiful finish and providing easy access to all its features. It is made with a blend of transparent polycarbonate and flexible materials, which means it won't interfere with the colors of your iPhone.
It also has a scratch-resistant coating on interior and exterior surfaces for easy grip. The design is elegant and straightforward, and it doesn't add too much bulk to your iPhone. The case fits right over the buttons for easy use, and the magnets align perfectly with the iPhone 13 Mini MagSafe connector.
If you want to use wireless charging, just set this case on your iPhone 13 Mini, and it will charge as soon as you put it down. It's compatible with Qi-Certified chargers. The case has anti-yellowing agents to prevent it from turning yellow. This case has been through thousands of hours of testing and is guaranteed to survive all the usual drops and scratches on your phone.
Pros
Slim and Lightweight
Anti-Yellow Agent
Supports Wireless Charging
2. ESR Hybrid Case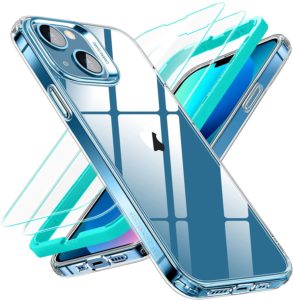 The ESR hybrid case is an excellent option if you want a sturdy, impact-resistant case that offers additional protection. It has a rigid, reinforced back and corners that protect your phone from drops and scratches. The raised edges around the screen also protect against scratches, so you don't have to worry about scratching your screen. The reinforced drop protection makes the case sturdy enough to withstand drops of up to 6 feet without damage.
It also has a shockproof bumper that adds extra protection to the front and sides of the device. The corners are also air-guarded, which keeps your phone safe from accidents. The screen protector that comes with it is also excellent, with scratch-resistant, tempered-glass protection and a hard-to-remove adhesive layer. In addition to that, it has an anti-yellowing agent that prevents yellowing and fading of the glass.
---
Protect Your Online Privacy With Surfshark
[The VPN that we use here at Tech Arrival]
---
This ensures crystal clarity and longer-lasting displays for your device. The case is compatible with wireless charging, so you can use your Qi wireless charger while using the ESR Hybrid Case. ESR Hybrid Case is one of the best protective cases. It is recommendable to anyone who wants to be extra careful with their device.
Pros
Hybrid Case
Gives your phone a good grip
Comes with a screen protector
Cons
Might turn yellow over time
3. Spigen Ultra Hybrid Case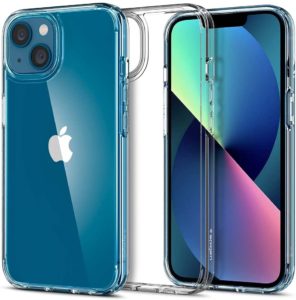 Spigen has been around for many years now, and they're one of the most popular manufacturers when it comes to cases for iPhones. The hybrid technology, in this case, makes it solid and durable. It is designed with a tough TPU bumper and polycarbonate back. These two features make them highly durable.
Spigen's cases come with military-grade certification, too, which means they're resistant to any damage that might come from accidental drops and shocks. There's no need to worry about your iPhone's back getting scratched or damaged when using these cases. The raised bezels will prevent any damage to your screen, even if you accidentally drop it on a hard surface.
One of the best things about this product is the built-in magnetic ring fully compatible with the MagSafe charger, which allows you to charge the device wirelessly. We are sure it'll make you feel safe when you carry your iPhone around. If you like to take your iPhone for a spin, this Spigen hybrid case is perfect.
Pros
Hybrid technology
Raised bezels
Perfect Cutouts
4. CYRILL Cecile Clear Case
This is a pretty good case for your iPhone. It's pretty cheap, but the case is so well-built that it feels like you're getting a much pricier case. It's really thin and light. Not only that, but it also has an air cushion, which will protect the screen from bumps and scratches. It has a lovely White daisy and flower garden design, perfectly suitable for Women.
And the inner shell is made of rigid, hard plastic that provides extra protection against damage. It does keep the color of the phone bright, and you can see it through the clear case. It's a great choice if you're looking for a cute case for your iPhone.
The bumpers and camera lens ring are also made of a flexible material that lifts your camera lens off flat surfaces to prevent scratches. We love the case because it is easy to take out and put back in. This case is perfect for everyday use, as it's slim and lightweight. If you want something easy to use but still durable, this is an excellent product.
Pros
Has a Flexible Design
Scratch Resistant Coating
Will Not Interfere With Colors
Cons
May not be suitable for men.
5. Raptic Clear Case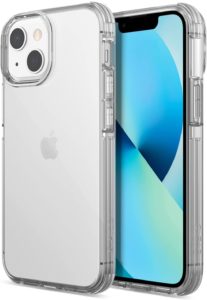 For those looking for an iPhone case that provides ultimate protection against damage, Raptic's iPhone 13 Mini Clear Case with Triple Layer Protection is a perfect fit. It's very slim and lightweight and has a raised bezel that protects your screen from drops. For those looking for an iPhone case that provides ultimate protection against damage, Raptic's iPhone 13 Mini Clear Case with Triple Layer Protection is a perfect fit. 
This case is made to be lightweight and easy to pocket, so you can easily carry it around without feeling like you are carrying a bulky case. It has two layers of rubber casing, which act as a shock-absorber, and it provides additional protection for your iPhone.
The polycarbonate material is highly durable and offers excellent protection against scratches. It is extremely easy to use and provides excellent grip, making it easy to hold your iPhone and operate the buttons. It's also effortless to clean, which is a bonus. This case is compatible with Qi-Certified wireless chargers.
Pros
Clear Case
Protective
Support Wireless Charging
Cons
May turn yellow over time
6. JETech Clear Case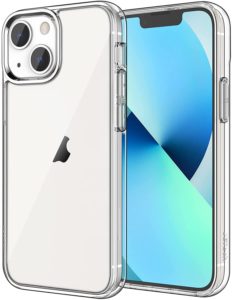 JETech is known for creating quality smartphones cases with a lot of style. It's made with a special TPU material that allows for a better grip on the phone and provides a more flexible feel. It's a very affordable and compact case that can protect your phone from scratches, drops, and shocks.
---
Protect Your Online Privacy With Surfshark
[The VPN that we use here at Tech Arrival]
---
The case has been designed to provide an amazing combination of protection and usability. The case itself feels very sturdy, and it will protect your device from scratches and drops. It also has a unique shock-absorbing design that helps prevent any damage to your device from accidental impacts.
The raised bezels on the sides offer some extra protection to the screen and camera, while a clean back look ensures no watermarks are visible on the back of your phone. This case can be used with wireless charging, so you don't have to worry about cables and plugs. It's easy to remove the case and use your device just like you normally would, so there is no added bulk or weight.
Pros
Shockproof Bumper Cover
Anti-Scratch
Raised bezels
Cons
Might show fingerprint and smudges on the back
7. Caseology Skyfall Clear Case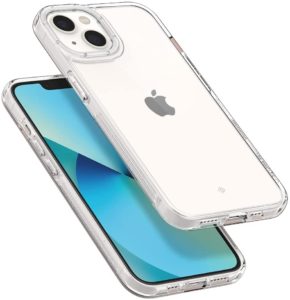 Caseology has created a solid clear case for your iPhone 13 mini. Not only does it look really classy, but it also feels great in the hand and adds some much-needed protection to your phone. This case is perfect for anyone who wants a premium case at an affordable price. Not only is it durable and well-built, but it's also very aesthetically pleasing. 
This case is unique and comes with a nice glossy finish. It's made out of thick and durable material. The outer layer of the case is made of TPU, which is known for its great durability. There is a slight rubberized feel to it, but it's still pretty smooth. It doesn't feel like a cheap plastic case.
This case is quite unique. It has a built-in grip, making it easy to hold and remove from your iPhone. Moreover, the raised lip around the camera and the bumper that matches it are a great addition to the overall design. This case is easy to install and remove. If you already have a screen protector on your iPhone, it's compatible with the case as well.
Pros
Certified with military grade protection,
Wireless charging compatible
Amazing Grip
Cons
Does not match the Pacific Blue Variant iPhone
8. MoKo Crystal Clear Case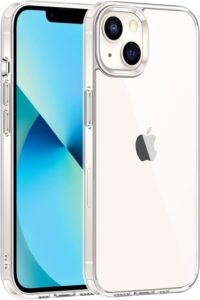 The Moko crystal clear case for iPhone 13 mini is a well-designed and attractive case. This is a beautiful iPhone case that will definitely suit your needs. The case is very thin, but it still feels sturdy and durable. The case has an anti-yellowing agent, which makes the phone's color stay vibrant and beautiful for years.
The case also has a cushioning effect on your iPhone. The Moko Crystal  Clear Case is the perfect choice for you if you want a slim, lightweight, and non-slip case. It has easy access to all buttons, and charging port. It also works with the wireless charging feature.
It's so easy to use and clean. You can use it on your iPhone 13 Mini without worrying about getting dirty or scratches on the glass. The case also protects your iPhone from bumps and shocks. We love the fact that it has soft edges of the case that offer extra protection to your iPhone from scratches and shocks. It's also very convenient to use because of its slim profile and Grippy texture.
Pros
Slim, Lightweight, and Non-slip case
Soft Edges
Anti-yellowing agent
9. Ringke Glitter Clear Case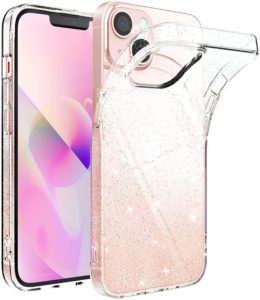 The Ringke Glitter Clear Case for iPhone 13 Mini is definitely worth checking out if you're looking for a transparent case with a unique style. It has a unique glitter style all around the back of the device. It's very versatile, and it's perfect for both men and women. If you don't like the glitter style then you can also choose a complete transparent option; it also comes with a black version. 
The Glitter Case is designed to be super lightweight, so it doesn't add any bulk to your phone. It's made from soft TPU material, which is great for shock absorption. This means that you won't have to worry about accidentally dropping it, and you can easily fit it in your pocket without worrying about it getting damaged.
The cutouts are very neat, and the buttons are tactile. It's also super easy to apply. It only takes a few seconds, and it's ready to go. The case is compatible with wireless charging, which is perfect for those who want to charge their iPhone on the go. It also supports Qi wireless charging.
---
Protect Your Online Privacy With Surfshark
[The VPN that we use here at Tech Arrival]
---
Pros
Glitter Design Looks Stylish
Lightweight
Supports Wireless Charging
Cons
May Turn Yellow Over Time
10. TORRAS Crystal Clear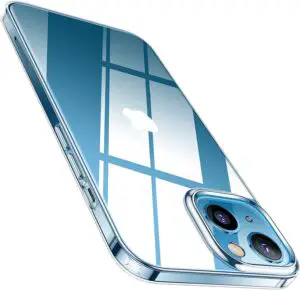 The TORRAS Crystal Clear iPhone 13 Mini case is lightweight and durable, not to mention stylish. Since lightweight and doesn't add any extra bulk or weight to your phone, so it's perfect for people who want to keep their phones with them at all times. Because it's crystal clear, you'll be able to showcase the color of your iPhone. Additionally, it features a microdot pattern that will prevent smudges and bubbles.
It's also very durable; the patented X-SHOCK protection absorbs shock and impacts of up to 50.6 Mpa and provides Military-grade protection. If you place the phone on a flat surface, the 1.3mm raised edges will keep the screen and camera from getting scratched. They also provide a better grip, making it easier to hold.
The case has anti-shatter technology, which means that your iPhone won't break or get damaged due to drops. Plus, it looks cool, so you can always have your phone with you and show off your style. With its anti-microbial protection and exclusive blue-molecule tech, the case helps keep your phone as clear and clean as the first day it was purchased.
Pros
Lightweight
Easy to Grip
Stylish
Final Words
These are the 10 best clear cases for Apple iPhone 13 mini that can protect your phone from scratches and dents and make your phone look fashionable.
There are a lot of cases for the Apple iPhone 13 mini that are worth considering. It is essential to consider the factors that matter to you and decide which ones will be the best fit.
Each case has its features; some of them include: – Customizable color options – Anti-slip surface – Anti-scratch coating – Slip-free design – Lightweight.
There are a lot of cases that are available online, but it is always a good idea to go for a reputable company and check customer reviews and photos of the case.
Also read: 16 Best iPhone Music Player Apps
If you have any more questions about these cases, please share your thoughts in the comment section below.