Fast internet makes it super easy for us to download and update apps, photos, music, documents, and a lot of other files from the internet or other sources. However, often at times, we end up accumulating a lot of files that are duplicates. Whether it be photos that someone shared with you twice or app updates that failed and you installed them again only to realize there are now two copies of the same apps, we all have been there.
This is why it is super essential to clear that hogged-up disk space of your computer and only keep the originals intact. In this post, we bring you the best Duplicate File Finder and Remover applications for your Windows computer that will not only help you remove duplicate files but also improve the performance of your system as well.
Also read: 9 Best Video Players for Windows 10
List of Best Duplicate File Finder for Windows
1. dupeGuru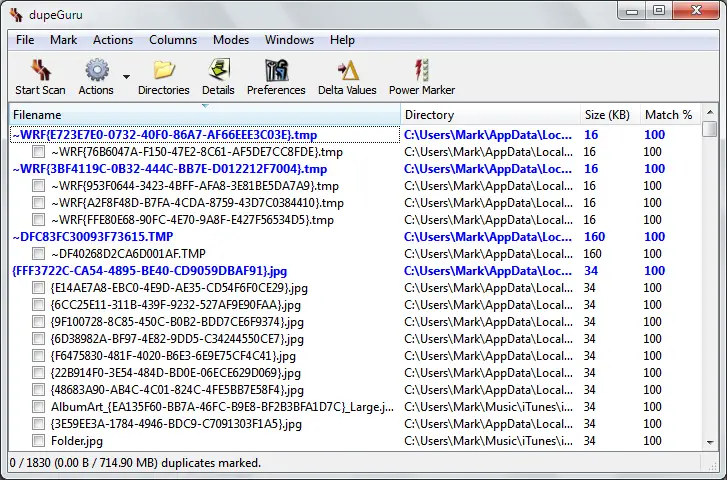 dupeGuru is an impressive tool to find duplicate files on your computer. The software is not only available in Windows but also works cross-platform, including Linux and macOS. The software scans your system using either filenames or contents. The filename scan features a fuzzy matching algorithm that can find duplicate filenames even if they are not exactly the same. The tool has a special music mode that can scan tags and show music-specific information. It also has a picture mode that can scan pictures to indicate similar, if not the same, photos as well.
Many customization options let you tweak its matching engine to find exactly the type of files you need to search for on the Preference page. If you are worried about accidentally deleting files that are not duplicates, dupeGuru has thought about that too! There is a reference directory system and a grouping system that prevents you from deleting files that you did not mean to delete.
dupeGuru also lets you move or copy your duplicate files somewhere else in addition to deleting them. It also provides you with multiple ways in which you can filter and sort your results to weed out false duplicates for low threshold scans easily.
2. CCleaner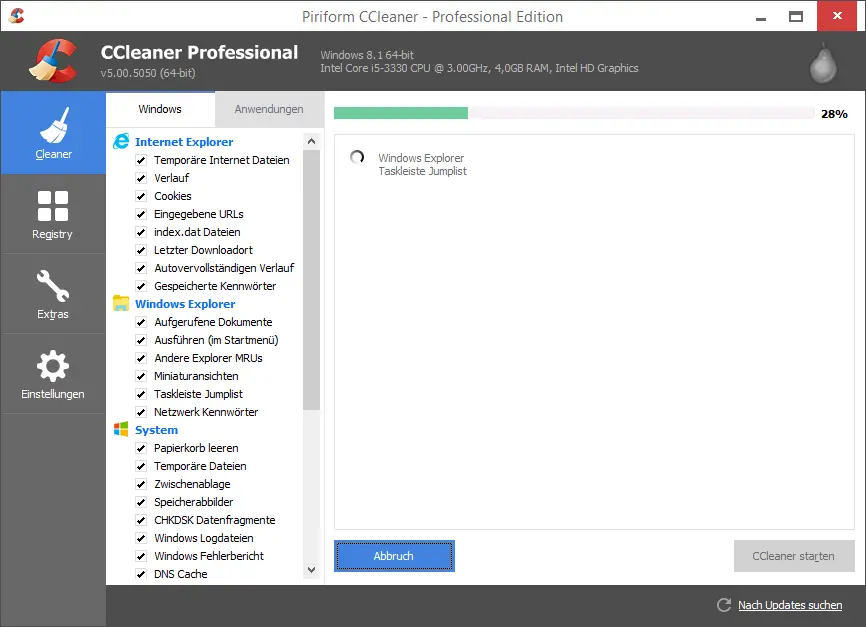 CCleaner is a tool that enhances your computer by breathing in new life, especially if your machine is a heavily used one. It provides excellent improvements in terms of speed and storage by many system-enhancing features. This includes a registry repairer, real-time system monitor, privacy protection, and the main focus – drive wiping tool!
The software prompts you to initiate a system-wide scan that can identify the problems in your system. It then asks you to select either Run Cleaner or Fix Selected Issues to finish the rest of the job. After cleaning your system, the software then shows you how much drive space it has freed up. The application even allows you to schedule your cleaning time so that you can let it manage the cleaning and repaid tasks at specified times without having to do it to yourself.
The app features an intuitive and easy-to-use UI where the most valuable tools are conveniently located. It delivers respectable improvements to your computer and also boasts of a bunch of other features that improve your overall computing experience.
3. XYplorer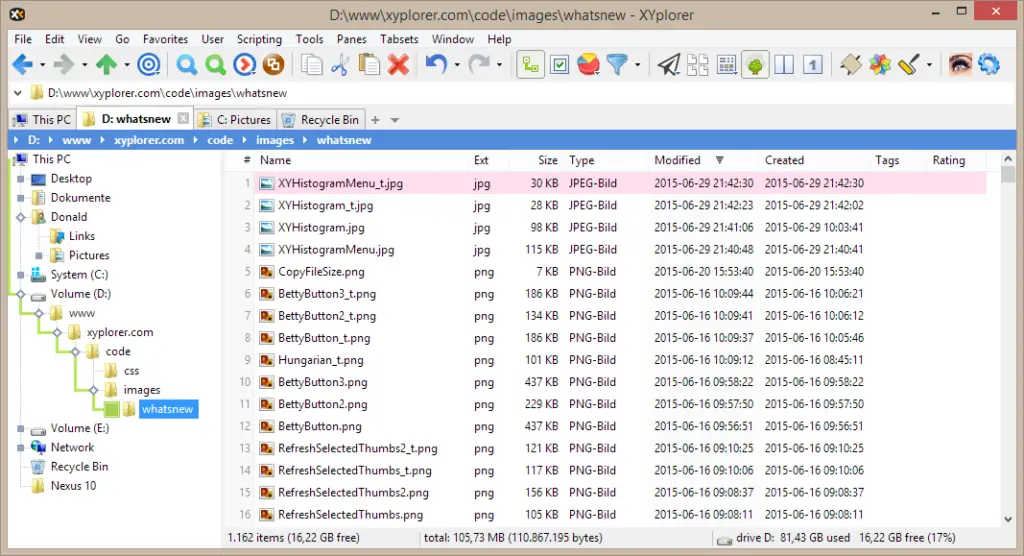 XYplorer is a great file manager for Windows that features tabbed browsing, a powerful file search, a versatile preview, and many more. Also, the app is portable, so you do not have to install it on your system. It stores all the configuration data in the application data folder, and running it will not change your system files or the registry.
---
Protect Your Online Privacy With Surfshark
[The VPN that we use here at Tech Arrival]
---
The application finds duplicate files by name, date, size, or content in any location. Spotting duplicates by content is super useful when it comes to freeing up storage space. To use the Duplicate File Finder, you need to use "Dupes" as a filter in the Find Files tab. When active, the filter only shows duplicate files that are listed in the search results.
In addition to name, date, and size, the content filter is super accurate. You can further define the comparison method from MDS, which is fastest but least reliable via SHA-1, SHA-256, SHA-512, to Byte-to-byte, which is slow but the most reliable. By default, SHA-1 is the preferred option since it is dependable enough for real-world usage.
4. SearchMyFiles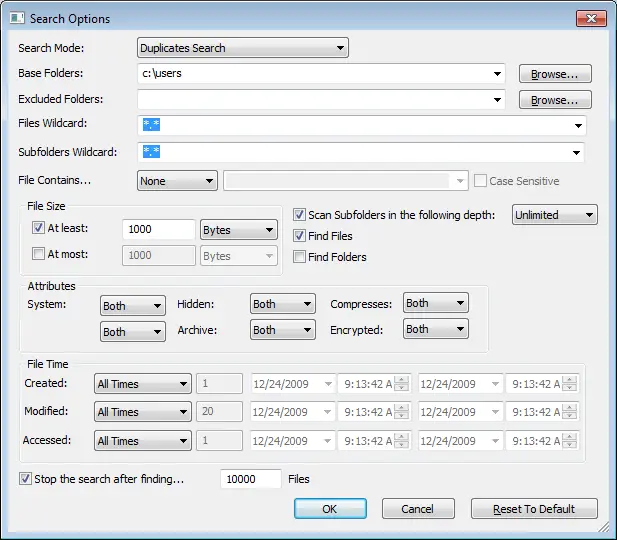 SearchMyFiles allows you to easily search files in your system by using many attributes and filters. These include searching by wildcard, by last modified/created/last accessed time, by file attributes, by file content (text or binary search), and by the file size. The application provides you with a special search mode that allows you to find duplicate files in your system easily.
When you choose the "Duplicates Search" mode, the program scans the files according to the set attributes, just like in regular mode. But this time, it only shows up the files that have identical content in the search results. The software does the process in two stages. The first stage includes scanning all files and folders according to your selection without reading the actual content inside it. In the second stage, it compares all files of equal size, and when it finds two or more files with identical content, they are added to the duplicates list in the main window.
SearchMyFiles also makes it easier for you to segregate duplicate files by color-coding them into distinct colors (up to sixty-four colors!) The software is fast since it uses a more logical approach for scanning instead of just scanning your entire hard drive.
5. Auslogics Duplicate File Finder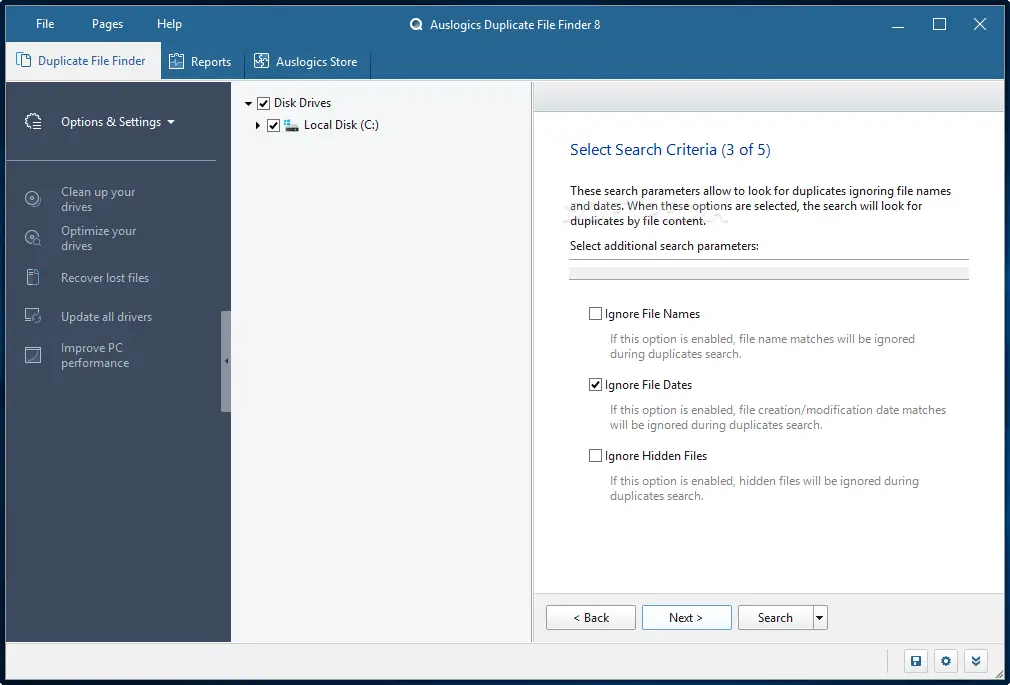 Auslogics Duplicate File Finder features a simple wizard interface that allows you to eliminate the duplicate files that are hogging up your system's resources. The application requires administrator permissions to work and is intended for personal use only. The wizard interface takes you through the scanning process step-by-step.
The scanning process is a bit tedious since you have to choose which folders to scan individually. It also does not provide drag and drop capabilities. But once you are done with selecting folders, your challenging work is over. Now you can select which type of filter you would like to apply on the scan, such as file type or file size, and decide whether or not ADFF takes notes of the file dates and file names and determine the default action for duplicate files.
The scanning part is super-fast and accurate as well. The software offers you three solutions for your duplicates – delete to recycle bin, delete permanently, or delete to the Auslogics rescue center. The rescue center allows you to recover and restore any changes you made using the program, thus never worrying about losing important files.
6. Wise Duplicate Finder
Wise Duplicate Finder is yet another great disk management software that scans your computer to find duplicate documents, images, videos, and other files. The application has a simple and intuitive interface that first prompts you to add folders you want to check duplicates. You can select individual folders or select a whole drive, whatever suits you.
The next step is to configure the search and compare the file name, size, partial and exact matches. Each group will also be colored differently, which makes you spot them easier. The Advanced Settings allows you to set the scan according to file types such as images, audio, video, documents, archives, and emails. You can also choose to exclude these file types from the scan.
The application allows you to delete the duplicate files into the Recycle Bin, but you can also choose to delete your files permanently. It also allows you to restore the files if you accidentally delete the important ones.
---
Protect Your Online Privacy With Surfshark
[The VPN that we use here at Tech Arrival]
---
7. Easy Duplicate Finder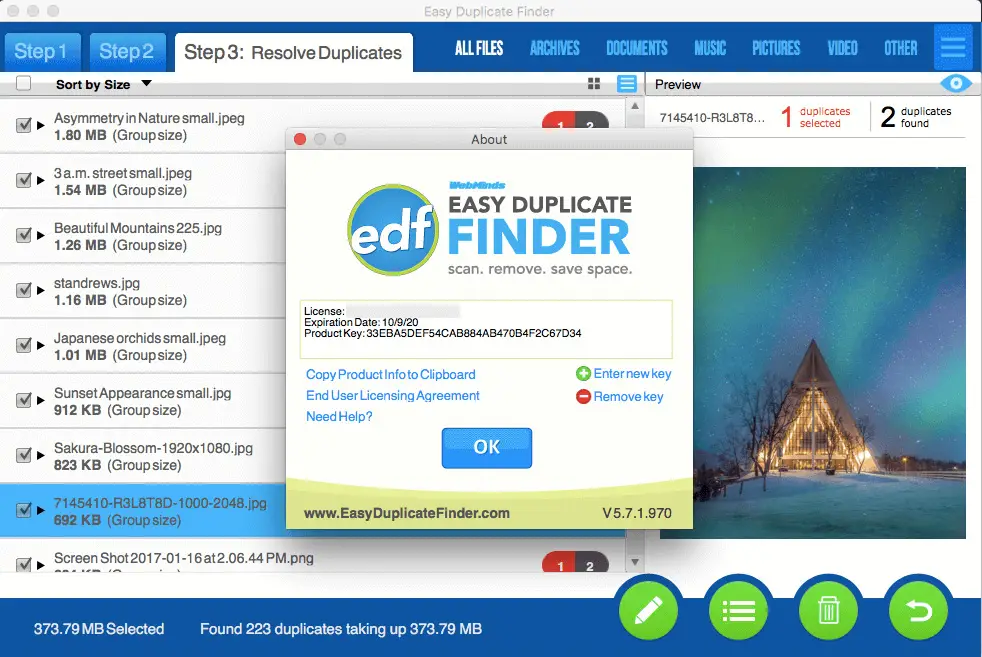 Easy Duplicate Finder is a solid application that brings order to the chaos on your system's memory. The application has a slightly outdated user interface, but with the extra features it offers over others, it still is a better choice to go with. You can start with scanning folders or subfolders by dragging and dropping them onto the application, and then set up various filters like file type, file size, or even exclude a certain folder from the scan. The results will be presented on the bottom part of the window, and the Easy Duplicate Folder will help you make decisions even here.
The results are displayed in two formats – a list and a colorful pie chart that shows all your duplicates according to file types. You can choose to delete, move, or rename only the files that you want. The Resolve Duplicates Assistant lets you take a more generalized decision for all duplicate files just in case there are any files you need to take care of. If you accidentally delete any important ones, do not worry since you can always restore the files.
The software can also be used to dig deep into your system to find compressed files, music tags, and file content. It can also be used with other applications like Outlook to find duplicate contacts and emails or iTunes to find duplicate music.
8. AntiDupl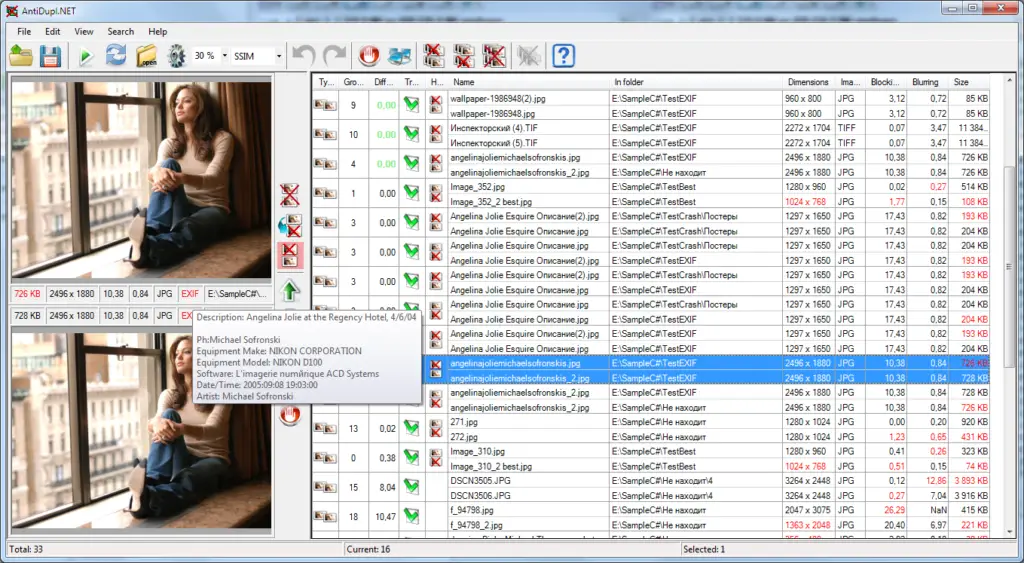 AntiDupl is an awesome program; we often accumulate a vast collection of images in many formats. Inevitable, these enormous and ever-growing groups of pictures are bound to have duplicates. This hogs up your system's resources and also consumes a lot of memory for no reason. This is why you need to make sure that you delete duplicate or similar-looking images from your computer.
Doing this task manually is quite a tedious process. AntiDupl automates the whole process for you by eliminating duplicate images in most image formats like JPEG, GIF, BMP, PNG, EMF, WMF, EXIF, JP2, PSD, DDS, ICON, TIFF, and TGA. The software compares not only two directly identical images but also those that are similar to each other. In that case, it prompts you to review the images that are similar and lets you decide which one do you want to keep.
It also spots defects in images and lets you take a look at them so that you can choose whether or not you want to keep, delete, or even fix them. The program is super helpful, especially for photographers that often have a huge collection of photos, most of which are retakes or double shots.
9. AllDup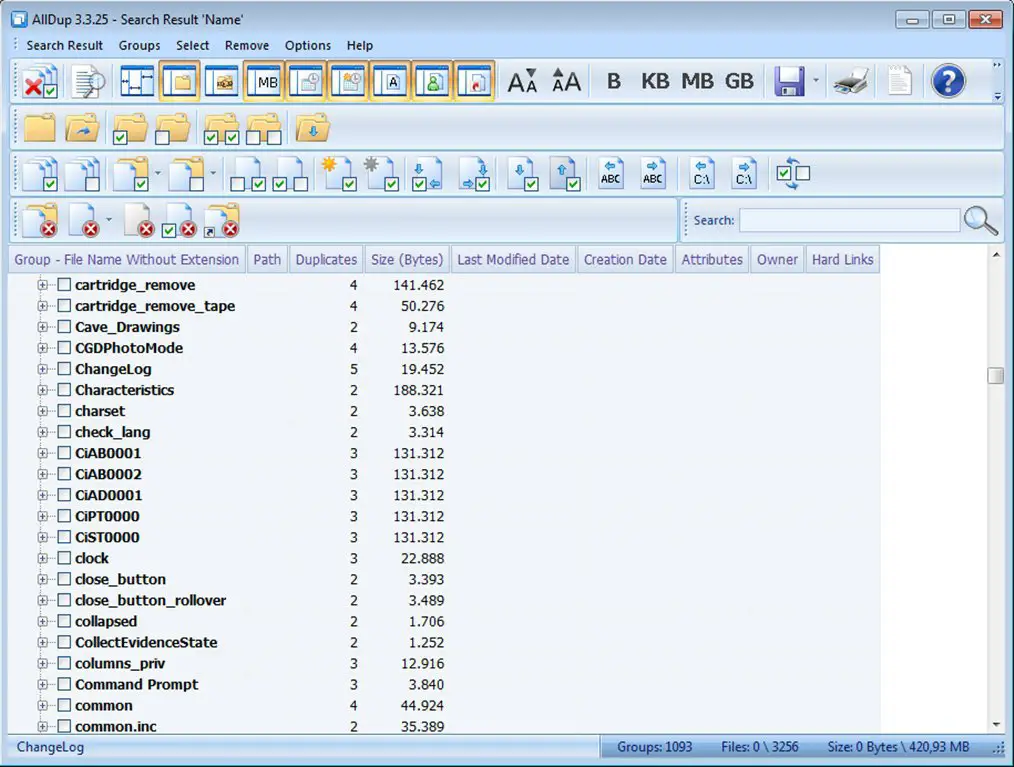 AllDup is a free duplicate finder app that is one of the easiest to use applications for finding duplicate files and folders. The interface lets you select drives and folders with checkboxes for the scan. Users have the ability to configure the scan just like they want to with plenty of options and labels such as Add, Enter Text, Replace, Edit, Open, Remove, and Check.
You can find not only duplicates of pictures and other media but also get multiple copies of programs and updates that are in different download folders. The application allows you to move duplicate files to a safe folder so that you can review them before deleting them permanently. It also has the ability to compare files by name, size, extension, and attributes. It can even do byte-by-byte content analysis for files that could be saved by different names and offers the ability to not include folders you don't want it to go through as well.
One of the interesting features AllDup offers is that it lets you log all the activities that you do, in case you want to go back and recall the files you found, the actions you took, or the errors that the program returned. You can even set up an external comparison program or set applications like Microsoft Word to compare contents of DOC, DOCS, RTF, and TXT files.
10. Fast Duplicate File Finder
Mindgems' Fast Duplicate File Finder uses some advanced algorithms that help you find duplicate files easily. The application compares actual binary content of a wide range of file types and not just by name, size, or other attributes that might actually not indicate users to the actual duplicate files. It can also search for files that might not match a hundred percent but are similar to the original one with modifications based on a variable level of similarity.
To start finding duplicate files, users need to first add the folders they want to search in. You can select how much percent similarity you want from the duplicate files, which is a useful feature that takes longer but finds resized and lower quality copies as well. After the scan is finished, the program displays all pairs and groups of duplicate files, including the size, directory, and other metadata about them. The Preview pane lets you inspect each file before you delete them.
---
Protect Your Online Privacy With Surfshark
[The VPN that we use here at Tech Arrival]
---
The program also lets you move all the duplicates to a different folder instead of directly deleting them and also create, save, and return to Projects for regular checks. The latest version lets you compare files with the same extensions and even allows you to exclude files and folders you do not want to compare with.
11. Duplicate File Detective
Duplicate File Detective is a really powerful file management tool. It features a robust algorithm called SmartMark assisted selection technology that scans duplicates from every nook and corner of your computer system. The software lets you not only find exact duplicates but also lets you scan files and folders for byte-by-byte content matching. It supports a master search path that allows users to check for duplicates against an authoritative source folder.
The application supports file hash caching that improves the performance of file comparison. Users can move, delete, or zip duplicate files with built-in tools. You can also replace duplicate files with shell, symbolic or hard links to the original files. There's also support for a command-line interface for integration and automation support. The built-in file hash/checksum tool supports CRC32, ADLER32, MD5, SHA1, SHA256, and SHA512.
The program lets you filter your search results by file name, date, size, length, and other attributes as well. It allows you to search for multiple local and network paths. You can export your duplicate file search results in various formats such as XML, HTML, CSV, TXT, PDF, and Excel formats for inspection later.
12. Anti-Twin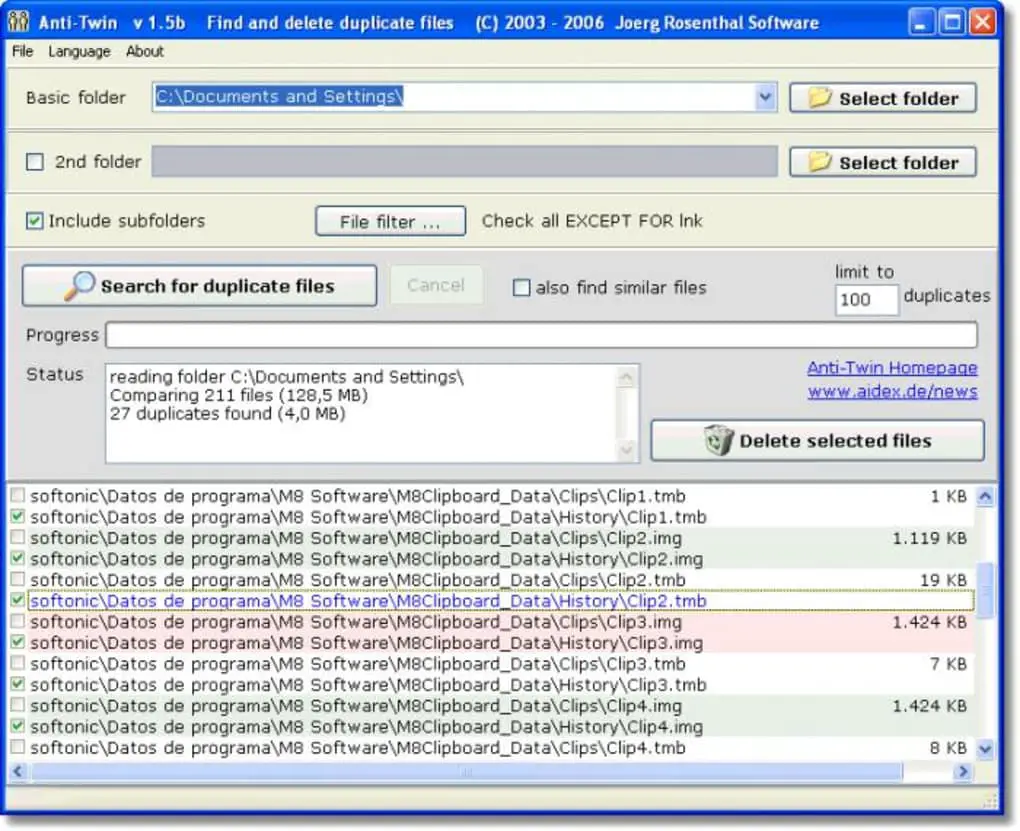 Anti-Twin is an old freeware that was developed by Jörg Rosenthal back in 2010. The software is still one of the best in class and does its job just like it claims. To start with, select the folder you want to start scanning. You can also add a second folder or a disk to compare it with the first one, which is optional. Now you need to select the method you want to scan – either by name or content. You can also select the percentage match of your results. For the most accurate results, you can even combine both names and content.
The program will then scan all the selected files and folders you had selected and display you with the results. The software gives you a unique retro vibe since it is old, but it does its job perfectly even on new operating systems, which is great!
You can choose the Automatic Selection function to highlight all the suitable files for deletion and then delete them in one click. You can also choose selection by folder or properties for a more manual approach. The software puts your deleted files in the recycle bin. You can also choose to delete them permanently.
Final Words
These were the best duplicate file finder for Windows computers. There are plenty of free options on the list that will help you get your work done. But the paid ones also include features that come in handy, especially if you are handling a really huge disk with many gigabytes of storage. We hope that you find the most suitable duplicate file finder software for you.
Also read: 13 Best VPN for Windows 10
If you have any queries, please drop them in the comments below, and we will get back to you!