If anyone wants to monetize a website, Google AdSense comes very first in our minds. It is a hugely popular platform and one of the leading and well-performing ad networks for publishers.
However, many bloggers and webmasters feel challenged to apply for AdSense for various reasons. The primary reason is that their application gets rejected or banned, as Google has now become very strict in terms of account approval.
Even if you have an approved AdSense account, then also you need to comply with a lot of rules and regulations, which may take a toll on your overall revenue. That's why it is always better to explore other opportunities than AdSense.
In this article, we will be talking about the best Google AdSense alternatives that you can try to boost your earning. We have tried to make this list diversified enough so that you can choose what suits your website the most, and act upon that.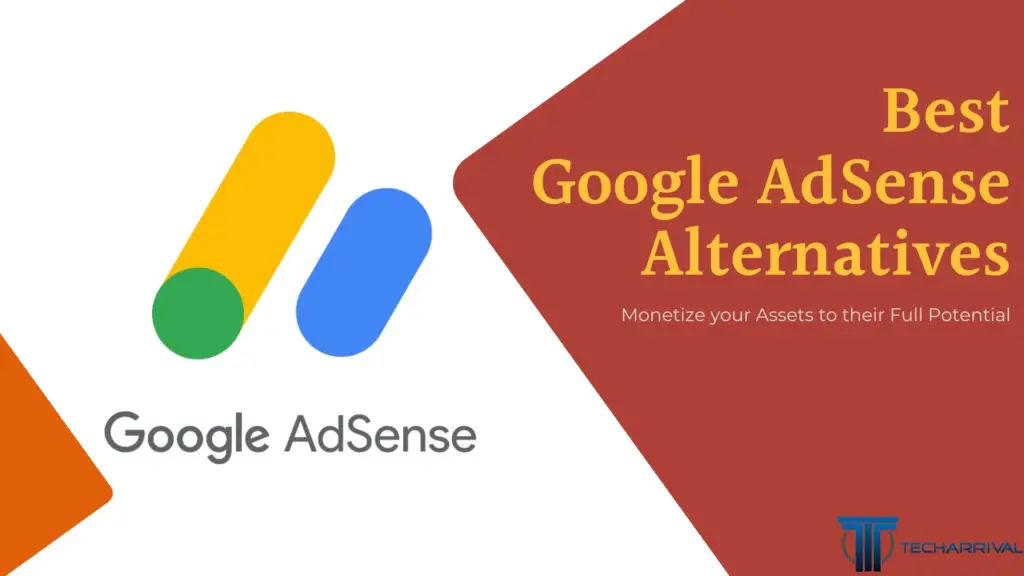 List of Best Google AdSense Alternatives
1. Ezoic
(We Prefer Ezoic on Techrrival.com ❤️)
Ezoic is one of the best AdSense alternatives, as it helps you to test ad placements and combinations so that you can make more money from your website. It helps publishers like us to find the best suitable advertisers to work with to maximize our revenue. In short, it optimizes our website and suggests ads that users are most likely to engage in.
Dwayne Lafleur is the founder of Ezoic, who developed this platform to improve a websites' revenue to the fullest potential. In fact, they claim that the websites that are monetized with Ezoic have experienced a revenue increase of more than 100%. This platform is inspired by the upcoming challenges in the digital ecosystem and struggles the publishers and bloggers face. 
It is a google award-winning ad testing website that has a user-friendly interface and advanced suggestion systems. Ezoic also helps you with your site's layout, content, speed, and many more. It's not a difficult task to get started with this Ad network. You just need to add a simple script to your blog's header and integrate your site with Ezoic.
Features
The drag and drop option enables the user to run automatic multivariate testing.
Ezoic uses artificial intelligence to optimize revenue and user experience.
It offers advertisements based on the user location, types of users, and density.
You have access to track the revenue from the partners on the reporting interface of Ezoic.
It has a layout tester to improve the layout of your website and test it in real-time.
It has pre-built themes that help the users customize their layout based on their preferences.
The Ezoic content tester offers you to create different versions of your content and test the one that perfectly matches the business requirements and purpose.
It also has script tester and header bidding.
Ezoic Premium Programme lets you earn even more by allocating you the premium advertisers (Of course, it's a paid plan)
Ezoic Site Speed Accelerator takes care of the performance of your blog so you don't have to manually optimize anything. (It is paid as well)
Minimum Payout: It is about 20 USD.
Approval Requirements:
---
Protect Your Online Privacy With Surfshark
[The VPN that we use here at Tech Arrival]
---
The website must have at least 10000 views per month.
It should comply with the Google Ads policy.
Content must be new and authentic.
2. Ad.Style
AdStyle is a native advertising network that was founded in 2015. Ad.Style uses machine-learning technology, data, and performance at scale. The measurable ROI for clients makes it a global leader in digital marketing and native advertising. 
It helps publishers to display native ads on their sites without any noticeable impact on page load speed. Its ad widgets are fast, lightweight, and capable of loading asynchronously. This means that the JavaScript code is processed in parallel with the page, which results in little to no extra time spent processing ad script code.
Its targeted content recommendations increase revenue for publishers and build brand equity and trust with customers. AdStyle works with leading brands and advertisers worldwide, partners with more than 200 websites, and serves ads in more than 30 languages across the globe. With AdStyle, you get a dedicated account manager so publishers can rest assured of receiving quality revenue and quick customer support.
Features:
High-Quality, Better-Converting Native Ads
Minimal Impact on Page Load Speeds
Ad Widgets Blend Seamlessly Into Content
Partners with Over 200 Websites, Serves Ads in 30+ Languages
Works with Leading Brands, Advertisers, and Marketers
Fast and lightweight ad widgets
Asynchronous Loading
Minimum Payout: Before publishers can withdraw their earnings, they must have a minimum balance of $50 in their account.
Approval Requirement:
AdStyle looks for publishers with solid audiences and unique content.
No specific traffic requirement; Website traffic is a consideration, but each website is evaluated on merit.
Ads must not take up more than 50% of the visible area of a page when it first loads.
Ads that cover the entire page when the page first loads are not allowed.
Maximum of five widgets per page to ensure a good user experience.
3. Media.net
Media.net is an increasingly developing contextual advertising network that helps bloggers and publishers to monetize their websites correctly. Arguably they are the biggest competitor of AdSense, and it actually offers higher revenue per thousand impression rate (RPM).
The biggest advantage you have with Media.net is that it provides you with access to the search volumes from Yahoo! and Bing network. It helps publishers like us to target the right set of keywords to boost our revenue.
Media.net mainly focuses on large, small, and medium-size bloggers along with media houses. It shows that even if you are a new blogger with quality content, you can start earning by jumping into Media.net. 
Mainly, as it is a contextual ad network, the platform provides advertisements related to the content only. So, if the content is about the flagship laptops, you receive ads related to flagship laptops.  
It also offers multiple design options so that you can customize layouts of your ad with your website's design and color theme. So that ads can blend well with the site, and provide a better user experience as well.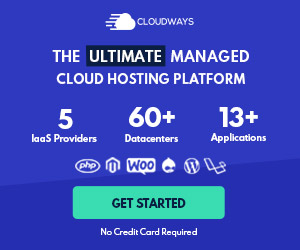 Features
Media.net has a robust dashboard that offers reports and graphs that help users investigate their websites' performance.
It provides the best Revenue Per Thousand Impressions.
You can also access the sticky or fixed sidebars to place your ads.
It offers great customer support.
Minimum Payout: $100
Approval Requirements:
It would be best if you had the pages on About, Contact, and privacy policy.
The design or the layout of the website should be simple.
Do not place so many ads.
4. Propeller Ads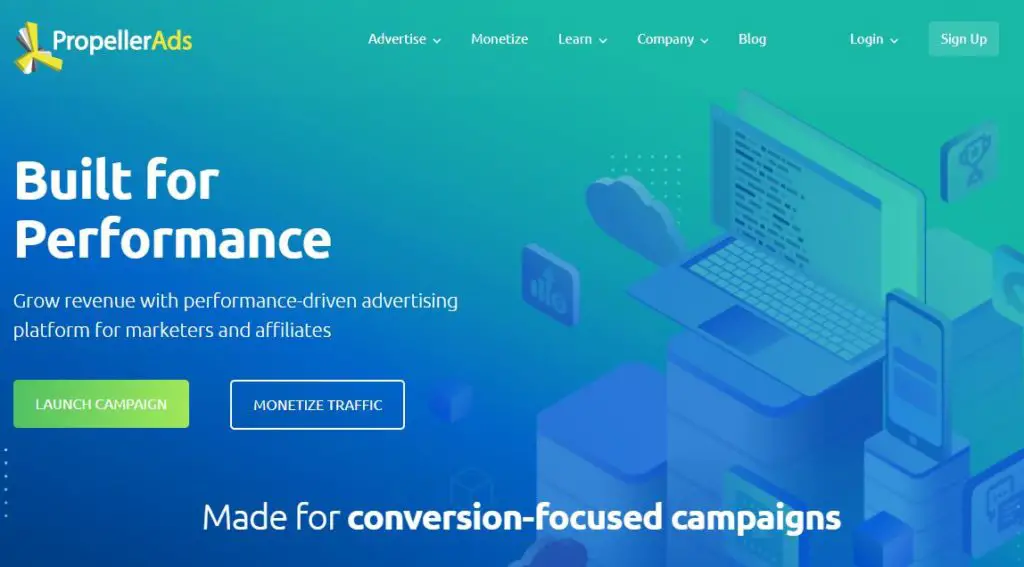 Propeller Ads is a self-service company that helps to monetize your websites by posting ads on your websites.
It is a global advertising network with 100 million-plus subscribers. It is one of the largest networks these days and was founded way back in 2011. It allows bloggers to optimize and control their ad campaigns. 
This advertising platform offers very high eCPM rates with their automated ad optimization technology where your website's ad setting will be fine-tuned by their AI so that you can get maximum conversion from each of the ads.
It offers various ads like push notification ads, native direct ads, interstitial mobile ads, dialogue ads, and banner advertisements.
Features
The bulk campaign creator is an eye catchy feature for many bloggers because it allows you to create many ad campaigns with various ad formats.
You daily receive updates on the traffic volume. It has an automated system that daily updates the amount of traffic and the total impressions per country.
You can include broker traffic and expand your reach. It implies getting views and leads from partner networks.
It also has push notifications with new traffic tokens.
A smart rotator is an ad testing tool that allows you to create up to 8 creative ad sets. From which you can optimize and scale the best performing push campaign. It provides ads based on the bidding model you choose.
It has a strategic dashboard for the push campaigns that provides information on real-time insights.
The time zone formatting is present in all ad formats.
Minimum Payout: The minimum payout is about 5 USD. It offers weekly payouts as well.
Approval Requirements:
The website must be unique.
It should have a considerable number of views per month.
5. Revcontent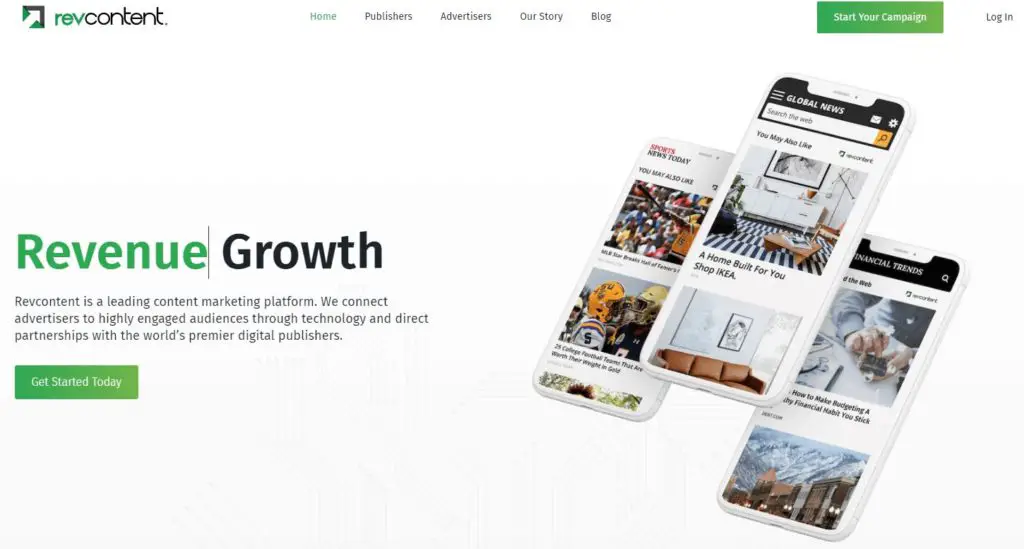 RevContent is one of the fastest-growing ad networks in the world, and its content delivery and advertising platform is so good that it's being used by big news websites like Forbes, NBC News, etc.
Revcontent is a Native Ads Network, and if you have a highly engaging audience at our site, then you will be automatically making a good amount of money with them as their ads blend very well with the actual content, and thus improving your CTR.
Revcontent's site loads five times faster than any other website and their ad unit viewability is doubled every year. It focuses more on quality than quantity, but it offers a lot of flexibility to the publishers so that you can decide which ads to display, and also you can remove ads that you don't feel like displaying on your website.
Features:
The widget feature's bid allows the users to control traffic by adjusting the CPC bids at the individual widget level.
The pacing and traffic distribution options test the widgets present worldwide and find the best that suits you. The default distribution will stay the same until you change the device bid up or down.
You have the ability to block or target AdBlock during your campaign.
It has account level blacklisting that transforms all the whitelists and blacklists, including the active widget IDs.
You also have fractional bidding that gives the ability to hit the KPIs across the entire source.
It also offers granular target and optimization tools.
The website does not have cookies to improve the performance of their website.
Minimum Payout:  minimum payout is about 50 dollars via PayPal.
Approval Requirements:
The website must have at least 50000 views per month.
You need to update the website regularly with new content.
Revcontent is a platform for advertisers and professional publishers and not for small bloggers.
6. RevenueAds
RevenueAds is an advertising network that specializes in Cost Per Acquisition (CPA). They help bloggers to distribute their ad campaigns.
It has over 5 years of experience in this field. It has already established itself as one of the leaders in the affiliate marketing industry, and they have a good relationship with the customers through Media Buying, SEO, mail marketing, social media, and many more.
If you join with them, you will get mail from 50 plus brands in affiliate marketing, and you can choose what to promote and what to not. Their top partners are Netflix, gofreecredit.com, Casting360, eHarmony, and mydegree.com.
Features:
You can quickly find the top offers and choose the best payout.
It provides all the tools and support required to achieve your goals.
You can also do affiliate marketing with RevenueAds.
Minimum Payout: The minimum payout is about 50 dollars, and you receive the payout via PayPal, cheque, or Wire.
Approval Requirements:
Your website must satisfy the terms and conditions.
Your website should have a considerable number of legit views per month.
7. Infolinks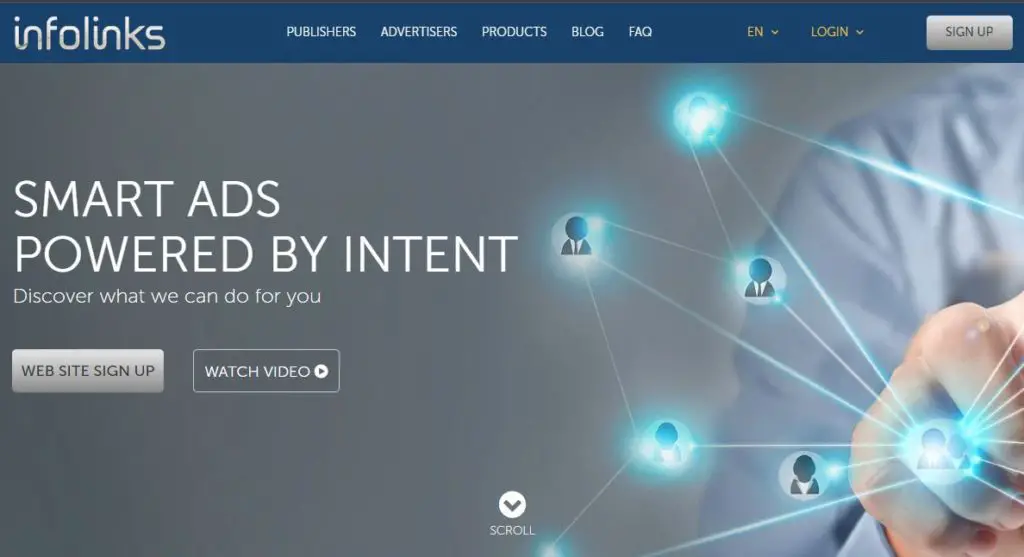 Infolinks is the 3rd largest advertising platform in the world, and it is helpful for both publishers and advertisers. It is very innovative, and they have expertise in in-text advertising. They have a network on more than 100k websites operating in as many as 128 different countries across the world.
Infolinks does not need any minimum traffic requirement to get started. It offers various ad types like InText, InFold, InScreen, InTag, InFrame. With Infolinks you will be able to monetize your website while keeping the maximum level of engagement intact as it doesn't ruin the overall feel and style of the website.
It has developed a smart algorithm that helps to deliver intent-driven ads to website visitors in real-time at the right moments ensuring maximum CTR. Infolinks has a decent reputation in the market, so you can definitely give them a try if you have a content-driven website.
Features
It shows more relevant ads.
Infolinks is the third-largest publisher in the marketplace.
It includes different types of formats.
It is straightforward to access within 48 hours.
Minimum Payout:
The minimum payout for Infolinks is $50.
PayPal, Payoneer, local bank transfer, etc. are some modes of payment.
Approval Requirements:
At least a considerable amount of views must be there for your website to get approved.
It takes 48 hours to get access.
8. Skimlinks
Skimlinks is a leading content monetization platform for web publishers. The co-founders of Skimlinks are Alicia Navarro and Joe Stepniewski.
First, it scans all of your existing content, and then automatically adds an affiliate link to it if they find the right match. It has a global network of almost 50000 merchants and 50 exclusive partners, and you will get direct access to all of them. They also have a VIP and Preferred Partner Program which you may explore to earn a higher commission rate.
Features
It can use the network with other ad networks.
Skimlinks provides high-quality advertisers.
Skimlinks is beneficial for marketing and advertising of the product.
It works in connecting all the publishers relevant to commerce strategies to support them technically.
Minimum Payout:
The minimum payouts is $10.
They operate on NET-90 Model
The payout will be canceled if retailers found fraud or suspected.
The mode of payment is PayPal, direct bank deposit, and cheque.
Approval Requirements:
No fraud, suspicious, and strange things are needed.
The site which meets the publisher's network is applicable for the Skimlinks.
9. Amazon Native Shopping Ads
It's a true fact that the Amazon Affiliate Program is one of the best in the world, but the Amazon Native Shopping Ads are not bad either.
Like AdSense Ads, it offers contextual ads in which it shows relevant products as per the keywords available on the page. And if any of your visitors click on the ad and makes a verified purchase, you will get a commission for that.
The Amazon Native Shopping Ads offers the most relevant and dynamic products, which are designed in such a way that they can be searched very quickly. Unlike other networks, it does not need minimum traffic to get view approval. 
The quality of ads in it is of very high quality and is divided into three parts: recommendation ads, search ads, and custom ads. Amazon's native shopping ads are safe for both buyers and sellers. As Amazon is the largest eCommerce website in the world, it commands a greater conversion rate over its peers. You can easily leverage that, and make a solid passive income.
Features
Amazon Native Shopping Ads show the most relevant recommended products to visitors.
It is designed so that it is responsive to all types of devices, including smartphones, mobiles, laptops, etc.
Easy implementation
It helps in customizing the product search for easy search.
Amazon's native shopping Ads increase visitors and generate more revenue.
Minimum Payout:
The minimum payout is about 10 USD.
The payment can be made from three modes.
Direct deposit.
Amazon gift card.
Cheque.
Approval Requirement: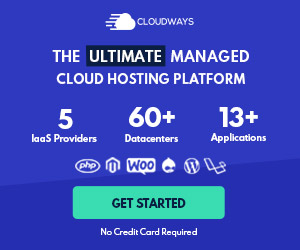 Native shopping ads do not need any specific traffic requirements.
The content of the website must be unique.
The webpage should be opened publicly.
Your website must comply with Amazon's TnC.
10. Sovrn //Commerce (Formerly VigLink)
Sovrn //Commerce (formerly Vigilink) is a popular outbound-monetization service which is used by bloggers, forums, and publishers. It is quite similar to Skimlinks that we have mentioned above, as it helps to automatically monetize your commerce content by adding affiliate links to them.
Viglink works perfectly in such a way that it scans every possible prospect of websites that every link is covered properly. The deep scanning is essential for generating income as well as in providing genuine and additional information to the audiences.
It offers a dedicated dashboard so that you can track your performance metrics. You can adjust accordingly in order to make more money from the network. It also allows you with custom integrations, such as creating personalized visual experiences and many more so that you can get more data to improve your strategies. 
Features
Sovrn //Commerce helps in generating income by scouring the valuable website links. 
By joining the network there is an opportunity to connect with thousands of affiliate programs under one umbrella.
The feature of automatic link insertion is available.
This is a multi-network platform that is very easy to use and provides multiple information in one place.
Minimum Payout:
The minimum amount needed is $10.
The mode of payment is PayPal.
Approval Requirements:
No minimum viewers are required to get approval.
Quality content is needed.
11. Adcash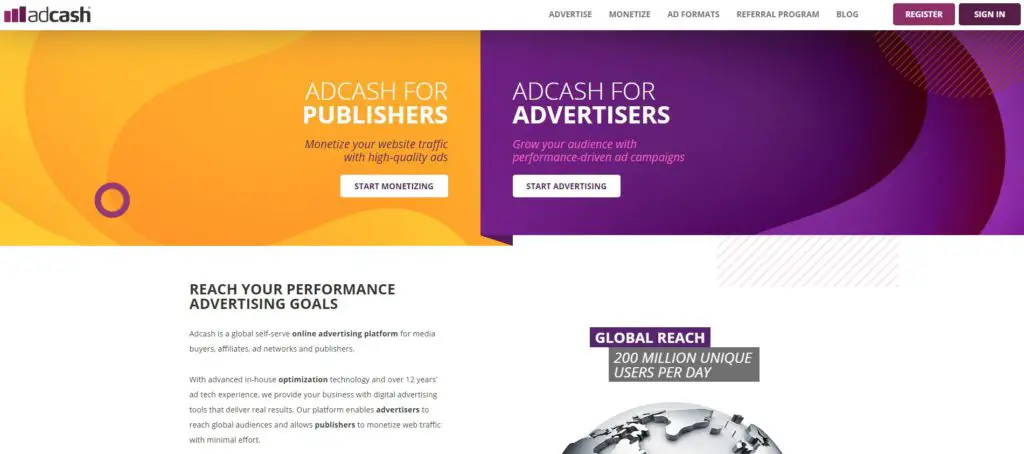 Adcash is the best ad network that allows users to display the ads on mobiles, desktops, and many other forms. It enjoys a 200 million active user base.
The ads are displayed in different forms, which depend on the type of modes. It is beneficial for the small publishers as they can select the best according to their budget. 
With AdCash you will be getting global coverage, as it serves ads to almost 200 countries across the world. It also offers an exclusive Anti-Adblock Technology. So you will be able to show ads to the people who have installed Ad Blocker in their browser, which is indeed a great advantage. Because you will be able to bypass Adblockers and enjoy a higher income for sure.
For Desktop: Banners, site-under, slide-in, interstitial, push, In-stream video.
For Mobile: Native, In-app video, In-app interstitial, and App Install.
Features
AdCash is reliable to give customer support via Skype.
Income boost to 100% automatically.
Globally known for the detailed statistics from all inventory ad networks in AdSpyglass reports.
It has the feature that you do not have to change the ad tags to give a reply on website templates.
Minimum Payout: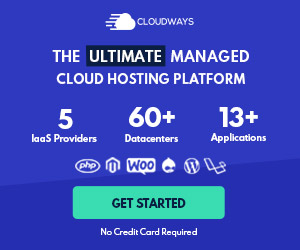 The minimum payout for the Adcash is 25 USD/EUR.
The payment mode is PayPal, bitcoin, bank transfer, Payoneer, web money, and skill. 
For wire transfer, the minimum amount is 100 USD/EUR.
The minimum earning of €100 is applied to the users who want to withdraw the money every month.
Approval Requirements:
The site should be genuine.
The publisher should not find fraud or suspicion.
No minimum traffic requirements.
Bottom Line
It's a well-known fact that Google AdSense is one of the best methods to monetize your website or blog. But you can definitely make good use of these best Google AdSense Alternatives in order to diversify your income stream a bit, or if you're not fully happy with your current AdSense earnings.
We will Highly Recommend using Ezoic along with its Mediation App that will allow you to link AdSense, Media.net, and other major ad networks to get you the best possible revenue.