For all this time, we were enjoying free unlimited storage on the Google Photos app. But sadly, good days ended June 1, 2021.
If you have recently read the news, you must know that Google ended its unlimited storage feature on Google Photos. Both original and high-quality photos and videos will count against 15GB storage.
Speaking of Google Photos, it is more than just a cloud storage service. It has many other features that make it useful to users. For instance, it allows you to edit photos, automatically create slideshows, free up memory, and more. Of course, if all these functionalities don't matter to you much, you can simply opt for any other cloud storage service.
At this point, many of you must be looking for Google Photos alternatives where you can store your photos and videos without any hassles. Luckily, there are plenty of other cloud storage services available in the market. We have some of the best suggestions lined for you.
Also read: 11 Best Photo Viewers for Windows 10
Here are some of the best Google Photos alternatives you can use:
List of Best Google Photos Alternatives
1. Microsoft OneDrive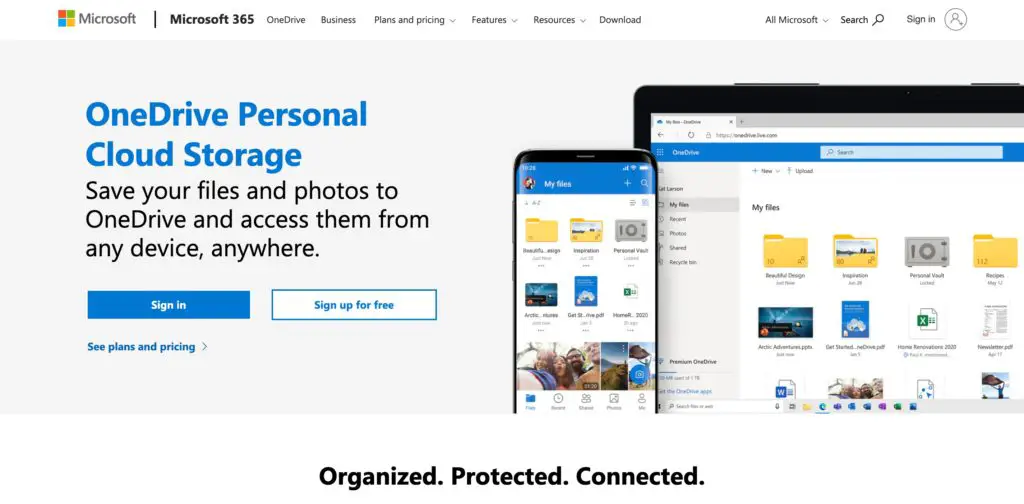 Our first choice is Microsoft OneDrive. It is hands-down the best Google Photos alternative available out there. Besides, storage provides an array of other services as well. Some of the features that are worth mentioning are automatic image tagging and gallery view for photo storage. OneDrive makes a popular choice among office users because it can be integrated with Office Apps. You can download the app on your smartphone and sync all your videos and photos to cloud storage.
Free Subscription: 5GB
Paid Subscription: Starts from $59.99/year 
2. Amazon Photos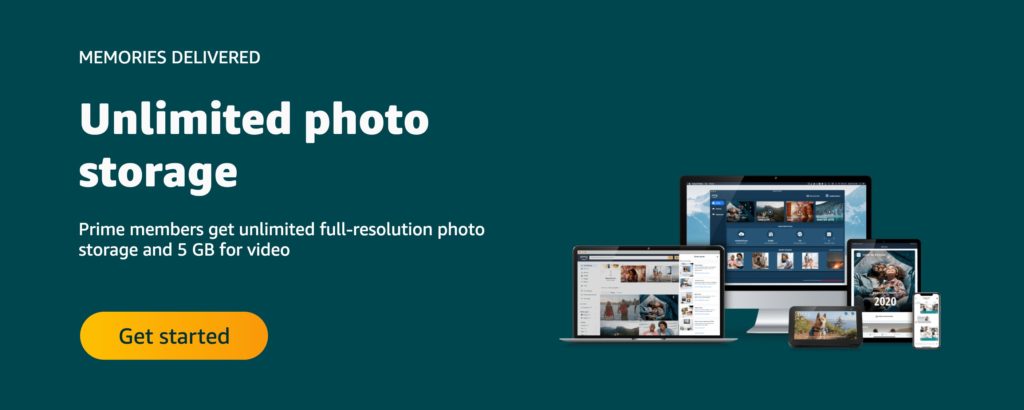 Next up, we have Amazon Photos, which is a cloud service offered by Amazon. It takes just a few minutes to create an Amazon account. The best thing about Amazon Photos is that it comes free if you are a Prime user. Amazon Prime users can take full advantage of this service. They get unlimited storage space without having to pay any extra costs. Besides, you will also enjoy some cool features such as smart tagging, facial recognition, and so on. Amazon Photos is also supported by all the major platforms, including iOS, Android, Mac, and Windows.
Free Subscription: 5GB for non-prime members, Unlimited for Prime members
Paid Subscription: $20/per year for 100GB
---
Protect Your Online Privacy With Surfshark
[The VPN that we use here at Tech Arrival]
---
3. iCloud Photos
Apple iCloud Photos is available only for iOS users. So if you are an iPhone user, you can simply use iCloud Photos instead of anything else. It is equally good as Google Photos and is packed with a lot of features. It provides an easy way to store all your photos and videos safely. It allows you to access the stored files from any other iOS device you want. It also offers free storage space of 5GB. But you can always upgrade your plan as per your requirements. You can straightaway get 50GB storage for just $1 per month. However, the pricing may vary based on the country you are from. Just so you know, they don't have any yearly subscription plan.
Free Subscription: 5GB
Paid Subscription: $1/per month for 50GB, $3GB/per month for 200GB, and $10/per month for 2TB
4. Dropbox
Dropbox is a very popular service trusted by millions of users. It is suitable for storing all types of files. If you can configure it correctly, it is just as good as Google Photos. It allows automatic synchronization of photos from your phone. All your files, photos, and videos are stored in a secure location in the cloud. However, it offers only 2GB of free storage. Compared to other cloud services, Dropbox is slightly more expensive. But for that extra cost, you are getting additional security.
Free Subscription: 2GB
Paid Subscription: Starts from $9.99/per month
5. pCloud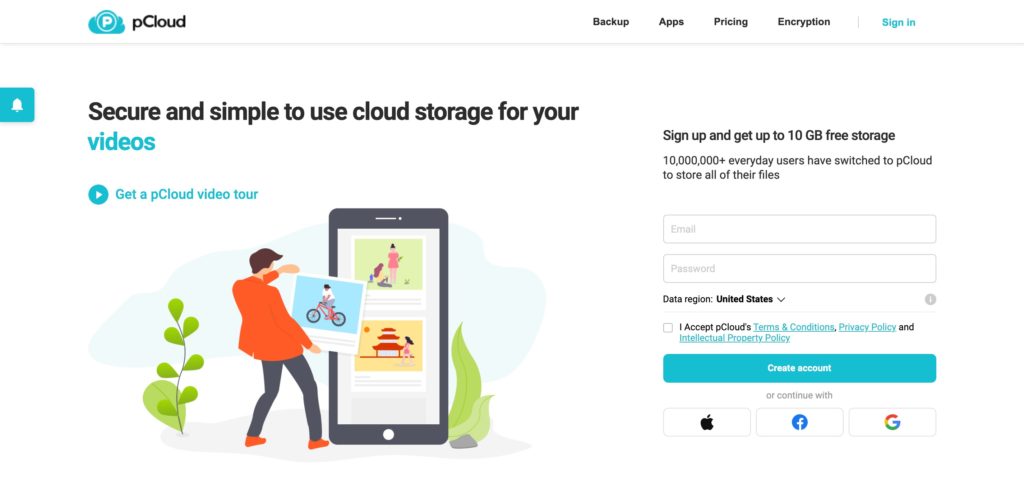 If you want a cloud service with high-security features, pCloud is the best bet for you. It offers 256-bit encryption for every file it stores. Users prefer pCloud because of the wide range of features it offers. Some of them are data recovery, versioning, remote upload, and online document previewer. You can also sync multiple devices with pCloud. Photos and videos can be automatically uploaded to pCloud, where they can be stored safely. The platform also offers various lifetime plans, which means that you can enjoy their service for a long time if you pay once.
Free Subscription: N/A
Paid Subscription: Starts from $47.88/year for 500GB, Lifetime plan starts from $175 for 500GB
6. Flickr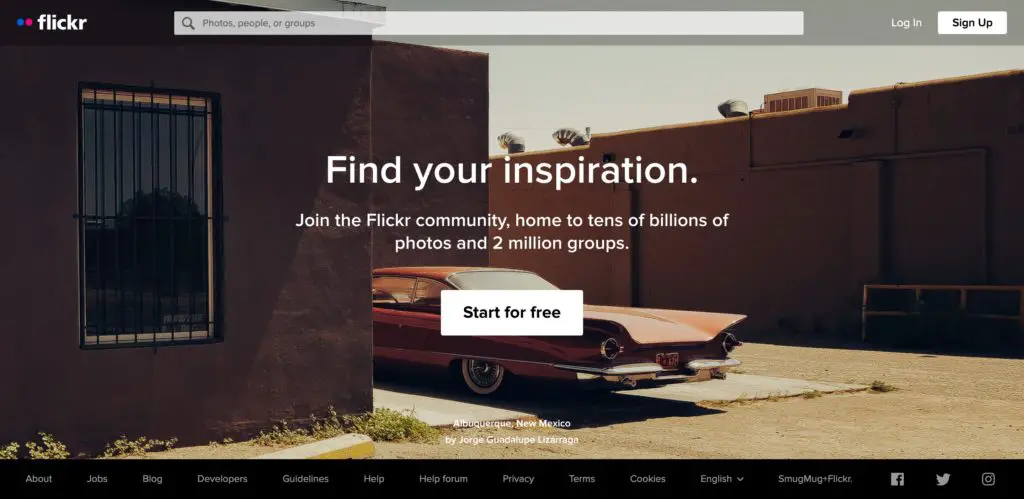 Lastly, we recommend Flickr as it has great photo storage plans. This app is suited for both amateur and professional photographers. It allows you to share high-quality photos with ease. Also, it proves to be great for everyday use. Just like most other cloud services, Flickr also allows for auto-syncing of photos and videos. If needed, you can upload them manually as well. You can keep your photos and videos private to prevent anyone from finding them. It is an easy-to-use app that helps you to keep all your files organized.
Free Subscription: 1000 photos
Paid Subscription: $7/per month for unlimited storage
If you have decided to discontinue using Google Photos, you have plenty of other cloud services to use. You can choose from any of these services based on your requirement and budget.
Also read: 10 Best Photo Editing Apps for Android
Frequently Asked Questions (FAQs)
What is Google Photos?
Google Photos is a photo and video backup service offered by Google. It allows you to sync and store photos and videos from your phone and computer. You can view the stored files in a timeline organized by date. Not just that, but you can even sort them into albums and view them in an automatic slideshow. The app also has some basic photo editing features.
---
Protect Your Online Privacy With Surfshark
[The VPN that we use here at Tech Arrival]
---
When is Google Photos Ending its Free Tier?
For all this time, Google Photos was available for free. But Google is no longer providing unlimited photo storage from June 1, 2021. The company has ended its free unlimited storage benefit and started charging for its service over the 15GB quota. This new change came into effect on June 1, 2021.
Why is Google Photos Ending its Free Tier?
According to Google, trillions of photos and videos are uploaded to Google Photos. They want the service to be available for everyone for the long haul, and therefore, they have decided to start charging to make it more sustainable.
Should You Stop using Google Photos?
Google Photos is a great service. But as they ended their unlimited storage benefit from June 1, 2021, most users will take some time to decide what they want. If you are currently using Google Photos for your image backups, we think you should continue using it. After all, it will cost just $1.99 per month for 100GB storage.
Should You Just Pay for Google Photos?
If you are currently using Google Photos as your platform for storing and backup high-quality photos, you should continue to use it. The subscription plan for 100GB storage costs just $1.99 per month. Also, Google Photos is too good to let go of.