A large number of people love to play mobile games. It serves as a great time pass when you are traveling or bored. But thanks to the rise of multiplayer titles, most games require an internet connection. These games are not ideal when you have a weak internet connection or limited data plan. This is where the need for offline mobile games comes in.
The obvious advantage of offline mobile games is that they can be played even without an internet connection. Luckily, there are plenty of such games available for iOS users. In this post, we will suggest some of the best offline games for iPhone and iPad owners. If you take offline mobile games to be your best companion, you should give this article a read.
Also read: 37 Best iPhone Widgets You Should Use
List of Best Offline Games for iPhone & iPad
1. Candy Crush Saga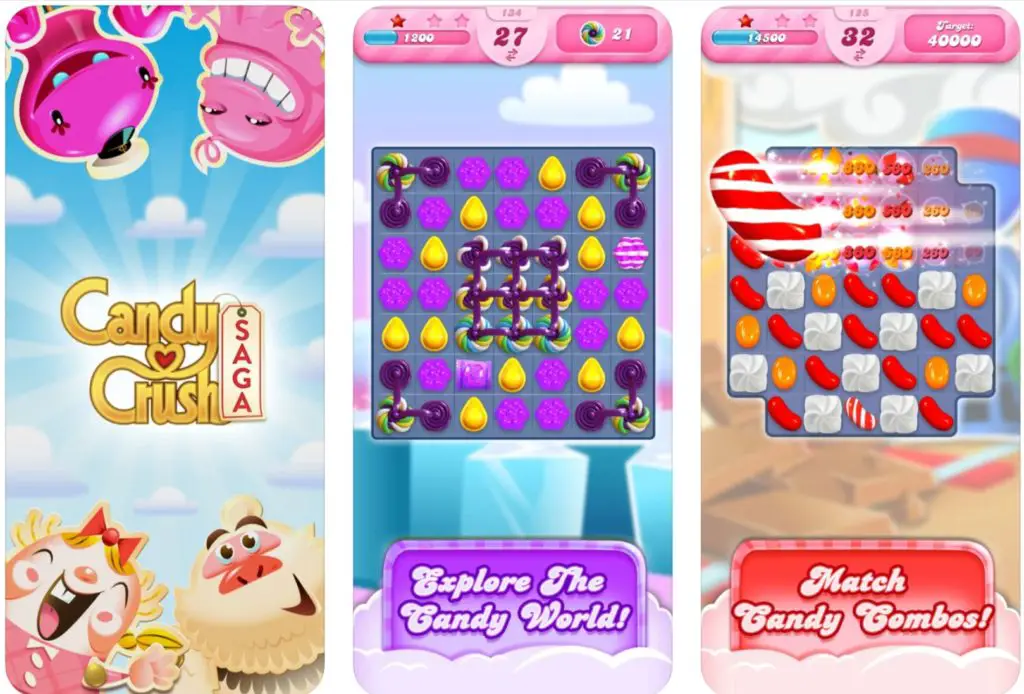 There's hardly anyone who is not familiar with this legendary game. With millions of players worldwide, Candy Crush Saga is one of the most popular mobile games to play. This game is all about matching candies. It is a fun and exciting puzzle game where you switch and match candies to move to the next level. It requires you to make smart moves, so you can win delicious candy combos and colorful cascades. You are required to match 3 or more candies in a row. You will need the help of boosters to overcome the extra sticky puzzles.
2. Subway Surfers 
This is one such game that has taken mobile gamers by storm. It is a runner game that is set in Canada. Despite the simple gameplay, it has everything to keep you on the edge. This game is all about running fast and dodging obstacles on the way. It is equipped with smooth controls paired with HD graphics to give you a great mobile gaming experience. It may appear to be simple but gets challenging once you start playing.
3. Sudoku.com – Sudoku Puzzle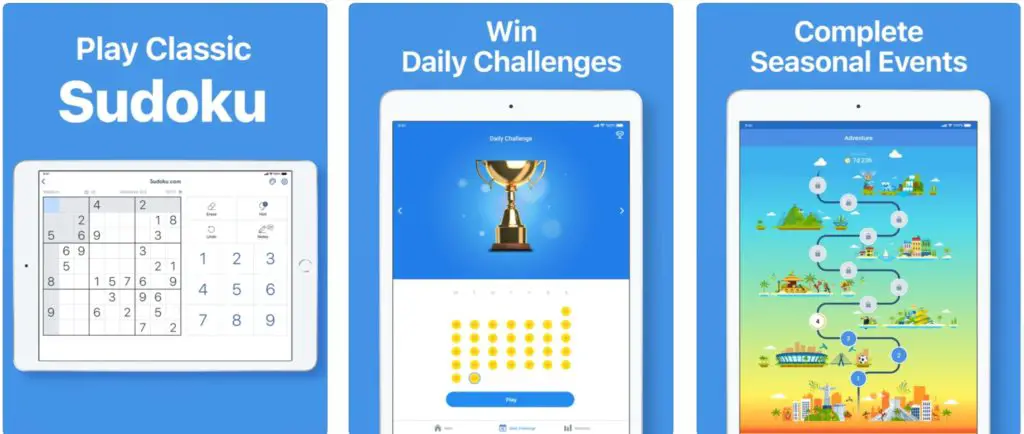 If you want a game to train your brain, then Sudoku Puzzle could be the best choice for you. This game is suitable for people of all age groups and is supported by millions of people worldwide. The app contains hundreds of classic Sudoku puzzles that will keep you engaged and entertained for a long time. But most importantly, it will give good exercise to your brain. You will also find Sudoku puzzles for both advanced and newbie players. The game allows you to select the level you like. For help, it has certain features like auto-check, hints, and highlighted duplicates. 
4. Minecraft 

This game needs no introduction as it has been around for a long time. Minecraft is one of the best building games with a lot of room for creativity. From simple buildings to grand castles, you can build whatever you like. Plus, it has multiple games modes such as creative mode, survival mode, etc. Each mode has certain specific features that make them different. The best thing about Minecraft is that you can either play it alone or with your friends. Other exciting features include the game's marketplace, add-ons, and slash commands.
5. Fallout Shelter 
Fallout Shelter is an award-winning game that puts you in control of your vault. Your objective in the game is to build the perfect vault, make Dwellers happy, and protect them from danger. In this game, you can build new rooms, turn junk into useful items, manage your settlers, and make sure everyone stays alive. If you have played the other titles from the Fallout franchise, you should try this one too. It is a great management game that will give you the fun you are missing.
6. Real Racing 3
For the ultimate racing experience, you have Real Racing 3. This is a Formula 1 style mobile racing game with many exciting features. It includes everything that is required to make a game interesting. For those unversed, Real Racing 3 is an award-winning franchise that sets the standard for mobile racing games higher. Some of the notable features of the game are licensed tracks with 40 circuits, 250 real cars from top brands like Porsche, Chevrolet, Bugatti, etc. This real-time multiplayer gives you an incredible racing experience on your mobile phone.
7. Need for Speed No Limits
This is yet another great racing game from the developers of Real Racing 3. It features an amazing selection of cars that can be customized to your needs. This game is all about street racing and dominance. It gives you the chance to showcase your driving skills. There are various challenges and competitions to keep you on the edge. The deeper you go into the game, the more races, more cars, and more customizations you are offered.
---
Protect Your Online Privacy With Surfshark
[The VPN that we use here at Tech Arrival]
---
8. Plague Inc.
If you want to put your brain to the test, try Plague Inc. This game is a unique mix of realistic simulation and strategy. It features innovative gameplay that takes the strategy genre to the next level. You need to do everything it takes to survive in this deadly world. Plague Inc. is one of the widely played games and has received a full 5-star rating. The compelling world of the game keeps you glued to the screen for endless hours. Plus, it has stunning retina graphics with an in-game tutorial system. 
9. Bejeweled Classic 
Next up, we have the Bejeweled Classic. This game is suitable for those who are fond of solving puzzles. You can play this game in six different modes, including the classic mode, lightning mode, diamond mine mode, Zen mode, butterfly mode, ice storm mode, and poker mode. It gives you the chance to create special gems like Star gems, Flame gems, Supernova gems, and Hypercubes. Not just that, but you can also collect Bejeweled badges and achievements. The incredible retina-display graphics are what make the game more exciting. The game also offers hints on demand.
10. Flow Free
This is yet another addictive mobile puzzle game that you can't get enough of. You match colors with pipe to create a flow. To solve a full puzzle, you need to match all the colors on the board. It has over 2500 levels along with a Time Trial mode where you compete against time. The gameplay ranges from simple to challenging and gives you the chance to solve daily puzzles every day. Other features include 10 board sizes, level packs, free play mode, fun sound effects, and a smooth interface.
11. The New York Times Crossword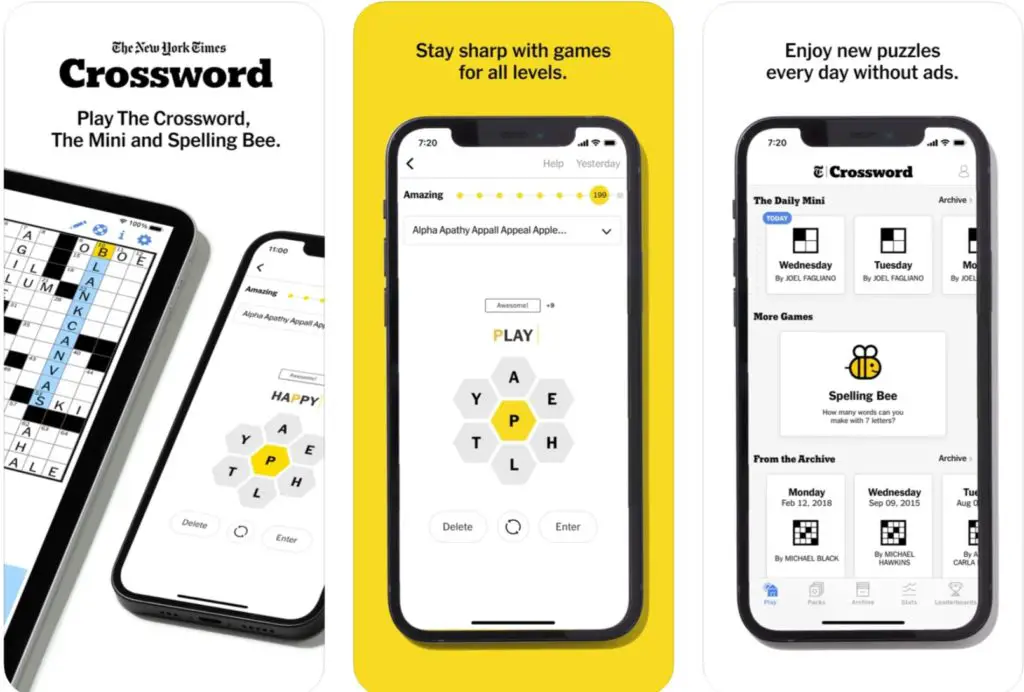 This is an exciting word game that is not only fun to play but also educative. With this game, you can test your vocabulary and make new words with 7 letters to reach higher levels. It offers puzzles for every level to help you brush your skills. From Spelling Bee to Classic Crossword, there's a word game for every player. This is an ad-free game, so you can play without any distractions. Besides the regular gameplay, it also offers daily mini-games that can be solved in seconds. You can play this game with up to 25 friends to double the fun.
12. Two Dots
If you are looking for an easy and fun game to play, Two Dots is the best choice for you. All you have to do is connect matching dots and solve exciting puzzles. This game is completely free to play and sports engaging features. It comes with 3700 challenging levels and power-ups to help you get out of a jam. This game is about connecting dots, making a line, creating bombs, sinking anchors, and more. It has a minimalistic design with soothing game music. It allows you to challenge your friends on Facebook. Last but not least, it has many special event modes as well.
13. Soul Knight

With Soul Knight, you can explore the randomly generated dungeon world and collect weapons for your defense. This is the kind of game that you have always wanted to play. You aim to dodge bullets and shoot them all. It features user-friendly controls coupled with exciting gameplay. The game also has roguelike elements. There are over 120 weapons for you to explore. With this game, you can enjoy a new kind of experience.
14. Into The Dead 2

If you are fascinated by zombies, this game is for you. Into The Dead 2 follows the story of the zombie apocalypse, where you fight to save your family. You are offered various weapons, using which you need to defend yourself. It provides a platform to test your battle skills. You need to give in your all to survive till the end. It comes with an evolving story with multiple endings. It comprises 7 action-packed chapters, hundreds of challenges, and 60 stages. You will also spot multiple immersive environments ranging from military bases to oil fields and rural farms to campsites. Other features include 5 story events, special event modes, and loyal canine companions. Lastly, you can also play the game offline.
15. Grand Theft Auto: San Andreas
Grand Theft Auto: San Andreas is one of the most popular games. If you are a GTA fanatic, you simply cannot miss out on this one. It features Carl Johnson, the protagonist who escaped from the pressures of life in San Andreas, a city infected with gang wars, corruption, and drugs. The game is set in an open-world covering the state of San Andreas. High-resolution graphics paired with 70 hours of gameplay makes it an unforgettable journey. The good thing is that the game is available in different languages. Besides that, it has control schemes and customizable controls. It also allows you to create your custom playlist and play it on the radio station.
16. Stardew Valley

Stardew Valley is an open-ended farming RPG game. It features beautiful countryside with lots of new mobile-specific features. It comes with more than 50 hours of gameplay and multiple controls. With this award-winning game, you can fulfill your dreams of building a farm. You can grow various crops, raise and breed animals, and design your farm the way you like. Not just that, but you can also customize your farmer. The game also features villager quests and seasonal festivals. Besides that, you can explore vast caves, encounter monsters, and discover treasures.
17. NOVA Legacy 
Next in the line, we have NOVA Legacy, which introduces you to the old-school first-person shooter experience. This epic game is a part of the legendary NOVA saga. It follows the story of Kal Wardin, the protagonist, who is a retired NOVA veteran. This game brings back the classic action on your mobile screens. You can upgrade and craft your weapons. They have improved the gameplay and performance to have a better experience. Besides that, the game has various modes, special ops, and shadow events. You can also play the game in multiplayer mode.
18. CSR Racing 2 

If you are fond of racing games, you must play CSR Racing 2. This game redefines the mobile racing genre. It introduces hyper-real drag racing, where you get to race against live players across the world. You can customize your supercars, build up a team with friends, and much more. The game features real-life supercars like Lamborghini Countach LP 5000 Quattrovalvole, Aston Martin DB5, and others. The next-generation graphics and real-time racing make CSR Racing 2 more exciting. This game can also be played in single-player mode. There are additional events to earn extra money for rare parts and upgrades.
---
Protect Your Online Privacy With Surfshark
[The VPN that we use here at Tech Arrival]
---
19. Mini Metro
This is a subway simulator game that is dominating the mobile gaming world in over 30 countries. Mini Metro is an award-winning game that is about designing a subway map for an expanding city. Build your stations and get your trains running. You must keep the stations running efficiently. It is up to you whether you want to use limited resources. The game features 20 real-world cities and various upgrades. It has a normal mode for quick-scored games. The game becomes challenging as you go deeper into it. 
20. Asphalt 9: Legends

Asphalt 9: Legends provides you with a platform to test your racing skills. In this game, you race to become the next racing legend. The game features a thrilling arcade with the most fearless drivers. The amazing selection of cars from top manufacturers like Porsche, Ferrari, W Motors, and Lamborghini is worth checking out. The game allows you to choose your ride and race across various breath-taking locations worldwide. You can collect over 60 supercars and even customize them as per your liking. This game has both single-player and multiplayer modes.
21. Asphalt 8: Airborne 
This game comes from the developers of Asphalt 9. It is a fast-paced racing game where you can play with other real-life players. The game features over 300 incredible speed cars, including Ducati, Bugatti, Ferrari, Lamborghini, Mercedes, Audi, and more. You can create and customize your racer avatar from the available costumes, clothes, and accessories. The game has stunning graphics which help improve your gaming experience. You can participate in Limited-Time Events to win exclusive rewards. That's not all; you can also customize your ride to beat your opponents with style.
22. Ticket to Ride – Train Game

This is a classic train game where you can connect more than just cities. You can play this board game with your family and friends to double the fun. In this train game adventure, you will need to find the quickest link to your city and reach your destination. This strategy-based game is ideal for people of all age groups. It takes you on a world tour from India to Europe. The game introduces you to new challenges that will put your strategy-making skills to the test. It has an online multiplayer mode as well as single-player mode and local multiplayer mode. With special rules and maps, you can discover new add-ons.
23. Brothers in Arms 3

If you want an exciting shooting game, then Brothers in Arms 3 is for you. It gives you the chance to battle strong and brave soldiers worldwide. The game features multiplayer battlegrounds of World War 2. This is a single-player game with exciting features such as 4 different maps, 2 gameplay modes, allies, and more. By playing different weapon classes, you can unlock various perks. You can also choose and upgrade your weapons to make them more powerful. There are various missions you must complete to win exclusive rewards. Even the visual effects of the game are brilliant.
24. Vector 2 

Vector 2 is a nice and simple game that takes place in a procedurally generated environment. It features lifelike animations in a dystopian world. Your objective in the game is to stay alive. You need to gear up with various equipment to keep yourself alive. The game offers you high-tech gear that will help you survive longer. You need to discover different ways to empower your equipment. You will also learn different stunts that will help dodge dangerous traps.
25. Reigns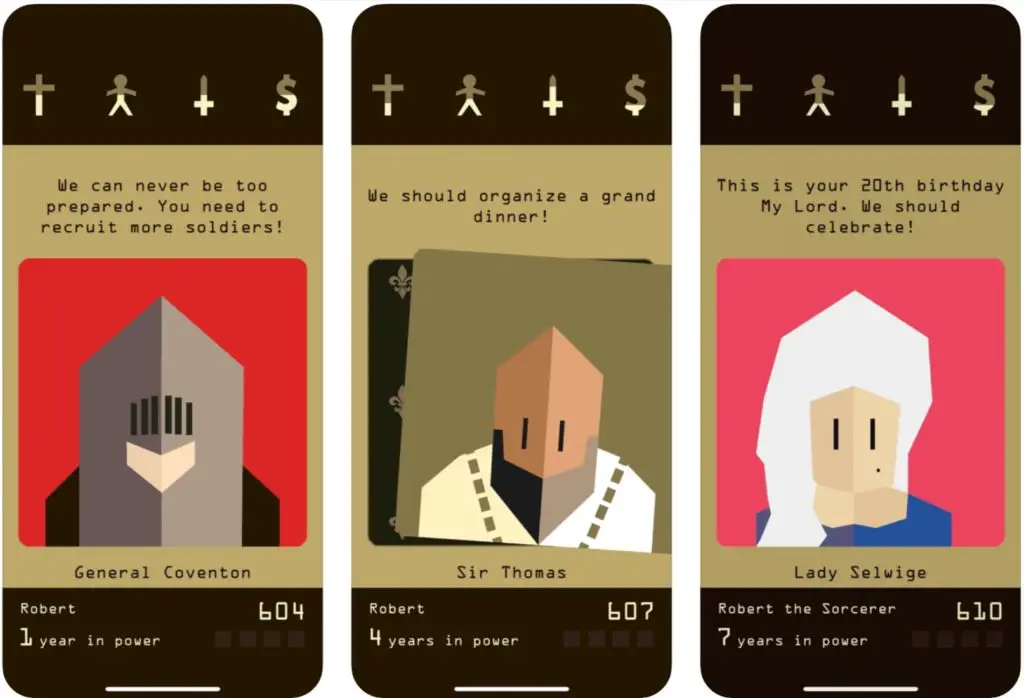 Reigns is a strategy-based game set in a fictional medieval world. In this game, the player takes the role of a monarch who rules the kingdom by rejecting or accepting suggestions from his advisors. Decision-making is a crucial part of this game. Every decision you make has consequences, which can be bad or good. Being careless can put your dynasty at risk. In short, this game is all about careful planning and prudent decisions. You will also encounter some surprise events as you progress in the game.
26. Monument Valley 2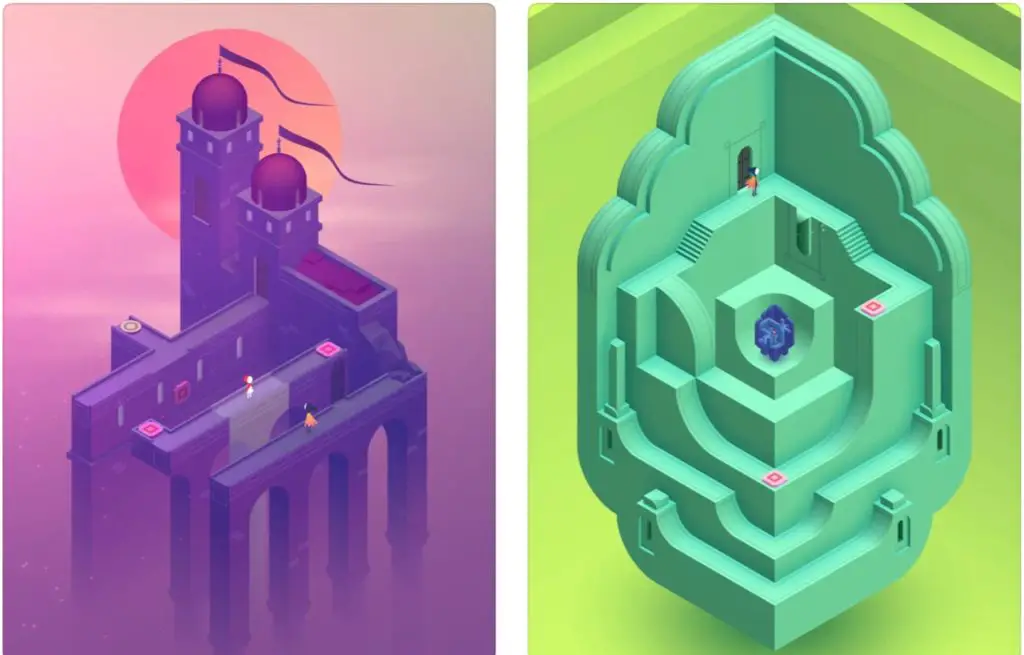 This is an indie puzzle game both developed and published by Ustwo Games. The game is played in an isometric view, where you need to guide Ro and her child through difficult mazes. The impossible objects and optical illusions are what make the game more challenging. You can control Ro and her child by simply tapping on the screen. This game requires you to help Ro teach her child about the valley's mysteries while exploring surrounding environments. The game features different levels and meditative puzzles.
27. Monument Valley
Next comes Monument Valley, which is the prequel to Monument Valley 2. In this game, you control Ida's character and guide her through mazes of optical illusions while manipulating impossible architecture around her in a beautiful, magical world. The game features various monuments, optical illusions, hidden paths, and everything else that is required to make it interesting. It includes eight new chapters of illusion and adventures. 
28. Offline Poker – Texas Holdem
If you are a sucker for poker games, this game is for you. From the title itself, you can get the idea that it is an offline poker game that can be played anytime, anywhere. The game sets you up against 142 offline opponents. It is a fast and responsive game where you need to tap the table to go to the next hand. You can also play the game online and collect hundreds of league chips. The game is made interesting with the help of smooth animations and realistic sounds.
29. Sid Meier's Civilization VI 

This is a turn-based strategy game, where you are assigned the task of building an empire. It supports cross-platform cloud saving, so you can play between your devices. In this game, you are required to expand your civilization throughout world history with additional features, civilizations, and leaders. The game also introduces 6 new modes, each of which comes with unique features.
---
Protect Your Online Privacy With Surfshark
[The VPN that we use here at Tech Arrival]
---
30. Star Wars: KOTOR
This is a highly popular RPG title based on a previously released comic book series. It is based on the fictional universe of Stars Wars. In this game, you must lead a group of heroes and villains in an epic struggle to save the entire galaxy. You can design and customize your character and play the way you like. On your journey, you will explore iconic locations such as the Jedi Enclave on Dantooine, the Sith Academy on Korriban, the Cantina on Tatooine, and others. It supports multiple languages, including French, English, Italian, German, and Spanish.
31. The Room

The Room is a 3-D puzzle video game with a beautiful interface. It is developed by Fireproof Games and has a minimal story. You learn about a mysterious box by letters. You are required to solve the puzzles around the box. At the start, you are presented with four puzzle boxes. This game takes you on a mind-bending journey filled with mystery and beauty in equal measure. The realistic graphics enhance the overall gaming experience.
32. Traffic Racer
Traffic Racer is an endless arcade racing game where you drive your car through highway traffic and earn cash. You can buy new cars and upgrade the old ones. Your objective in the game is to become the fastest driver and climb the global leader board. For a mobile game, it has got stunning 3D graphics. The realistic car handling and detailed environment enhance the overall gaming experience. You can choose from 40+ different cars. There are 5 different game modes, including time trial, endless, two-way, free ride, and police chase. The game also offers rich language support for convenience.
33. Skiing Yeti Mountain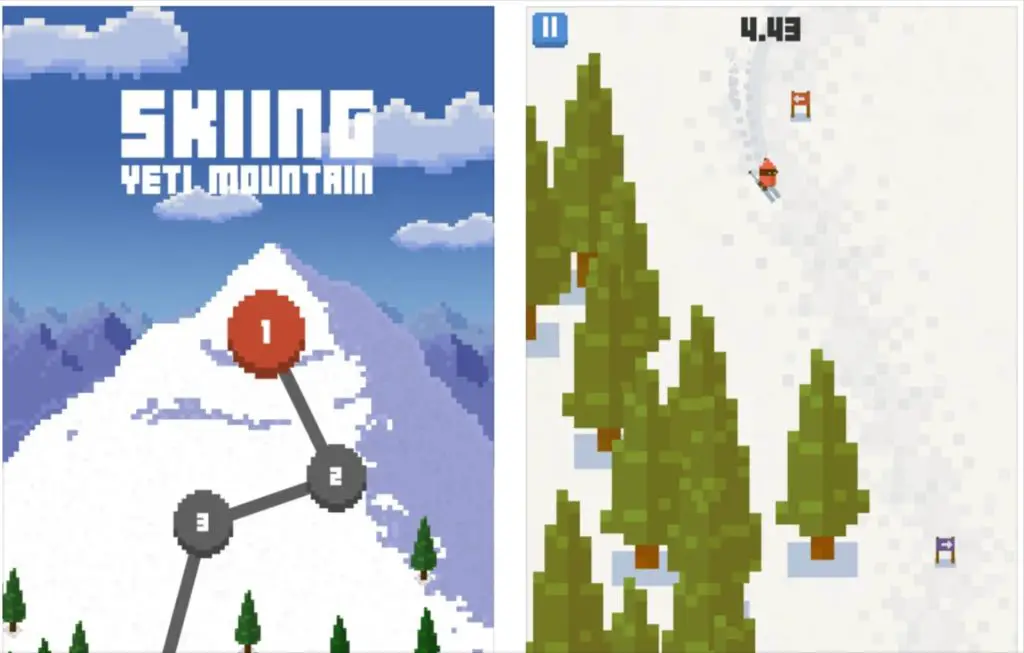 This is a classic mobile game that you simply cannot ignore. It consists of hundreds of levels, which only gets difficult as you progress. You are supposed to find the elusive Yeti while exploring your mountainous surroundings. You can skid over ice, weave through trees, and launch off cliffs to reach your destination. This game gives you the ultimate skiing experience on your mobile phone.
34. Horizon Chase
Horizon Chase brings you 30 races for free. It is a classic arcade racing game heavily inspired by the '80s and '90s. It also brings back the 16-bit generation graphic context to create a style that once existed in the past. The game features a harmonic and unique atmosphere that will simply blow your mind away. With Horizon Chase, you race around the world. You will drive through extraordinary races, facing rain, and snow, watching the sun setting, experiencing severe sandstorms, and whatnot.
35. Alto's Odyssey 
This is an endless runner and snowboarding game where you discover secrets on your journey. You can explore your surroundings, traverse canyons, discover hidden temples, and soar above dunes. Along the way, you will bounce atop hot air balloons, grind across vines, encounter lemurs, and ride towering rock walls. This is an exciting adventure game that is easy to play but difficult to master. In the course of the game, you will unlock six unique characters. The photo mode allows you to take beautiful photos of your trip.
36. Alto's Adventure

Alto's Adventure takes you on an endless snowboarding journey across the stunning alpine hills, through ancient woodlands and abandoned ruins. On your way, you will grind rooftops, rescue lamas, and do a lot of other adventurous things to make progress. The game has a smooth interface and is quite easy to learn. You can club combos together to increase your speed and points. The game has over 180 goals for you to test your skills. You can also challenge your friends and compete to find out who's the best.
37. Playdead's LIMBO 

Limbo is an indie adventure and captivating puzzle game designed with great visuals and immersive sound. The entire game is in black-and-white tones, using film grain and lighting effects to create a spooky atmosphere. This is a unique game that you will remember for a long time. The second half of the game presents mechanical traps and puzzles, making it further interesting. For the amazing gameplay, Limbo has also bagged a few awards.
38. BADLAND

This is yet another award-winning, action-adventure game. The story takes place in a beautiful forest full of trees and flowers. Even though the forest looks magical, there's something wrong with it. You will control one of the forest dwellers and discover many obstacles and traps on the way. The game also has a local multiplayer mode that can add up to four players. This game is all about survival with no rules. You can also play the game in single-player mode with over 100 unique levels. Besides that, you have the cooperative mode for up to four players.
39. BADLAND 2
As you might have guessed, this game is the second entry in the BADLAND series. However, this one is even better and comes with numerous exciting levels. You must survive through all the elements such as frost, liquids, magma, water, or whatever is thrown your way. To increase the fun, you can challenge your friends and even strangers. You can also participate in global events and climb up the global rankings. This game can also be played in single-player mode. Last but not least, it has 3D touch support, and the progress can be synced between all your linked iOS devices.
40. Im-A-Puzzle
Puzzles are routinely mentioned as one of the fantastic games to play for entertainment and brain benefits. Im-A-Puzzle features thousands of high-definition jigsaws that range from art, nature, and architecture to user-uploaded images. Additionally, the site features different difficulty settings, timers, and puzzles of the day. The mobile-friendly site features a detailed look into the history of puzzles and guides and popular strategies used to increase your performance.
---
Protect Your Online Privacy With Surfshark
[The VPN that we use here at Tech Arrival]
---
You have plenty of offline games to download and play on your iOS device. The games mentioned in the post are the most popular among iOS users. Download the games that interest you or you are yet to play and have an exciting time on your iPhone or iPad. Since these are offline games, you can play them anytime, anywhere, without worrying about the internet connection.
Also read: 17 Best Online Multiplayer Games for Android & iPhone
Frequently Asked Questions (FAQs)
What Are the Advantages of Offline Mobile Games?
The biggest advantage of offline mobile games is that you don't need an internet connection to play them. This also means that you don't have to spend your limited data.
What Are Some of the Best Racing Games for iOS?
Out of all the available options, we recommend you play Real Racing 3 and Need for Speed No Limits. These are the two ultimate racing games for iOS users.
What is Plague Inc. All About?
Plague Inc. is a strategy-based simulation game where you indirectly control a plague that has infected patient zero. There are various game modes to choose from. You are required to complete the objective set by the game mode.
How Does Bejeweled Classic Work?
The primary game mode is the Classic mode, which doesn't have a time limit. You need to swap gems to match a set of three or more gems of the same color.
Is the New York Times Crossword Puzzle App Free?
The New York Times Crossword apps for iOS come with an annual subscription of $39.95 per year, while the monthly subscription costs $6.95 per month. 
Is BADLAND Worth Playing? 
It is amazing that a game with a beautifully designed interface. It features side-scrolling puzzle gameplay that will keep you engaged for hours.
BADLAND or BADLAND 2, Which One is Better?
Badland 2 is more of an expansion, but it is even better than BADLAND. It comes with stunning visuals and gives you a brilliant gaming experience.
How Many Levels are there in Horizon Chase?
The tournament game mode has 4 different levels. The car with the most points is the winner. You can win this tournament even if you lose a race. You just need to collect the most points.
How Many Levels Do Skiing Yeti Mountain Have?
The game follows a story, and it has around 800 levels or so, which are revealed as you progress.
---
Protect Your Online Privacy With Surfshark
[The VPN that we use here at Tech Arrival]
---
Who Developed the Traffic Racer Game?
The Traffic Racer game is developed by Soner Kara and was released in 2013.
Is There Any Offline Poker App for iOS?
You should download Offline Poker – Texas Holdem for playing poker offline. However, this game can also be played online, and by doing so, you can collect thousands of league chips.
What Type of Game is Monument Valley?
Monument Valley is an indie puzzle game where you guide Princess Ida through mazes of impossible objects and optical illusions while manipulating the world around her.
Is Reigns a Strategy-based Game?
Yes, Reigns is a strategy-based video game published by Devolver Digital. It takes place in a fictional medieval world, where you assume the role of a monarch.
What is the Player's Objective in the Reigns game?
The main goal of the player is to reign over the land for as long as possible while maintaining a balance within the kingdom. If you die in the game, you take on the role of your successor.
What is the Best Car in Asphalt 8: Airborne?
The best car in the game is the Aston Martin Vulcan. It combines both speeds and looks.