In this day and age, life has become something of a mad rush to keep up with everything and everyone and make the most out of the measly 24 hours a day. This leads towards a generation that can't seem to stop and stare but luckily, the advances in mobile technology have gifted us with so many options that we'll never be left twiddling our thumbs.
Sure, browsing through your social media accounts is always a possibility but let's face it, all that cyberstalking tends to get a bit much at times, plus these apps are more likely to drain your phone battery quicker. You can surely install some boredom-banishing apps to help you while away the time, while you get bored commuting to your university or office.
Here are a few of the top trending apps at the moment and one thing they all have in common is that they'll keep you happily occupied for anywhere from a few minutes to several hours. Best of all, they're cyberstalking free to download for both Apple and Android devices!
List of Best Time Killing Apps for Android
1. Words With Friends
This Scrabble-based word game allows you to go head to head against your friends or random strangers while you sharpen your vocabulary by creating words with sets of letters. There's even a solo play feature if you prefer to do some training on your own before facing the competition.
Download from Google Play Store
2. 2048
Give your brain some exercise with this math-oriented game that's surprisingly addictive. Using elementary math skills, you'll have to swipe tiles until you reach the number 2048 without being eliminated from the game. It is really addictive and takes you back to those old school days.
Download from Google Play Store
3. QuizUp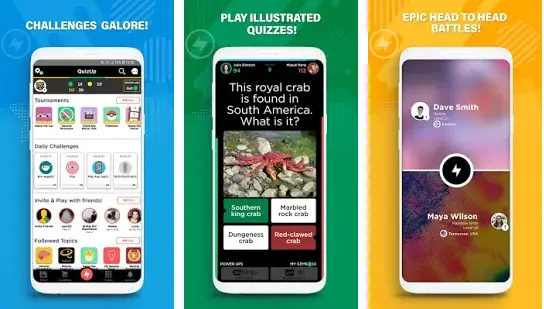 Brain teasers like this and the ones mentioned above are all the rage right now. According to research of Verto Analytics, these are the most popular gaming sub-genre known to engage players and keep us coming back for more. Trivia fans will definitely enjoy QuizUp. Its gameshow-like approach allows you to take multiple quizzes. It even lets you compete against other players and increases your vat of general knowledge too. Choose from over 100 topics, from history and economics to popular culture.
Download from Google Play Store
4. Bubble Wrap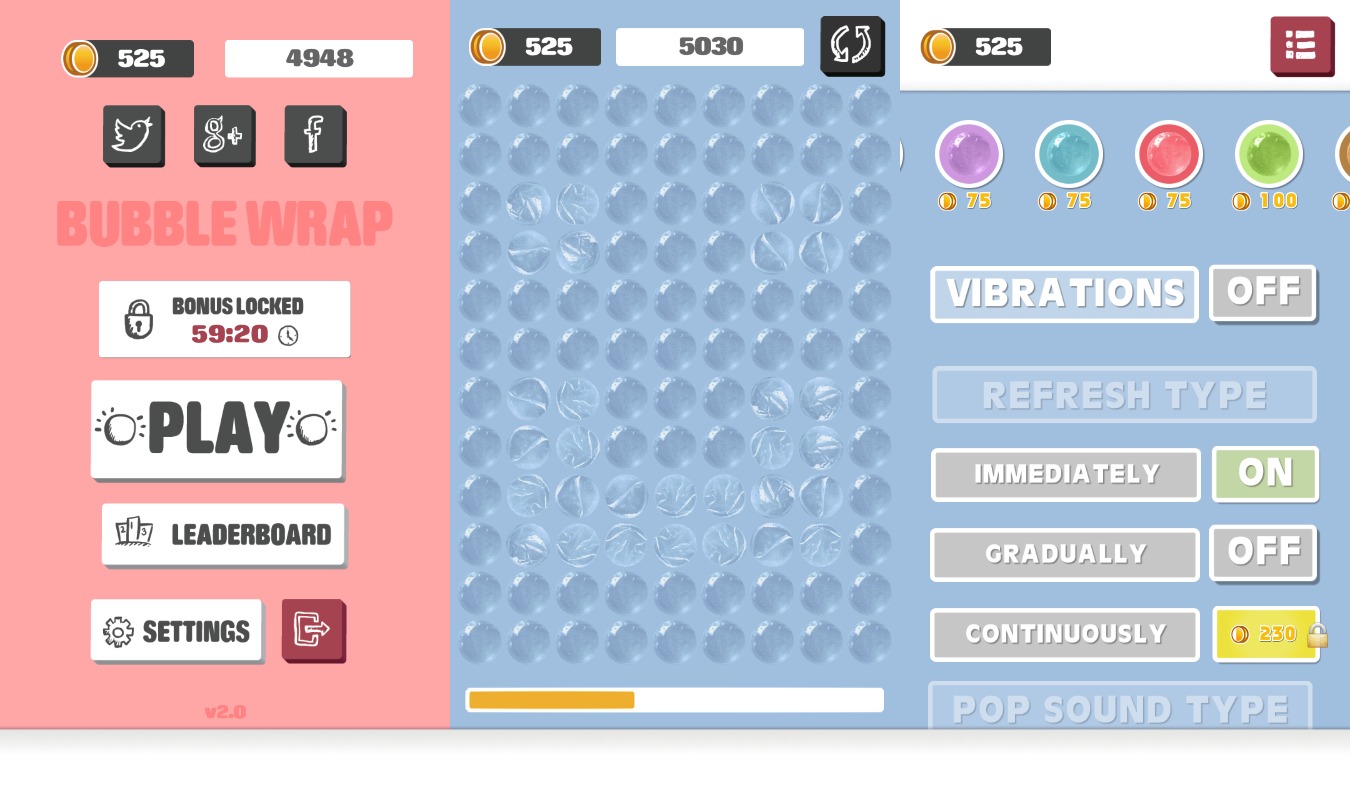 Ok, so we have to admit, it's not the most useful of apps. But for those of you who happen to harbor that all too common obsession with popping bubble wrap, this one is for you. Once you getting popping, you won't want to stop. A stress-reliever for sure.
---
Protect Your Online Privacy With Surfshark
[The VPN that we use here at Tech Arrival]
---
Download from Google Play Store
5. Anti Stress – Anxiety Relief Relaxing Games
Everyone these days is stressed out due to the hectic schedule we all follow. Sometimes, all we need is some relaxing games to clear our mind and stress. Anti Stress does exactly this. It has got a lot of mini-games which will help you clear your mind. So sit back, and relax by exploring this app.
Download from Google Play Store
6. Toilet Time
Use this app while you're taking care of your business and you'll never be bored on the porcelain throne again! Featuring a range of toilet-themed mini-games that can be played in just a few minutes, its mindless entertainment at its best.
Download from Google Play Store
7. Sand Draw Sketch
Get creative by using virtual sand as your canvas in this fun sketching game. You may not be able to make the trip to the beach but at least you'll still get to draw in the sand.
Download from Google Play Store
8. Duo Lingo
This app is a great tool for those who are interested in learning new languages. The benefits of language learning are multiple. So it's worth making the most of your spare time, even if it's just 20 minutes riding the subway. Choose from Spanish, French, German, English and 20 more languages to learn with detailed lessons and daily exercises to help you practice your new skills. A long-term boredom solution, right?
Download from Google Play Store
9. Perfect365: One-Tap Makeover
This is one app for the appearance-conscious amongst us. Simply upload a photo of your face, and you'll get to try out dozens of haircuts and makeup looks without having to waste endless hours at the hairdresser or beauty salon. Get as many wild virtual makeovers as you like and then try out your best look in real life, if you're brave enough to take the plunge!
Download from Google Play Store
---
Protect Your Online Privacy With Surfshark
[The VPN that we use here at Tech Arrival]
---
10. Flow Free
Flow Free is an addictive game for killing your time. It requires you to connect matching colors with pipes to create a flow and cover the board, once you do that, you are welcomed to the next level, but it is not easy to do as it seems to due to the fact that Pipes break if they cross or overlap. 
Download from Google Play Store
11. AnonyChat
Have no friends to chat with? How about chatting with random people just like you trying to kill their time over the internet? Using AnonyChat, you can talk to anonymous strangers and even send them photos and more. It also comes with appropriate matchmaking based on language and interests so that you get to converse with like-minded people.
Download from Google Play Store
12. Meme Generator Free
Memes are a great way to laugh and stay entertained, but what if you can create them yourself? Unleash your creativity with this Meme generator app, create different memes and quotes using different fonts and images and you are good to go for sharing with your friends and fam.
Download from Google Play Store
13. Duet
Duet is a very complex and brain-eating game. It requires the payers to control two spheres rotating in the same orbit and bend the blocks that fall on them. You need to control the same in two vessels on screen, that too in sync, without loosing on calmness. Trust me, you need to be so calm and focussed to win this extraordinary game. Difficulties pace up after each level, in the end, remember to keep your eyes on blocks.
Download from Google Play Store
14. Crossy Road
Crossy Road involves you to choose the right time to cross the road with moving cars, the railway bridge or to cross the deep and stormy river with a lot of obstacles on your way, also keeping in mind the speed led by animals throughout the gameplay. The main motive is to make the animal character cross the busy road without collapsing. There are 50+ characters performed in the style of retro and pop art in various scenarios like river, barriers, and crossovers adding towards non-stop fun.
Download from Google Play Store
15. Happy Glass
Happy Glass is a game where you have to draw a line, from where the water will flow and make sure it fills up the glass. There's a lot of physics in this game so you have to think where and how you draw the line so that the glass is filled up successfully.
---
Protect Your Online Privacy With Surfshark
[The VPN that we use here at Tech Arrival]
---
It's a lot of fun, and we're sure you'll enjoy this.
Download from Google Play Store
16. Two Dots
This is basically a simple color matching game that requires you creating squares by doing the same. This adventurous and full of levels puzzle game does give pleasing haptic vibrations after each square is made. If you want a puzzle game that keeps your brain and eyes involved for hours and hours without getting bored, then this is the way to go.
Download from Google Play Store
17. Bottle Flip 3D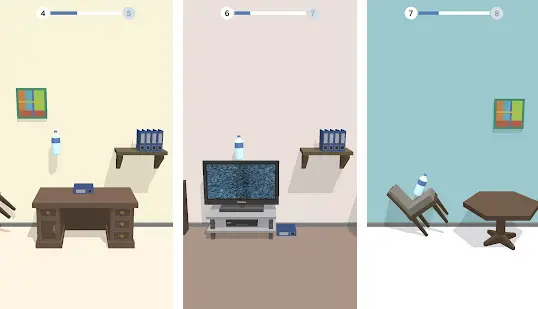 As the name suggests, you have to flip the bottle in this game and make sure it lands perfectly. It is similar to the bottle flip challenge. As you proceed, the bases (where you land your bottle) start moving and become unstable. So you have to time your flip accurately so that it lands in a perfect manner.
Download from Google Play Store
18. Feedly
Feedly is basically an all in one feed for reading what you love to. You can add your favorite sites within the app in different categories and sections, this will allow you to browse through all the recent updates from your preferred sites. Feedly also offers support for a widget on home screen meaning you can read all the updates right from your home screen without even opening the app. 
Download from Google Play Store
19. Galactic Warrior
As the name suggests, Galactic Warrior is a fast-paced and arena style action game where you need to defeat the waves of enemies using your skills for gaining access to gold, armors and reach the glory, all packed in two different modes- a free of limits infinity mode and a fully-fledged story mode.
Download from Google Play Store
So that was all about the best apps that can help you kill some free time. If you have any other apps in mind then do let us know using the comment section below!
---
Protect Your Online Privacy With Surfshark
[The VPN that we use here at Tech Arrival]
---