Weather apps help you stay ahead of the weather and take necessary precautions. Luckily, plenty of weather apps are available, most of which are compatible with your iPhone and iPad.
However, finding the best weather app can be a challenge. But no worries, we have got your back. Whether you want to track climate changes or real-time weather forecasts, these are the best weather apps for iPhone and iPad users.
Also read: 12 Best iOS Keyboard Apps for iPhone and iPad
List of Best Weather Apps for iPhone & iPad
1. Weather Underground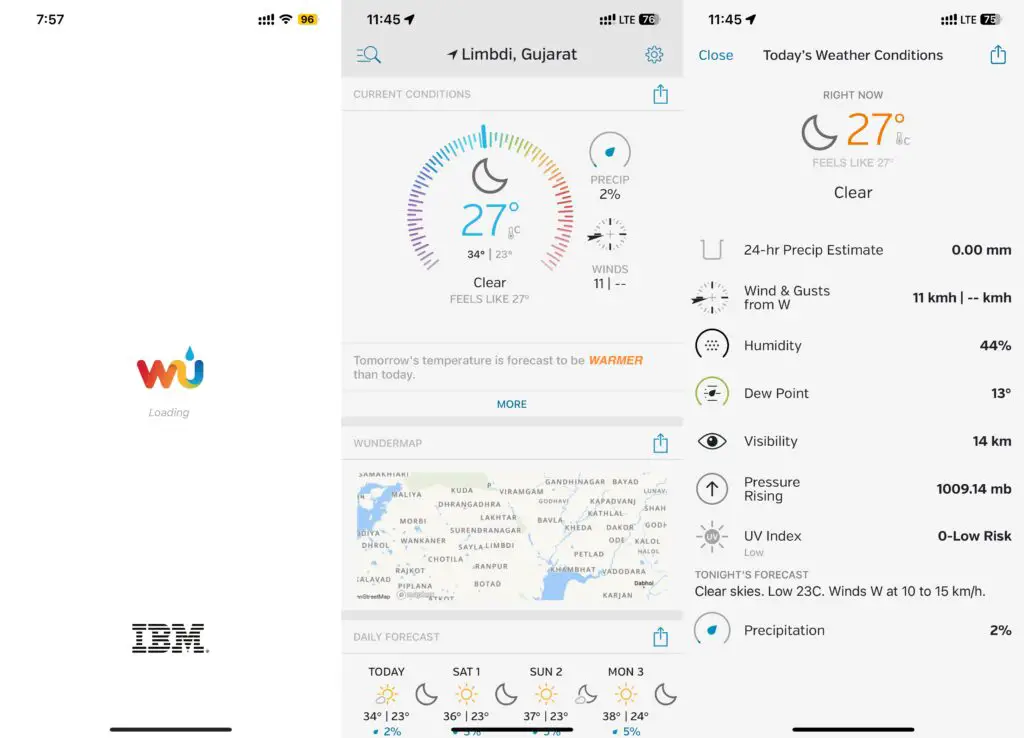 This app sources weather data from an extensive network of personal and amateur weather stations. It offers detailed information on the weather condition of your area.
The unique thing about Weather Underground is the crowd-sourcing option, which enables users to post their weather reports. Plus, it has a user-friendly and customizable interface.
2. Apple Weather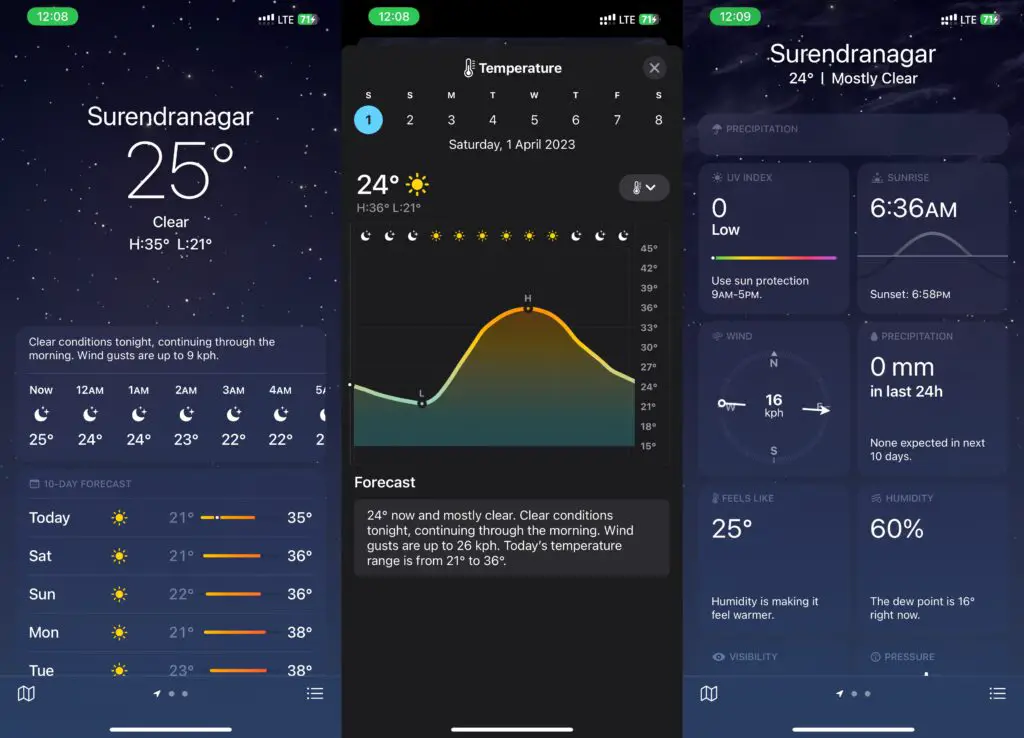 When talking about the best iPhone weather apps, we can't miss out on Apple Weather. Initially, the app was elementary, but after iOS 15, the Cupertino giant took steps to revamp the app. They have turned the app into a strong contender with improved features.
The minimal design is what makes the app more convenient to use. It includes a new map for weather information based on geographic location. It also has in-app sections for air quality, temperature, UV index, and more. Best of all, the app comes pre-installed on your device.
3. The Weather Channel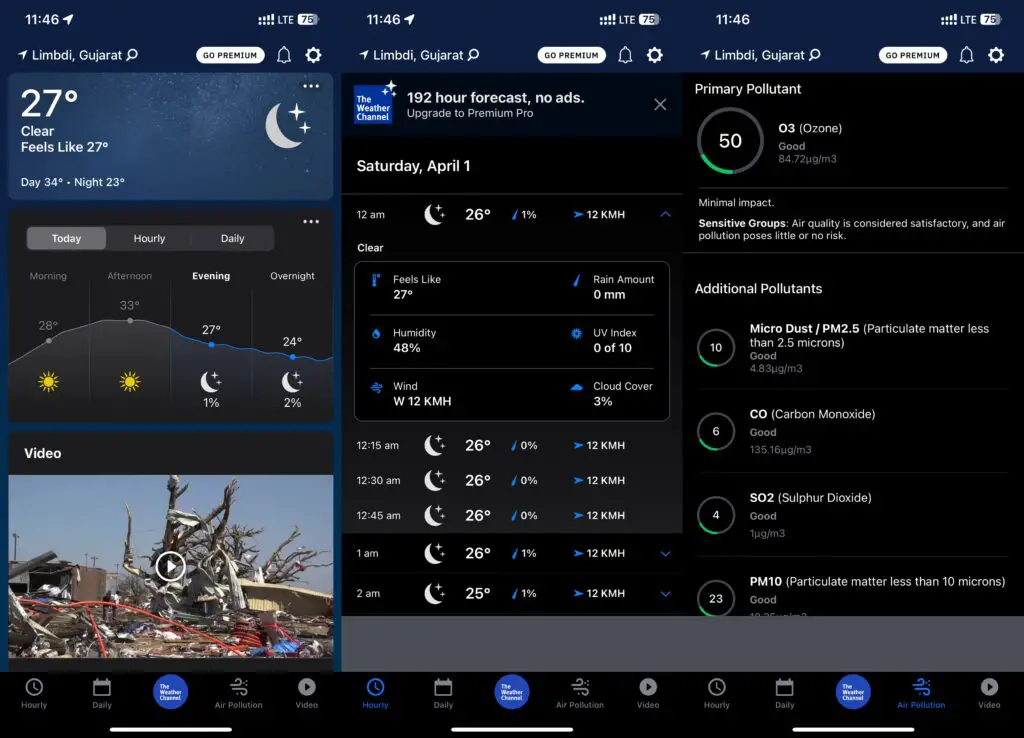 Next in the line is The Weather Channel, owned by one of the top weather companies in the United States. It is best suited for those looking for a simple and easy-to-use weather app.
Unlike other apps, it is not paid. It is an ad-supported app with a myriad of useful features. It includes 15-minute rain forecasts, editorial weather content, and snow intensity data. What we like the most is the news alert for extreme weather conditions. To stop the ads from interfering, you can get the premium version with advanced features.
4. Carrot Weather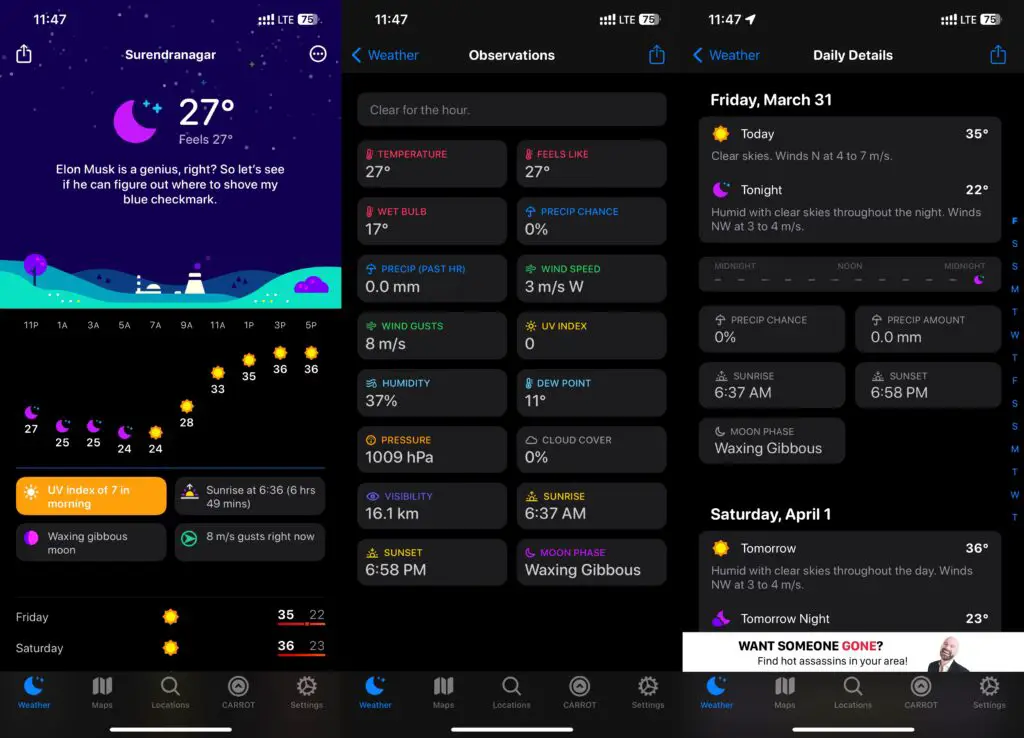 Carrot Weather has long been used by iOS users. It is one of the most trusted weather apps for iPhone and iPad users. This award-winning app lets you get daily weather updates on your phone. It offers some level of customization with a good amount of humor.
---
Protect Your Online Privacy With Surfshark
[The VPN that we use here at Tech Arrival]
---
For convenient use, it has Apple Watch apps and widgets. You can access the premium features by opting for the paid version.
5. WeatherBug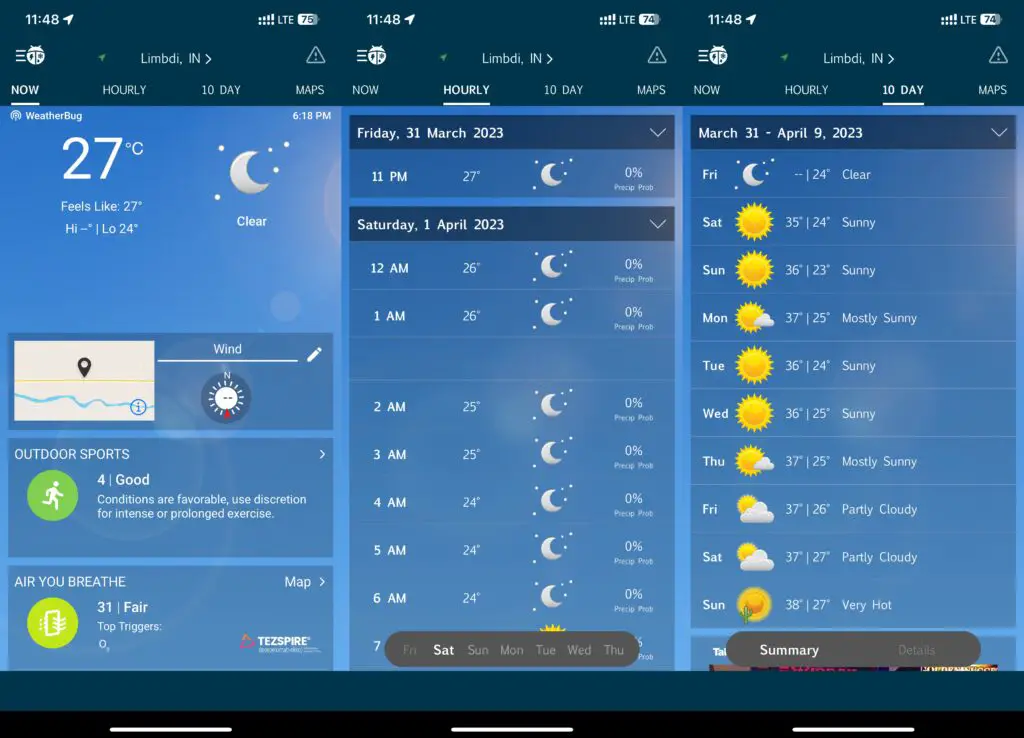 This app is best suited for people with allergies. In addition to providing weather reports, it details the daily pollen index. This feature helps you know when allergy triggers are at their peak.
It also includes a great home feature that lets you link your thermostat so that you will stay informed about your total energy consumption. You can also determine your daily energy expenditure based on average electricity, weather conditions, and gas costs.
6. RadarScope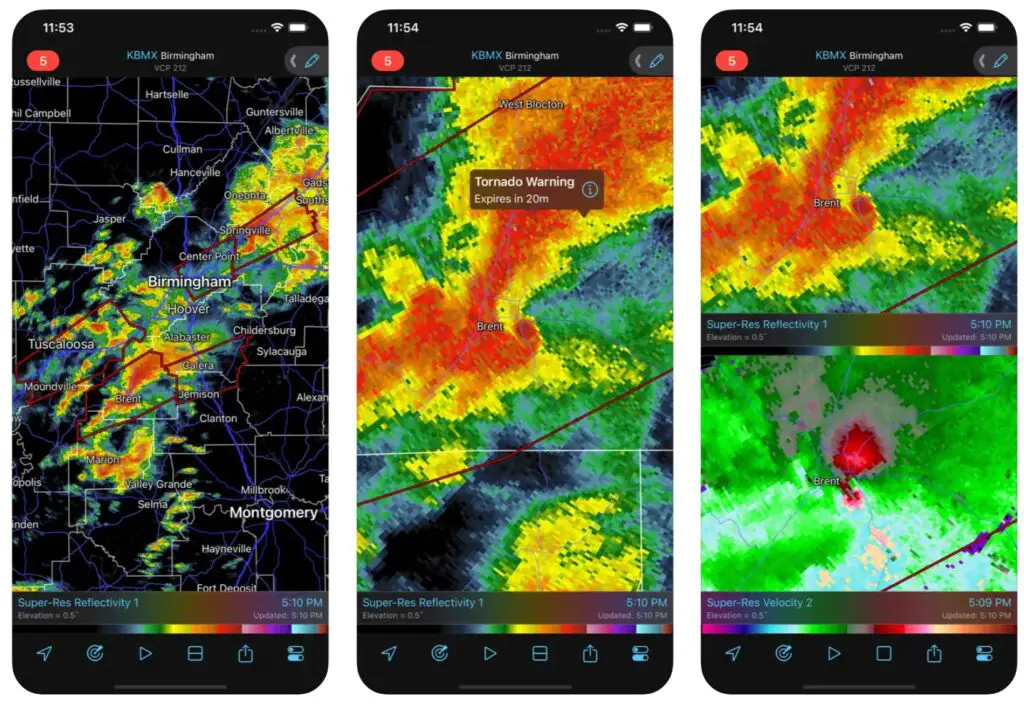 If you are searching for a feature-rich app, there's no better option than RadarScope. This app is trusted by weather enthusiasts and meteorologists. It offers Nexrad Level 3 data from Puerto Rico, the U.S., and Guam weather stations.
It has the highest level of accuracy when it comes to delivering weather reports. Weather alerts inform users about extreme weather conditions, so they can plan their day accordingly. It also includes a set of fine-tuning options for meteorological data.
7. Weather Live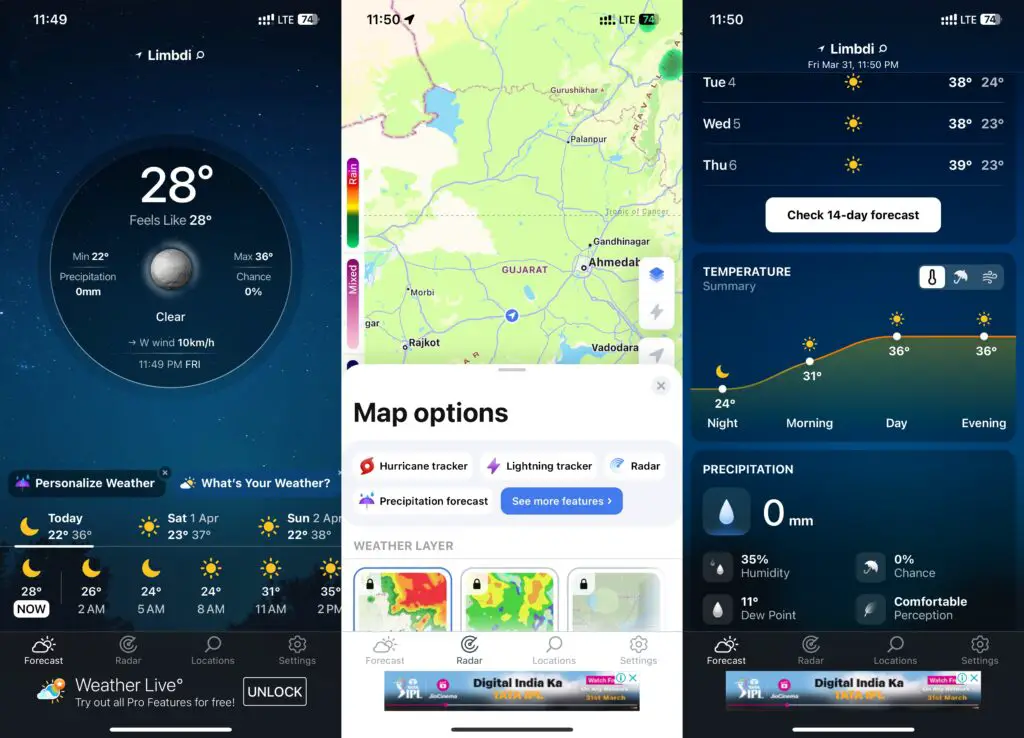 Next, we have Weather Live, which has a simple and clean interface. For accurate real-time weather data, this app is the best. It offers detailed weather reports for hourly, daily, and weekly forecasts.
However, the best thing is the customizable display. It allows you to select from different layouts based on your liking. Not just that, but you can also set the order in which the data is displayed. The daily morning notification will keep you updated on the current weather condition.
8. AccuWeather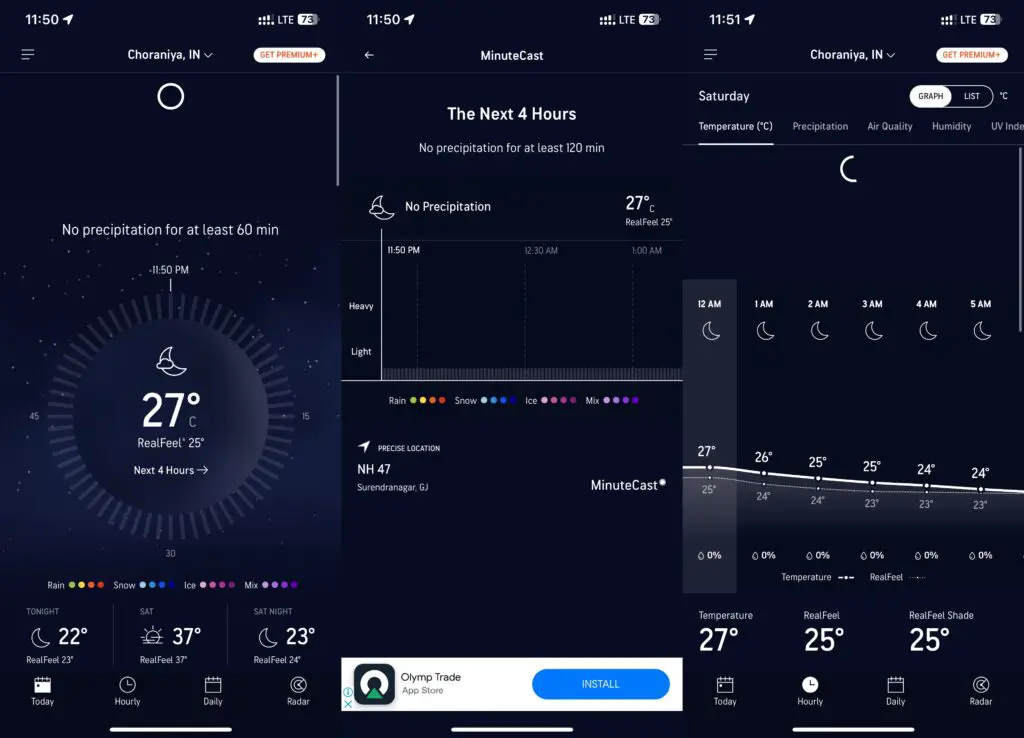 AccuWeather is one of the most comprehensive weather apps that exist. With zero frills and dozens of valuable features, it makes an excellent choice for weather enthusiasts. Once you download this app, you no longer have to deal with unexpected weather conditions. It will keep you informed with real-time weather reports daily.
It has weather news and videos, allergy conditions, sunset and sunrise information, and more. It also allows users to share their weather reports. If your data is accurate, it can get featured in news reports. Beyond the free features, a few premium options come with the paid version of the app.
9. 1Weather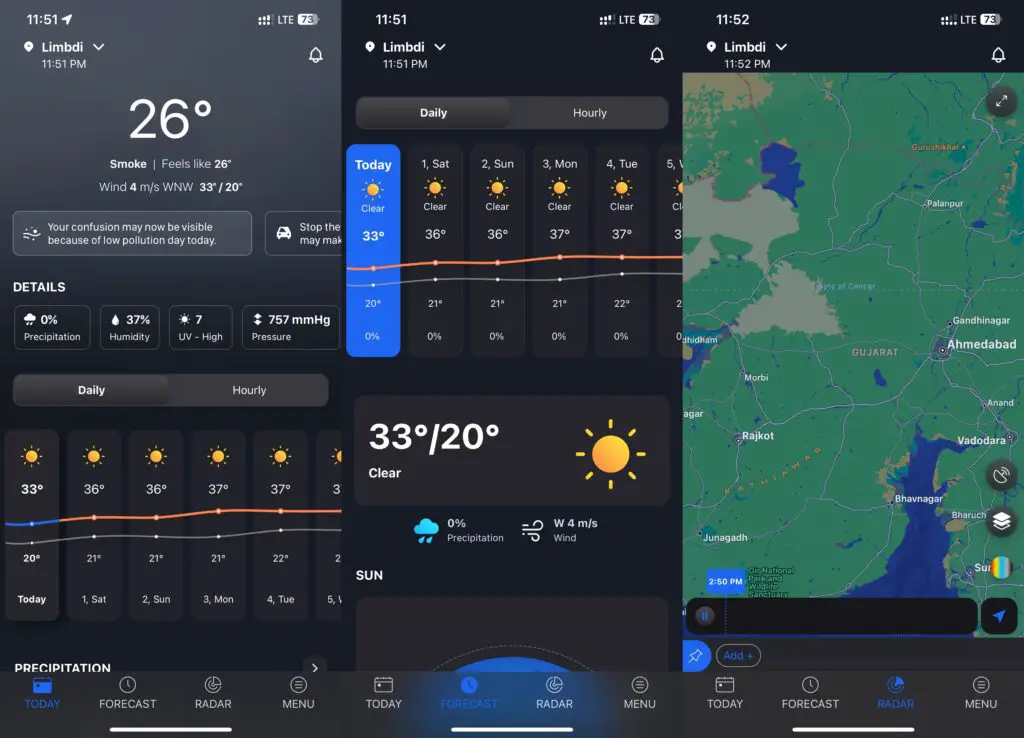 1Weather is a user-friendly weather app with tons of features. It offers a vast amount of data minus the clutter. From hourly forecasts to 10-day forecasts, 1Weather has all types of options ready for its users. It also includes a 12-week forecast, which you won't find in other weather apps.
1Weather covers barometric pressure, wind speed, and other helpful information that weather enthusiasts want. With the help of this app, you can simultaneously track weather conditions in 12 different places. Lastly, it has moon phases, radar maps, informative videos, and graphs.
---
Protect Your Online Privacy With Surfshark
[The VPN that we use here at Tech Arrival]
---
10. Clime
Clime is known to offer the best features and functionalities among iOS weather apps. You will find this app helpful if you travel a lot. It offers real-time weather data for various locations. All you need to do is click on a location on the map, and it will show you the weather condition of that place.
Other notable features include rain scope that predicts precipitation likelihood. It has both free and paid versions. We suggest you get the premium version to make the most of this app.
11. Weather & Radar
This app gives you access to some of the best temperature calendars. The line graph indicates the upper and lower limit temperature trends. Additionally, it offers 14-day forecasts.
Using this app is very simple. Just search the name of the place in the search box and download the weather report of that place. It also includes an automatic location detection option. One of the good things is that it allows you to share weather data with family and friends.
12. Yahoo Weather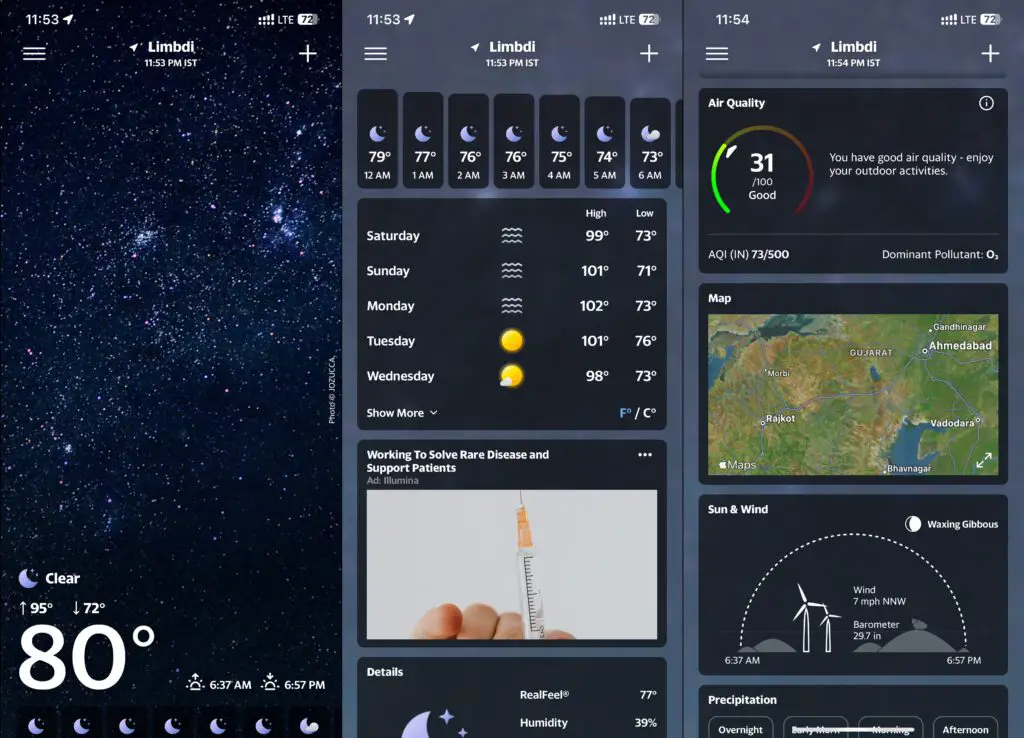 Lastly, we have Yahoo Weather which provides hourly weather forecasts as well as precipitation forecasts. It offers accurate real-time weather information to stay updated on the current weather conditions. That's not all; it also allows you to track temperature changes for a whole week.
It includes a thunderstorm forecast on the dashboard. This feature is helpful for people working outside. It can save you from putting yourself in unwanted weather situations. For better precision, you should use the auto-location detection option.
Having a reliable weather app can make life easier. With these apps, you can keep updated on daily weather conditions and plan your day accordingly. These apps are designed to offer real-time and accurate weather reports at all times.
Also read: 15 Best Free Live TV Apps for Android & iPhone
Frequently Asked Questions (FAQs)
What are Weather Apps used or?
Weather apps provide accurate weather data and information to keep you updated on the current weather conditions.
What are the Best Weather Apps for iPhone & iPad?
AccuWeather, Carrot Weather, and Apple Weather are the best weather apps for iOS users.
Is Clime Weather App Free?
Clime can be used for free, but it has some premium features that can be accessed only after paying the subscription fee.
---
Protect Your Online Privacy With Surfshark
[The VPN that we use here at Tech Arrival]
---
Is AccuWeather Good?
AccuWeather is one of the most reliable and accurate weather apps out there. It is trusted by meteorologists and weather enthusiasts as well.
What are the Must-Have Features of a Weather App?
A good weather app should have the following features: Real-time weather forecast, Weekly forecast, Extreme weather alerts, Precipitation prediction, Air Quality, and Maps.
Is Dark Sky still working?
Dark Sky was purchased by Apple and was discontinued in 2022.
Where do Weather Apps Source Information from?
Weather apps source forecast data from satellites, weather stations, radars, weather balloons, and volunteers.
What is a Precipitation Alert?
Precipitation alert informs you when rain is approaching. This alert is a short-term forecast based on real-time data.
Are All Weather Apps Free?
Most weather apps can be used for free but will give you limited features. For full access, you will have to get the paid version of the app.
Which is the Most Accurate Weather App for iPhone?
The most accurate weather app for iOS is AccuWeather and The Weather Channel.