According to Apple, the future is wireless. And now, their phones finally support wireless charging. Unfortunately, Apple's plan of creating a wireless charger (remember AirPower?) didn't go quite well. So you have to look out for third-party options if you want to charge your iPhone wirelessly. Well, lucky for you, we have gone over hundreds of options and picked up the best among the best. Here are our top picks for the best wireless charger for your iPhone this year!
List of Best Wireless Chargers for iPhone
1. Belkin Boost Up Wireless Charging Stand
Belkin's Boost Up wireless charging stand lets you charge your iPhone in portrait or landscape mode, instead of just laying it out flat. The charger is a 10W one and is fast enough to charge your device. The charger is compatible with cases as well, as far as they're up to 3mm thick. It also has got an LED light indicator which lets you know whether or not your device is charging. It also has a foreign object detector which lets you know if your phone will charge or not, or whether you've kept something on it accidentally.
There are two color options available for this one – Black and White.
2. Nanami 2-Coil Qi Wireless Charger
This wireless charger from Nanami also has a stand design that lets you charge your iPhone in both portrait and landscape modes. It is apparently a fast wireless charger and also supports Qualcomm QuickCharge 3.0. Also, it is quite safe to use as there are certain measures taken not to overcharge your device. The LED indicator on this one will glow but then turn off after 10 seconds. This makes it comfortable to use if you want to charge your device before going to bed. The design is stylish and compact as well.
3. CHOETECH Dual Fast Wireless Charger
This charger from Choetech is big enough to accommodate and juice up two devices at once. It can do that simultaneously at up to 18W output which is great. The charger has got 5 coils which make sure there's no missed spot when you keep two devices at once. The surface top of this one is made up of leather, which is nice to touch. Although, all of this makes it a little bulky so it might not be ideal for outdoor use or during your tips. Apart from such cases, if you plan on using it indoors, this is a pretty good fast wireless charger.
4. Belkin Boost Up Wireless Charging Dock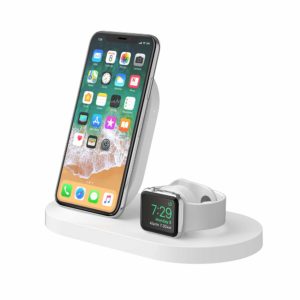 This one from Belkin again is specifically made up to charge everything Apple. It can charge your iPhone and your Apple Watch simultaneously. The iPhone charges at 7.5W and Apple Watch charges at 5W. It also supports Apple Watch's Nightstand mode, you can use this as a mini alarm clock while charging your devices. It even contains a port on the back lets you use USB-A to charge a wired device such as AirPods.
5. Anker Wireless Charger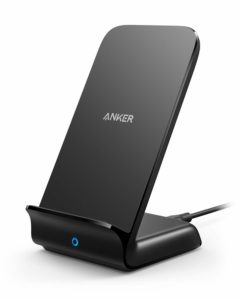 Anker's wireless charger not only charges your phone but also doesn't let it heat. This is possible because of an internal cooling fan that ensures your device won't overheat. It also comes with a safety measure that gives the right amount of power to the right device. The maximum output is 10W. It also has an anti-slip surface which ensures your phone wouldn't fall accidentally. It also comes with an LED indicator that indicates when the device is charging. The device supports charging your iPhone with the case on. You also get 18 months of warranty on this wireless charger.
6. Mophie 3 in 1 Wireless Charge Pad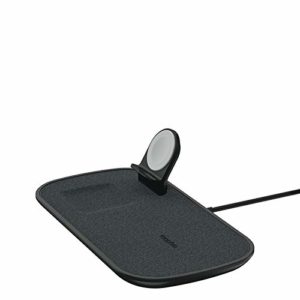 Just like the name suggests, this wireless charger from Mophie can charge three different kinds of devices all at once. You can charge your iPhone as well as your AirPods and Apple Watch on this wireless charger. Do note that it doesn't fit AirPods Pro just yet, we expect Mophie to give us an updated version of this versatile wireless charger soon. Apart from that, it also supports wireless charging your iPhone with a case on and also features an anti-slip surface for more protection.
7. Native Union Dock Wireless Charger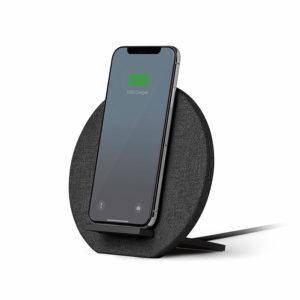 Native Union's wireless charger is probably the most stylish one on our list. It comes in six different colors for you to decide. The power output is of 10W and there's also a little pedestal to let your face unlock your iPhone with ease. There's also the thermal protection that keeps your phone cool. There is no power brick included with this one, but you get a really long 6.5 foot braided cable to keep the juice flowing.
8. RAVPower Fast Wireless Charger
RAVPower's wireless charger can charge your iPhone at 7.5W which is great. It has something called HyperAir that disperses heat more efficiently than other chargers of the same category. It also has an LED light that turns orange and not green for some reason. This works through cases but not if they are thicker than 3mm. The rubberized ring around the surface area makes sure your phone doesn't slip off easily. It even includes an AC adapter in the box which is rare to see with a wireless charger.
9. Mophie Charge Stream Pad+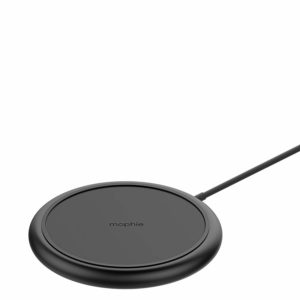 Mophie's Stream Pad+ is also a fast-charging pad that can go up to 10W of output power. Its surface area is covered by antislip rubber which keeps your phone firmly stable while it is charging. It can also charge your phone with the case on, as long as it is less than 3mm thick. It also stops charging when your battery is full, making it safe enough to keep your phone on charge overnight.
10. Moshi Otto Q Wireless Charger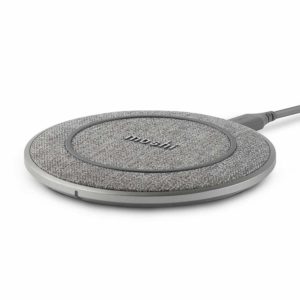 Otto Q from Moshi wants to makes you take a unique experience in wireless charging. It's grey fabric and slim profile makes it perfect for your office table. It can fast-charge your iPhone at 7.5W and supports up to 10W of max power output. There is also an anti-slip rubber surface on it which will protect your all-glass iPhone for sure. You don't get a wall charger/power brick with it, but Moshi gives you a USB C to USB type A cable. So you can probably use it with the power bricks lying around your house, or get yourself a new one at an added cost.
11. AirUnleashed Wireless Charging Pad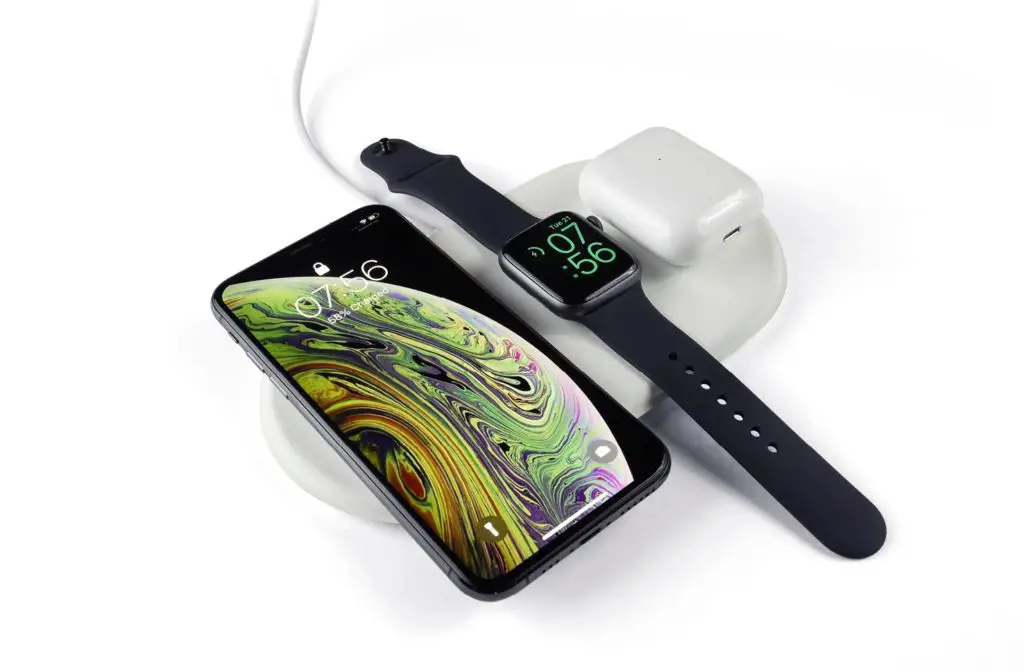 We all know Apple canceled its AirPower and it was quite disappointing. But many companies saw this as a potential opportunity and created a successful knock-off product out of it. AirUnleashed is one such company. It created its own version of AirPower that can still do the job, Apple intended to – simultaneously charge three Apple devices – an iPhone, Apple Watch and AirPods. It has been reviewed by a lot of reviewers like MKBHD and Tech Crunch. It's available in two color variants – White and a limited edition Black as well.
12. Anker PowerPort Wireless Charging Pad
This charger from Anker is quite compact and easy to carry especially when you are traveling or on the move. It supports fast-charging up to 10W for compatible phones. It also comes with anti-slipping material on both the top and bottom surfaces. It also has quite a stylish design which is suitable for office and home usage. The charger also comes with advanced safety features like temperature control, protection from sudden power surges and spikes or any form of voltage capacity issues. 
Final Words
These were our top options for wirelessly charging your iPhone. If you get any of these, let us know your experience in the comments section below. Also, if your favorite wireless charger is not listed above, let us know about it and we'll surely check it out.