Instagram has seen huge growth since it debuted back in 2010. With over 1 billion monthly active users it is currently ranked among the top 10 most popular social media networks in the world. Not only it's used by regular users, but it also turned out to be a very useful tool for internet marketers. The numbers of advertisers on Instagram are growing at a fast rate, in part due to the fact the social media platform is considered the best for customer engagement. But the question arises is what makes the platform so engaging to users and how can marketers take advantage of it.
In a survey taken of more than 2,500 micro-influencers, 60 percent voted Instagram as the best overall platform for engagement. In comparison, Facebook only managed to gather the support of 18 percent. Another report by Forrester Research found that Instagram generates 120 times more engagement per follower than Twitter.
But to get the full business benefits from Instagram, you will need to have a sufficient number of followers. If you have more followers, your marketing efforts will reach to your potential audience. Instagram users probably would want more followers, likes and comments in their profile. While there are certain tools available in the market, we will be reviewing the Combin tool. The latest version Combin 2.0 has arrived with various new improvements.
Instagram & Growing More Followers
Instagram has become a success story and has emerged as one of the most social media applications along with arch-rivals like Facebook and Twitter. It was first launched in 2010 by Kevin Systrom and Mike Krieger exclusively iOS devices and was later a by Facebook in 2012 and an Android version was soon.
Instagram allows users to upload photos and videos to the platform which can be later viewed by your friends and public as long as you keep in your account. If done the right way, you can reach out to a lot of followers on a personal level. But for that, you need to grow a large, effective and reliable fan base which seems a lot of work. However, there are tools like Combin that helps you gather more followers in a short span while following Instagram's community guidelines.
What is Combin?
Combin is an excellent and smart tool developed by a team of Instagram users and developers to help with Instagram marketing. It will help you get genuine likes, comments and grow an effective Instagram audience, without having to worry about breaching any Instagram terms and guidelines.  This tool will let you focus more on your business and increase sales and profit. The service is available to Windows, Mac and Linux users.
You can log in to Combin with your Instagram account. Though it asks your email address, there is no need for other details like a phone number. There are also no risks of stolen passwords as Combin doesn't collect any private data that they mention clearly on their privacy policyon their official website.
How to Use Combin?
You can download the application directly on your computer from the official website. After installing, launch the application and login with your Instagram account.
Open Search Tab and select "Add Search"
Now you can search for posts using relative hashtags and locations. You can select any post and leave likes and comments.
Features (of Combin)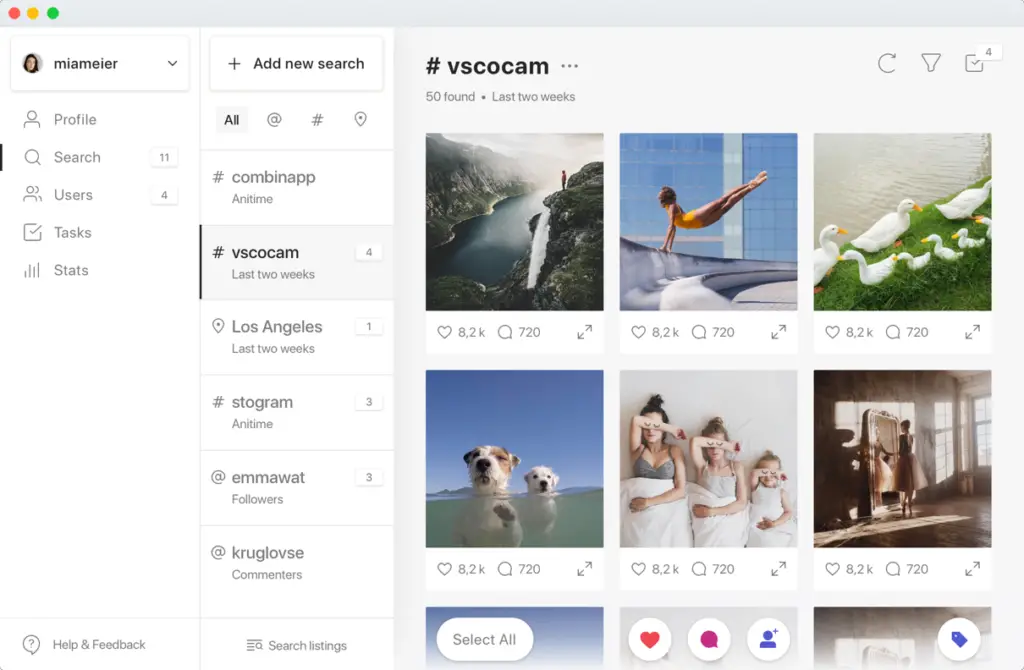 Here are some default features of Combin that will help you find influences and new real followers:
Advanced Instagram Search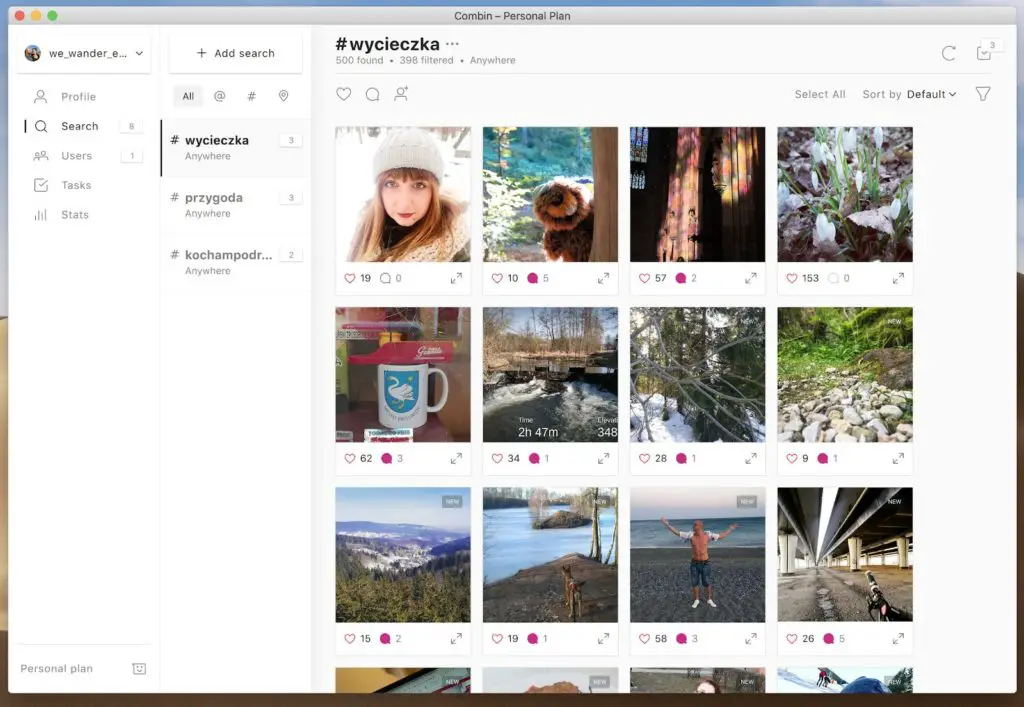 Find potential followers through targeted search using a hashtag, by location, among followers, followings, likers, and commenters of your competitors. Further, you can combine queries and pick relevant places on the interactive map for more accurate results.
User Search analysis
Combin has user analysis for searches to only receive post and profiles of interaction efficient accounts, skipping celebrity profiles, shops, spams, etc. It uses machine learning-enhanced algorithm for determining such accounts with 90% accuracy.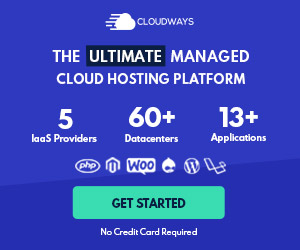 Audience Management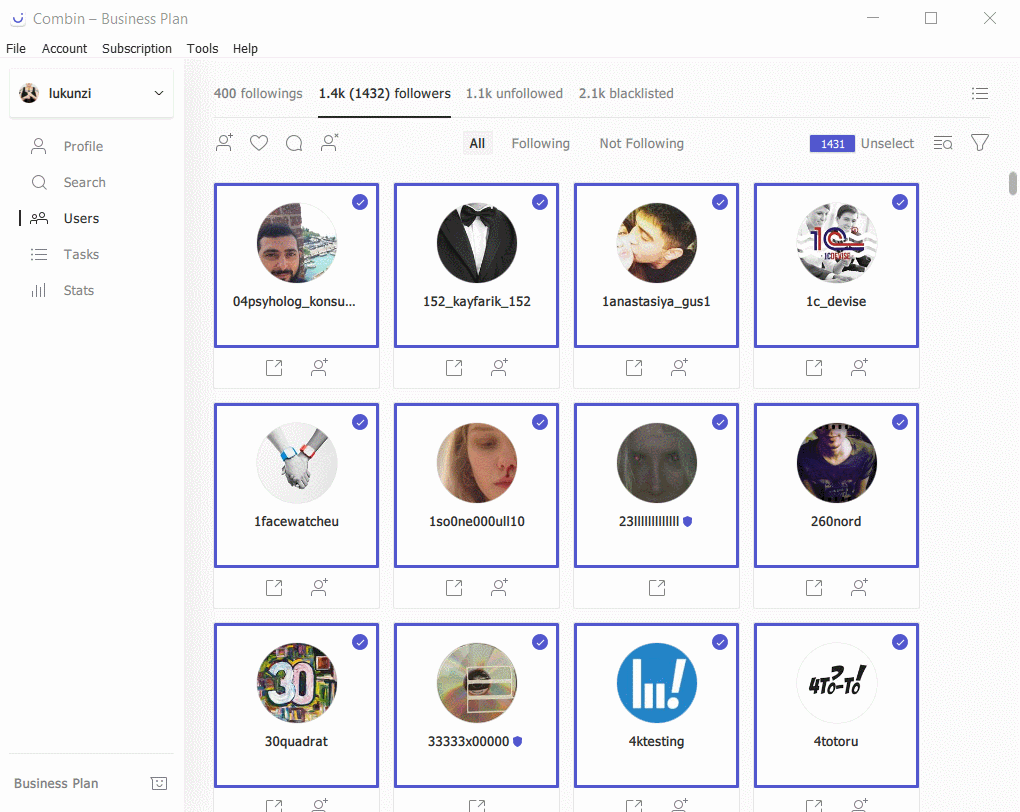 Users have the option to manage their Instagram followings and followers from one tab. You can detect who doesn't follow you back and track accounts you unfollowed to avoid following them again. You can also schedule tasks for single and mass following and unfollowing.
Easy Communication
Users can participate in a discussion under the found posts to gain attention and leave multiple different comments at once. Further users can set tasks for single and mass liking and commenting.
Sorting + Preview
With Combin, you can decide whom to follow and what posts to interact with yourself. You can see previews of Instagram posts and accounts and can sort search results by date and popularity, most followed users and hottest posts.
Activity Statistics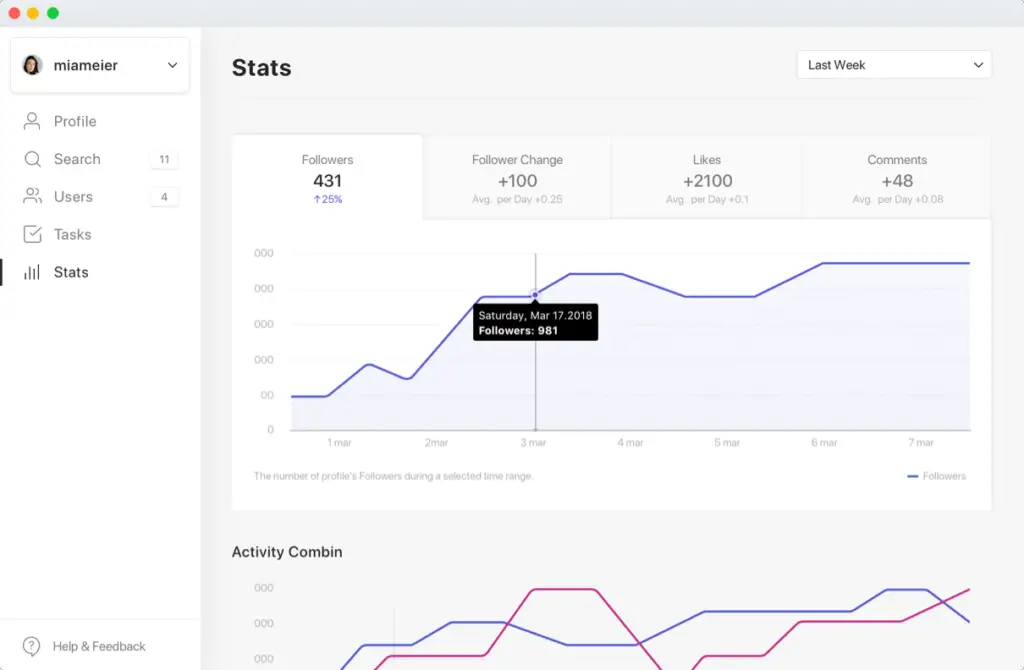 Users get a detailed analysis of the number of likes, comments and follow in their profile. You can track your growth by indicators like how many followers you get on average per day, the number of likes, comments and follows you received during different periods of time.
Here are some features that will be included in future versions or updates
Post Scheduling
Users can upload posts to their Instagram account and queue them up according to the preferred date and time from the tool.
Instagram DM and Comments Inbox
This option will help to maintain direct messages from their account. You will be able to reply right away from Combin.
Auto-Tasks
This will save you time by performing the same searches and applying the same actions to the results every day. You can schedule liking, commenting, following and unfollowing actions to be automatically performed daily, weekly or monthly.
Features (Of Combin 2.0)
The Combin developers took a whole lot of user ideas, suggestions and handpicked the most requested and useful ones.  
Likes and Comment Range Bar
Users can now search posts by likes and comment number range bars. You can set the preferred range of likes/comments the search results should fit in. Combin will display only the post that falls under your selected range.
Advanced Filter and Analysis Option
There is a new Advanced Filter and Analysis under the Posts and Users search. Here, Combin utilizes Machine learning enhanced user analysis to detect interaction inefficient accounts and their contents from the application's search results. There are new filters like the gender filter, language filter, last activity filter, and following/followers number bars.
Search Accounts by Likes and Comments on Posts
With this feature, you can find accounts that liked and commented on specific posts. Open Search tab, select Users search and pick the Likers or Commenters option in the Search by option. Now, you just have to paste the link to the post and click Find button.
Search Accounts by Bio
Another search feature that lets you find a keyword or keyphrase that could be in a potential follower or influencer's bio. To use this function, open Search and select Bio option in the Search by Section and enter your keyword.
Fast Charge Mode
For those users who don't care much about potential follower's gender and interaction, they can skip the extra filters and analysis. They can use the new fast mode for accounts search that can be accessed from the Search tab, Users section.
Users List Import
Now all groups of users (Following, Followers, Unfollowed, Safe list, Blacklist) can now be exported to CSV and XLS formats for further management in Excel. You can either export the list as they are or after applying the available filters and sorting. You can select to hide private profiles, accounts followed through Combin or just sort them by last interaction date or the number of followers.
Proxy Setup
Since Combin supports connection up to 15 accounts from one computer, security issues may arise. You can protect the accounts my imitating multiple computers/IP addresses and prevent them from being banned on Instagram. Combin offers an in-app proxy setup that allows users to set separate proxy for each account or one default proxy for all accounts. You can access it by going to Tools > Preferences > Proxy.
Plans and Pricing
Combin offers one free and two paid plans to choose from according to your preference. You can select from Starter, Personal or Business from their respective features that will help you to what you want to achieve.
Starter Account
This plan is best for users who want to try out all major functionality of the application
1 Instagram account management
50 search results for posts
25 search results for users
250 daily action limit
Personal Account
This plan is for individuals and businesses with one Instagram account
1 Instagram account management.
1000 instant search results for posts.
1000 instant search results for users.
Search results refresh ability
Statistics
Unlimited in-app actions
Auto-tasks (Coming soon)
DM and Comments (Coming soon)
Business Accounts
This plan is for individuals and businesses that have multiple Instagram accounts
5 Instagram accounts management.
10 more accounts purchase option
1000 instant search results for posts.
1000 instant search results for users.
Search results refresh ability
Statistics
Unlimited in-app actions
Auto-tasks (Coming soon)
DM and Comments (Coming soon)
Final Verdict
Overall, Combin is a solid and must-have app if you do Instagram marketing. Without any doubt, it will help you grow your business with Instagram and gather more followers. Give it a try and we are sure that you will find it promising and worth it.