The world of gaming is a vast Universe where almost anything is possible. For example, you can sell a virtual item for real money! And that item is just a skin, an image that changes the appearance of your hero or weapon and doesn't affect the actual gameplay.
On some rare occasions, the price of a game skin can reach thousands of dollars. Still, most such items are quite affordable for gamers, and the markets for trading them have become a significant and integral part of this vast gaming Universe.
Two such marketplaces are in our focus right now: CS.Money and DMarket. The former has been around for a longer amount of time. The second burst on to the industry scene around three years ago, and since then, the project has gained quite a good reputation in the gaming community. So, let's compare their technical features in this review.
What is CS.Money and DMarket?
Both sites offer skin trading service for gamers.
CS.Money is a trading site, where you can exchange skins from your inventory using items from bots. Your skins will then stay with the bots until someone takes them for an exchange.
DMarket is a marketplace for selling, buying, and exchanging in-game items. So, in addition to trading skins for skins, you can also trade here with real-world money.
Are CS.Money and DMarket Legit?
This is probably the first question that arises when someone discovers the possibility of selling virtual items for cash. So, is CS.Money legit? Is DMarket a reliable place to put money into your account and trade skins through this platform?
You can rest assured, both services are legit! The market of in-game skins may be quite dangerous, that's true. Here and there, you can meet greedy scammers who dream of stealing your skins and even your whole Steam account. Thank goodness, Valve, the company behind Steam, tries to fight these frauds – but still, it's better to avoid unknown sites to save your skins and money.
Both CS.Money and DMarket are trustworthy, and the experience of many users has proven this.
CS.Money vs. DMarket: Features Comparison
Which platform is easier for beginners?
From the very first glance, you can feel that DMarket is more straightforward. Even if you are not logged in, you can see the list of items and try out different features of the service. CS.Money looks rather weird for non-authorized users – there is only a little basic info on the starting page, and to see the marketplace, you need to create an account.
---
Protect Your Online Privacy With Surfshark
[The VPN that we use here at Tech Arrival]
---
Probably, the working version of CS.Money is hidden because the system needs to include the user's inventory into its interface. After you are logged in, you can check out items from the bots and choose yours for trading.
Both companies want to make the trading process simple to the max. And both succeed here – their interfaces are quite intuitive. Still, the approach of DMarket is a bit more open. You can even check out their listings without logging in.
DMarket and CS.Money does not really differ from each other from the point of interface. Still, they offer very different trading features.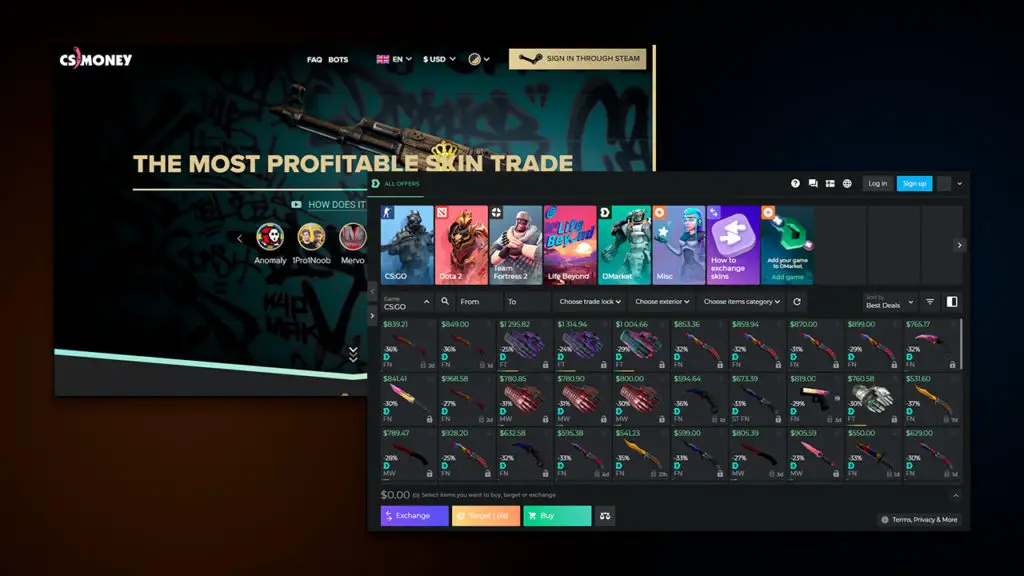 Where I can Trade, Buy, and Sell CS:GO Skins?
CS.Money has a very clear purpose – this is a typical trading site (and there are many other sites like CS.Money, but we talk about DMarket as the best alternative). Users can exchange items from their inventories to items on bots. For example, do you have lots of cheap and rather dull CS:GO weapon skins? You can give them to CS.Money and take in return something expensive (and just super awesome).
Some additional features expand this basic formula. Real-world money comes on the scene here. You can top up your account and pay extra cash to the bot if your items do not cover the full price of that shiny skin you want to buy. The process works the other way round as well – you can take something cheaper and earn money into your account. These features give the possibility to buy and sell skins on CS.Money. But it seems like the service doesn't want to be positioned in this way, and the marketplace is hidden behind the bot trading (exchange). Many users ask – can you withdraw from CS.Money? The answer is no.
In general, simple processes can become a bit too complicated on CS.Money. Users here have two modes:
Trade Mode – it's (obviously) to trade items, but you can pay with real-world money in addition to the price of your items.
Buy Mode – the possibility of an instant purchase without adding items from your inventory.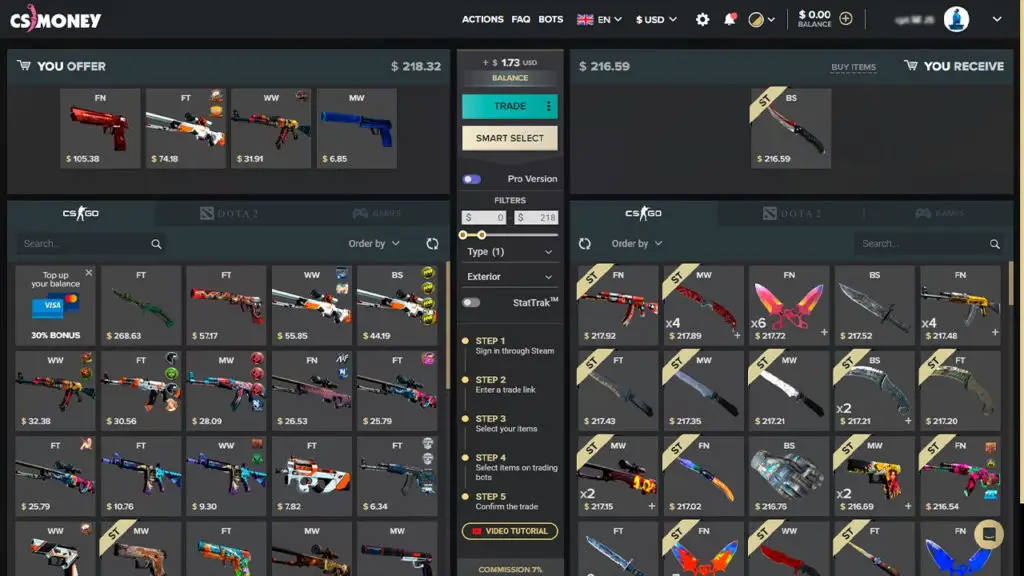 DMarket has many more interesting features for users. Earlier it was only a marketplace of virtual items. Users could put something on sale or purchase something for their inventory. Now, real money is involved in all the transactions. And they can be withdrawn any time thanks to multiple available payout methods. This basic feature works properly on DMarket. In addition, the service offers the same possibility of skin trading – users can exchange skins from their inventories on skins from bots. The option to pay more or take the change is also here, but it is rather simpler. You won't get confused with modes and their meaning. On DMarket, you can:
Buy/Sell items – by listing them on the marketplace or by using the instant sell to the system;
Exchange items with bots, which is the traditional bot trading.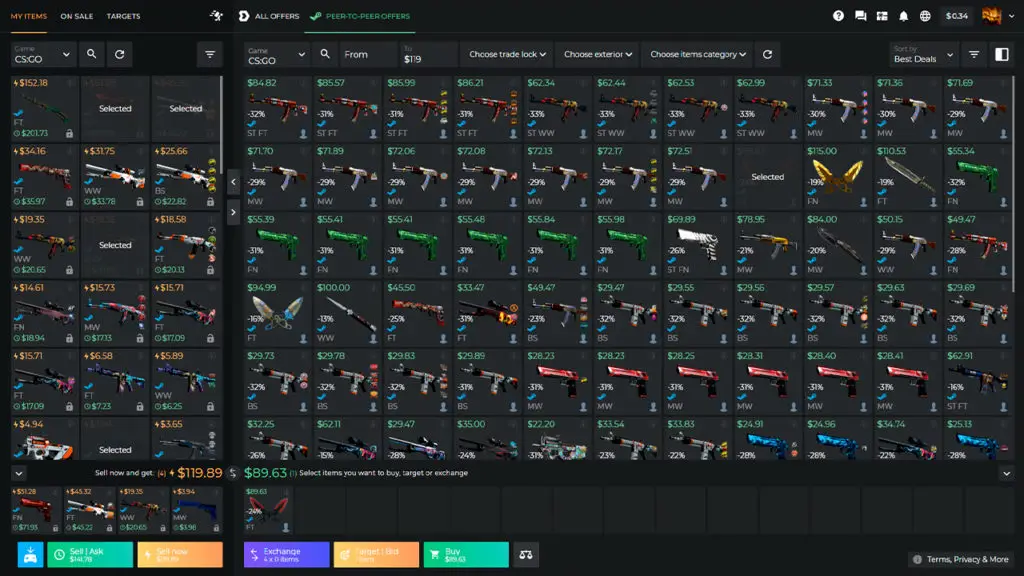 So, everything is easy on both platforms, with a bit of complexity involved in modes of CS.Money. DMarket offers a bigger variety of possibilities for users – including money withdrawal.
Can you Withdraw Money From CS.Money?
Here we have an obvious bummer. It is such a strong disappointment that it is worthy of a separate section in our article. You cannot sell something on CS.Money and withdraw money from the platform to your bank account for spending in any way you want to. This is the same limitation as on Steam Community Market – where here you can hold money inside the system, but not withdraw funds. So, how to use your balance on CS.Money? Buy something on the platform!
You can, however, withdraw money from DMarket.
Additional Features
The video game industry loves innovations. Gamers adore technically innovative devices and creatively innovative games. They like to use useful and innovative services. So, what unusual additions can we find on CS.Money and DMarket?
---
Protect Your Online Privacy With Surfshark
[The VPN that we use here at Tech Arrival]
---
CS.Money has good features, such as the automatic selection of skins for the users; Smart Select – it's a nice addition for skin trading and purchasing.
DMarket offers two advantages:
Target – you can look for a specific item for a specific price, and when it is on the market, the system automatically buys it for you and transfers to your account.
Peer-2-Peer Trade – direct exchange of in-game items between users. The fewer links that are involved in the process, the fewer losses gamers have. When you trade directly with another person, you both save money (in value of skins) on a fewer number of transactions. DMarket makes such direct trades secure. P2P trades have no trade holds for the initial transaction and the skins are not held by the marketplace. However, if you want to resell skins right after purchasing, you still need to wait for 7 days until the cooldown expires.
Which Games Have Items Available on DMarket and CS.Money?
The very name of the CS.Money project refers to CS:GO, one of the most popular shooting games and the title that started mass trading of skins back in 2013. Many gamers would associate the whole trading site with Counter-Strike: Global Offensive, and they would make quite a correct conclusion – CS:GO skins are the main thing and the company positions the site this way through their Internet advertisements. Still, users can get something else as well.
Dota 2 is another game on this platform. And in addition to this, you can exchange your virtual items to digital licenses on Steam, PS4, Xbox One, and Nintendo Switch games. If you dig deeper into the section "Games", you will find here other cosmetic items, such as bundles for Fortnite.
Having games on a skin marketplace may seem an advantage, but in fact, it is a very strange category on the site. Games cost a lot, like $120 for Red Dead Redemption II on Steam or $97 for Need for Speed Heat. This looks… unfair.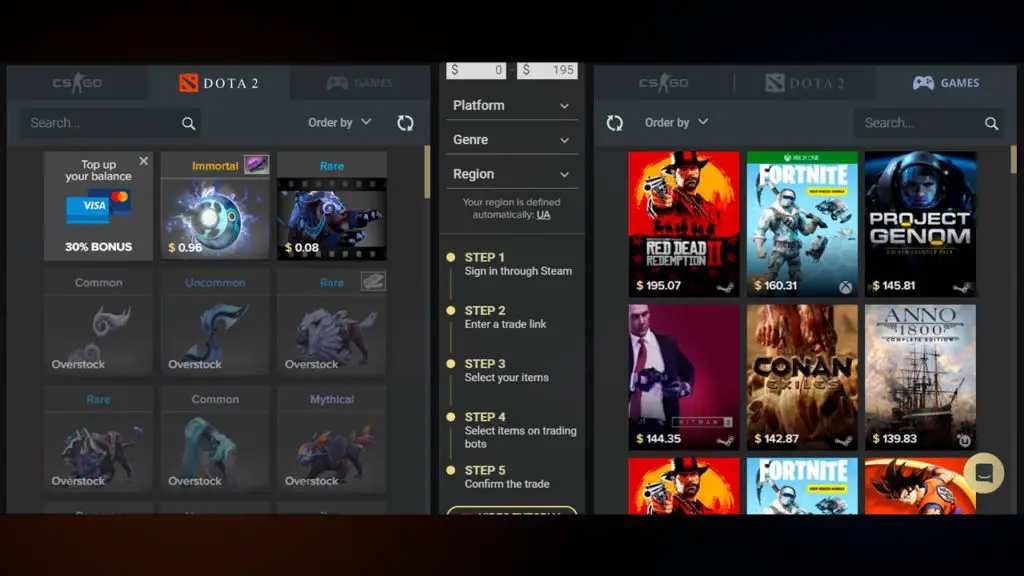 The situation with games on DMarket is similar, but at the same time, it is very different. You will find here CS:GO and Dota 2 too – Valve develops both, so it is no surprise to see them on Steam-based marketplaces (websites like CS.Money). DMarket users can also trade Team Fortress 2 items.
A special aspect of DMarket is that the project is going to expand its game library far beyond Steam. This is a blockchain-based marketplace that allows developers to integrate the trading feature directly to their games, without the intermediation of Steam. DMarket offers partnerships to game developers and publishers – and many are quite interested in new opportunities for monetization through virtual items.
For now, DMarket offers one title with no tight connection to Steam Market. It is Life Beyond, an interesting upcoming game. You can purchase items from it even now, investing in development, with revenue after the release. For the developers, it is a fresh way to get money for their products. For gamers and traders, this is a way to enjoy new layers of in-game items trading.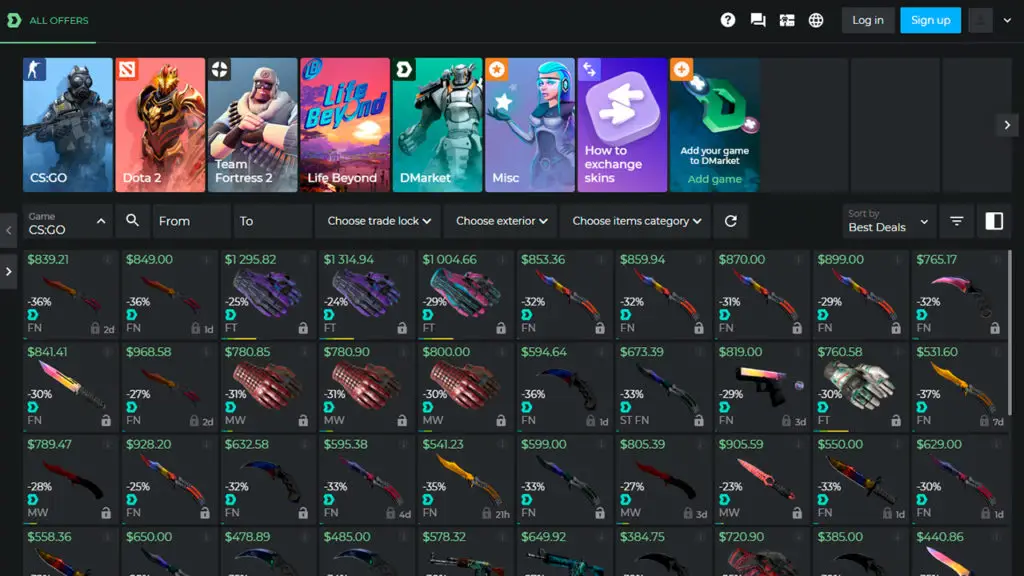 Which Website has a Better Assortment and Prices?
A nice variety of items is the same significant factor as a nice variety of games. In both services, everything seems quite ok with this. Still, DMarket has an advantage.
The assortment and prices come from the deep nature of the two projects. So, what is CS.Money? It is a trading site only. Bots here have only items that were traded by the users earlier. Their prices are determined by the system. Not all players want to give away nice skins in exchange for other skins – many people want to get real money, and they can't get this from CS.Money. This causes a limitation in the assortment. The service earns on the price difference. How does CS.Money work? Bots may offer items cheaper but will also add their fee to the price. This scheme is often not a user-friendly one. Sometimes you get a better price for your skins, but you have to pay even more for skins from the bot.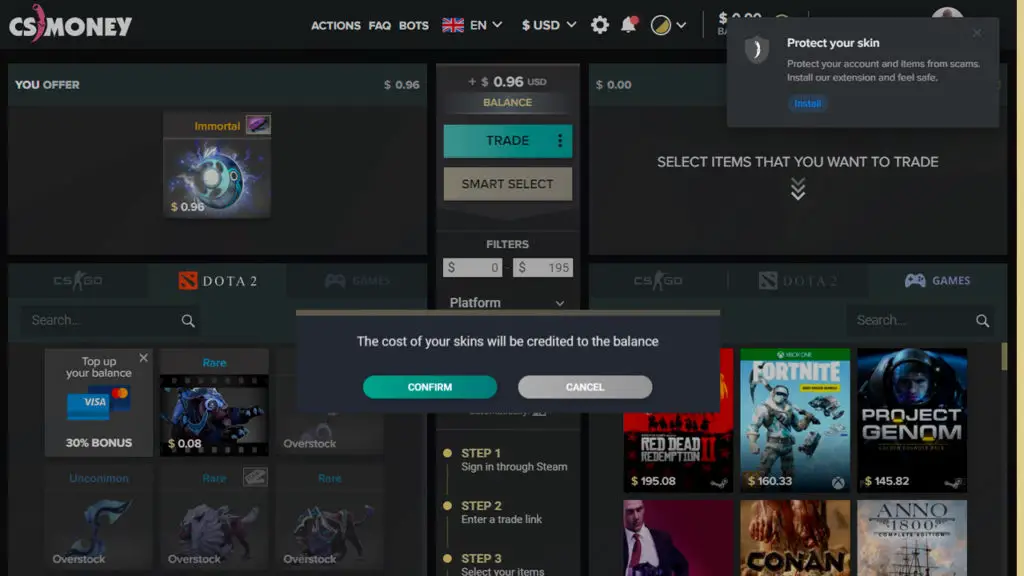 DMarket is a typical marketplace. You'll meet here not only gamers but also traders, who make their business selling skins. As a result, the assortment is much better here – the very possibility of withdrawing funds can get addictive. This service also takes a small fee, but prices on the marketplace are determined by the users. Of course, some rare items are very expensive here too (with more chances to find them). But the majority of skins have a better price – sellers compete with each other, trying to sell more. You can even find cheap CS:GO knives, which is a rare occasion for such usually expensive items.
---
Protect Your Online Privacy With Surfshark
[The VPN that we use here at Tech Arrival]
---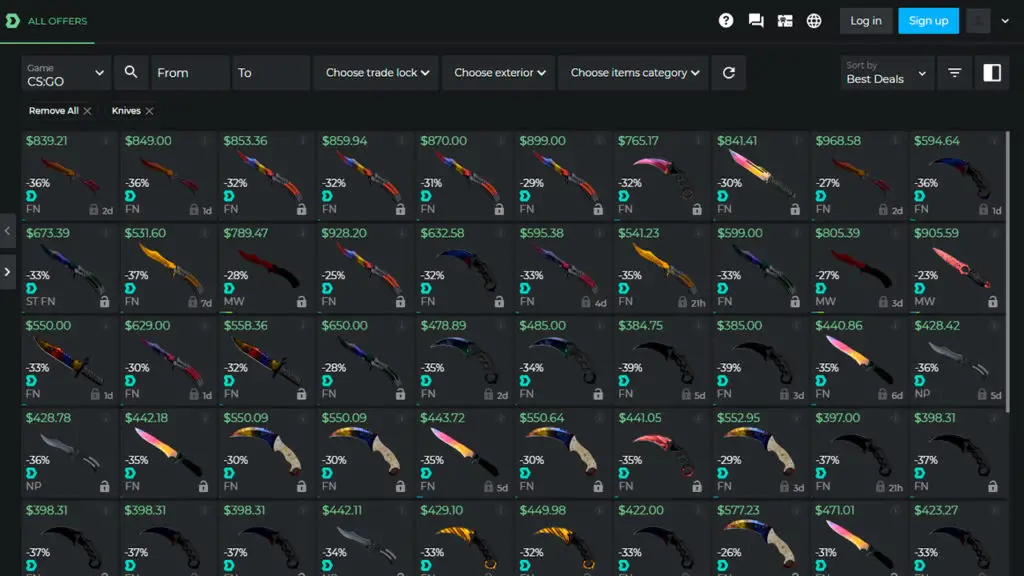 Which platform to use to Bypass Steam Trade Hold?
There is one big inconvenience in the area of skin trading – Steam trade hold for in-game items.
The trade hold system blocks items for 15 days on Steam if they come from an account that has no protection through Mobile Authenticator for at least seven days. There is also the Market Hold system that prevents trading skins after purchasing.
Bots on CS.Money accept skins with the trade hold and offers them to users. Such items are marked in a special way, but the explanation is hidden in the FAQ section. After getting an item with the Steam trade hold 15 days, you can copy it into your inventory – however, the real item comes only after the trade hold is over.
DMarket offers a legal Steam trade hold bypass – via their Peer-2-Peer trades. This system works only for eligible users. You get your new skin and can immediately use it in your game.
So, use DMarket to bypass Steam Trade Hold.
Whose Additional Features are Better?
It's always nice to have something extra, so what else can the services offer?
CS.Money has basic trading, and that's it.
DMarket has a very good blog, where you can read all sorts of helpful posts, like game guides and lists of the most popular skins. It's also worth mentioning that all the features of DMarket are nicely described in their detailed FAQ, while the same section on CS.Money is rather short.
The Bottom Line
So, both services are decent platforms for trading skins. Let's take a look at the lists of their pros and cons:
Pros & Cons of CS.Money
Pros
Simple trading for those who want to get new skins to their game inventory
Nice assortment of skins
A legal way to trade in-game items
Bots offer good prices for your skins
Bonuses if you top up your balance
Cons
Lack of additional features – it's not a marketplace, no direct trades
No ways to withdraw money
Some skins come with trade hold
Bots offer skins (and games) with higher prices
The assortment of items could be better
Pros & Cons of DMarket
Pros
Various useful possibilities for users: exchange or sell/buy items
Unusual features, such as Target Trade and Peer-2-Peer transactions
A legal trading service and marketplace of in-game items
Low fees
Games beyond Steam – exclusive trades only on DMarket
Their assortment of skins is exceptional
Prices are determined by users, who often compete with each other and make prices lower
The possibility to withdraw real-world money (for example, to your bank card)
P2P trades to reduce Steam trade hold
A blog with interesting gaming- and trading-related info
Cons
The number of connected games is still limited
Rare items may be too expensive – sellers can choose any price they want to
The instant sell feature doesn't offer the best price for your item
Guys, let's not forget that we tried to make an objective review of various features – but at the end of the day, it is up to you to decide which is better! Your subjective feeling towards one of these platforms is much more important than any pros and cons from this review. Although, we hope this article can help you to make your personal decision on where to trade in-game items.