Selecting a stockbroker to transact your stocks is as crucial as buying the stocks themselves. This is why, in this post, we take an in-depth look at eToro, one of the leading international stockbrokers on the globe, and understand if trading with them is beneficial for you or not. So let's proceed toward the eToro review with the introduction.
Important: eToro USA LCC does not offer CFDs; only real Crypto assets are available
Introduction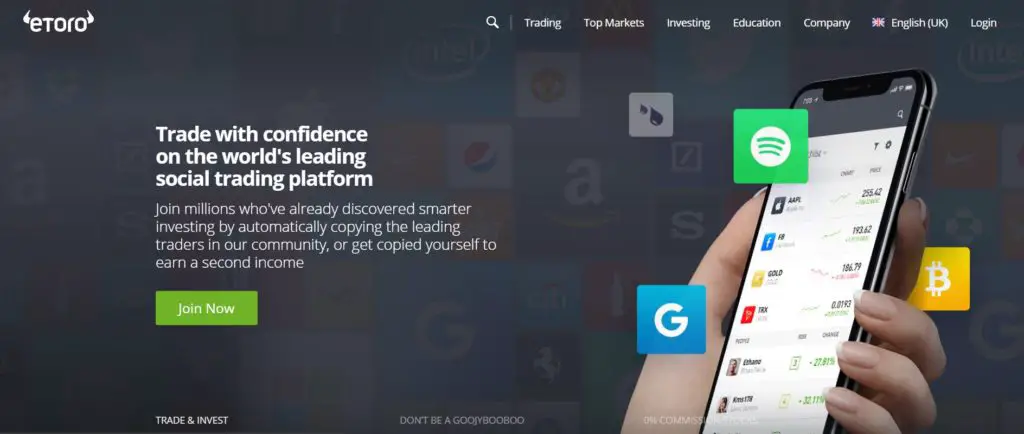 eToro is a social trading and multi-asset brokerage company founded by three guys – brothers Yoni Assia and Ronen Assia and David Ring in 2007 in Tel Aviv, Israel. With four rounds of funding, these guys raised a whopping $31.5 million between 2007 and 2013. The company got further investments from Russian and Chinese investors after eToro and CoinDash became partners to develop Blockchain-based social trading.
Gradually, eToro then started expanding and growing and now comes under one of the best stockbrokers in the world. Today, it has got registered offices in Cyprus, Israel, China, and the United Kingdom. eToro is regulated by the Financial Conduct Authority (FCA), Cyprus Securities and Exchange Commission (CySEC) regulatory bodies.
76% of retail investor accounts lose money when trading CFDs with this provider. You should consider
whether you can afford to take the high risk of losing your money.
Services Offered
eToro offers a selection of stocks, currencies, commodities, cryptocurrencies, ETFs, and indices. With its professional tools and analyses, users can track and invest in various financial instruments and other services.
Apart from traditional manual trading, eToro has something called Social Trading. With this, users or clients can follow the portfolio of other clients and use "CopyTrader", a feature that replicates everything they do in real-time. To achieve this, eToro operates in full transparency. This includes displaying each clients' data, such as gain percentage, risk score, and portfolio composition.
There is also another instrument called "CopyPortfolios". These are ready-made investment portfolios comprised of several financial assets and top traders with a predetermined financial strategy.
Trading on eToro
eToro provides traders a very user-friendly and visually rich platform. In addition to their website, eToro also offers Android and iOS applications so that you can trade on the go or keep an eye on the performance of your portfolio.
1. Dashboard
After logging in, the Dashboard is the first thing you will see on your eToro account. It consists of a live summary of your financial assets. These are constantly updated in real-time when the respective markets are open. You can add stocks, commodities, indices, cryptocurrencies, and even other financial assets such as Forex currencies on your Dashboard.
---
Protect Your Online Privacy With Surfshark
[The VPN that we use here at Tech Arrival]
---
On the left side of your Dashboard, there is a panel with a bunch of options –
eToro Watchlist
eToro Portfolio tracker
Market News Feed
Trade Markets with eToro
Copy People – Copy other traders on eToro
Invest in CopyPortfolios with eToro
eToro Club Dashboard
Invite Friends to eToro
eToro Help Portal
eToro Guides
Withdraw Funds from eToro
eToro Demo and eToro Live markets toggle
Search markets and people on eToro
These options provide many tools that you can use to optimize your trading for yielding the best results.
2. Charts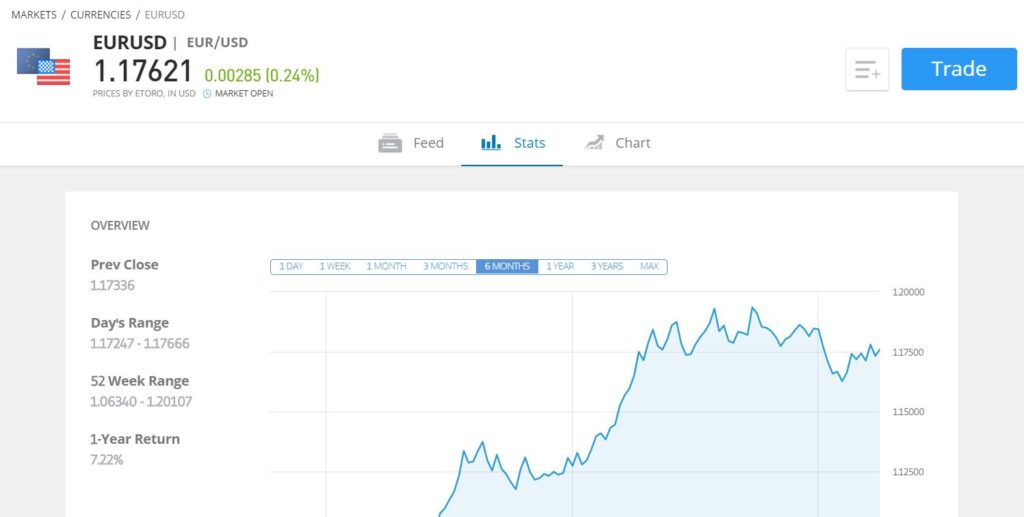 eToro is a visually and graphically rich trading platform. Its "ProCharts" feature lets you configure each of the charts so that you can view what you want to. eToro currently offers 5 types of charting –
Candle
Hollow Candle
Bar
Line
Mountain
Apart from charting types, eToro has the following tools for chart marking and studying:
Measure
Channel
Annotation
Fibonacci
Horizontal
Vertical
Line
Ray
Segment
Rectangle
Eclipse
Doodle
Pitchfork
Accumulation / Distribution
Accumulative Swing Index
ADX / DMS
Alligator
Aroon
Arron Oscillator
Average True Range
Awesome Oscillator
Bollinger Bands
Center of Gravity
Chaikin Volatility
Chande Forecast Oscillator
Chande Momentum Oscillator
Commodity Channel Index
Coppock Curve
Detrended Price Oscillator
Donchian Channel
Ehler Fisher
Elder Ray Index
Fractal Choas Bands
Fractal Choas Oscillator
High Low Bands
High Minus Low
Highest High Value
Historical Volatility
Ichimoku Clouds
Intraday Momentum Index
Keltner Channel
Linear Reg Forecast
Linear Reg Intercept
Linear Reg R2
Linear Reg Slope
Lowest Low Value
MACD
Mass Index
Median Price
Momentum Indicator
Money Flow Index
Moving Average
Moving Average Deviation
Moving Average Envelope
Parabolic SAR
Pivot Points
Pretty Good Oscillator
Price Oscillator
Price Rate of Change
Prime Number Bands
Prime Number Oscillator
QStick
Random Walk Index
Ravi
RSI
Schaff Trend Cycle
Standard Deviation
Stochastic Momentum Index
Stochastics
Swing Index
Time Series Forecast
TRIX
True Range
Typical Price
Ultimate Oscillator
Vertical Horizontal Filter
Weighted Close
Williams %R
Besides these study tools, eToro provides in-depth and detailed statistics of the financial asset you want to view. It can display many details like the previous close, days range, average volume, 1-year return, revenue, EPS market cap, 52-week range, profit/earnings ratio, and dividend yield.
3. News Feed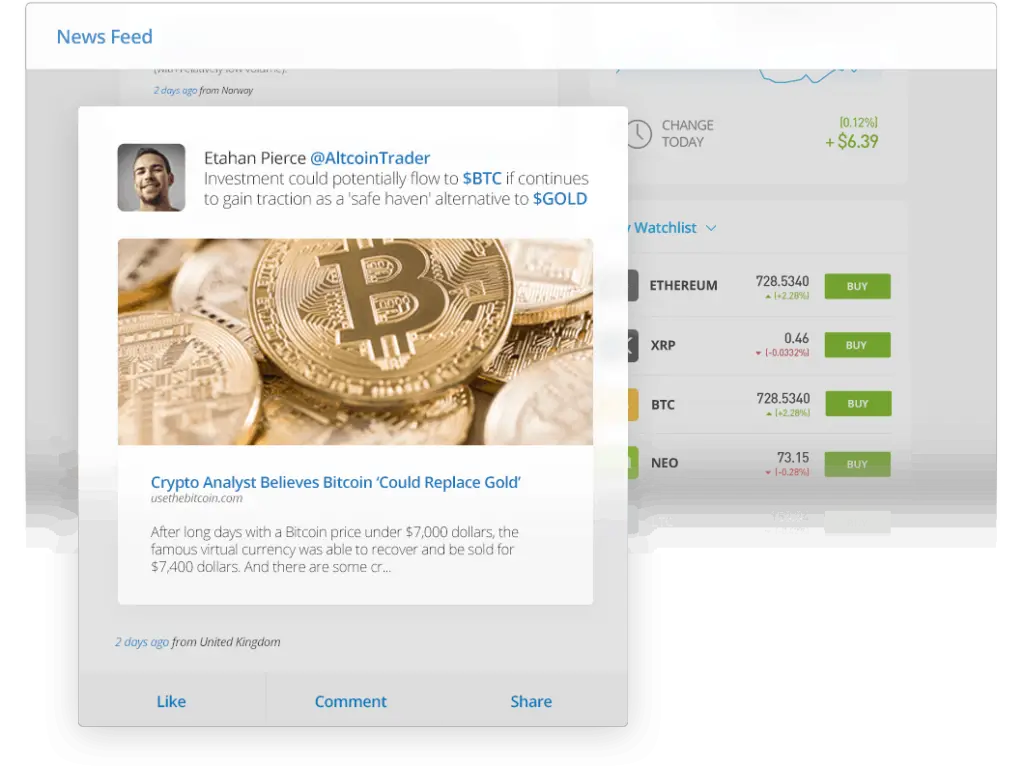 A lot of online trading platforms often rely upon other news sources. But eToro has a built-in news feed for its traders. You can read market news about companies you want to and add it to your news feed. However, we recommend not completely relying upon eToro for your share of news and doing independent research before committing to any major financial decision.
4. CopyTrader
Perhaps the biggest reason why eToro is so successful, CopyTrader is an innovative tool that allows traders to copy trades of other successful traders on the platform. the CopyTrader page on eToro has a meticulously designed layout that sorts trades by Editor's Choice, Most Copied, Trending, Top Investors, Lower Risk Score, and Medium Risk Score.
Apart from trades, you can also see news feeds, trading stats, and the performance of successful traders since eToro has full transparency. You can even filter traders by a specific country or the type of market as well.
A risk score is also something you need to keep in mind while copying trades from other people. eToro calculates a trader's risk score by calculating the last week's average. You can also see the trends in someone's risk score over a period of time. You can also see how many other traders are copying a particular trader.
5. CopyPortfolios
This feature is similar to CopyTraders. The difference is that instead of any successful traders with an unknown strategy, CopyPortfolios allows you to copy markets and traders with a predetermined strategy. All the other things, like statistics, risk scores, etc., are the same as that of CopyTrader.
6. Withdrawal and Funding
You can fund and withdraw money from your eToro account using any of the following methods –
---
Protect Your Online Privacy With Surfshark
[The VPN that we use here at Tech Arrival]
---
Credit cards
Bank Transfer
PayPal
Skrill
Neteller
UnionPay
Please note that these options may vary depending on where you live. For more information, you can click here.
7. Customer Support
eToro offers customer support in multiple languages, such as English, German, Spanish, French, Italian, etc. You can contact their customer support using the live chat option on their website or by sending them an email.
Fees
Here is a breakdown of various ways eToro could charge you fees.
1. Minimum Deposit
eToro requires a minimum deposit of 200 USD/GBP when you open a new trading account with them. Stockbrokers usually charge a minimum deposit amount since they offer more compelling services than others who have a lower minimum deposit. You can use this money towards the transaction of any financial instrument, essentially making it a free trading account.
2. Deposit Fees
eToro does not charge any fees when you are depositing money into your trading account.
3. Withdrawal Fees
eToro charges $5 for withdrawal requests. Currencies other than USD will also have conversion fees. You can withdraw money to any medium we have mentioned earlier.
4. Inactivity Fees
A $10 monthly inactivity fee will be charged after 12 months with no login activity.
Final Words
With its modern embedded technologies, visually rich interface, host of tools to study financial instruments, and unique features like CopyTrader and CopyPortfolios, eToro is an impressive platform for trading.
Their Android and iOS apps are great as well that enables you to keep getting updated about how your portfolio is performing and most of the other features on the web.
76% of retail investor accounts lose money when trading CFDs with this provider. You should consider
whether you can afford to take the high risk of losing your money.
We hope that you now have an idea about how the platform works and what things you can do with it. If you have any questions about eToro, you can comment down below.
---
Protect Your Online Privacy With Surfshark
[The VPN that we use here at Tech Arrival]
---
Also read: List of Best Online Investment Platforms & Apps
Disclaimer:
eToro is a multi-asset platform that offers both investing in stocks and crypto-assets, as well as trading CFDs.

Please note that CFDs are complex instruments and come with a high risk of losing money rapidly due to leverage. 76% of retail investor accounts lose money when trading CFDs with this provider. You should consider whether you understand how CFDs work and whether you can afford to take the high risk of losing your money.

Past performance is not an indication of future results. The trading history presented is less than 5 complete years and may not suffice as a basis for investment decisions.

Copy trading is a portfolio management service provided by eToro (Europe) Ltd., which is authorized and regulated by the Cyprus Securities and Exchange Commission.

Don't invest unless you're prepared to lose all the money you invest. This is a high-risk investment, and you should not expect to be protected if something goes wrong. Take 2 mins to learn more.

eToro USA LLC does not offer CFDs and makes no representation and assumes no liability as to the accuracy or completeness of the content of this publication, which has been prepared by our partner utilizing publicly available non-entity-specific information about eToro.
FAQs
What is eToro?
eToro is an Israeli social trading and multi-asset brokerage company. It means using eToro; you can invest in stocks, ETFs, currencies, indices, commodities, and even cryptocurrencies.
Don't invest unless you're prepared to lose all the money you invest. This is a high-risk investment, and you should not expect to be protected if something goes wrong. Take 2 mins to learn more.
How to use eToro in USA?
US Residents can sign up for eToro online and follow the procedure to open a free account on eToro and proceed normally.
How does eToro Work?
eToro is an online retail broker. It allows its customers to trade online with a low minimum deposit. When a user places a trade through eToro, they charge a fee (only on short-selling/using leverage; otherwise, it is free), and that is what helps them pay their bills.
What is Risk Level in eToro?
Risk Level is completely dependent on you as you will be the one going to place a trade. It is your job to check the risk level for that particular investment and proceed cautiously. Although eToro will help you by showing a Risk Score on a particular investment.
Can you Make Money from eToro?
Yes, of course, you can make money on eToro. But it will highly depend on your trading skills. If you are a beginner to trading, we will recommend that you start small and have proper knowledge about trading before jumping blindly into it.
Is eToro Legit?
Yes, eToro is Legit and Regulated. eToro operates in accordance with ASIC, FAC and CySEC. You can read more about it on the official site of eToro.
Is eToro Good for Beginners?
Yes, it is good for beginners because it is free to sign up and get started with trading. Even if you don't want to place any trades, you can learn a lot by checking out copy trades from other experienced investors.
Is eToro Legal in USA?
Yes, eToro is Legal in USA. According to the official website, eToro started doing business with US investors in 2018 and it is still operational.
---
Protect Your Online Privacy With Surfshark
[The VPN that we use here at Tech Arrival]
---
Is eToro Really Free?
If you are talking about commissions here, then yes. If you are buying stocks on eToro except if you are short selling or using leverage, there is no commission.
Do I Pay Tax on eToro?
When you book a profit on eToro, yes you are required to pay taxes as per your country regulations. For example: You Bought XYZ Stock at USD 10 and sold the XYZ Stock at USD 12.50, you booked a profit of USD 2.50 and it is taxable as per your local/country laws. If you don't know about legal regulations related to taxes then we strongly recommend hiring a Chartered Accountant.
What happens if eToro goes bust?
We are not gonna lie, there are some risks associated if eToro goes bankrupt. But on the positive note eToro is a member of Investor Compensation Fund for Customers of CIFs and it can fund up to EUR 20,000 per client.