Asia is one of the most populous regions in the world. With a population of 4.69 billion, it holds well over half of the people in the world. This makes the region especially important for payments, regardless of how you frame it.
Currently, Asia houses several of the world's most advanced and attractive markets. Countries like China, India, and more process billions of transactions annually, with money going in and flowing out at will.
With such a large population and a massive market for transactions, it is understandable that Asia will now have some of the most prominent bottlenecks for payment processing and banking. Cryptocurrencies have proven to be a solution for these bottlenecks, and Asia could easily benefit from the digital asset offering.            
William Blair, one of the most prominent investment management companies in the world, recently reported that the volume of digital payments in the world is expected to reach $2.7 trillion by 2022. By 2025, this volume should comfortably exceed the $6.6 trillion mark. The primary digital and crypto payment consumers are expected to be the United States (accumulating 61%), China with 47%, Kenya with 15%, and India with 6%.
Also read: 11 Best Online Investment Platforms & Apps
China and other Asian countries remain the most promising regions for crypto payments development. Their massive populations mean that they will have more people looking to make seamless and hassle-free transactions, and the space of technological and business development in these countries also gives credence to the need for improvements in their payment infrastructures.
This is a significant market for cryptocurrencies and digital payments. So, we'll be looking at how these developments can help improve payment efficiency in the Asian region.
Crypto vs. Digital Payments: What Will Happen With the Financial Sector in China
According to data from analytical service Statista Research, China is the current global leader in the digital payments industry. More than 60% of Chinese people use daily cashless transactions for goods and services, applying payment services. This has led to the growth in the popularity of digital payment services like AliPay, WeChat Pay, and QQ Wallet.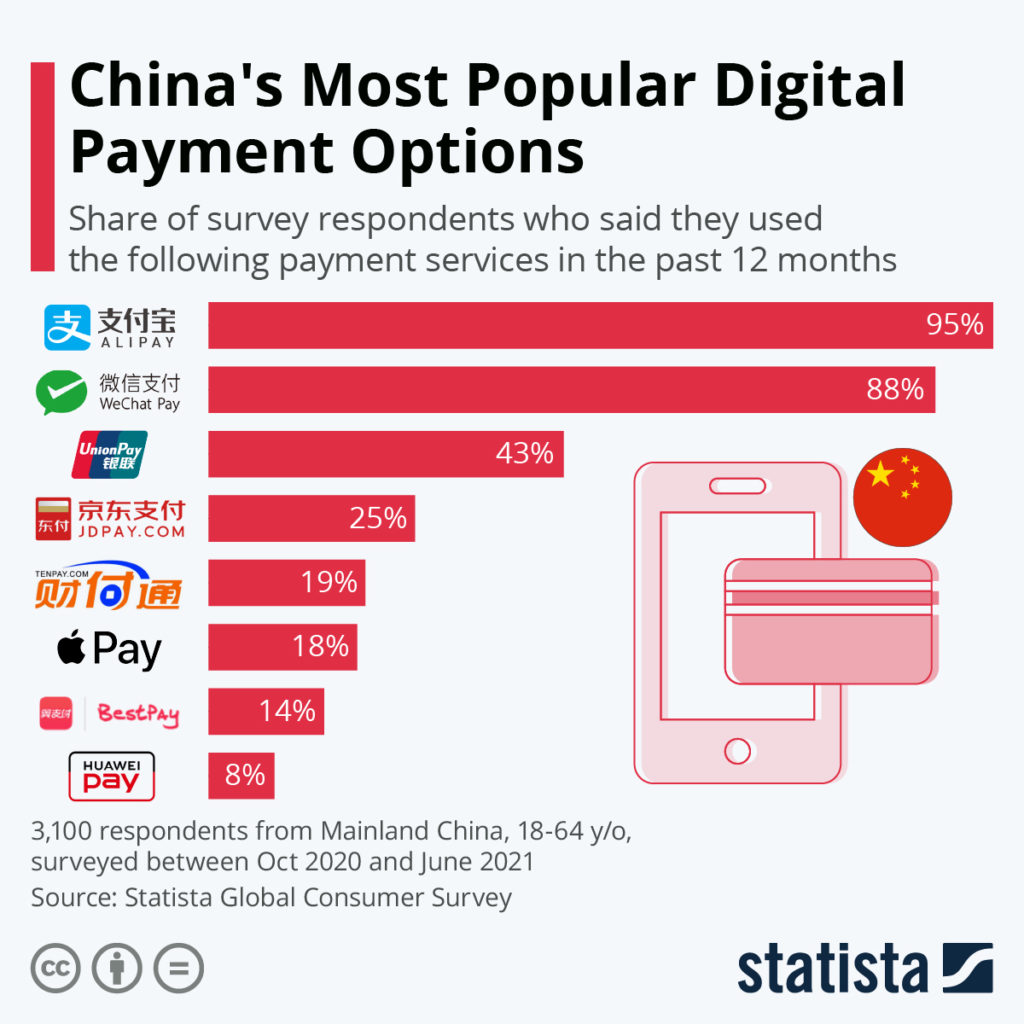 At the same time, China continues to impose bans on crypto payments usage. It should be pointed out that at the beginning of the year, the Chinese government launched a coordinated effort to get Bitcoin miners out of the country. Mining had been hitherto unaffected by the government's sentiment towards crypto assets, with even Beijing understanding the importance of China in the global crypto mining landscape.
Regardless, the government decided that enough was enough and mining needed to be eradicated. Thus began a chain of events that saw mining companies leave China in their numbers as they looked to settle in more favorable jurisdictions.
---
Protect Your Online Privacy With Surfshark
[The VPN that we use here at Tech Arrival]
---
While it's easy to think that would be the end of it, you'd be wrong. Late in September, several government regulators in the country announced that cryptocurrencies were prohibited as a payment instrument. The ban effectively means that cryptocurrency trading and transactions in the country would be illegal for the foreseeable future. This will also extend to other sub-categories in the industry, effectively putting all crypto businesses in China out of business.
The market reacted to this statement with an instant drop. Crypto companies began to leave China immediately, locking all mainland China users out and moving to more favorable countries.
The State vs. Private Companies – and Cryptocurrencies
The ban on cryptocurrencies is quite understandable. China is currently working on launching a central bank digital currency (CBDC). This is essentially a cryptocurrency, but one that is protected and backed by the government. China's CBDC – the digital yuan – has been in development for almost three years now, according to reports. So, the government appears to be taking out the competition by removing all cryptocurrencies from the economy. Only one digital asset will be allowed to operate, and that's the digital yuan. 
Interestingly, many also see the digital yuan as a way for the Chinese government to wrestle control of the digital payments space from private companies. AliPay and WeChat Pay alone control over 80% of the Chinese digital payment landscape. A report from the Carnegie Endowment Group points out that the government might be looking to use the digital yuan as an alternative to these payment processors.
Using the digital yuan, the Chinese government will be able to get more control over the citizens' financial information. On the other hand, citizens get possibly faster payments and cheaper transaction fees than what they currently get with AliPay and WeChat Pay.
The government already went on an offensive against these tech giants this year, with Alibaba getting the brunt of it. So, besides just clearing the cryptocurrency space, Beijing appears to also be looking to clamp down on digital payments as a whole.  
On the other hand, the other countries in Asia have the largest number of crypto holders who are ready to use crypto coins as a payment instrument.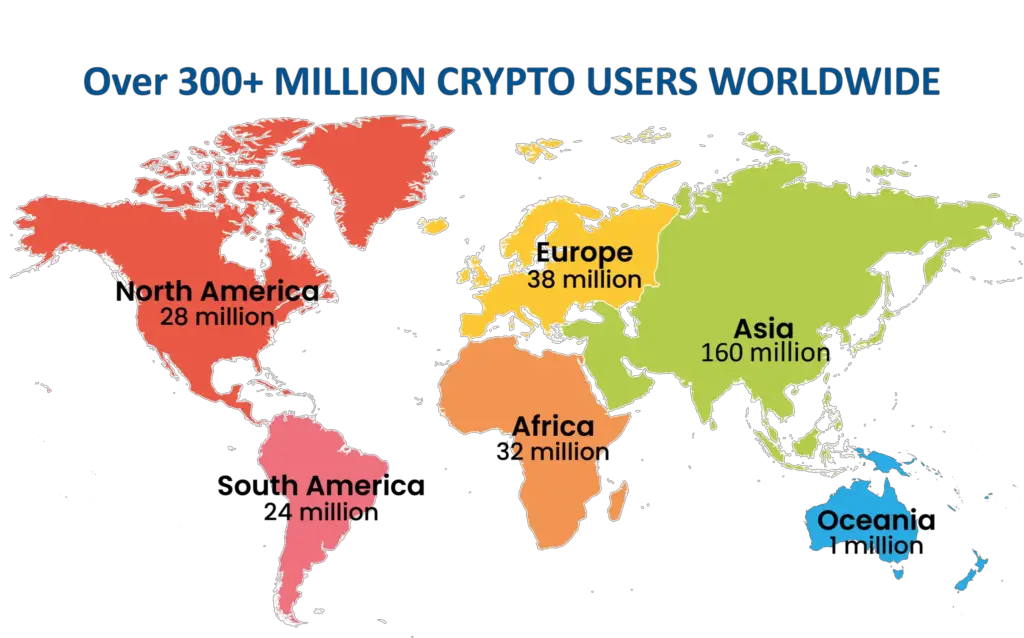 Such a confrontation between authorities and crypto holders creates a serious problem for users, who have accumulated a sufficient amount of cryptocurrencies and are ready to use them in daily life. If governments start banning cryptocurrencies from circulation, the people will have no way to spend the wealth they've accumulated for years. Some citizens and businesses that believe in cryptocurrencies and who have the resources could even leave these countries.
One of the possible solutions could be Neobanks' services, which allow converting cryptocurrencies into fiat money and vice versa.
Neobanks Enter the Chinese Market
The Chinese market is still one of the top priorities for Neobanks. The Chinese government has shown that it is not loyal to cryptocurrencies and cryptocurrency payments, so Neobanks can operate. However, with crypto services not available in China, Neobanks don't have a way to help people convert their coins to fiat currency. 
Neobanks can only become a bridge between users and organizations if cryptocurrencies are allowed in the country. This way, they can offer almost no commission services for the conversion of digital coins into fiat money.
---
Protect Your Online Privacy With Surfshark
[The VPN that we use here at Tech Arrival]
---
"Cryptocurrency mobile banking provides access to financial services where the traditional system cannot meet the needs of users. This is where CrossFi technology comes on the scene, the technology which includes and combines the main banking services and blockchain achievements", says Aleksandr Mamasidikov, co-founder of the new generation Mineplex mobile crypto bank.
In this case, customers can use cryptocurrencies everywhere without breaking the law. In fact, the final recipient gets fiat money into his account and not cryptocurrencies.
Top 4 Key Digital Payment Trends in China
Experts agree that for the next 3 years, the digital and crypto payment markets will develop rapidly in Asian countries. We have identified five key trends that will be observed in this region.
1. Mobile Payments Instead of Credit Cards
Bank cards will be replaced by mobile wallets and mobile services for goods and services payment. In general, contactless payments will grow rapidly around the world.
We already saw this trend start with the coronavirus pandemic. People moved to mobile payments more as they looked to avoid contact with payments as much as they could. No cards, and definitely no cash. Mobile payments were the way forward, and this saw surges in numbers for payment processors like AliPay and WeChat Pay.
Even as the world slowly recovers from the pandemic and its effects, this trend should continue. Mobile payments will become even more popular over the next few years as the digital yuan goes into mainstream adoption.
2. Neobanks Will Converge CeFi and DeFi
Even with the spread of the digital yuan, there's a significant chance that the trend of cryptocurrency adoption will continue in China. Neobanks that will help convert cryptocurrencies into fiat money will be in demand among a large number of users, and they could help citizens to get around this ban on digital assets.
This presents an opportunity for the decentralized finance (DeFi) space as well. China's crackdown on crypto has significantly affected the DeFi space, but there remains hope for growth.
3. Crypto Lending and Commodity Staking
The growth of digital and crypto payments will lead to the formation of new lending terms in the country. More people will look to take loans and borrow money in crypto denominations.
Commodity stacking – MinePlex development, a financial instrument created as an alternative for bank loans. Thanks to it, the user gets the opportunity to buy a product for a part of its cost without overpaying interest for using money.
4. Enhanced Security and Data Protection
The popularity of crypto and digital payments will exacerbate data security issues. We've seen this play out time and again, with crypto companies having to deal with massive data breaches and security issues. There has been massive progress in stemming the tide, but more work needs to be done.
---
Protect Your Online Privacy With Surfshark
[The VPN that we use here at Tech Arrival]
---
Over the next 3 to 5 years, crypto companies – and tech companies in general – will focus more on solving this problem and developing new solutions to protect users and their privacy.
In general, China and other Asian countries will follow the path of adopting cryptocurrency and using crypto payments in daily life through Neobanks and cryptocurrency payment services.
About Author: Tanvir Zafar