There are a lot of free tools online that you can use for ripping videos from DVDs but to make a perfect flawless copy, a dedicated copier is a must. Most of the tools have limited functions and leaves a lot to be desired. DVDFab DVD Copy is the prefect all-in-one bundled software if you are looking for one in the market.
In this article, we will be telling about the features and also guide you with step-by-step instructions on how to Copy DVD to DVD with DVDFab DVD Copy. If you want to back up for Blu-rays you can go for the Blu-ray Copy which is the best Blue-ray burner to back up Blu-ray with up to 5 modes.
What is DVDFab DVD Copy?
DVDFab DVD Copy is not just a free DVD copy tool, but an updated fast, versatile and full-featured DVD Cloner. With 13 years of development, it is the best all-in-one solution for making a back-up of your precious DVD collection. It is a popular worldwide tool that is known for its power and flexibility.
DVDFab DVD Copy is essentially a combination of DVD copier, DVD cloner and DVD burner that can read, rearrange and manipulate the DVD contents according to your needs. If you have two optical drives it will allow you to copy from one DVD to another. If you have a single drive you can copy the whole disk (an image) to your hard disk and can burn in an empty DVD later. It is available for both Windows and MacOS.
Features of DVDFab DVD Copy
With DVDFab DVD Copy, you can burn your DVD into your hard disk as an ISO image file or DVD file folder. If you have two optical drives, you can burn any DVD disk to DVD ISO file/DVD folder on your PC to any blank disk including DVD+R/RW, DVD-R/RW, DVD+R DL, and DVD-R DL. Additionally, you can choose to clone DVD with 1:1 ratio to get lossless DVD output or to copy in compression from DVD-9 to DVD-5, DVD-5 to DVD-5 and DVD-5 to DVD-9.
The powerful and professional DVD software comes with six modes to choose from. The user interface can be set according to many languages and there are controls to pre-select the language for the audio and subtitle. The UI is friendly enough and shows enough data of its progress along with a preview screen to let you see and hear content before you starting the copy process to avoid setup errors.
What sets DVDFab apart from other DVD copier is its versatility and application of the latest technology. It can read from any DVD including the scratched ones. Despite its lightning fast speed, there is no loss and quality and with its clone mode, you can get a totally lossless output DVD.
 If you are not sure about its features or user-interface you can go for the 30-free day trial in which you can enjoy all features without restriction and spending a dime.
Modes of DVDFab
DVDFab DVD Copy provides you with 6 modes which are explained below:
Full Disc: This mode allows you to copy all the content of the DVD ISO image file, DVD folder or DVD-Video disc.
Main Movie: This mode copies only the main movie title of the DVD ISO image file, DVD folder or DVD-Video disc.
Customize: In this mode, you can copy any content as your requirement from the DVD ISO image file, DVD folder or DVD-Video disc.
Split: This mode allows you to split one DVD-9 into two DVD-5s.
Merge: In this mode, we can merge multiple DVDs into one DVD.
Clone/ Burn: In this mode, you can clone DVD in 1:1 ratio with nothing lost making it perfect for backup purposes.
System Requirements
Windows 10/8.1/8/7 (32/64 bit) or MacOS 10.10-10.14
Pentium II 500 MHz
2GB RAM
20GB free hard disk space
A DVD-R (W) or DVD+R(W) Drive
An internet connection for the registration
Supported Formats
Input: DVD ISO image file, DVD folder or DVD-Video disc
---
Protect Your Online Privacy With Surfshark
[The VPN that we use here at Tech Arrival]
---
Output: DVD ISO image file, DVD folder or DVD-Video disc
How to download DVDFab DVD Copy
To download DVDFab DVD Copy head to the official website of DVDFab. Below you can choose the Windows or Mac version of the software. Now, you can either go for the one month trial or buy it.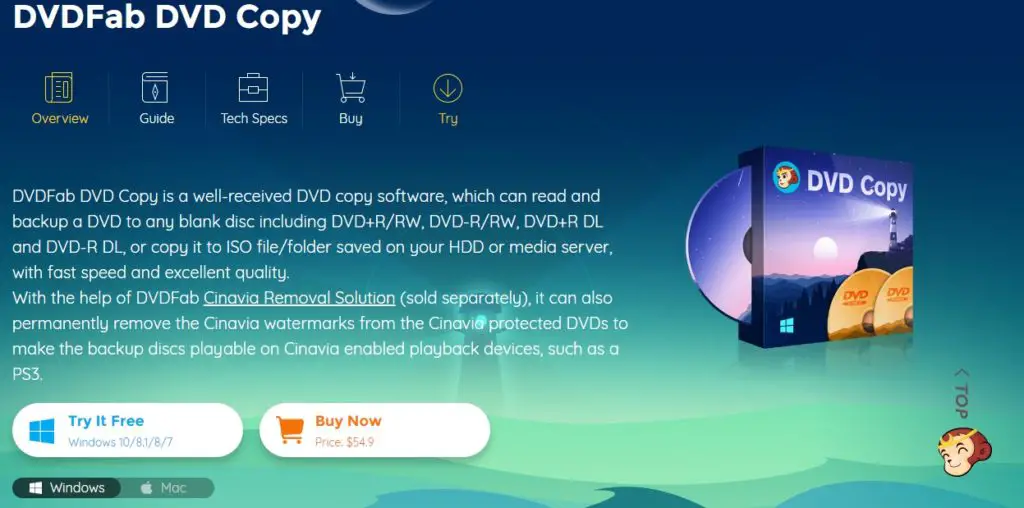 Selecting the free trial button will start the download. Click it and it will download the required components.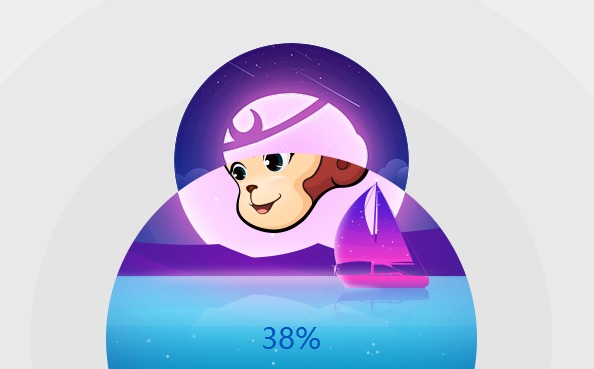 After downloading you can see, the start DVDFab option. Click it and you will be taken to a window.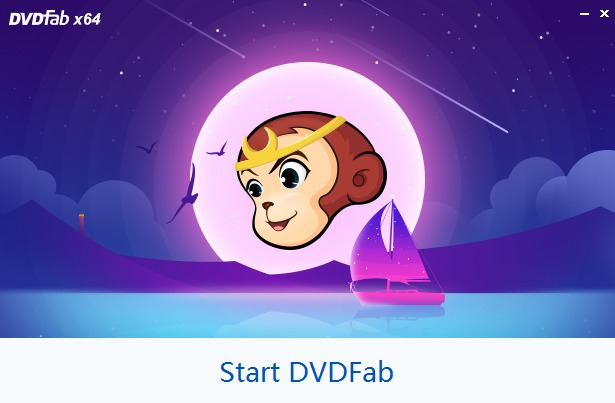 Opening the software for the first time will give a quick guide about the tools and features.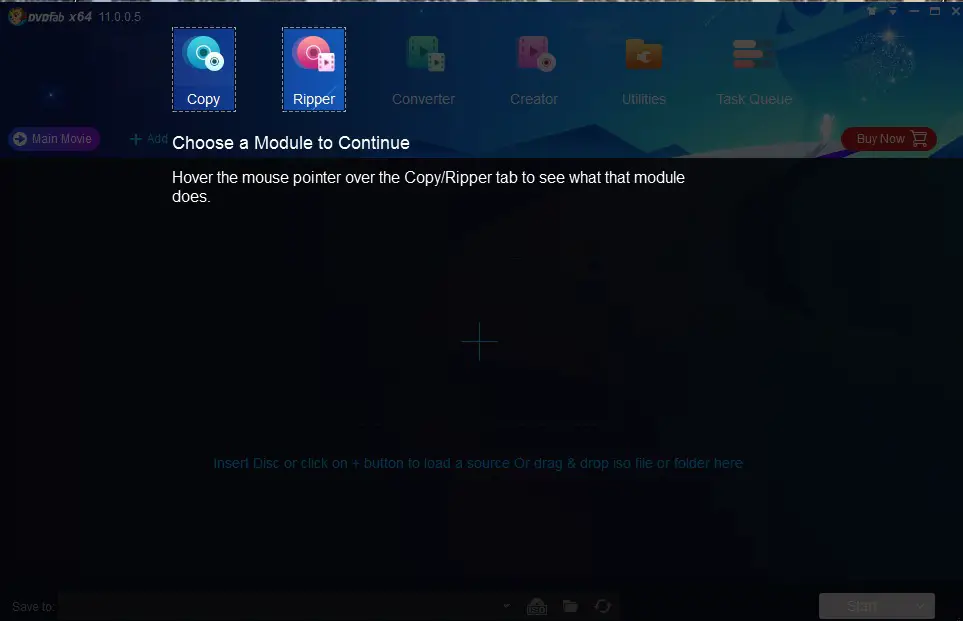 How to Copy DVD to DVD with DVDFab DVD Copy
In this how-to guide, we will be guiding your way on the tool's copy process. However, as a reminder most commercial DVD publishers prohibit making copies, so only make them if you have permission or doing for personal backup use. For this guide, we will be doing it in Windows OS.
Before starting, make sure you download and install the latest version of DVDFab.
Step 1
Open your PC and double-click DVDFab 11 and click on "Copy Mode" tab from the options bar present on the top left corner of the main interface to choose a copy mode from. Now, insert the DVD disk you want to be copied in the optical drive or you can navigate it through the ADD buttons on the main UI if it is already inserted.  If your source is an ISO or folder, you can simply drag and drop it into the main UI and the software will take care of the rest.
Step 2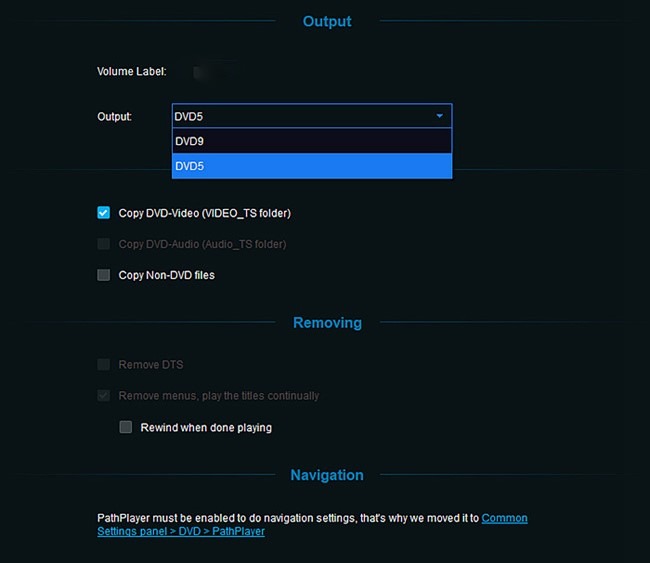 After loading, you can click on the copy mode switcher to select from the 6 modes provided. If you select the Main Movie option, the longest title, namely the main movie will be selected by default. You can further change the chapters, audio tracks, subtitles.
 You also have to define the output DVD size to be DVD-9 or DVD-5 if the chosen copy mode is not the lossless mode: Clone/ Burn. Moreover, you can define the volume label and select the copying options. After that go to the lower part of the interface and select the output directory to copy the source to a blank disk, or an ISO file or folder. From the options, selecting the optical drive as the directory is saving the output as a blank disk, selecting a directory by clicking the "folder" icon will save the output as DVD folder and selecting a directory by clicking the image will save the output as an ISO image file.
Note: If you have chosen to save the output to a blank disk, you will be prompted to insert a compatible media in your optical drive during a process. Insert a blank disk to continue the copy process.
Step 3
Click the green Start button on the bottom right corner and DVDFab will immediately begin copying the contents of DVD with leading processing speed while showing the detailed progress info during the process. You can cancel between the process if you want and set your PC to automatically shut, exit, hibernate or do nothing once the task finishes.
Final Verdict
DVDFab DVD Copy is a must have tool if you have a collection of DVDs. The uncluttered and user-friendly functions make it usable by professionals to novice users. It's sheer convenience and abundance of powerful tools makes it one of the best among DVD copier tools.
The DVDFab DVD Copy now is 50% off, use the time-limited coupon DC50 to get your discount now.