As a small business owner, you know the importance of networking. And what better way to make a great impression than with a well-designed business card?
Business cards have been a part of the marketing and advertising industry for ages. It allows you to share your contact information with clients and remember your brand. They are your first impression to potential customers, and you want to ensure they are perfect.
The best thing about business cards is that they keep you in touch with the clients. It serves as an introduction and an invitation to future conversations.
Creating the perfect business card is not that difficult; In this article, we'll show you how to create the perfect business card in 3 simple steps.
Steps To Create The Perfect Business Cards In 3 Steps
1. Know Your Audience
When it comes to business cards, don't just think about what you want—think about your audience and what they want. What's the point of giving someone a business card if it's not going to be helpful? A business card should reflect your brand and bring it to life.
Start by figuring out the basics. What industry are you in? What do you do? What are your contact details? Once you have that down, you can start thinking about the design. Do you want something simple and understated? Or something flashy and eye-catching?
And finally, don't forget the most crucial question: what do you want your business card to achieve? Do you want to generate leads? Encourage people to visit your website? Or create a first impression that makes them want to learn more?
Also read: How to Make Your Business Stand Out From Competitors Online?
2. Design for Your Audience
When designing your business cards, it's essential to consider your audience. What do they want to see? What will make an impression on them?
Your cards should be unique and reflect your brand personality. To ensure your business cards look good, you must do a lot of research. It requires careful consideration of color scheme, typography, and layout.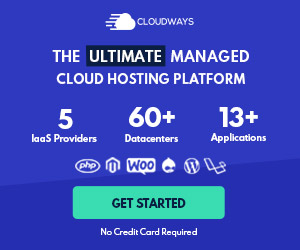 Use fonts and colors that are eye-catching and memorable. There are some fonts that are very easy to read. Choose a typeface that isn't too small or too large. Finding the perfect font for your project is not easy. You will need fonts with a commercial license. There are some platforms, such as Creative Fabrica, that have both free fonts and premium fonts. You can simply choose the one that is best for your business card. Due to their high readability, sans-serif fonts may be the best solution. If you want to find inspiration, you can look at the sans-serif fonts in this library.
Ensure your contact information is easy to read and includes your website and social media profiles. Your business cards are a valuable marketing tool, so make sure you put the time and effort into creating a design that will stand out.
You'll also need to decide on the type of material that you want to use. You can choose from several different materials, including:
Paper: This is usually the most affordable option. However, it doesn't last very long.
Plastic: Although this is more expensive than paper, it's much sturdier and won't break easily. The downside of plastic is that it is difficult to recycle.
Metal: A metal business card is very durable but can be a little expensive to build.
3. What Information to Include on Your Business Card
When designing your business card, it's crucial to include all the essential information. It is essential to ensure that it has everything you want them to know about you. It should be easy for your contacts to get in touch with you, whether they're calling, emailing, or messaging you on social media.
So, you must ensure that you put the correct information on them. Your name and contact information are necessary, but you can also include your website address, LinkedIn profile, and Twitter handle. If you have a logo, be sure to include that too.
Here's a list of the best things to include.
Your name
Contact details
Services offered
Website address
Email address
Social media links
Keep your design simple and professional so that it reflects your brand and makes an excellent first impression.
How to Stand Out With Your Business Card
Business cards are a great way to promote your business; with creativity, you can design them to stand out from the crowd. When it comes to designing your business cards, simplicity is vital. Strictly avoid using a business card that is cluttered and confusing.
You want to design something unique and memorable, something that will make people take notice. There are plenty of options available, ranging from simple designs to ones with intricate details.
So how do you go about doing that?
Keep it simple: When it comes to design, less is more. Try to stick to a clean and simple design with minimal text and graphics.
Use color and typography to your advantage: Fonts and color can make or break a design, so choose wisely. Try to use a font that's easy to read and represents your brand well.
Material Quality: You want your cards to be thick and durable so that they'll last.
By following these tips, you can create a business card that really pops and stands out from the competition.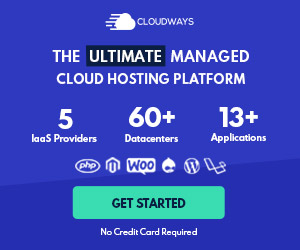 A great way to get started is to use a service like Fiverr.com. There are loads of graphic designers who will be more than happy to help you for a small fee.
Examples of Great Business Cards
Here are a few examples of great business cards to give you a little inspiration.
Personal Business Card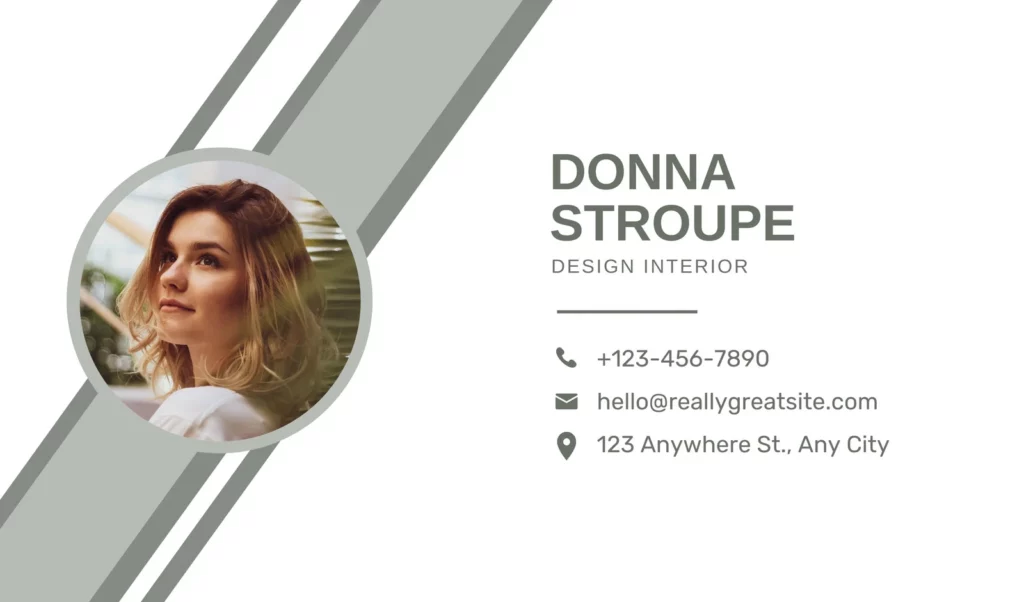 The most common type of business card is the personal business card. A personal business card is a card that includes your name, contact information, and possibly other information, such as your title or profession. You can use a personal business card for networking and keeping in touch with professional contacts; they are typically given to people you meet in a business or professional setting or as a leave-behind after an interview or meeting and are a great way to make an excellent first impression.
Social Business Card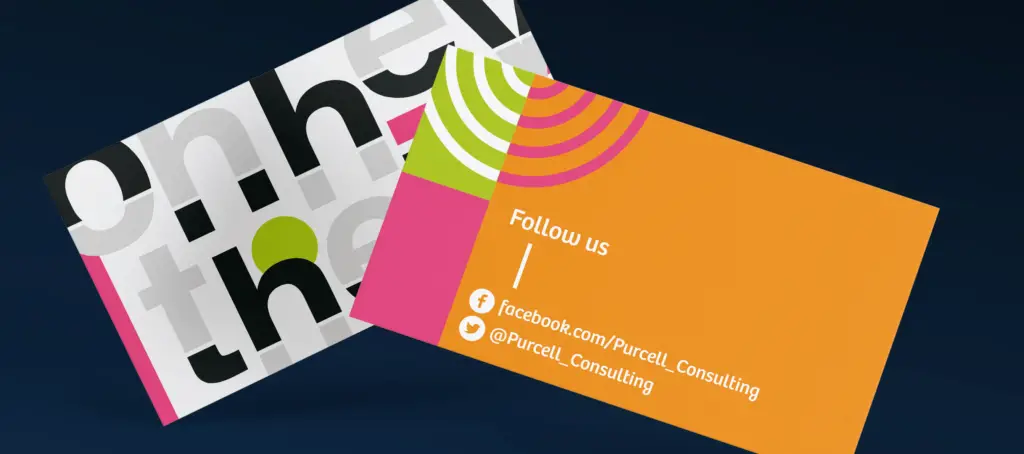 A social business card typically includes the same information as a traditional business card, such as your name, job title, company, and contact information. However, social business cards also include links to your social media profiles. It's a quick snapshot of what you're on, and social cards are a great way to stay top of mind. People who see your card will likely visit your website or follow you on social media. And that's a great way to boost your online presence and get more leads.
Profession-Specific Business Card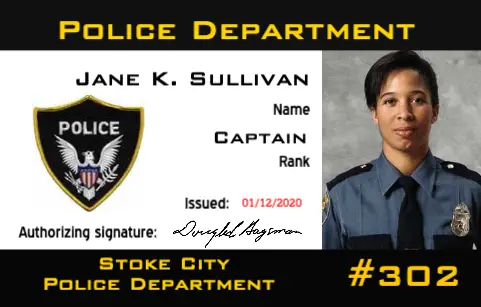 A profession-specific business card is a card that is designed specifically for a certain profession. This type of card usually has the profession's name and the individual's contact information. These cards target professionals, such as doctors, lawyers, government employees, or engineers. Having a profession-specific business card can show potential clients that you are a credible source for their needs. A Business or Organization will have a Profession Specific Business card for their employees with their employee Identification number working under them. For example, Policemen have business cards with their names and badge numbers.
Also read: Pros and Cons of Crowdfunding for Business
Conclusion
You've put a lot of thought into your business, so it's recommended to put the same amount of thought into your business cards. Many businesses and marketers overlook the importance of business cards, which is slowly becoming a disadvantage.
These cards are your first impression and can mean the difference between closing a deal and not.
The key to creating a memorable card design is keeping the typography simple and using only a few colors. Use a large typeface such as Sans Serif, Calibri, or Georgia for best results.
Designing the right color palette is essential too. Blue and red are great options because they provide contrast with most other types of cards.
Remember to keep it minimal by avoiding unnecessary graphics, logos, and text that distract from your message.
---
Protect Your Online Privacy With Surfshark
[The VPN that we use here at Tech Arrival]
---
Finally, be sure to proofread your card before printing it to avoid any embarrassing mistakes.
And most importantly, make sure to print enough cards so you'll never be caught without one!